10 of the Best Group Party Trips this Winter
With the festive period fast approaching and the year shortly drawing to a close, now is the time to book a get together with the ones you care about most.
Whether you're looking for a cosy Christmas hideaway, or you have a special birthday, anniversary or wedding you're looking to celebrate, here's our collection of ten exceptional places for group trips and special celebrations over the colder months and into next year.
#1 The Lodge at Ashford Castle - Ireland
Great for: Weddings & Anniversaries.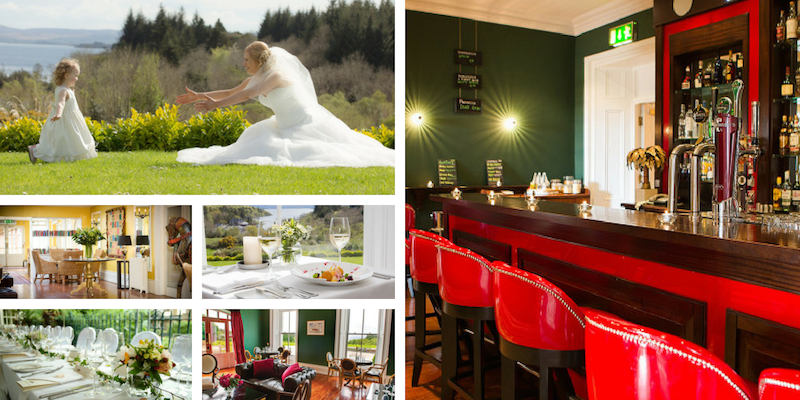 Located on the majestic grounds of Ashford Castle in County Mayo, The Lodge could easily meet your desire for a dream wedding in Ireland or special celebration. This 800-year-old castle, and large country estate, recently played host to Rory Mcllroy's wedding. And whether or not you're into golf, the nine-hole course here which will no doubt be appreciated by some of your guests.

Your party will feel like celebs as they sit down, lakeside, for a spot of fine dining in Wilde's restaurant. The same rugged views, of the West of Ireland countryside, are on show today just as they were when the Guinness family owned these historic grounds.

The Lodge will be pleased to personalise your celebrations – led by their friendly wedding and events team – to meet your wants and needs. Naturally, you'll have exclusive hire of the venue, and with space for up to 160 guests a big anniversary or birthday celebration would work equally well as a wedding.

Other draws to this splendid location include underground wine cellars and, through Oak Hall, there's an ideal spot for a wedding breakfast and reception. And if you're looking for a venue that also offers you the opportunity to enjoy more intimate moments aways - romantic couples can book themselves into the snug and romantic Hideaway Cottage. Find out more about The Lodge Ashford Castle.
#2 The Montague on the Gardens - London, England
Great for: Group Parties, Christmas Celebrations, Birthdays & Wedding Anniversaries.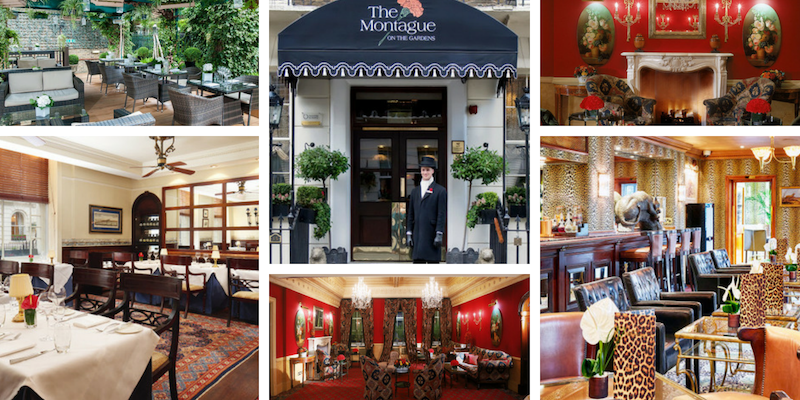 Looking for a unique way to celebrate the festive season in London? Montague Ski Lodge could really fit the bill. At The Montague in Bloomsbury, the festive fun is brought to the heart of the English capital. This 4-star hotel caters for a range of ages. Your guests could kick off the fun with a Safari themed afternoon tea - even if it's a bit too cold to take it in the gorgeous secluded gardens.

Later you'll be able to appreciate them though, by reserving the sole use of the alpine-themed Ski Lodge, partly formed by the snowy transformation of the property's Wood Deck. Visitors will be wowed by the atmospheric scenes of the Log Cabin. There, you'll enjoy festive drinks by the Christmas tree in snug armchairs, with blankets and under fairy lights and lanterns – all helping to heighten the frivolous mood. For groups of 15 or more, you'll be able to reserve additional event space until midnight. A top quality breakfast, and the hotel's great service are big pluses here too.

Being so central, you're only a taxi ride away from festive gems such as Winter Wonderland, or Ice Skating at Somerset House. Plus, if you've any history buffs in your group, the British Museum's just over the road. Have a look at the range of exclusive-use party deals, which start at just £38 per head, at The Montague on The Gardens.
#3 Chalet 1551 - Arlberg, Austria
Great for: Small Group Parties, Birthdays, Stag & Hen Trips in Europe.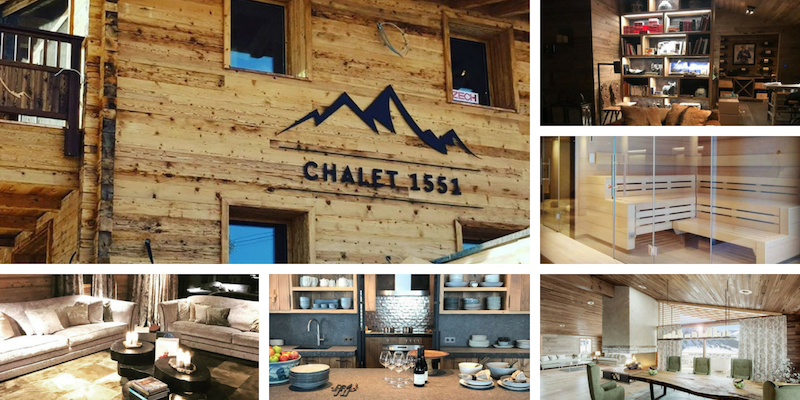 Set in the heart of the exclusive Arlberg district of Austria, Chalet 1551 would comfortably host an unforgettable skiing trip for up to 12 of your loved ones. The magnificent chalet is near to the banks of the River Lech, not far from the mountainous village of Lech itself.

Your luxury choices only start when deciding between skiing, snowboarding and hiking each day. For one, you'll have a private chef on hand to take care of your every culinary whim. Enjoy traditional Austrian cuisine, which you'll really appreciate after a day on the slopes. The hearty meat and delicious carbs can be washed down with some of the finest wines in the on-site wine vault.

Depending on your mood (and the weather…), you could unwind with a drink while watching the roaring open fire, or by soothing your muscles in the massage room. There's also a fully equipped spa, with a hammam steam room and Finnish sauna. Plus, there's an infinity pool from which the outstanding mountain views can be absorbed.

To give you a flavour of the extra special benefits on offer here, you'll find it easy to book a visit from a yoga instructor. Plus, as part of your group package you'll be whisked to and from Lech village by a snow scooter. Finally, if that's not enough, there's a chauffeur service to Lech and to the glamorous Zurs resort which is included in your booking. Find out more about group trips to the outstanding Chalet 1551.
#4 Bonaventure Villa – mainland Greece
Great for: Weddings, Large Parties, Anniversaries & Birthdays.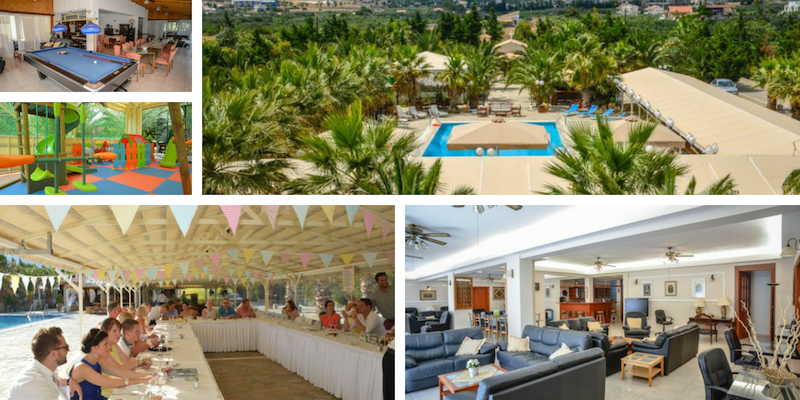 If it's pure, hassle-free luxury you're after this 5-star resort in Greece could be the place for your group. From the spacious pool, stretching 20 meters, to the in-house chef who'll cook up a barbeque, everything in and around your villa's taken care for you here. Set over three picturesque acres, the resort is lined with hundreds of palm trees, Leyland cedars and a well-manicured tropical garden.

And when it comes to weddings, Villa Bonaventure offers a complete package. This includes rental of the villa, airport transfers, the wedding reception with a beautifully redesigned space near the pool. Plus your hosts will create a delicious wedding buffet, complete with vine beer, and a wedding cake.

The bride and groom can also take advantage of a complimentary 2- or 3-night stay to familiarise themselves with the property ahead of the big days itself (during the off-peak season after the deposit's been paid for the ceremony). Athens is just an hour's drive away, in case you fancy a day trip soaking up some culture and history. Read more about the charms of Bonaventure Villa.
#5 Chateau de Lerse – France
Great for: Weddings, 40th Birthday Holidays, 50th Birthday Holidays & Stag and Hen Parties.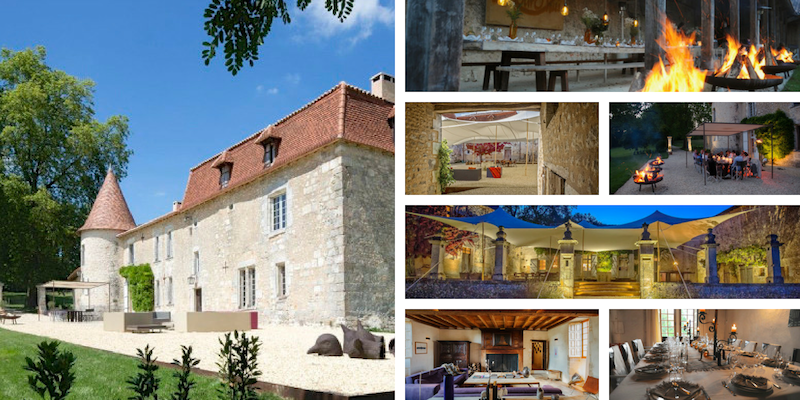 The authentic, medieval manor of Chateau de Lerse oozes French class and comfort. Situated in the quiet commune of Pérignac, a short drive away from Bordeaux and La Rochelle, this quaint treasure offers four individually styled chateau rooms. And you're arrival is immediately special - you're welcomed in through large, grand 'Compostella' gates, and, once inside, you're greeted by a pigeonnier and family gite before entering the main castle.

There is some flexibility around accommodation, for one, you can book a tee-pee for the night. Combined with access to some of the world's finest wine and gastronomy on your doorstep (specialist tasting tours can be arranged). This place really is an idyllic countryside setting for a range of group parties. There's room for up to 120 for a wedding reception here as well. Read more about the exclusive use deals available at Chateau de Lerse.
#6 Chicheley Hall, Buckinghamshire - England
Great for: Large Weddings, Intimate Weddings & Birthdays.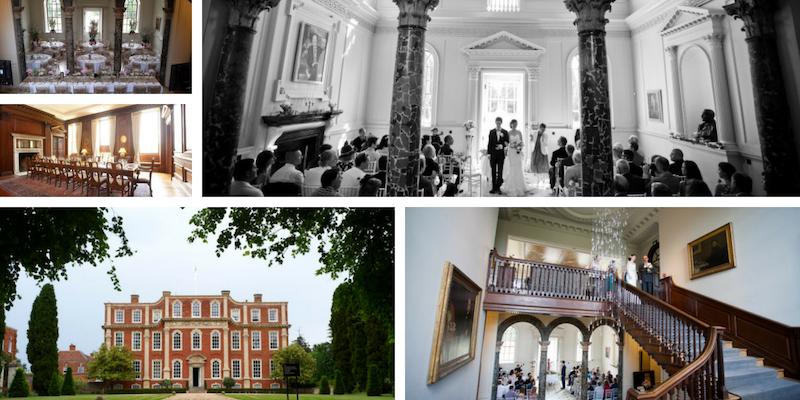 This stunning 80-acre property in Buckinghamshire is a Grade I listed building, which dates back to the early 18th century. Housed on majestically kept grounds, and located in the quaint village of Chicheley, this charming English country house can accommodate up to 100 guests for a perfect wedding. Big 50s and 60s birthday parties are in vogue at the moment and they'd be very well suited to this place. The extensive gardens can accommodate marquees for up to 300 people. Licensed for civil ceremonies, the Main House and its bar, sitting room, and dining room provides the ideal venue for intimate and exclusive wedding receptions.

Find out more on why we're recommending Chicheley Hall as a venue that would work really well for weddings and large parties.
#7 Papillon Ayscha - Turkey
Great for: Family Celebrations, Weddings, Groups of Couples & Birthdays.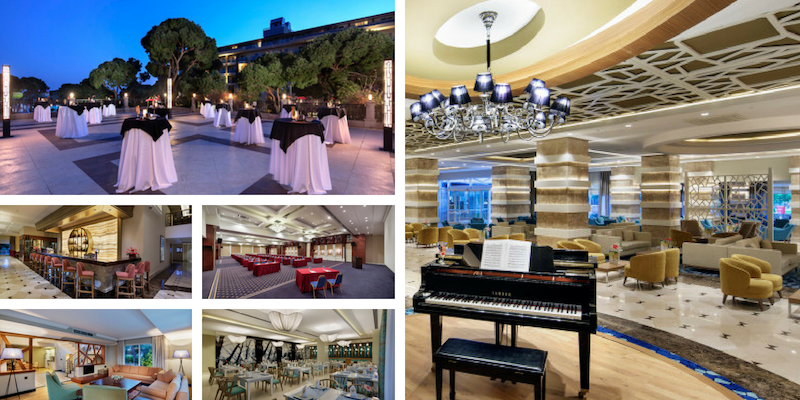 There's luxury around every corner at Papillon Ayscha, a 5-start hotel resort and spa in Belek in Turkey. The hotel itself would be ideal for a family holiday celebrating a special birthday or wedding anniversary with the kids. From the water park nearby, to Pilates and yoga options and a beach bar for mum and dad, there'll be something for all ages and desires.

In an area with many lovely bars and cafes nearby, you may only need to venture to these places as a back-up because the hotel's restaurant is known for a range of delicious dishes, with plenty of options for younger guests too. What's more, there are lots of night shows and parties hosted by the super friendly entertainment team. At Papillon Ayscha, a fun-filled trip for all ages could be very close by. Read more about the range of villa concepts on offer at Papillon Ayscha.
#8 The Acorn Inn - Dorset, England
Great for: Birthday Parties, Anniversaries & Stag and Hen Trips in the UK.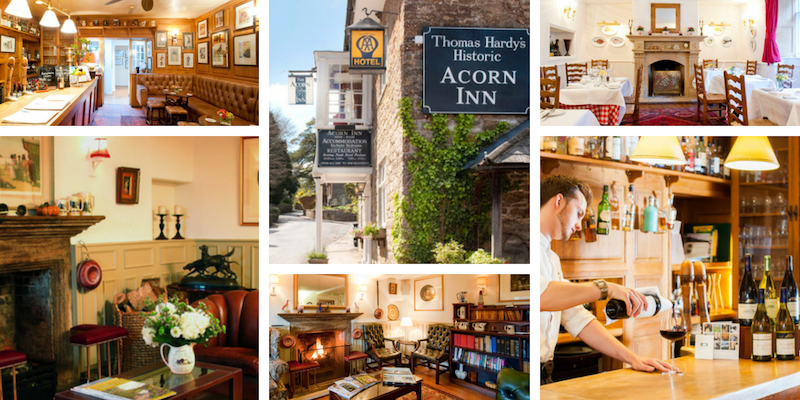 This grand Dorset village pub and guest house is located in an idyllic English village with a majestic deer park nearby. Real ales and award-winning dishes help to make up this historic former coaching inn from the 16th Century, which featured in the pages of Thomas Hardy's epic novel Tess of the D'Urbervilles. Indeed each of the ten individually designed en-suite guest rooms are themed around Hardy's novels, locations and characters.
The Acorn Inn would be a great spot for parties, family get-togethers or smaller stag or hen parties. Find out more about the attractions of The Acorn Inn.
#9 Feel Luxury Villas – Marrakech, Morocco
Great for: Weddings, Birthdays, Anniversaries.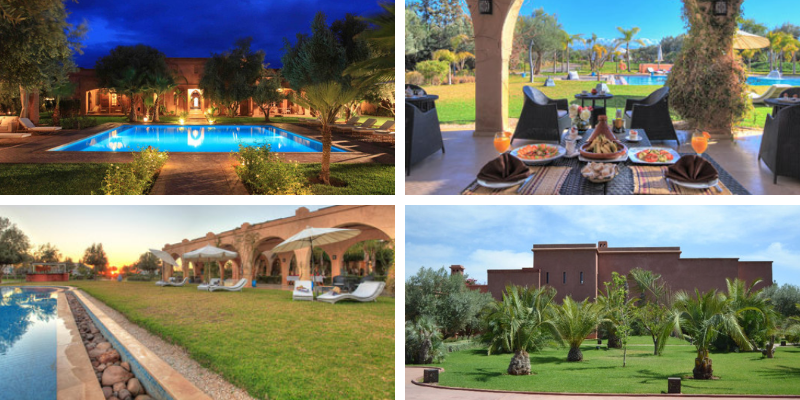 Feel Luxury Holidays is a company that prides itself on being an expert and attentive local contact when it comes to arranging a VIP trip meeting the needs of groups on a trip away. It's got a range of high-class holiday homes in the South of France, and the travel specialist offers the full works when it comes to its offering of villas and concierge services in Marrakech. The luxury Moroccan villas are each a unique style, but many of them come ready for relaxation (and romantic celebration) with traditional and rejuvenating hammam, Jacuzzi and generously sized pools.

Whether you're a group of friends travelling together for a wedding, or you're marking a big birthday or anniversary, the tour company will go the extra mile to ensure you get an unforgettable experience or two, with once in a lifetime tours and excursions from your majestic villas an easy thing to arrange. Read about the range of group packages offered by this travel company, including their villas in Marrakech.
#10 Diamond Beach Villa – Lombok, Indonesia
Great for: Intimate Weddings.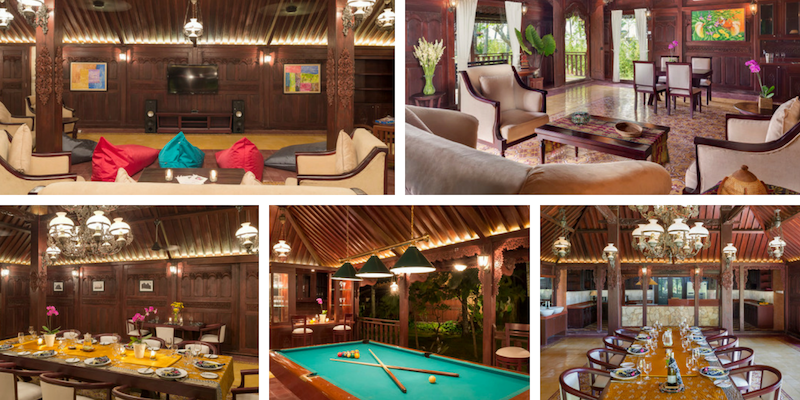 The Indonesian island of Lombok is known for unspoilt sandy beaches and pure indulgence. The Diamond Beach Villa offers both of these things and plenty more too. This luxurious retreat, complete with a private pool, could host a special party of up to 10 and would be very well suited for hosting an intimate wedding. The air-conditioned villas are made up of 5 separate bedrooms. And it's a nothing walk from the villas to the beach, where you and your guests can make the most of a private beachfront with staff on standby.

It's easy to imagine walking arm in arm with your love along a long wooden Joglo pavilion, which spread out across thousands of square meters of tropical land overlooking the pale blue ocean all around. As a happy extra, you'll have access to free bicycles which puts the 3.6km trip to Medana Beach within reach. If you are getting married, you'll have an unforgettable romantic experience by taking the incredible master suite, complete with its high ceilings, platformed veranda and a luxury king sized bed. See more of the amazing suite of photos, and packages, at Diamond Beach Villa Lombok.
It's easy to compare and find your perfect romantic package with us - whatever romantic occasion it is you're marking this winter or throughout 2020/21. Get in touch with our knowledgeable romantic consultants who'll help you personalise a trip to meet your needs.