#6 Candles and soft music at Il San Francesco Hotel, Sabaudia, Italy
This truly dreamy (lakeside) setting is home to a highly romantic restaurant. Candles and soft music will work to enhance the romance of your private meal at the charming Il San Francesco Hotel. Situated on Italy's majestic western coast. The resort's framed by the Lake of Paola and the crystal clear waters of Sabaudia. All this makes for a dream setting to enjoy the restaurant which has a feast of choice with both local and Mediterranean traditions. The Restaurant Da Ludo sul Lago can arrange breathtaking dinners in the park garden and on the piers.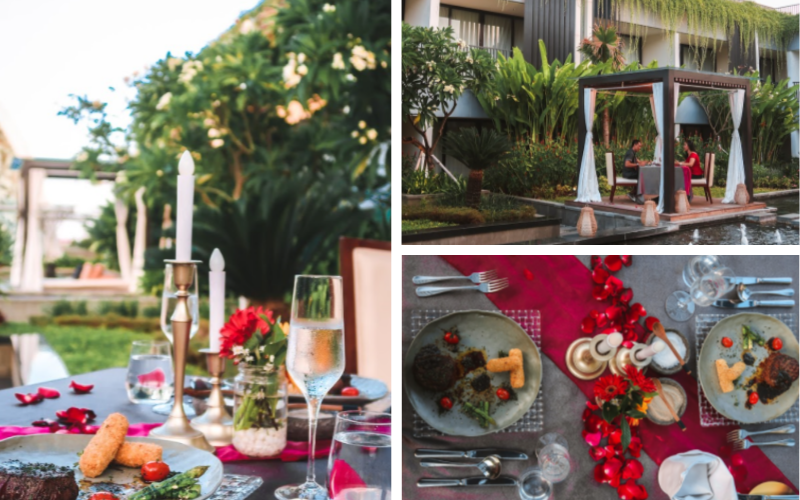 #7 Secluded dining paradise at Aryaduta Bali, Kuta, Bali, Indonesia
The most mouthwatering of menus is on offer at this Indonesian escape – think seared scallops, Aussie Black Angus beef and coconut crème brûlée. All of this, and lots more, can be enjoyed at this secluded spot in Kuta. Despite being close to Segara Beach, in bustling Bali, you'd never know that you're in the heart of a tourist hot-spot during your candlelit meal in Aryaduta Bali's secluded lush gardens. Or loved-up couples can get their dinner sent straight to the balcony of their suite. A day's notice is all that's required to book your dream evening here. And the intimate dinner allows couples to capture their love with professional photoshoot too.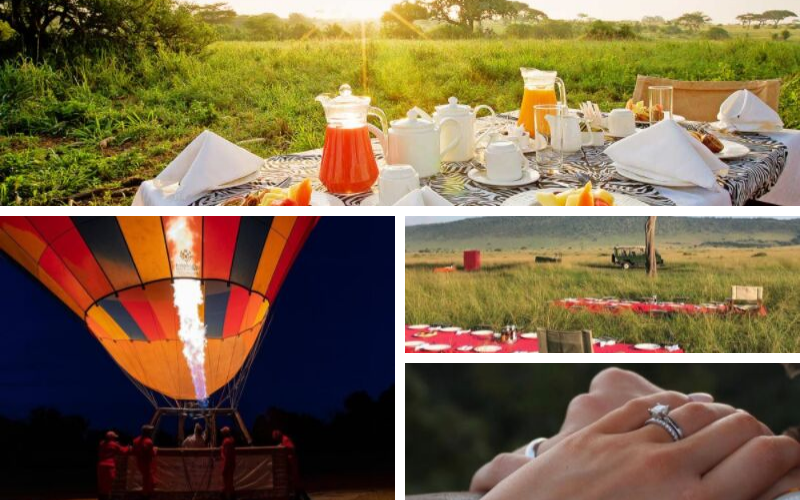 Ever dreamt of a romantic dinner for two as the sun dips slowly over the African savanna? Safari Sunseekers can make it happen. And they'll double down on the romantic luxury by offering couples the once-in-a-lifetime chance of a hot air balloon ride over the spectacular Kenyan plains.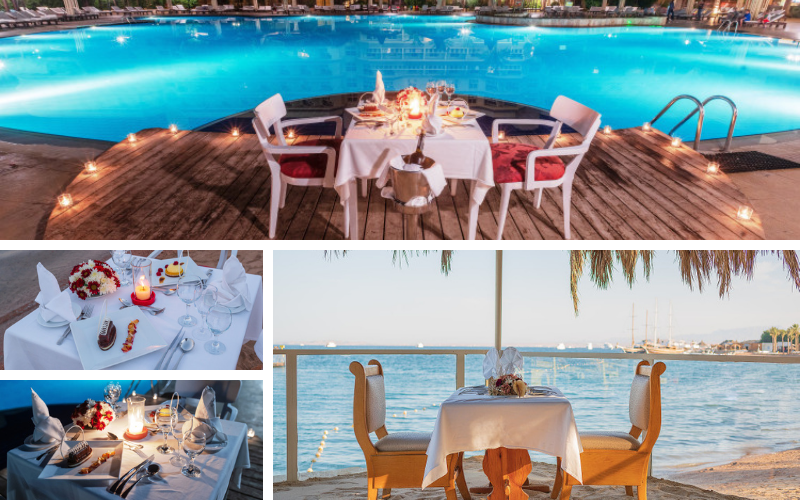 Glittering waves, heaps of golden sand and year-round sunshine all make for a picturesque holiday or honeymoon destination… which explains why Sindbad Club soon became one of the most sought-after resorts along the Red Sea coast. Up the romance factor of your stay with an intimate Poolside Private Candlelight Dinner (including 3 courses, dessert, and a bottle of wine) or a special Sunset Dessert by the Sea. Both of which provide an ideal opportunity for an unforgettable romantic celebration.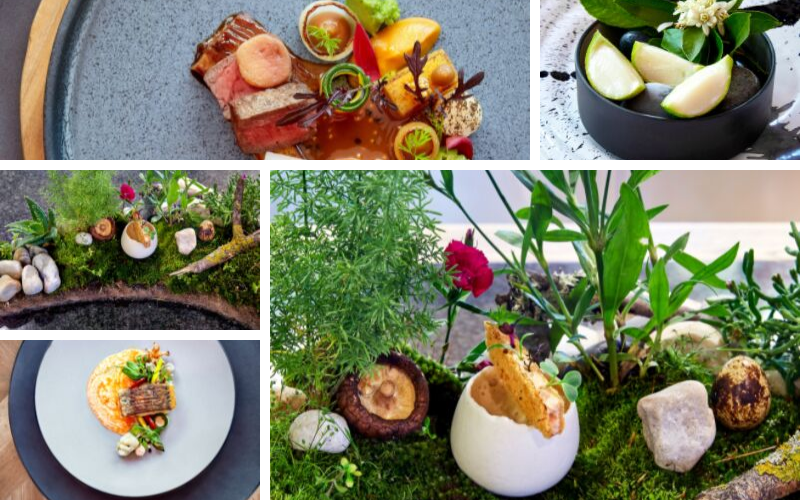 #10 Dine at one of Africa's best restaurants at Le Quartier Francais, Franschhoek, South Africa
A must for foodies and lovers of rare wines! Romantic dining at La Petite Colombe (little sister of the world-famous la Colombe restaurant) includes a full gourmet menu of 11-courses and bursting with unique flavours. And booking a two-night stay at Le Quartier Francais means you'll get a complimentary meal at La Petite Colombe – and you'll be sure to return for seconds at least once or twice during your stay. That's because La Petite Colombe, at the beating heart of the French corner of the Cape, is widely regarded as one of the best restaurants in Africa. It draws foodies, and lovers of rare wines, from across the continent and further afield. Its 4.9 user rating on Google gives you an idea about the credentials of this classy eatery. Ceramic oyster shells and Cape Malay pickled fish with piccalilli are a couple of the culinary highlights here.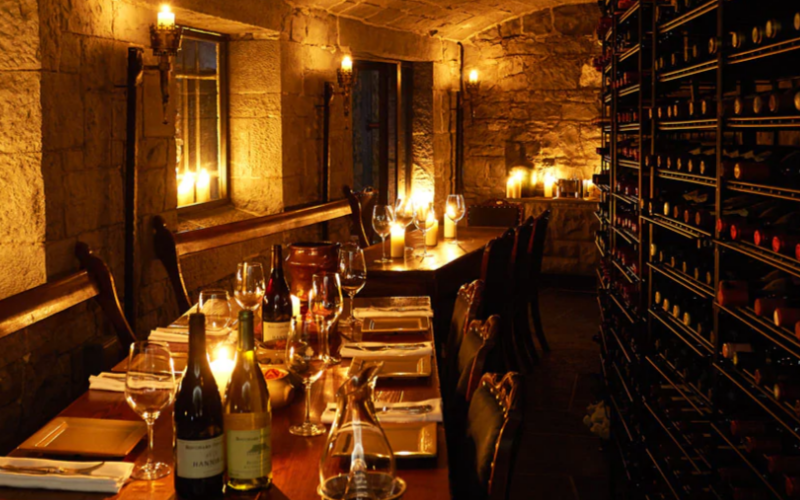 #11 Secret dining at Ashford Castle, County Mayo, Ireland
Share a romantic, candlelit dinner in the secret passages of the castle's underground wine cellars. The extensive wine tasting menu has a huge choice of both old and new world drops and you're guaranteed a once-in-a lifetime dining experience. This divine country estate in Mayo is perfect for a romantic getaway and no-one will raise an eyebrow if you opt for an early afternoon nip of Irish whiskey or a Guinness. After all, the Guinness family were once residents at this 800 year old treasure. Any of these delicious drinks would be lovely to enjoy before another night of memorable dining. From an indulgent afternoon tea to private dinners for two, you're really spoilt for choice at this stunning location.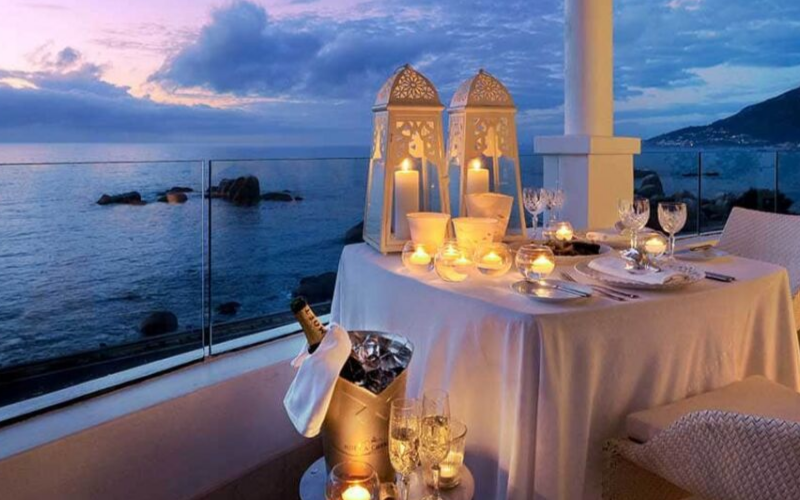 #12 Atlantic Ocean views at Twelve Apostles, Cape Town, South Africa
The finest indigenous and international cuisine can be savoured from this immensely romantic location overlooking the sea at the Azure Restaurant of The Twelve Apostles Hotel & Spa. Head Chef Christo Pretorius and his team will create for you a range of exquisite dishes, with plentiful meat, seafood and vegetarian options. From their delightful entree selection or the delicate fresh oysters to main, your taste buds will be infused by the finest of organic ingredients – all rounded with a delightfully sweet dessert. Try Bea's double baked cheesecake if you've any space left!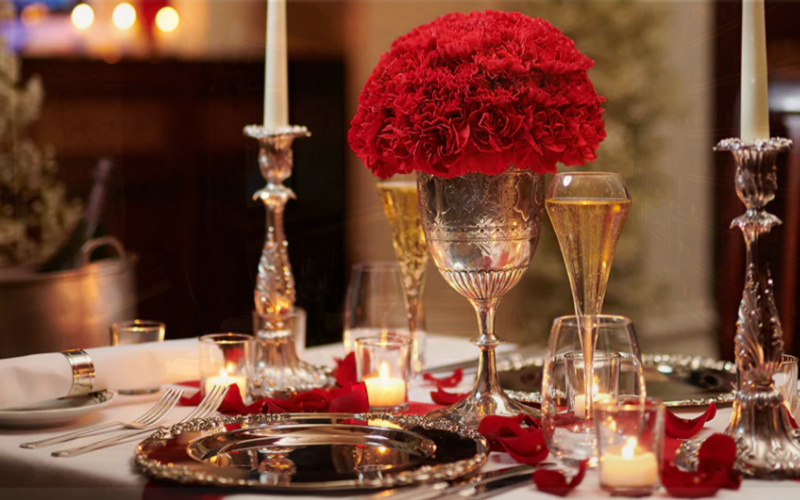 Taking your place here for dinner puts you in the beating heart of one of London's most intimate and historic venues. Dine in elegant style at the ancient chapel, selecting delights like pan-fried halibut or sizzling pan-fried Gressingham duck breast.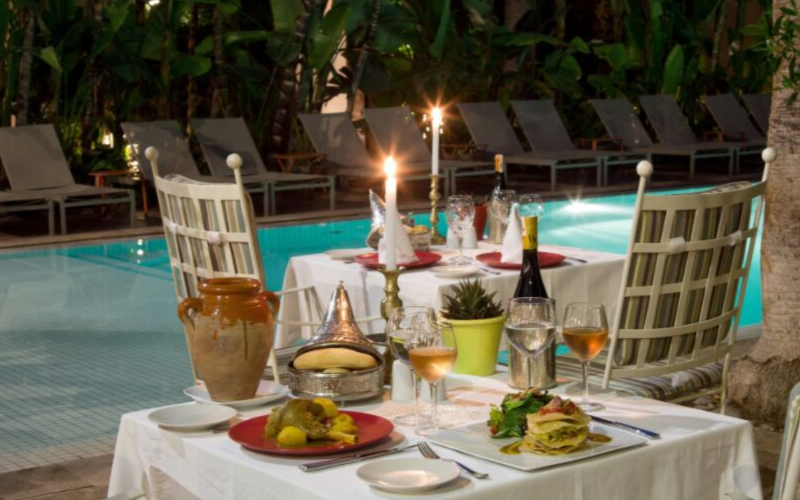 #14 Candlelit poolside dining at Les Jardins de Medina, Marrakech, Morocco
A romantic three-course dinner at Les Jardins de Medina is accompanied by a musician playing gentle Arab-Andalusian rhythms. Couples on their honeymoon at this secluded enclave in Marrakech can indulge in a candlelit dinner with Champagne, and Hammam.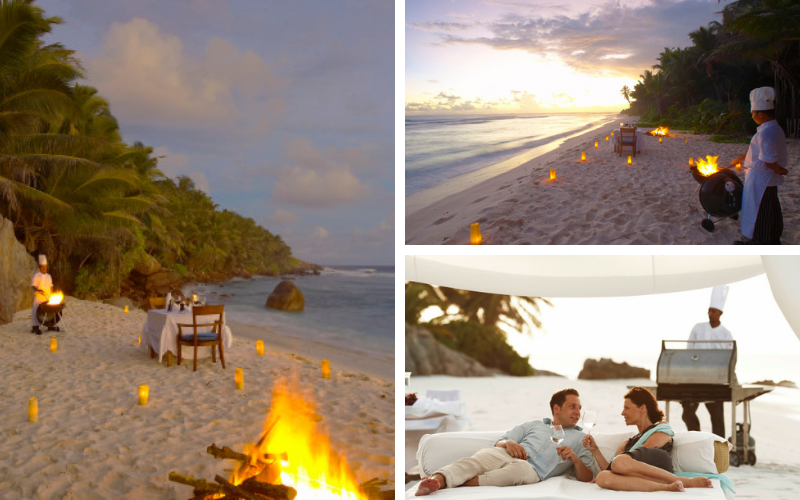 Couples seeking an intimate occasion can book private BBQ on the beach - a great way to celebrate special occasions and create new memories. Complete seclusion and breathtaking ocean views provide the perfect backdrop to every culinary occasion.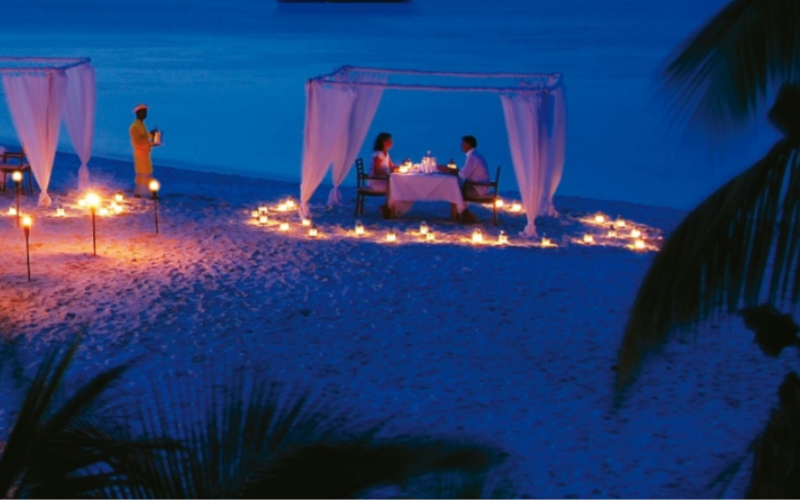 #16 Eat lobster on the beach at Diamonds Athuruga, Maldives
The Romantic Lobster Dinner under the Stars is the centerpiece of romantic experiences at the Maldives' treasure that is Diamonds Athuruga. And why not start your night of passion with a sunset boat trip by Dhoni before dinner?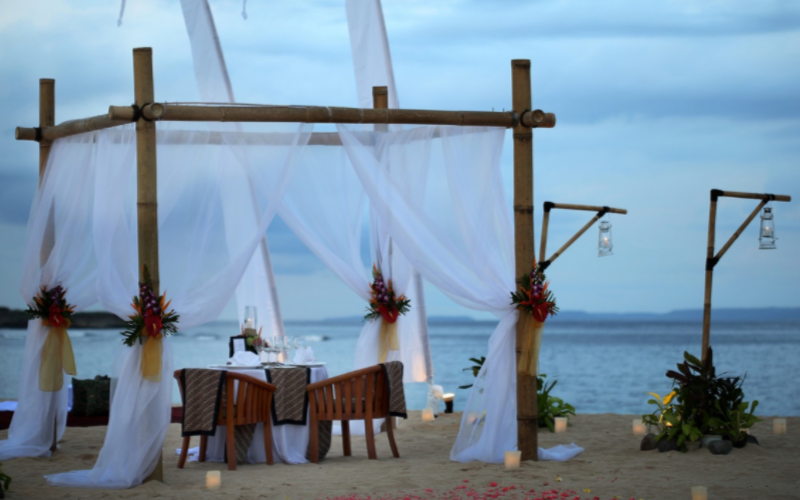 #17 'Love in Paradise' Romantic Dinner at Ayodya Resort, Nusa Dua, Bali, Indonesia
An intimate dinner for two on the beach at sunset. The beach set up with tropical flowers, candles, lanterns and petals create the ultimate romantic atmosphere to put you in the mood for love. This is an evening filled with many special moments with your loved one.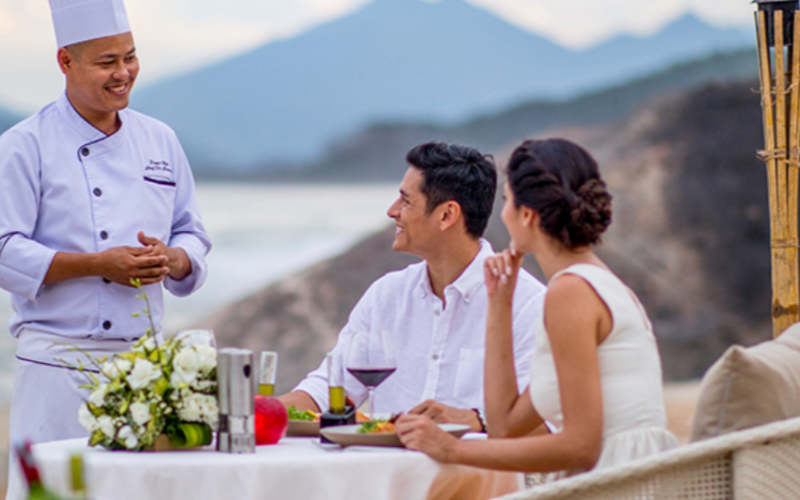 The destination dining experience at Banyan Tree & Angsana Lăng Cô could just be one of the most romantic you'll ever know. Celebrate a special romantic occasion, with course after course of the finest Thai cuisine, including fresh seafood, during a private candle lit dinner on the beach.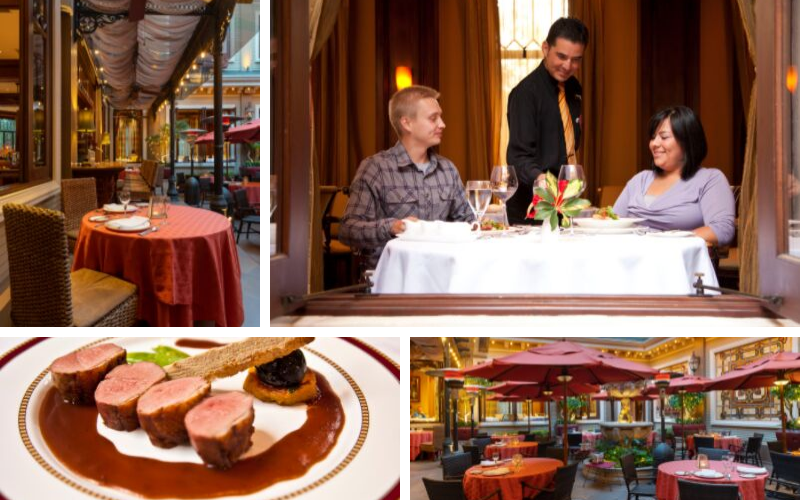 An internationally renowned restaurant with an elegant interior courtyard is the setting for a candlelit dinner at Hotel & Restaurante Grano de Oro. Try the 5-course tasting menu which is influenced by the freshest market produce. That's before a mention of the contents in this magical venue's award-winning wine cellar…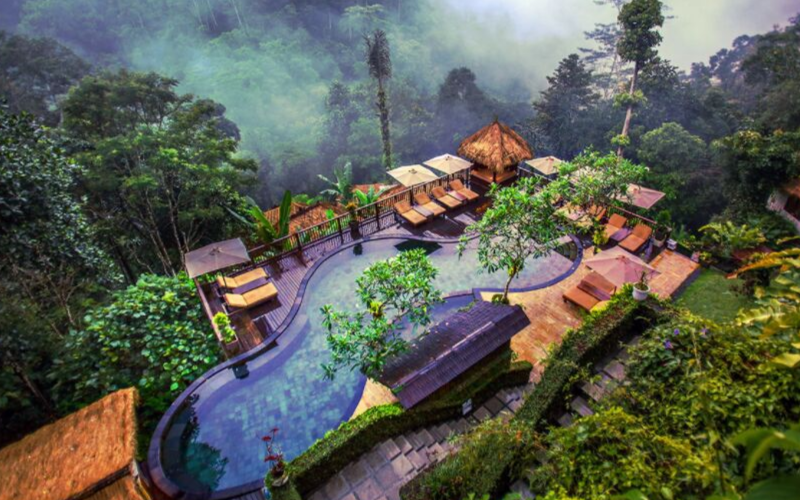 #20 Secluded riverside dining at Nandini Jungle Resort & Spa, Ubud, Bali, Indonesia
The Romantic Dinner by the River at Nandini Jungle Resort is really something to behold at least once in your life. Surrounded by the breathtaking beauty of the mystical Ayung River, you'll dine atop a cliff overlooking the jungle... while the culinary team here create an unforgettable private dining experience showcasing the flavours of Bali.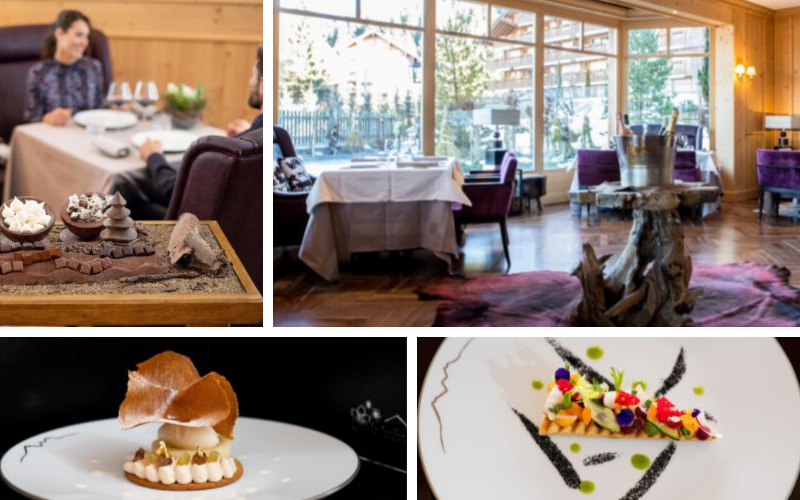 #21 Michelin-star dining with mountain views at Chalet RoyAlp Hotel & SPA, Swiss Alps
The Jardin des Alpes Restaurant, which has a Michelin star, offers an inviting atmosphere and a selection of the finest French and Swiss gastronomy, with plenty of farm-fresh produce. Plus, there's the most spectacular of views over the Swiss Alps – that's assuming you can take your eyes off one another (or your sumptuous dishes). And a pre-dinner tipple at the stunning Le BaAr's Bar, situated in a charming mountainside lodge, is a great way to unwind after a day on the slopes.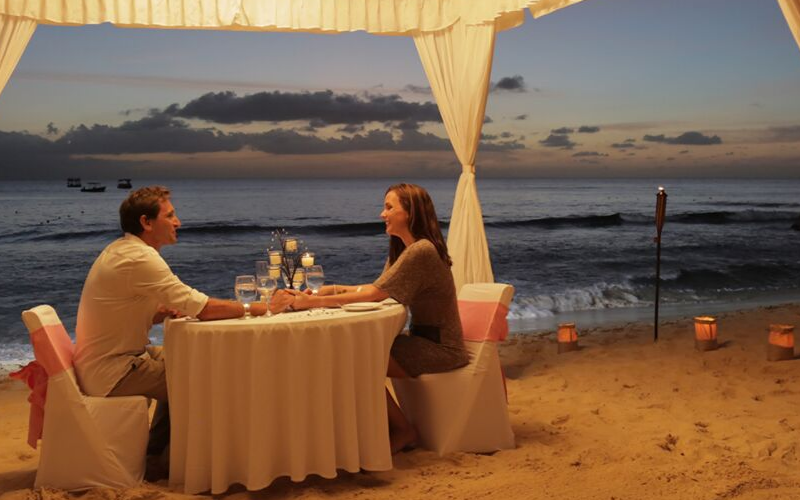 #22 'Toes in the Sand' dining experience at Colony Club, Barbados
Situated on of the finest stretches of the Platinum Coast in Barbados, the Colony Club offers a picturesque setting and a fabulous dining experience under the stars to match. The resort's Toes in the Sand dining experience does what is says on the tin: each of your 3-courses will be delivered to you by a dedicated butler on the beach.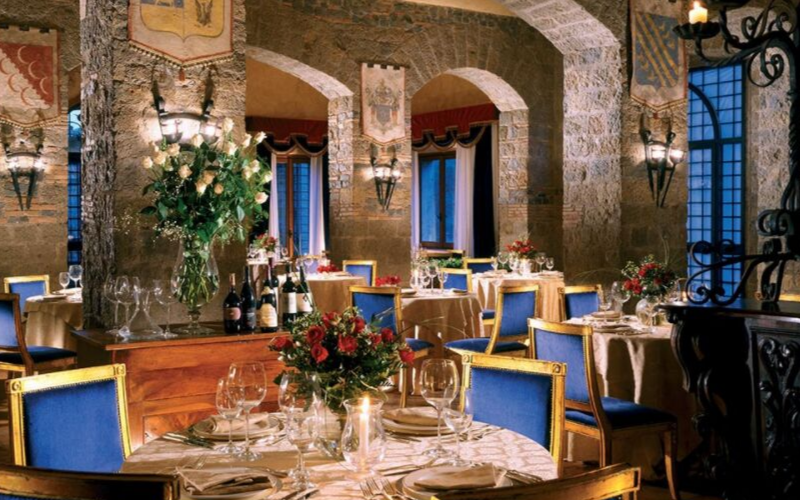 Within such a magical context, the cuisine must be exceptional. And is truly is. Stuffed ravioli and a cheese plateau with fruit mustard and honey are just a few examples of the delights on offer while you take in the grandest and ancient Italian style.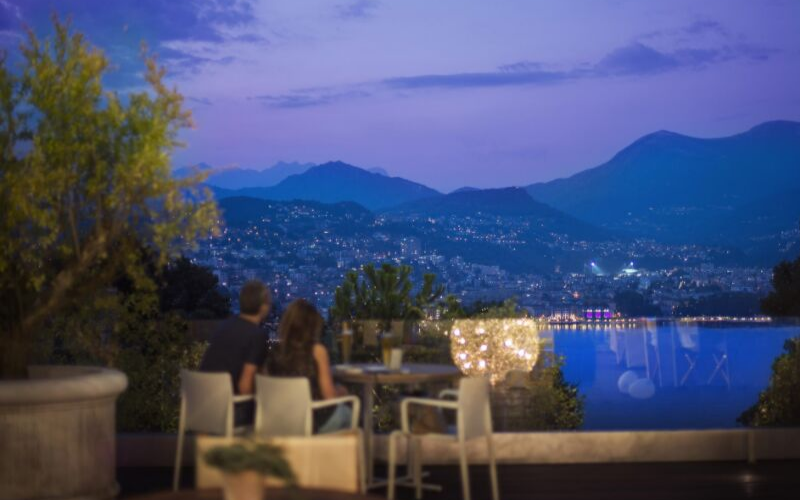 #24 Sensational views from the restaurant at The View Lugano, Switzerland
With a name like The View, it'll come as no great surprise to hear that one of the main USPs of this Swiss bolt hole is the extraordinary scene afforded to lucky punters of Lugano's restaurant from its hilltop location. Chef Mauro Grandi's team also create breakfasts, lunches and dinners which are a thing of beauty and utilise well-balanced flavours and precise execution that produces a new twist on the traditional cuisine of this Swiss region.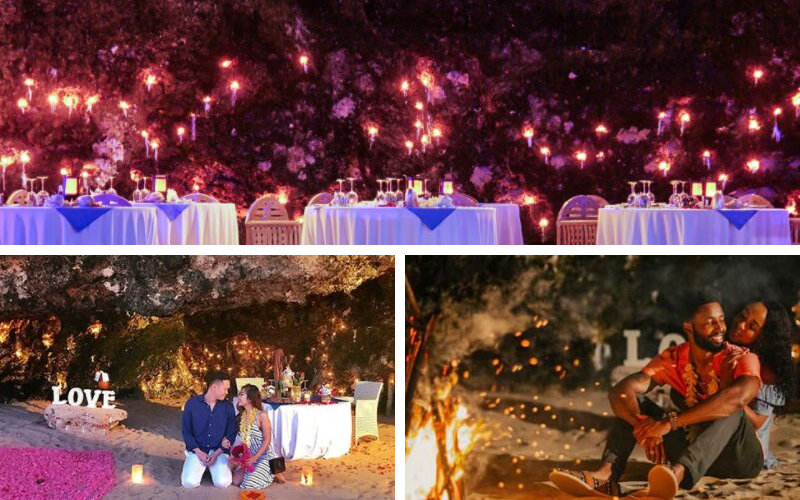 Soft white sands and naturally formed caves at Samabe Bali Suites provide a uniquely romantic setting for private dining and special celebrations. Share an unforgettable night of romance surrounded by twinkling candles and the heat of an open fire.
If you'd like to find out more about any of these destinations, our expert team of
Romantic Consultants
can help with any inquiries you may have – we promise to respond to you within 24 hours.