48 hours at The Chedi Club Tanah Gajah, Ubud, Bali
Perfect for a romantic getaway and set in the lush heartlands of south-east Bali, surrounded by paddy fields and only 10 minutes away from Ubud town, The Chedi Club Tanah Gajah offers once-in-a-lifetime romantic experiences in an oasis of beauty and calm.

Art and design are central to the Chedi Club, and each of its 20 suites and villas are decorated with exquisite local artefacts and pieces from the renowned Hadiprana collection. Hendra Hadiprana, the owner of the Chedi Club is a famous Balinese architect and designer. You'll be able to enjoy a unique and relaxing experience here. The accommodation is luxurious, the service is impeccable, and the lush surroundings of waterfalls, Hindu temples and rice terraces all add a touch of magic to your stay.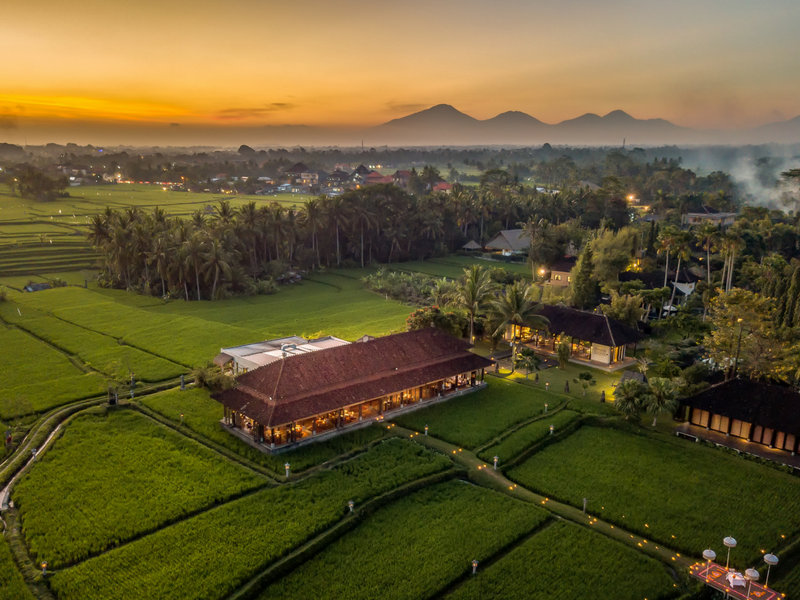 Experience Award-Winning Romance and Luxury...
Looking for a Chedi Club Ubud review? Conde Nast, Style Magazine and Trip Advisor have all given Chedi Club awards, and that's only in 2018. Every year from 2005, this magical place has won countless accolades for its excellence.
To experience Chedi Club for yourself, enter the gates of paradise and spend a blissful 48 hours. Here are our ideas for a truly memorable and romantic visit.
Day 1
2.00pm Arrival
In keeping with the Chedi Club, Tanah Gajah, Ubud's reputation for first class service, you will be transported from Ngurah Rai International airport, courtesy of a private car, and whisked through the 90-minute journey to the complex. Upon arrival at Chedi Club you'll be treated to a complimentary drink.
Now's the time to step back and marvel at your room. Whether you're staying at one of Chedi Club's one bedroom suites, a one bedroom pool villa, or the ultimate in luxury, the Hadiprana villa, you'll know that you're in for a very special time. The decor is a wonderful blend of traditional Balinese interior design with all the contemporary fittings that you could need. WiFi, flat screen TVs, air conditioning and a jacuzzi are all included.
You'll meet your butler; fresh fruit will have been delivered to your room and you'll be able to unwind in luxury. Once you've rested on the elegant daybed or on your own private terrace and enjoyed some precious 'together time,' it's time for tea.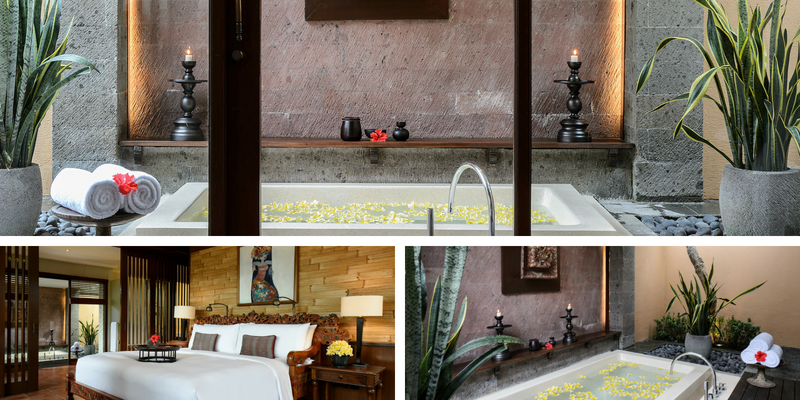 4.00pm – Afternoon Tea
Make your way to the restaurant at the Chedi Club, where you'll be able to enjoy a sumptuous afternoon tea. This wonderful snack is served between 4-6.00pm. As soon as you sit back on a padded cane chair you'll be able to admire the stunning views across the paddy fields and tropical rainforest, as well as the thatched restaurant building.
And what a treat lies in store for you both. You'll be served a mixture of Western and Balinese savoury dishes including spiced tuna satay, finger sandwiches and chicken curry puffs. Those with a sweet tooth aren't forgotten, you can delight in chocolate cake, fruit tarts and jackfruit fritters. If you've enjoyed this light meal, you can always book a cookery class with chef Dean Nor – 24 hours' notice is required for this experience.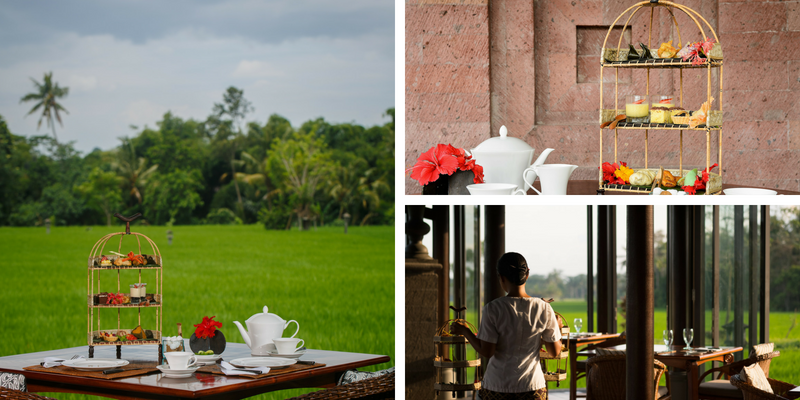 5.30pm Take in the views by hot air balloon
The Chedi Club's new adventure is the only ballooning opportunity on the Island of the Gods, and the first such initiative launched by a resort. Each flight climbs 50 metres above the resort's rice fields, and floats at the end of a tether while you get to drink in views of Mt. Agung in the near distance, the expansive rice fields below, the forests of Ubud and the 5-hectare estate of The Chedi Club. The flights last between five and seven minutes with the possibility of afternoon tea for two included in the excursion. This adventure is available between June and November.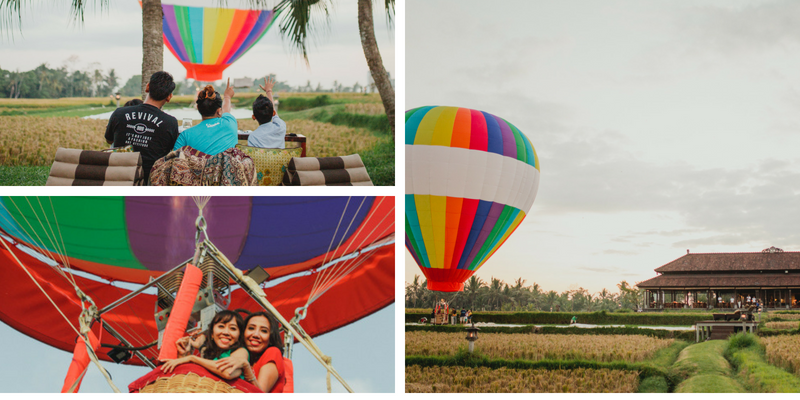 6.30pm Unwind in the spa
Continuing with the relaxing ambience of the Chedi Club, the spa is a wonderful place where you'll both be able to unwind and enjoy a pampering session like no other. The Spa is open until 9.00pm so there's no hurry, simply put yourselves in the hands of one of the hotel's experienced therapists and soothe all your troubles away. Enjoy a Chedi Jade massage while overlooking the paddy fields or relish the pleasures of an Indonesian cream bath while having your shoulders and scalp massaged. Absolute bliss.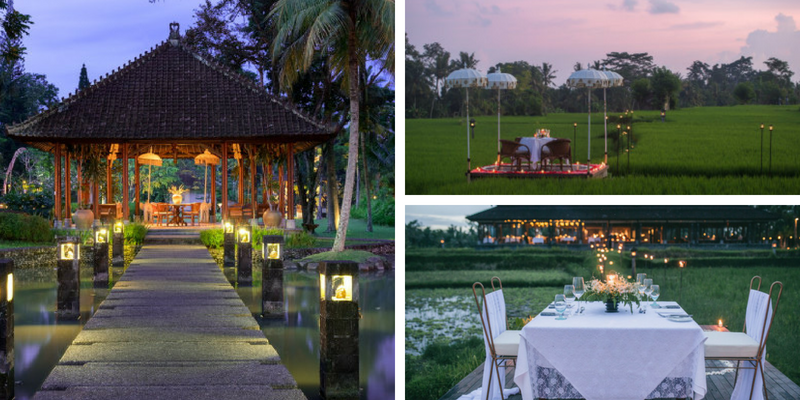 8.00- 9.00pm An intimate meal
By now you'll be so chilled out, you'll probably want to retreat to your room and enjoy a private intimate dinner. Your butler will be able to organise a wonderful candlelit dining celebratory meal for you. Food will comprise a mixture of Indonesian, Balinese and Western classics. If the candlelit paddy fields are calling you, you can escape from your room and relish a private dining treat in the heart of meadows. With the sounds from the jungle echoing in the distance, and the peace and tranquillity of your immediate surroundings, there is little more romantic than this experience.
Day 2
8.00 – 9.00 am Breakfast with a Twist
Start your first full day with a magnificent floating breakfast in your pool. You'll have a choice of pancakes, homemade muffins and exotic fruit while making your decisions about the day's itinerary.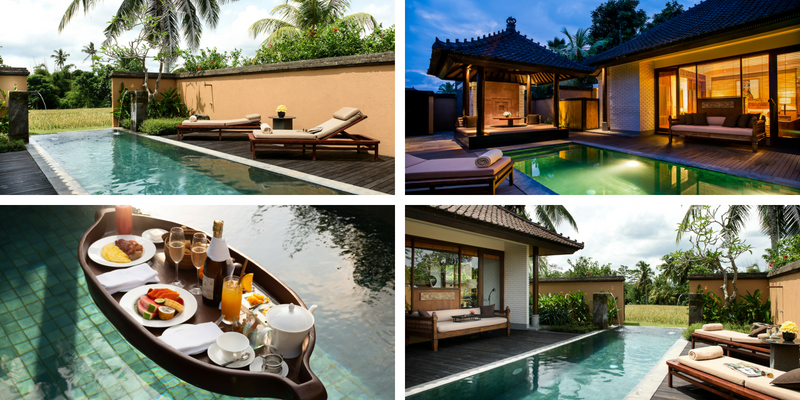 10.00 am Walking with your butler
One of the joys of having a butler of your own isn't simply the fantastic room service, but also the opportunity to have your own guided tour of the surrounding paddy fields. This might be one of the reasons that Chedi Club is constantly rated as the best hotel in Ubud for a honeymoon. The quality of its attention to detail, giving you the time to enjoy each other and the scenery. This walk will also take you through the local village where you'll be able to sample the local Balinese culture.
11.00 pm Unleash your culinary genius
You've been tasting some of the Chedi Club's chef's delights during your stay. If you want to extend your experience then spend the afternoon in the open-air kitchen, where you'll be able to enjoy creating some exotic Balinese recipes under the tutelage of Chef Dean Nor. You can take part in a group class or have your own private instruction. Goreng fried noodles, chicken and bumbu Bali are just a few of the delights that you'll learn how to prepare.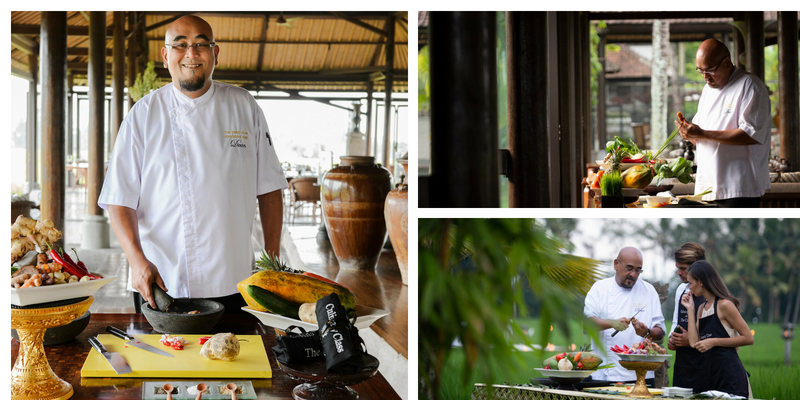 1.00 pm Light snacks at the Pool Bar
Rather than using the main restaurant, try out some tasty snacks at the resort's magnificent Pool Bar, next to the hotel's 25- metre pool. A light lunch is a good idea as the evening's plans are spectacular. Indulge in a lazy swim, or just simply take a slow wander around the estate, revelling in each other's company and the beauty of the landscape.
3.00 pm Relaxing art therapy
Head off to the heavenly beauty of the neighbouring Bumi Duadari estate. Owned by the creators of the Chedi Club this is the place to relax and de-stress under the guidance of a local art therapist. 'Bumi Duadari' means 'earth protected by two angels.' And, you may well feel that you're in the company of angels as you look at the many examples of beautiful and intricate carvings, all made by local Ubud sculptors. After looking at the work on show you'll be encouraged to produce your own sculpture, as well as meet with the artists to express your feelings and emotions about their work.
You'll love the mystical surroundings of this estate. Refreshments are included at the Bumi Duadari pavilion overlooking the sculpture garden.
7.00 pm An evening with a difference
The hotel has its own amphitheatre and it's here that you'll be able to enjoy the Kecak Dance and Dinner. This experience will ensure that you'll both remember your time in this exotic resort. The Kecak is Balinese dance performed by a troupe of local boys and men. The amphitheatre is candlelit adding to the mysticism of the exhilarating performance. Having conjured up a romantic mood, and a good appetite, you'll make your way to the restaurant to enjoy a Royal Balinese Dinner.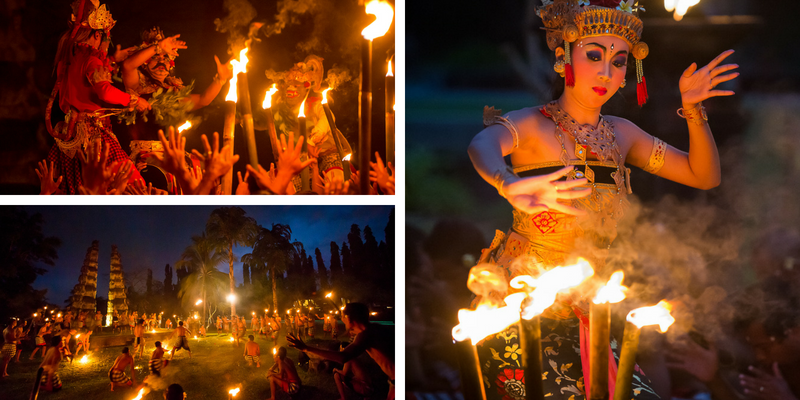 Day 3
7.00am Purification ceremony
You'll take a 20-minute car ride to the middle of the jungle, to Pejeng. Once you've reached this destination you'll be invited to take part in an ancient ritual that'll cleanse your mind and your body of evil spirits. What a wonderful way for the two of you to celebrate your love. You'll also be able to take a walk to the nearby Garba Cave, a 12th-century cave just below the Pengukur- Ukuran temple and used as a place of meditation for centuries.
You'll leave this site around 10.00am feeling, refreshed, cleansed and happy.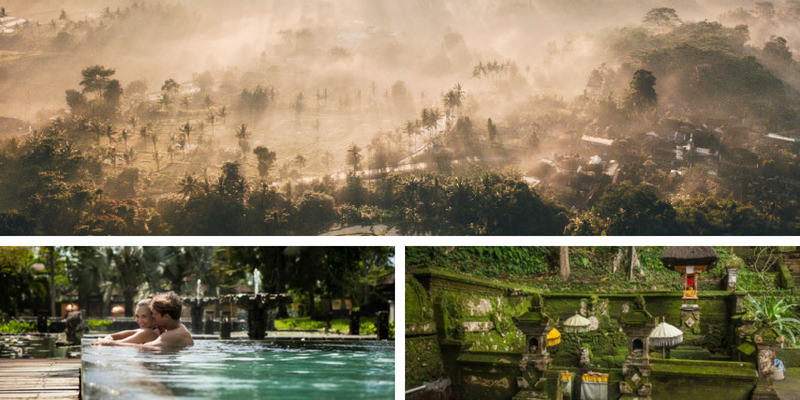 11.00am Spa visit
After enriching your soul, it's time to spend your last few hours at Chedi Club, enriching your body with a massage using local organic products. You can also visit the yoga studio next door to the spa where you'll be able to have a private session with the Chedi Club teacher.
12.00 Picnic
For your final meal of your romantic escape, ask for a picnic to be prepared and then simply enjoy eating some beautiful salads and fruit in this stunning environment. Relish the views over the paddy fields and the rainforest while soaking up the scents all around you. Enjoy each other's company in these intimately private and secluded surroundings. You'll be able to intensify your love for each other within the peace and quiet.
2.00 pm Departure
Your 48 hours are up and it's time to go (unless of course, you choose to extend your stay here as many couples do). Your car will be summoned, and it'll be time to leave for the airport. You won't have had time to explore all the delights that Chedi Club has to offer. No matter, this will give you ample opportunity to return and explore other treasures in this magical place.
See full details and book your stay the Chedi Club Tanah Gajah Ubud Bali - HERE