48 Hours of Romance at Abia Villas, Bali | Recommended Hotel
Bali has always been a favourite destination spot for a romantic getaway, and with its beautiful sunshine... stunning beaches... unique ethnic cuisine... and laid-back vibes it's not hard to see why!
Recommended for romance in Bali...
With several private villas all elegantly decorated in a contemporary Balinese style, the 4-star boutique accommodation at Abia Villas has romance in abundance.
Each Villa enjoys touches of sophistication and romance such as its own private pool, outdoor rain shower, outdoor open seating and dining area and lush tropical garden. Bathed in natural sunlight (and deliciously cool thanks to the air-conditioning), the Villas are the ideal place to spend some quality time connecting with your loved one. Plus if there are any additional special touches you would like to add, the friendly staff are only too happy to oblige.
Situated in one of Bali's favourite tourism districts, Legian, the Villas are close to everything the neighbourhood has to offer but are set back to allow you to enjoy some peace and quiet in your own secluded haven.
Read on for our 48-hour itinerary packed full of romance; perfect for a blissful honeymoon, a memorable anniversary celebration, a unique proposal destination or an extra special weekend away together...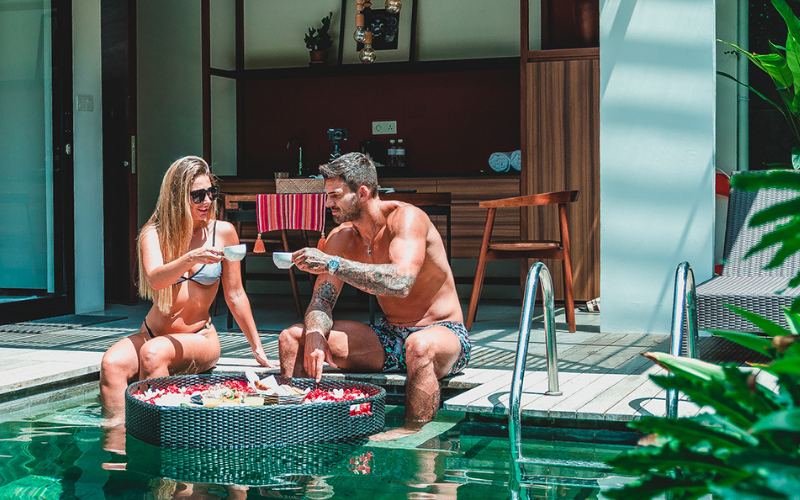 Day 1
2pm – Arrival and Check in
Take advantage of the excellent service offered at the Villas and arrive in comfort with a complimentary airport pick-up transfer. You'll be escorted to your stylish villa where you'll each be greeted with a refreshing complimentary welcome drink and a basket of seasonal fresh fruit. Take your drinks outside and admire your private pool and tropical garden. Kick off your shoes, sit back on your terrace and appreciate the warmth of the sunshine in your very own home away from home. Your two days of blissful relaxation and romance has begun!
4pm – Traditional Abia Cooking Class
Immerse yourselves into the local culture and cuisine with a creative Balinese cooking class. Learn how to blend incredible aromatic spices with the freshest of locally sourced vegetables, meat and fish to create some of the most complex, and delicious, cuisines in the world. The wonderful 'Chef Dar' will guide you in cooking stunning dishes that look as beautiful as they taste. Perfect for couples who share a passion for the art of cooking, this class will leave you with memories to cherish together as well as the skills to recreate some of the Balinese magic back home.
6pm – Relaxing Balinese Massage
Unwind with a signature treatment at the Abia Spa and Wellness facility. Drawing inspiration from traditional Balinese healing techniques, the treatments delivered have been designed to revitalise depleted energy levels, replenish the body and relax the mind. Treat yourselves to one of the 5 signature treatments on offer and leave the spa feeling relaxed, refreshed and ready to enjoy the rest of your special evening together.
8pm – Romantic Candle-Lit Dinner
Spoil your special someone with a surprise candle-lit dinner in the privacy of your own villa. Choose from the delicious menu of traditional Balinese, Indonesian and Mediterranean offerings and enjoy them on your terrace looking up at the stars. This incredible set up involves a bamboo platform being placed over your private pool with a beautifully decorated table for two ready and waiting for you both. With flower petals and flickering candles floating on the water to set the mood, you'll be in for an unforgettable evening.
Day 2
9am – Magical Floating Breakfast
Start your first full day in Legian with one of the Chef's appetising breakfast menus. For something extra special why not opt for the perfect romantic treat - a floating breakfast! Choose from one of the delicious menus on offer and allow the aroma of fresh coffee, light fluffy eggs, exotic sliced fruit and baskets of sweet and crisp pastries to wake you up. All served on a novel floating tray while you relax in the cool blue waters of your private pool.
11am – Explore the Local Markets
With your stomachs full and your energy levels replenished, why not explore what the local area has to offer? We recommend visiting the Merta Nadi Art Market to grab yourself an authentic piece of Balinese culture. This traditional market has a large number of souvenir and boutique shops and many of the goods are made locally. You'll be spoilt for choice with the variety of sculptures, bags and clothes on offer, and with plenty of cafes nearby you can take your time and truly enjoy the experience.
2pm – Afternoon Tea
Head back to your Villa to freshen up before sitting down to a delectable Abia afternoon tea. Enjoy some couple-time and indulge in a delightful contemporary fusion of Indonesian and western delicacies, all served in the comfort of your villa.
4pm – Soak up some Sun
A trip to Bali wouldn't be complete without spending some time on one of the stunning golden beaches and the closest one is just a 15-minute walk away. Legian has fewer crowds and lower tides than some of its more popular neighbouring beach resorts which makes it an excellent place to relax.
Enjoy the feeling of the sand between your toes and the sun on your face as you stroll hand in hand with your loved one, or, if you fancy something a bit more active, why not create a magical memory together and enjoy one of the many water sports on offer.
6pm –Intimate Dinner for Two
Enjoy your last evening together in this island paradise and visit one of Legian's wonderful restaurants and bars. We suggest the Azul Beach Club for a relaxed atmosphere, excellent fresh seafood and first-class service. Grab a table outside and sip tiki cocktails while you look out over the Indian Ocean and watch the stunning sunset together. Tuck into spiced crispy calamari, tasty woodfired pizza and chocolate brownies served with white meringue and berries cream. With the sound of the waves and the feel of the sea breeze on your skin this will make a truly special memory.
9pm – Romantic Bubble Bath
Your romantic evening hasn't quite ended just yet! Wander back arm-in-arm to your villa, where you'll be greeted with the most sumptuous of bubble baths drawn for your pleasure. As you sink into the warm waters decadently covered in beautiful flower petals, enjoy the sensation of an evening soak in your glorious surroundings and allow yourselves to feel sublimely relaxed. The perfect way to indulge your bodies and minds before you tuck in for the night.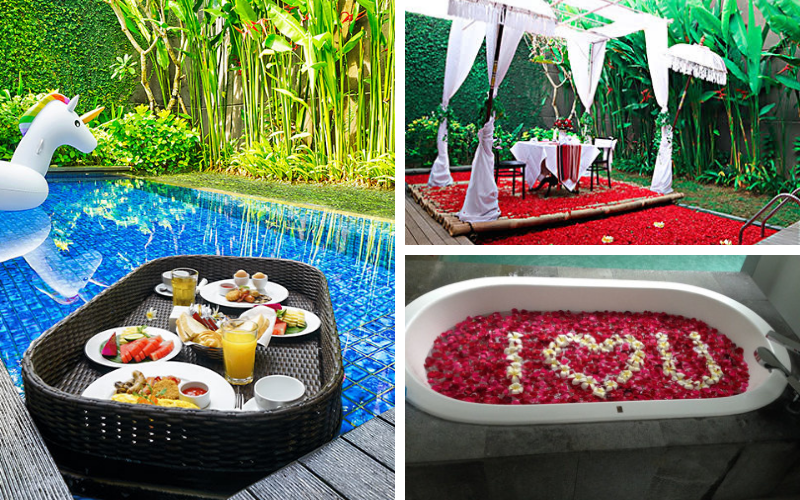 Day 3
9am – Breakfast in Bed
Enjoy a slow start to your morning and surprise your special someone with breakfast in bed. Open the curtains and let the morning sunshine fill your room while the two of you spend some quality time together sharing a sumptuous breakfast of cooked delights, pastries, fresh fruit and tea or coffee. Lounge in your dressing gowns, snuggle up in bed and enjoy those incredible views.
11am – Lounge by the Pool
Sometimes the most romantic times are the simplest. Make the most of your private pool and enjoy one last refreshing dip before you have to think about packing your bags. Why not request an inflatable unicorn for the pool for a little bit of fun? Gently float along the water's surface and soak up some more of that invigorating Balinese sunshine.
12pm – Check-out or Extend your Stay
Unless, as many couples do, you have decided to extend your stay here, it's time to check-out and reflect on all the wonderful experiences the two of you have enjoyed together over the past 48 hours. The friendly Villas staff will arrange for a car to transfer you back to the airport in comfort while you look over your photos and smile at the magical memories you created during your stay at Abia Villas, Legian.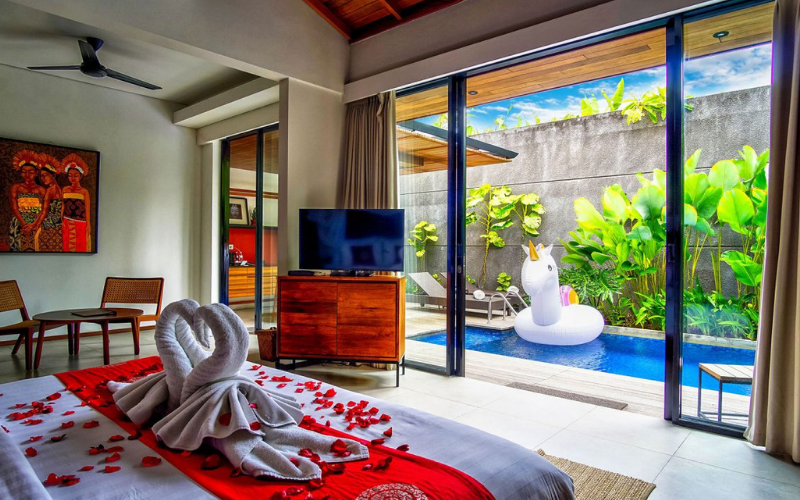 How to book your Bali Honeymoon or Romantic Getaway at Abia Villas
The Bali Romantic Honeymoon Package at Abia Villa Legian is exclusively designed for the anniversary or a newly-wedding couple celebration, or best to the two of you.
Bali Romantic Honeymoon package in Legian includes:
An option of 2, 3, 5 night stay or longer in a luxury one bedroom pool villa
Daily set breakfast for two to be served at Abia Cafe or as in-villa breakfast
Pick up airport transfer services (for 2 night stay)
Return airport transfer service (minimum stay of 3 night is required)
1x Romantic Candle Light Dinner
1x 60 minutes Traditional Balinese Massage (minimum stay of 3 night is required)
1 x 3 courses set lunch or dinner at Abia Cafe or in-villa dining minimum stay of 3 night is required)
Welcome drink on arrival
Daily turn-down service
Seasonal tropical fresh fruit basket upon arrival
Semi butler service
Unlimited high speed-WiFi access throughout the villa area
Honeymoon cake and flower decor upon arrival
Double bed guaranteed
Shuttle service to Seminyak area (drop only at 10 AM and 4 PM)
Personalize check in and check out
15% disc on SPA, Food & Beverage, Except for alcoholic beverages
Please note this package DOES NOT include:
Air Tickets
Personal Expenses
Terms & Conditions
This package is valid for 2 persons only, additional person and consumption will be charged accordingly. Minimum stay of 2 nights is required, and extension nights will be charged accordingly.
Get in touch with Abia Villas to create a personalised romantic trip HERE
Or to find out more, get in touch with one of our expert Romantic Consultants at The Romantic Tourist, we'll be more than happy to help you plan you perfect romantic trip.