5 Reasons You Should Get Married at Cabrits Resort & Spa Kempinski Dominica
Do you want a Caribbean Wedding with the wow-factor?
Read on to discover why we think Cabrits Resort & Spa Kempinski Dominica is a Caribbean wedding destination extraordinaire.
Glossy and glamourous, this newly opened 5-star luxury resort is surrounded by spectacular natural beauty. And Cabrits Resort &Spa Kempinski Dominica offers newly-weds a secluded romantic haven perfect for hosting exclusive destination weddings.
Step inside this high-end oasis of contemporary elegance, and you and your guests will be spoilt with first-class accommodation, breath-taking ceremony locations and seamless luxury.
But what makes this place really stand out when it comes to weddings?
1. It's Jaw-Dropping Ceremony Locations
One of the massive advantages of getting married in a tropical paradise is the many beautiful ceremony locations on offer.
And couples getting married at Cabrits can choose to exchange vows in any of these mind-blowingly gorgeous settings:
The stunning Emerald Pool, a hidden 40-foot waterfall oasis surrounded by lush forests
Overlooking the enchanting twin Trafalgar Falls, one of the star attractions of the Morne Trois Pitons National Park
Fort Shirley may be the place for you - an 18th Century garrison steeped in history and offering sprawling views of the surrounding area
The verdant Cabana lawn at the resort itself is a very popular ceremony spot with its glittering views across the Caribbean Sea
Or, if you're planning a more intimate affair why not opt for the romantic rooftop terrace at Kwéyol Beach Café with its laid-back charm?
Whichever location you choose you can be sure that the occasion will be made all the more unique and special by the beauty and natural spirit of Dominica.
2. The Expert Wedding Packages on Offer
Organising a wedding is stressful.
From the big decisions downs to the tiniest details... the stress of getting everything done (and doing it right) is enough to send any bride into a never-ending spiral of worry and self-doubt.
So imagine, if everything was magically done for you... by EXPERTS.
Because that's what you're gonna get! Cabrits Resort offers several COMPLETE wedding packages, all of which encapsulate the island's romantic Caribbean soul, and have been expertly crafted to make planning your big day as stress-free as possible.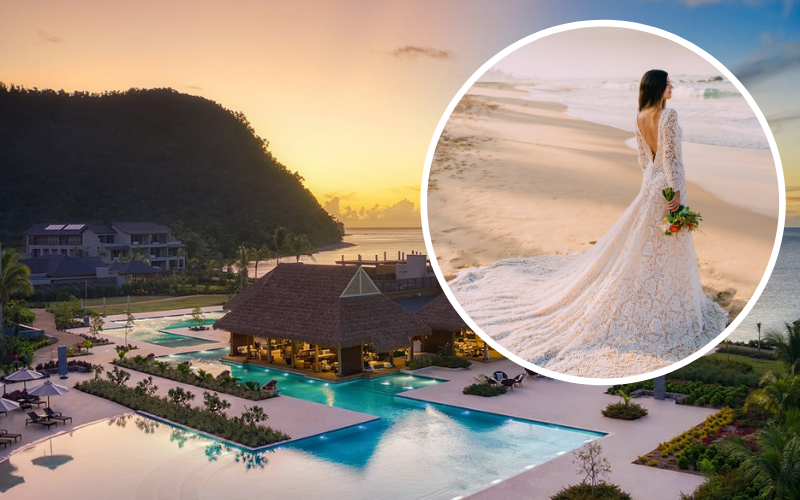 You simply select your ideal wedding venue (as listed above) and let the staff decorate it with thrilling displays of tropical flowers. Delicious catering including your wedding cake will all be arranged for you, and elegant accommodation for both you and your guests will all be taken care of... (Including lots of special romantic touches dotted throughout your stay).
Still worried about those little details?
Don't be! Everything down to bride and groom wedding attire pressing is all managed for you. In fact, all that's left for you and your soon-to-be spouse to do is sip some champagne... top up your tan... and enjoy your special day with your loved ones.
3. The Ultra-Luxurious Accommodations
One of the best things about a destination wedding is getting to spread the celebrations over a number of days.
From the moment you lift off the runway - IT STARTS! And just keeps getting better.
Which is why your accommodation is so important. Because your wedding celebrations go beyond just the ceremony itself. And your memories of your big day will be beautifully enhanced by getting ready in (and returning to - nudge, nudge, wink, wink) a plush, private sanctuary that conveniently doubles as an unforgettable honeymoon suite.
And if there was ever a time to treat yourselves then it has to be NOW.
So if you're ready to go for it, why not book a night or two before your big day (or after) in the Presidential Villa? This spectacular private villa will be filled with romantic surprises ready for your arrival. And you'll enjoy a sprawling king size bed, generously proportioned dining and living spaces, a separate butler's pantry and a private spa room with sauna.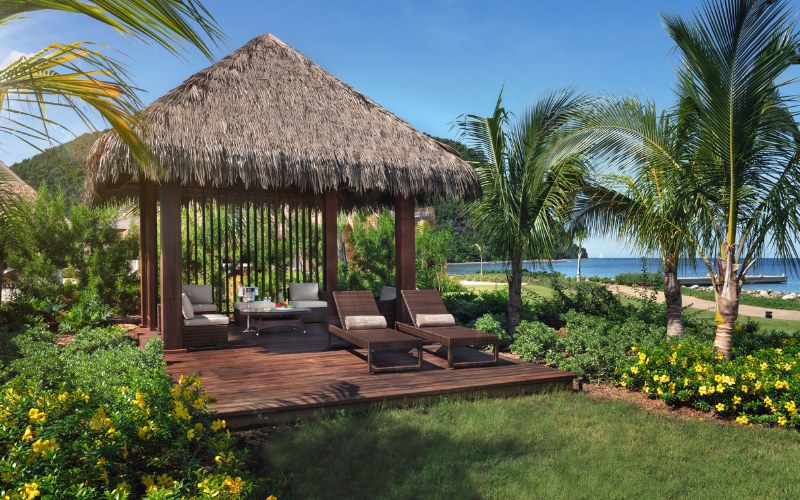 You'll also be able to take in the breath-taking panoramic views across Douglas Bay and the Caribbean Sea from your private terrace or in your very own pool.
What a wonderful way to start your new lives as a couple together.
And don't forget your guests!
Who will no doubt be super-impressed by any of the 150 rooms available here. Each room and suite has been tastefully decorated with the elegant ease you would expect from a high-end resort, coupled with plenty of contemporary Caribbean charm. Luxurious bathrooms, flat-screen TVs and private terraces all delivering incredible views of the surrounding natural beauty will leave you quietly confident that yours will be a wedding they remember - for all the right reasons.
4. The Spell-Binding Reception Spaces
Getting married is the ultimate excuse for a PARTY.
And where better to let your hair down than a tropical Caribbean island paradise?
Whether you're planning on inviting lots of people to celebrate with you... or you're opting for a smaller wedding, Cabrits Resort & Spa Kempinski Dominica has you covered.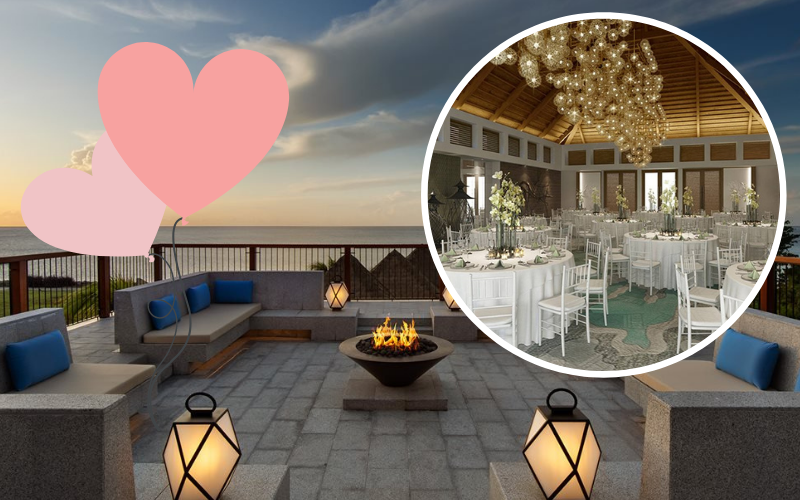 Head to the Cabana Lawn for a enchanting garden reception spreading over 1400 square metres and backdropped against mesmerizing views of Douglas Bay.
OR...
For something a little more 'intimate' - continue the post ceremony celebrations at the RumFire Bar. As the name suggests, its terrace is home to a magical fire pit that looks out over the sea. And it just happens to be a picture-perfect spot for you and your guests to watch the Caribbean sun set (ideally with ass-kickin' rum cocktail in hand).
5. You've Already Reached one of the World's Most Perfect Honeymoon Destinations
Are you ready for the best holiday of your life?
Because honeymoons are EVERYTHING.
Your special day may have come and gone, but there are still plenty more unforgettable memories to be made on this magnificent island.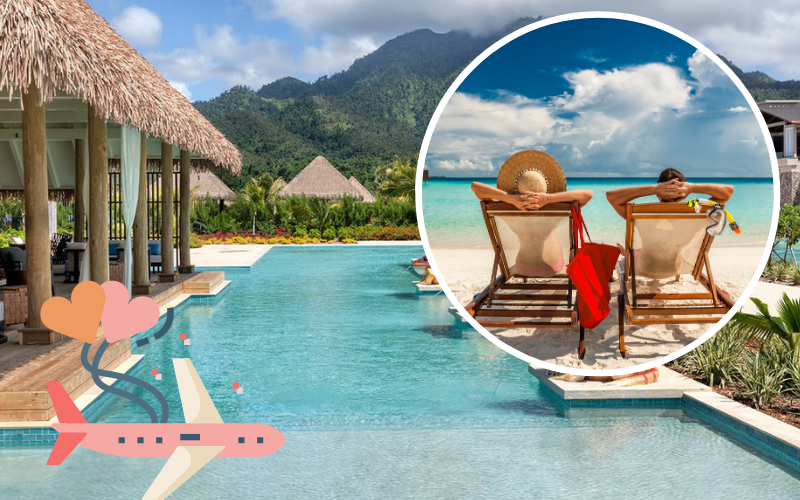 After a special Mr and Mrs breakfast delivered to your room or suite, you'll want to get out (maybe?) and investigate some of the spectacular surroundings.
Which is is easy... because the resort is situated next door to the majestic Cabrits National Park - a large tropical rainforest on a peninsula of the island. Home to incredible natural wonders and historical interests, there are several enjoyable (read: beginner) hikes on offer, leading you to some of its hidden marvels such as the hot springs, waterfalls, rivers and canyons.
Trust us! This is a fantastic place to explore with your new spouse and create some truly treasured honeymoon memories.
And if you want some more top tips... End your honeymoon days here with one of the indulgent treatments available at the on-site Spa. Unwind and relax your body and mind with a heavenly volcanic hot stone massage, or take advantage of the benefits of the local sulphuric mud and enjoy a detoxifying mineral bath - it's time to get down and dirty.
For more details of weddings and honeymoons at Cabrits Resort - CLICK HERE