5 Surprising Reasons You'll LOVE Weddings at Westport Woods Hotel, Co. Mayo Ireland
Ancient woodlands… fairy-tale castles… frenzied coastlines… and plenty of party spirit makes Ireland a fool-proof destination for romance and weddings.
And if you've been seduced by the magic of the Emerald Isle, and you're on the lookout for your perfect wedding venue, then you're in the right place.
Here you'll discover one of Ireland's most enchanting settings for tying the knot in the super-popular County Mayo. And 5 surprising reasons why you'll love it.
Weddings at Westport Woods Hotel – a quick peek
Hidden away on a private 7-acre estate in Co. Mayo and surrounded by 300-year-old woodlands, Westport Woods is a spectacular 4-starwedding venue.
With expert wedding planners, unique romantic touches and delicious food, and not to mention the jaw-dropping scenery… we think it's the ideal location for an unforgettable wedding in Ireland.
Let's break it down.
1. There Are No Drowned Rats
The hotel estate is surrounded by private woodlands, a glittering lake, and sits on the banks of the Carrowbeg River. With beautiful gardens on-site and incredible beaches only a short drive away, this venue really does tick all the boxes when it comes to dream wedding locations.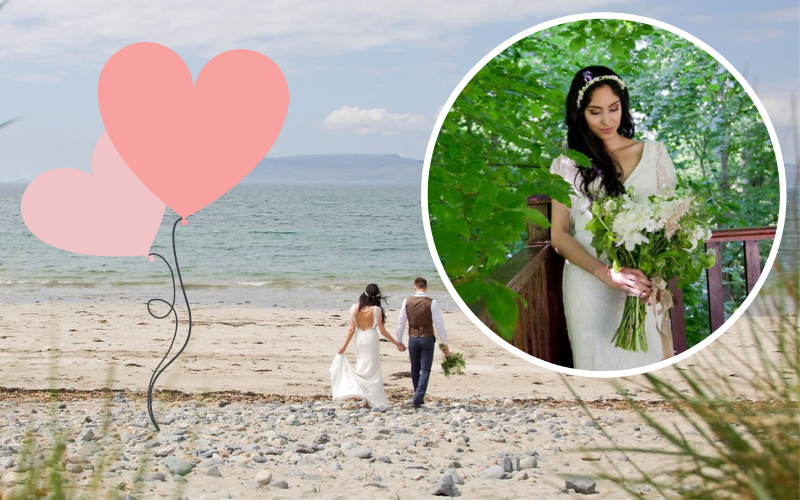 Want to know what it feels like to get married here?
Imagine walking to your ceremony through an ancient unspoiled woodland… with twinkling candles to guide your way. And if you're looking for a whimsical setting with rustic touches and a few indoor comforts, then a wedding in the Secret Woodland is one option that could be perfect for you.
Or… (If you'd like something a bit grander),
You can get married in one of the elegant receptions rooms the hotel has to offer. Walk down a red-carpet lined aisle in the bright and decadently decorated Lakeview Room or Mulberry Suite… followed by a champagne reception held under tree canopies sparkling with fairy lights.
How romantic is that?
There are many options available to you on your preferred type of ceremony including civil, humanist and spiritual weddings. Humanist and spiritual wedding ceremonies can be conducted indoors or outdoors 7 days a week. And with only one wedding per day GUARANTEED, you can rely on your special day being perfect no matter what you choose, because with full flexibility to adapt and swap venues in case of any unforeseen events – such as poor weather for a planned outdoor wedding (because it is Ireland after all) – you won't have any sleepless nights worrying you'll be more drowned rat than blushing bride!
2. You'll Meet Your Fairy Godmother (nearly)
Does the thought of planning your wedding freak you out?
Do you wish your fairy godmother would wave her magic wand and Ta-dah! the wedding of your dreams would miraculously appear in a puff of confetti-filled smoke?
Ok, Westport Woods can't do that.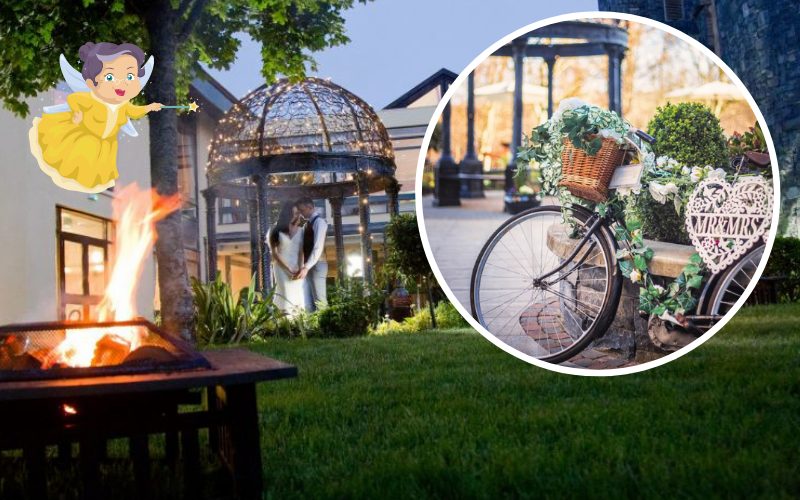 But they do have a dedicated wedding co-ordinator who will work with you from start to finish to get as close to 'that' as they can by working with the hotel's list of trusted suppliers to deliver your perfect day including:
Spectacular centrepieces
Seating plans (massive potential drama here)
Prosecco welcome for your guests
Hot chocolate and s'mores bar
Bespoke wedding cake
Cheese wheel cake
Romantic fairy light backdrop behind the top table
Or whatever your heart most desires!
Plus on the big itself, your wedding co-ordinator will be on hand to oversee all the logistics and last minute dramas… to make sure everything goes smoothly.
Phew! No fairy godmothers needed after all.
3. Easyjet don't do the catering
Are you a couple who love good food?
And even if you're not massive foodies, you'll no doubt be looking to delight your guests with some delicious delicacies on your big day.
(We've all got a horror story from a wedding with a dodgy buffet or canteen catering… and you don't want that to be YOUR wedding).
Fortunately, Westport Woods is proud to showcase artisan food using the freshest, locally sourced ingredients, and Head Chef Rosario Dias designs stunning wedding menus centred around the incredible produce available from the nearby land and sea… and cooks it all fresh on-site.
No airplane-style food disasters here!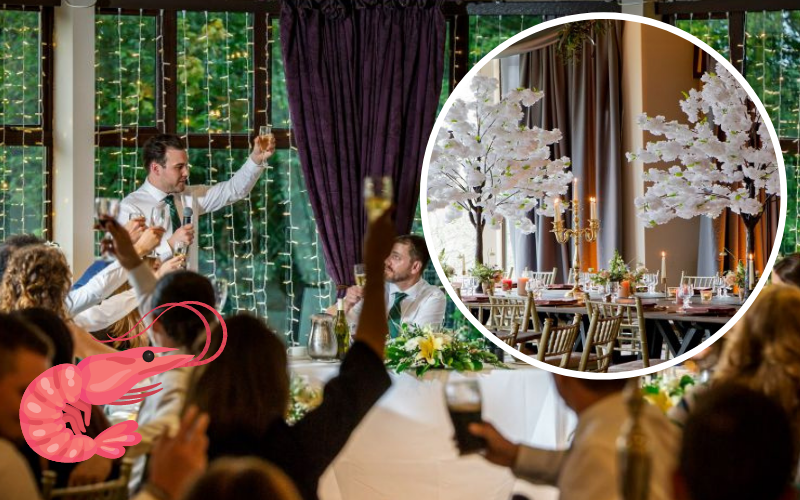 Pair the food with beers from the local Mescan Brewery located in the heart of Westport and the award-winning Gun Powder Gin from Drumshambo and you'll be guaranteed an unforgettably Irish-inspired gourmet celebration.
And if prefer big portions to fine dining?
That's fine too! For something a bit more chunky and characterful, the hotel also has a chip shop available for hire, serving traditional fish and chips, succulent burgers, crispy battered onion rings and fluffy chips… it's impossible to not like that.
4. You can really stretch it out
Do you remember as a kid… when you just didn't want to go home yet.. and you'd be pleading with your mum, "Just 5 more minutes, pleaaaaassssssssssssssse!"
Yep, that doesn't change when you grow up.
And sometimes a one-day celebration just isn't enough!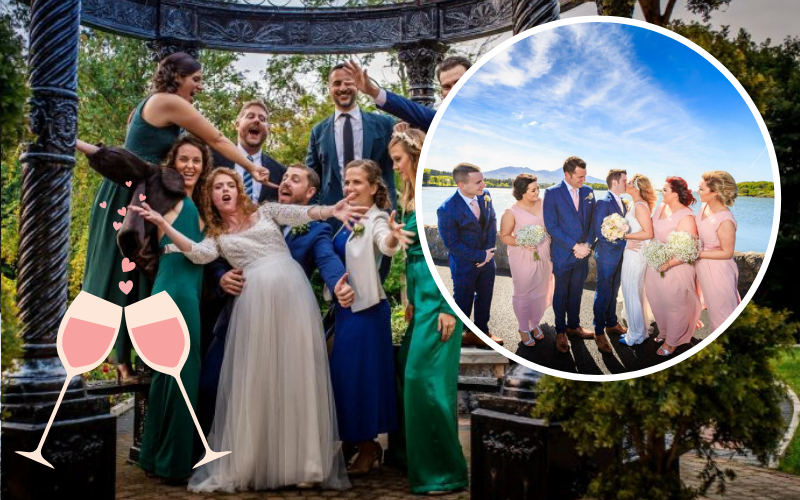 So how about doing this instead?
THE NIGHT BEFORE: Host a rehearsal dinner the evening before your big day allowing both families to enjoy each other's company before the main event.
THE BIG DAY: as planned
THE DAY AFTER: Enjoy a gentle (read: late) start to the day; we're expecting that Gun Powder Gin to have worked its magic, and hold a relaxed BBQ later in the afternoon. While you wait for the food to be served, you can make the most of the Croquet, Ring Toss or Giant Jenga available in the dedicated lawn area? Then, once you've eaten your fill, let the fun continue in a private area in the Bench Café Bar. With live entertainment and nibbles available until 9pm it's the perfect way to relax, relive memories and share stories from the day before, as well as creating some new ones!
5. You won't have any guests crashing on your sofa
We all know that person… the last to leave the party… the one who is still there when you're making breakfast at 10am the next morning.
And we love them.
But if you've got guests travelling from far and wide then you're going to have to think about accommodation beyond your sofa or your guest room.
Which obvs makes a hotel the perfect venue!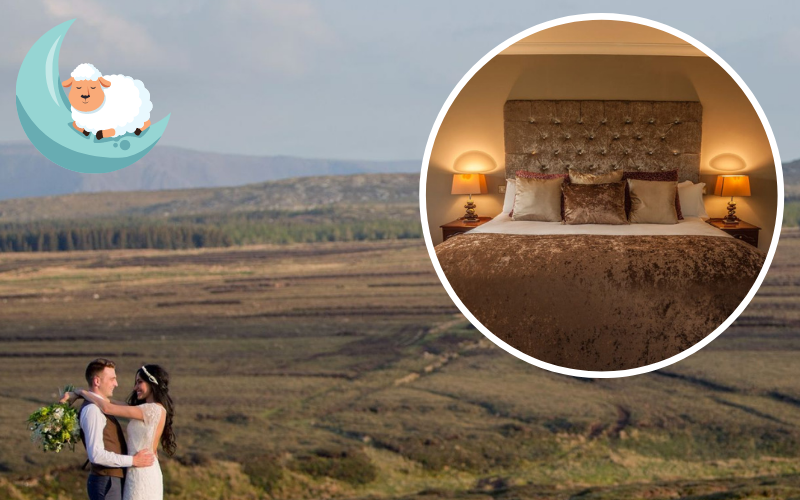 Not only does it provide the comfort and convenience of not having to find a room in an unfamiliar town or country, it also means that you won't need to worry about arranging transport to and from the venue.
The tasteful and elegant rooms at Westport Woods Hotel &Spa all look out onto the 300-year-old woods which surround the hotel and have all the amenities you'd expect of a four-star accommodation. With access to the indoor swimming pool, hot tub, spa and wellness centre they're perfect for relaxing both pre- and post-celebrations.
Plus wedding guests get special prices.
And as the newlywed couple you'll also be incredibly well looked after during their stay here, including complimentary use of the gorgeous Bridal Suite for the night of the wedding. Beautifully decorated and with plenty of romantic touches it's the perfect love nest for sharing your first night together as a married couple.

Weddings at Westport Woods Hotel – what we learnt


There are many reasons why Westport Woods in County Mayo is one of our favourite wedding venues in Ireland including:
Its jaw-dropping location
Expert wedding planners
Gourmet wedding menus
Unforgettable wedding celebrations
Luxury accommodation and bridal suite
But for us it has to be the innate romance of Ireland's natural beauty that really makes this place unique and special.
Who wouldn't want their wedding day blessed with a little Irish magic and luck?
See full details and direct enquiries to book your wedding or stay at Westport Woods Hotel HERE