6 Rules of Short Romantic Breaks | In Partnership with The Belfry
Our busy lives may often feel stretched to their full capacity. For many couples the relentless demands of work and family commitments make finding the time for a romantic break seem like the impossible dream.
If this is you, take heed! 24 hours are all you need for a fantastic romantic break because being short on time is no excuse for being short on romance.
6 RULES FOR A PERFECT SHORT ROMANTIC BREAK AT THE BELFRY
What makes the perfect short romantic break? When you only have one or two nights available it's essential to use your time wisely and maximise every moment of your getaway - without returning home more exhausted than when you set-off.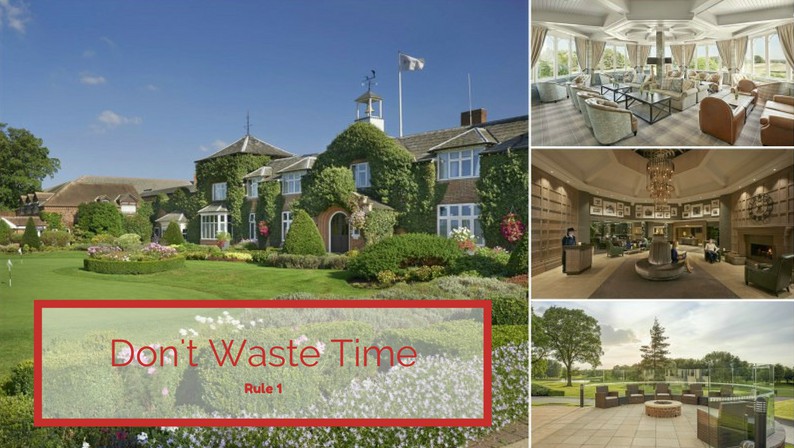 RULE 1 – Don't waste time travelling!
Jump in the car with an overnight bag and reach your destination as quickly as possible - overnight breaks are not the time for queuing at airport security and risking long delays.
Luckily, wherever you're based in the UK, you're never more than a couples of hours away from a rural retreat or seaside hideaway, and concealed within 500 acres of England's most picturesque countryside, The Belfry, voted England's leading resort, is a perfect example of a romantic escape in north Warwickshire. Known as Shakespeare's England, Warwickshire is a county of gently undulating bucolic landscapes and big skies: a pastoral paradise just outside Birmingham and less than 2 hours from London by car.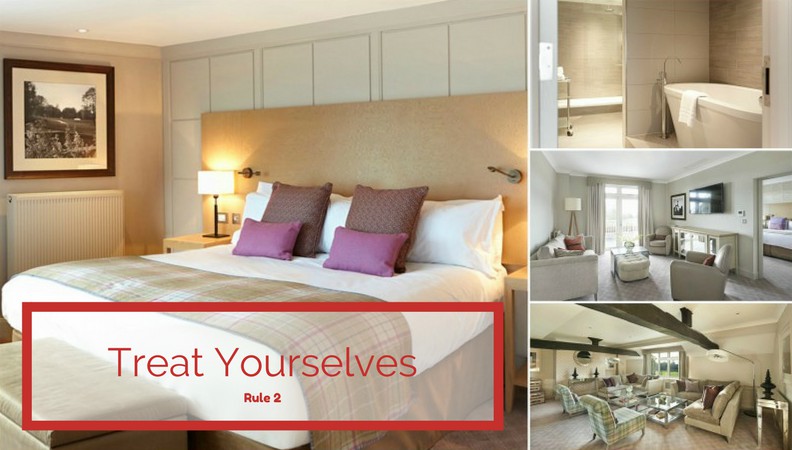 RULE 2 – Treat yourselves to a little luxury
With just 24 hours at your disposal time is at a premium and when every second of your romantic break counts luxury hospitality is what you need: think sumptuous accommodation, resort facilities and flawless service with a smile. Ticking all the boxes, The Belfry is a destination in its own right and offers an award-winning luxury resort experience where everything they do is dedicated to your relaxation and pleasure.
Couples are highly recommended to check-in to one of the Signature Suites which have been purposely created with romantic breaks in mind. Crisp, white linens, perfectly plumped pillows and plush duvets invite you into a generous king-sized bed. Immaculate contemporary design creates an ambience of soothing modern luxury throughout the bedroom and spacious living area. Chic bathrooms offer a sanctuary of relaxation. Private balconies and floor-to-ceiling windows open onto views of the iconic greens of the PGA golf course. Glittered with surprise luxury touches and welcomed by a bottle of sparkling Prosecco, this is where your romantic escape begins and as you explore your new surroundings for the first time you will not be disappointed.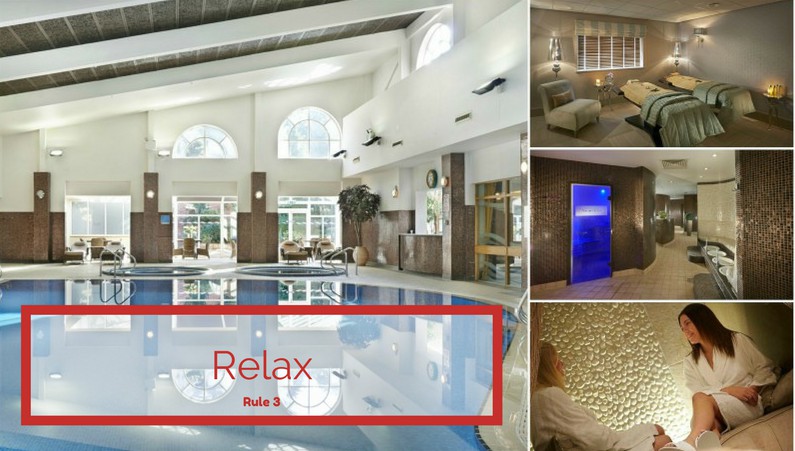 RULE 3 – Relax & be pampered
A one-night romantic break is best spent simply enjoying your time away together. Forego hectic itineraries and step away from the twenty-first century pressure of always 'doing,' 'seeing' or 'learning' something.
With this in mind, indulging in some pampering spa treatments is the perfect way to relax and unwind when you only have a few hours to spare. So escape to the luxury cocoon of The Belfry's world-class spa centre where you'll find:
16 luxurious treatment rooms
Unique Fire & Ice spa experience
Couples treatment rooms
A finishing studio with manicure stations, pedicure thrones, tanning, and makeup stations
Make up trials for weddings, special occasions and makeovers
A sumptuous relaxation room with discreet day beds
We love The Belfry's unique Fire & Ice experience – a 90 minute journey of bio-thermal relaxation!
RULE 4 – Spend some time alone if you want to
Being on a romantic break doesn't mean spending every minute together - giving each other the time and space to kick back and unwind is equally important.
This is probably the time to mention that The Belfry is a world-class golf destination and, if you're a couple who love to tread the fairways in search of pars and birdies, then the golfing credentials of this hotel need little introduction. Famously hosting international golf tournaments including the Ryder Cup, the Belfry has been voted England's Best Golf Hotel 2016. Challenging fairways with well-placed water hazards, dangerously deep bunkers, and deceptive rolling greens provide a daring canvas for both competitive and recreational golfers. Apart from the Ryder Cup course the resort boasts two further excellent courses, one of which has hosted European tour events, and is also home to the PGA Golf Academy offering first-class teaching and practice facilities.
And if a love of golf is a one-sided affair in your relationship, you can confidently usher you partner onto the tee leaving you time and space to chill out and relax in the comfortable lounge and patio areas or indulge in some well-earned treatments in the spa.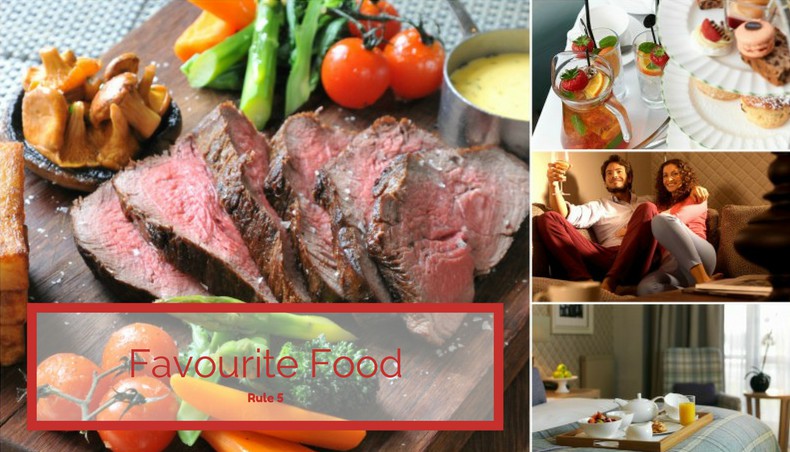 RULE 5 – Eat the foods you really love
Great food and wine are an essential element of any romantic break. The Belfry offers a full selection of bars and restaurants to cater to all tastes, styles and occasions and when you only have a couple of days to enjoy it all it's time to treat yourselves to the foods you really love.
Why not forget lunch in favour of a 'naughty but nice' afternoon tea? Or perhaps your food heaven is sinking your teeth into a hunger-busting club sandwich with extra fries and washed down with an ice cold beer? Maybe the highlight of your romantic getaway will be getting all dressed up to dine a-la-carte in the Ryder Grill feasting on succulent steaks and perfectly cooked lobster looking out onto views of the golf course? Or perhaps you're a couple who love nothing more then getting cosy over a bottle or two of red wine and an oven-fresh pizza - the choice really is yours.
And if you're a couple who likes to party you'll be pleased to hear the Brabazon Bar transforms into a lively night spot serving bubbles and cocktails with live music. In fact, the Belfry even has its own nightclub , The Bel Air, open Thursdays, Fridays and Saturdays – so you might want to order your breakfast in bed the morning after a night of dancing into the early hours.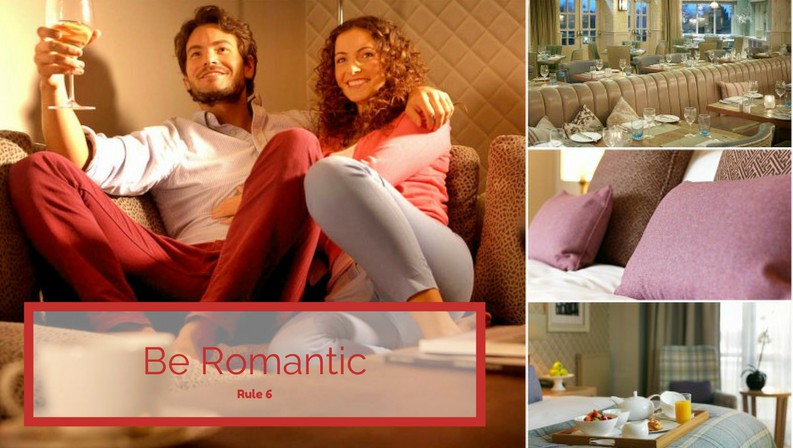 RULE 6 – Remember to be romantic
It may sound obvious but it's easy to forget the little things that make your break truly romantic and memorable. If you make the most of every opportunity you have from the moment you set off until the moment you arrive back home, even if you're only away for one night, you'll be surprised at just how much romance you can fit in. Make a playlist of your favourite songs for the journey, pack some sexy lingerie and take the time to ask each other what you really want to do - this your time and you deserve to enjoy it!

Win a luxury romantic getaway for 2 at The Belfry
We are excited to offer one lucky couple the chance to win a luxury romantic break atThe Belfry. The winning couple will enjoy an overnight stay for two people in a Signature Suite with full English breakfast, Prosecco in their room and a unique Fire & Ice Experience in the spa.
Prize includes:
1 night stay in a Signature Suite for 2 people
A full English breakfast
Prosecco in your room
90 minute unique Fire & Ice spa experience for 2
Enter now - HERE
Terms and Conditions for the competition as follows:
Prize must be redeemed by 31st January 2018. Blackout dates apply. Package is based on 2 people sharing a double or twin room and includes full English Breakfast, bottle of Prosecco in the room and Fire & Ice Experience. Subject to availability. Prize is non-transferable in the event of cancellation and cannot be exchanged for monetary value. Cannot be used in conjunction with any other offer or promotion. Winner is responsible for the expenses and arrangements not specifically included in the prize. Standard Belfry terms and conditions apply.