Beach Republic – one of Thailand's greatest destinations for a wedding
Find out why the beautiful beaches of Koh Samui could be an idyllic location for the start of a marriage that's made in heaven.
What makes Thailand so great for a wedding?
More than a million Brits flock to Thailand each year – a big chunk of those are drawn to the crystal-clear sea and fine sands of southern Thailand. The spellbinding attractions in this region include: historic temples, full moon parties, jungle adventures, water sports and more.
Koh Samui may be Thailand's second biggest island, but it's often thought to be number one for destination weddings. It's large enough to cater for a wide range of activities to thrill your guests, but with secluded areas to get away from it all with your other half – assuming you're smart with your timing and have avoided the Christmas and New Year rush!
Your wedding party should take the time to visit bustling Bangkok in order to absorb unforgettable sights like The Grand Palace and the Wat Phra Kaew temple. Then try a foodie adventure or three at a sprawling market as part of your non-stop celebrations…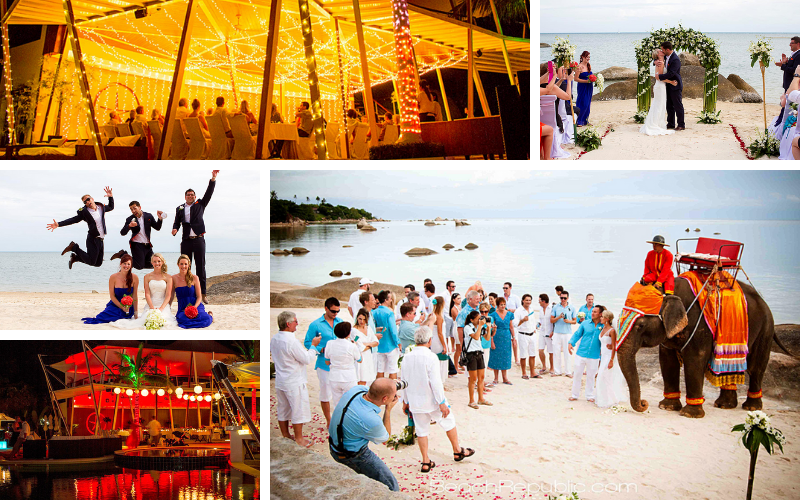 Where should we get married?
If you dream of an intimate beach-side ceremony where you'll feel the gentle breeze under palm trees, or a full-blown party for up to 200 guests, Beach Republic will have you covered when it comes to crafting your dream Thai wedding.
This 4-star resort could put on a ceremony-on-the-sand at Lamai Bay, or there's an equally romantic poolside or villa setting. A selection of wedding packages and menus can be matched to your needs and they'll be sure to guarantee a feeling of exclusivity on your Big Day: no one else will tie the knot here but the two of you.
One of the authentic wedding packages to ask this venue about is their Best of both worlds package. For this heady mixture of Thai and western ceremonies, you can request a traditional Buddhist blessing over a gold-decked alter set in a pavilion with slick white draping and rose petals all along the aisle. Inside this picture of paradise, three monks will lead proceedings while a senior guide is on-hand to help you immerse yourselves in the Thai way of doing weddings. All of this could take place to a soundtrack of a classical drum parade with live timbre music and Thai dancers in elegant dress.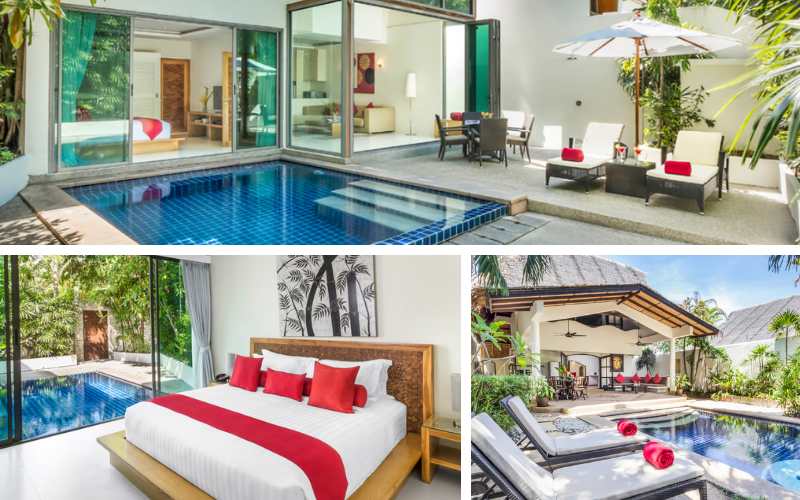 Indulge in the most blissful luxury at Beach Republic
As the happy couple you can treat yourselves to a Penthouse sky-pool suite, while your loved ones might opt for a tropical villa. Wherever you decide to stay, you can expect rooms at Beach Republic to be bright and spacious with en-suite bathrooms and chock-full of amenities such as a secure safe and a mini bar to name just a couple of handy features.
The Beach Republic is known for its world-class hospitality and service – staff will be equally pleased to bring cocktails and snacks to your sunbed, or help you to plan and book your next tour. Vehicle hire and laundry services are provider while free private parking is also an option. Meanwhile the pool, Jacuzzi and gym can be taken at their own leisure and there's daily meditation and yoga classes as well as a host of detox and pampering activities at Health Republic. After another relaxing day of massages, pedicures or manicures, you could easily jump on a boat across to Koh Phangan for a decadent full moon party.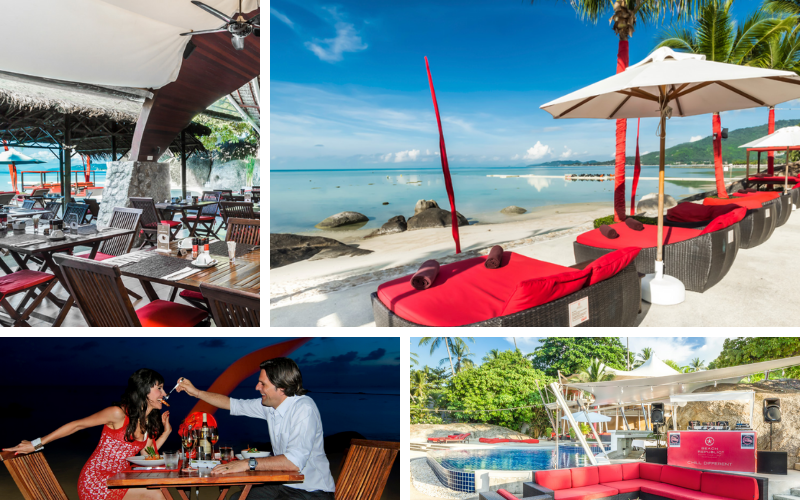 Keep the session going on Sunday
This self-contained destination boasts a luxurious Ocean Club and Restaurant, which has plenty more to it than just fine dining and a superb wine list. The beach-side bar hosts a popular weekly Sunday Sessions Brunch, which is something of an island institution. This very special event starts at 11.30am and lasts a glutinous four hours.
Their Baccusian weekly brunch features a rotating menu with a myriad of authentic Thai dishes straight off the sizzling grill. These including delicious seafood, sushi, smoked fish, crab, steaks, fresh prawns, mini hamburgers, and a wealth of veggie options too including dairy and gluten free picks. The sweets area is a site to behold on its own and promises cheese boards, and an eclectic mix of traditional desserts such as crème brûlée, lots of ice creams and the ripest of fruit. A DJ then takes charge and will spin the tunes until another glorious sunset.
Find out more about weddings at Beach Republic.
Koh Samui… the travel essentials
Getting there – Many flights to Koh Samui go via Bangkok, which takes about 15 hours. Other connections are available from both Kuala Lumpur and Singapore. Koh Samui's main airport is less than two miles north of Chaweng, the island's main village. It's only five miles from Koh Samui Airport to the Beach Republic. Beach Republic offers a shuttle service to and from the airport.
Visas – British passport holders don't need a visa for stays in Thailand of up 30 days.
Currency & tipping – The Thai baht (B) is Thailand's official currency. You'll be able to use your credit or debit card at quality hotels and in some of the more upmarket restaurants and shops, but surcharges to use them can be high so do check. Tipping isn't expected, but would be much appreciated.
Getting married abroad – A Thai marriage will be recognised as long as you follow the specific requirements of both the Thai and UK governments. Make sure you do plenty of research before you arrive. Read about some of the most commonly asked questions on destination weddings.
Beach Republic
176/34 moo 4,
Tambon Maret,
Koh Samui,
Surat Thani,
84310, Thailand