Beach Weddings in the Maldives | Featuring Outrigger Konotta Maldives
If you're looking for a picture-perfect tropical island paradise in which to hold your beach wedding then the Maldives is very possibly the destination for you.
Comprised of over 1000 tiny islands scattered across 90,000 square kilometres of Indian Ocean, Asia's smallest country is also its most romantic: the Maldives are the stuff beach wedding dreams are made of, where clear ocean stretches endlessly to the horizon and newly-weds enjoy complete escape and privacy.
When to go
Although temperatures are a balmy 30 degrees Celsius throughout the year, the Maldives has a tropical monsoon climate and couples are advised to host their wedding during the dry season which runs between December and April.
Marriage requirements
With such a thriving wedding industry you may be surprised to discover that only local residents can legally marry in the Maldives. Therefore all couples travelling from abroad to get married here will need to acquire their legal marriage certificate at home before celebrating with a romantic beach wedding ceremony and blessing in the Maldives. For this reason the Maldives is also a great destination for couples seeking to Renew their Vows.
5 reasons we love beach weddings in the Maldives:
#1 The Maldives is the ultimate tropical island beach paradise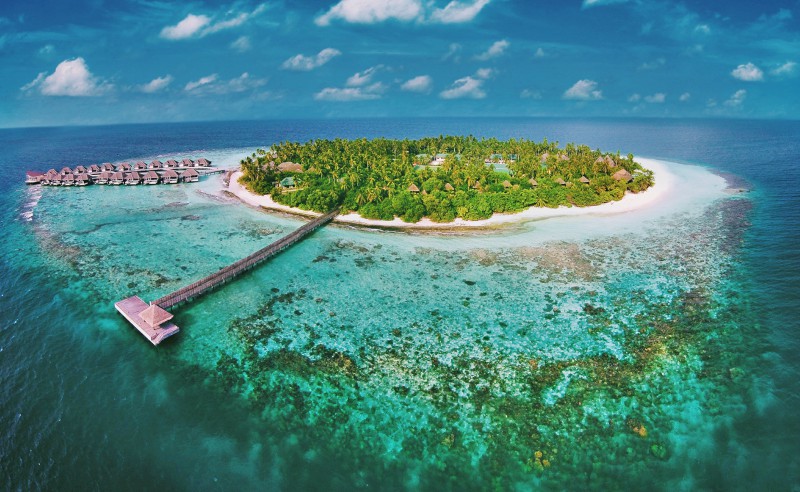 Spotless white sandy beaches, the sound of palm trees in the wind and the tranquillity of the surrounding waters of the Indian Ocean will charm away your senses.
Outrigger Konotta Maldives is a dreamy tropical paradise that creates the perfect backdrop for romance. The tranquillity and seclusion of this vivid island will arouse your love with its infinite possibilities. From dining by the beach under the starlit skies to cruising while gazing at the ever changing colours of the setting sun; Outrigger Konotta Maldives offers elegant romance at its very best. The Maldives is one of the best if not the best locations in the world for couples wanting to indulge in the magic of being in love and the perfect place to get married.
#2 Intimate beach wedding dinner under the stars on your wedding night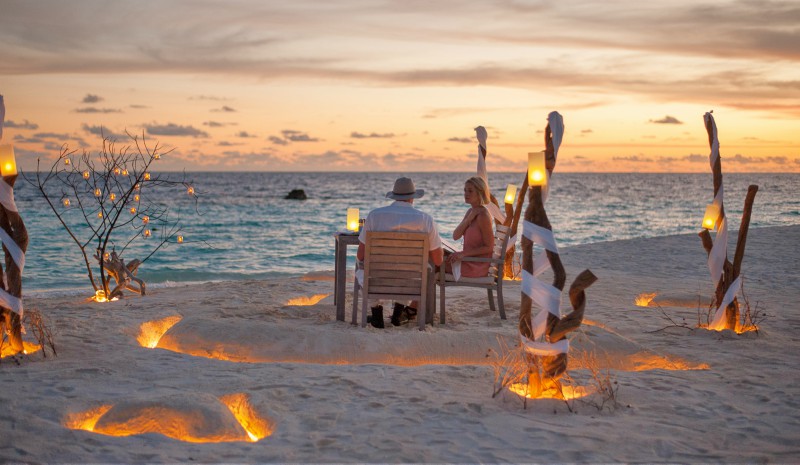 Celebrate your love at Outrigger Konotta Maldives' private island, surrounded by unmatched natural beauty and a succulent 6-course dinner with Champagne. Indulge in the luxury and romance of fine dining under the starry Maldivian Skies. A private romantic beach setup will be arranged just for the two of you to ensure that you feel like you're the only ones there.
#3 Sunset Cruise across the equator on a traditional dhoni on the evening of your wedding day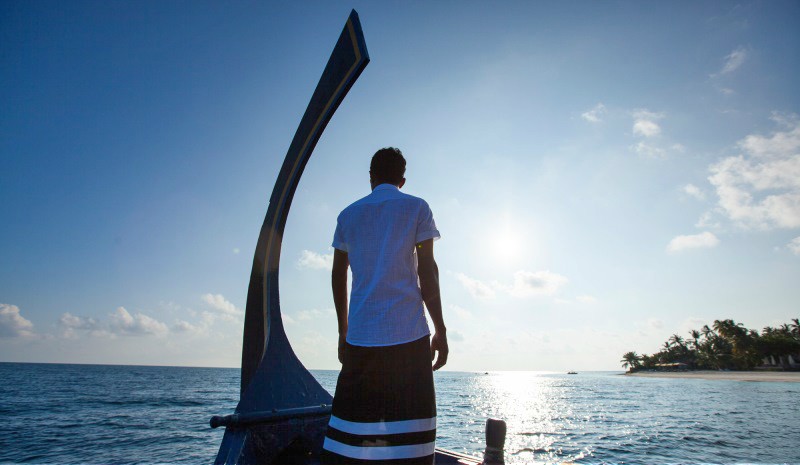 Cruise away in bliss, glancing at the spectacular Maldivian sunsets while sipping your glass of champagne. Experience what it truly means to be on a romantic getaway at one of the finest venues in the world. If you are lucky, you might get to see a rare sight of excited dolphins cruising away with you.
#4 Perfect for intimate ceremonies just for two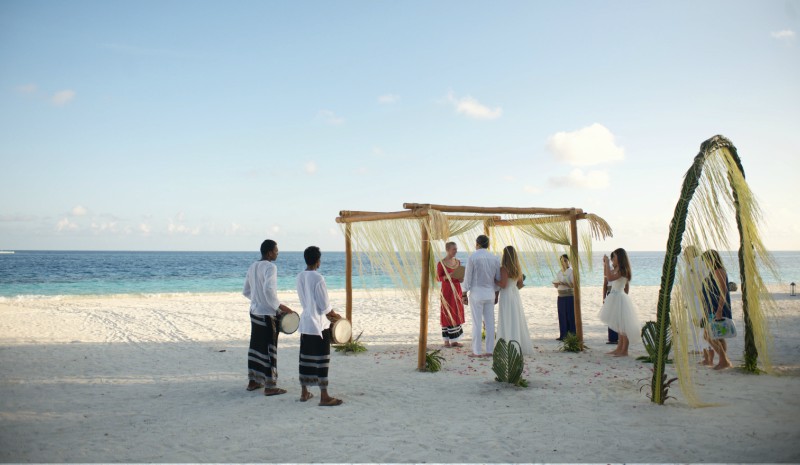 For couples getting married a dedicated wedding coordinator will always be prepared to go the extra mile to ensure that your ceremony is crafted for flawlessness. All ceremonies are limited to one couple per day, so that the best of service and care can be given to each occasion. Your exclusive venue will be setup for the ceremony on resort grounds and include a wide range of exclusive add-ons such as your wedding cake, a bottle of champagne, palm tree arch or white-draped pavilion. The team are always ready to serve with a smile and organise memorable ceremonies for occasions ranging from weddings to ring and vow exchange ceremonies.
#5 Wake up on your first day as husband and wife to spectacular ocean views from your secluded, luxury villa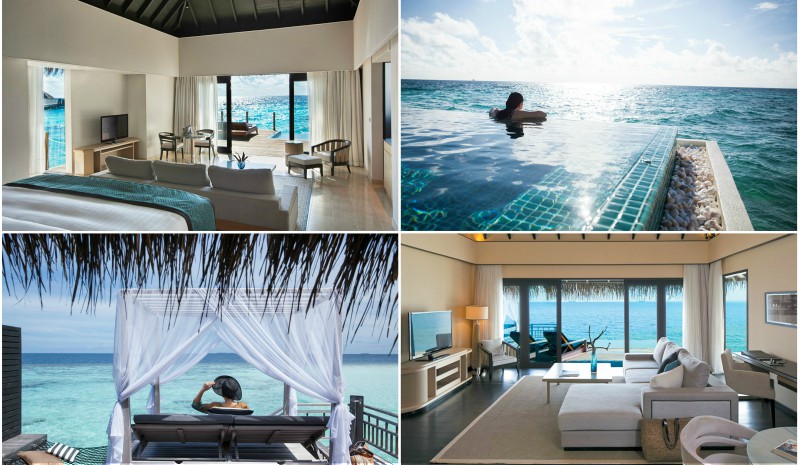 Let the soft rays of the morning sun fade in to your luxury villa as you greet the morning on your first day as husband and wife. Open your curtains to possibly one of the most beautiful and serene views of your life and share the moment with your special someone. Prepare to be spoiled with an in-villa breakfast in bed just for you followed by a romantic turn down service in the evening.
Beach Weddings In the Maldives | Q&A with Outrigger Konotta Maldives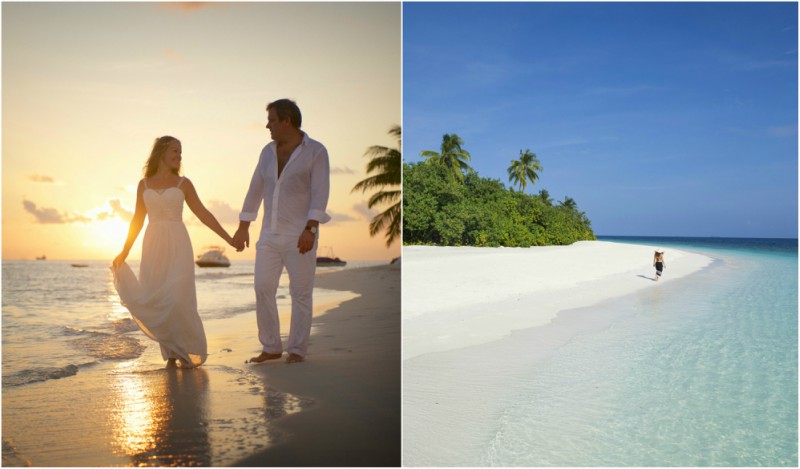 Q1. Why are weddings at Outrigger Konotta Maldives so special?
Our locations are undoubtedly among the most breathtakingly beautiful locations you can have your wedding ceremonies at. The serene and tropical atmosphere of our private island awaits for flawless wedding ceremonies. And our team of the most welcoming hosts are always ready to serve with a smile and focused on genuine hospitality. We await eagerly to help you start writing your next chapter in life.
Q2. What is the best time of year to get married in the Maldives?

Tropical weather goes all year round in the Maldives. However, for those who prefer more privacy and quietness, April to July is the most ideal time for romantic ceremonies since fewer guests will be around.
Q3. What size weddings have you catered for?
We have held private family weddings. We are always prepared to cater for weddings up to 50 guests.
Q4. What legal requirements are there for couples to get married in the Maldives and how is this arranged?
Guests will need to be actually married and the ceremonies held here are more of renewals. (Please give me some more time to verify this)
Q5. Do couples who get married at Outrigger Konotta Maldives also stay for their honeymoon?
In most cases, yes.
Q6. What romantic treats can you arrange for a couple's wedding night?
Wedding cake for the couple
Decorated buggy
One palm tree arch or white-draped pavilion
Bottle of Champagne
Local music (Bodu Beru)
Wedding certificate provided by the resort
Romantic turndown service
Additional services on request
Q7. Can you give an example of the most romantic wedding you have organised?
The most magical and memorable evening of our beloved couple began with a private pampering therapy for two at our renowned Navasana Spa. A dedicated wedding coordinator was there with the couple at all times to ensure they were always listened to. A buggy decorated with palm leaves escorted the couple to the beautiful venue of the ceremony. Traditional Maldivian music enchanted the romantic ambience as the couple held hands and walked through the entrance. It was followed by the ring and wow exchange ceremony. An official wedding certificate was given by the resort. A private dinner setup was done by the beach right in front of the spectacular views of the Indian Ocean where the family dined and indulged in a private photo shoot while sipping champagne as the sun set created one of the most beautiful backdrops for a perfect evening.