Romantic Belize Resorts - Thatch Caye, Belize Ocean Club & Hopkins Bay
Belize is famed for its jungles, its superb coastline and its extraordinary wildlife.
With its ecotourism, luxury hotels, Mayan culture and wonderful music, Belize is a country with so much to offer couples seeking a tropical getaway away from the crowds.
Is Belize the (mainly) undiscovered jewel in Central America's crown?

An Extraordinary Experience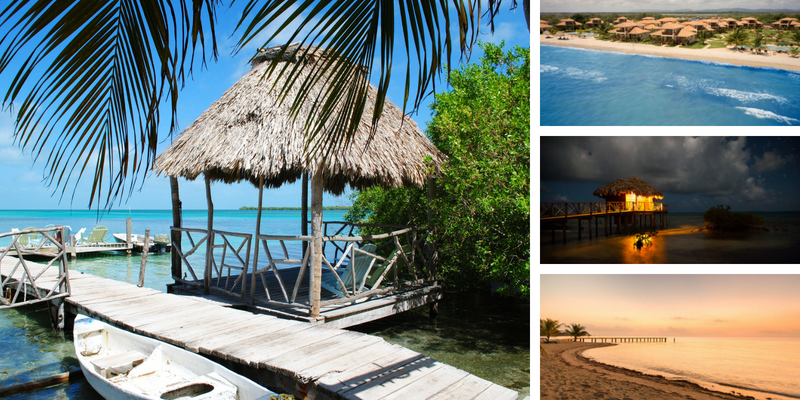 Whether you're choosing to renew your vows or get married or spend your honeymoon in Belize, once you've stepped off the plane and relished the sub-tropical temperatures you'll be delighted that you chose this country for your celebration. You'll have a range of romantic resorts in Belize to choose from and here are three of our favourites.
#1 Thatch Caye Resort


Welcome to Paradise
For the ultimate in unique and fantastic destinations, look no further than Thatch Caye Resort. Situated on its own private island on the Belize barrier reef, the resort offers all couples a wonderfully unique experience. The resort's premier overwater bungalows are built on stilts over the ocean, giving you an unparallel view of the azure waters, expect a blissful experience.
This resort is ideal for weddings and romantic celebrations and it's also perfect for those looking for an idyllic destination for honeymoons in Belize. Chill out after your journey on a hammock stretched across your own private patio, enjoy a cocktail and just listen to the sounds of the ocean – you'll just feel the stresses and strains of modern life simply melting away. The bungalows are beautifully furnished and each of the five has its own walk in shower.
The Thatch Caye resort also boasts one penthouse ocean front cabana, and four elegant oceanfront cabanas, these have their own rooftop decks, complete with hammocks and lounge chairs. The two oceanfront cabanas have their own private patios, furnished with loungers.
An Island Experience
Once you've selected this resort, you'll soon find that there are plenty activities that you'll be able to tick off your dream list. Start your day with an oceanside massage or body treatment. This should set you up to enjoy a day full of adventure. Make use of the resort's kayaks and snorkelling instructors and take to the waves.
You'll never be bored during your stay at Thatch Caye, in between catching a lobster for your supper, if you wish, exploring the other Belize Cayes, or taking an intimate boat tour along the Sittee river, with your own picnic lunch, you'll soon discover that there aren't enough hours in the day to take in this wonderful country.
Night owls will love staring at the stunning display from the heavens by taking a star gazing cruise – what could be more romantic. Look out for shooting stars and make a wish.
Your stay at Thatch Caye offers a list of endless possibilities, the setting is superb, the staff fantastic and all you'll have to do is enjoy yourselves.
#2 Belize Ocean Club Resort


Romantic Style and Sophistication
Anyone looking for a romantic trip, a wedding, a honeymoon, vow renewal or a wonderful intimate experience should spend their break in Belize at the Belize Ocean Club Resort. Located on Maya beach on the Placencia peninsular and overlooking the Caribbean Sea, you will feel you're the star of your favourite dream.
You have a choice of views from your balcony as one side of this stunning peninsular faces the Maya mountains and benefits from some amazing sunsets and the other side overlooks the beautiful turquoise waters of the Caribbean Sea.
Luxury is guaranteed here, and all of the resort's 60 suites are designed to the highest possible spec, WiFi, flat screen TVs and air conditioning are standard. The Belize Ocean Club is popular as a destination wedding venue. It's not just the stunning views that'll entice you, it's the choice of surroundings for your celebration – from private beachfront to banqueting hall. The resort can host up to 200 guests so if you're planning a large event all you have to do is contact one of the resort's specialist wedding planners and they'll make your dreams become a reality.
You can start your trip in style and arrange with the resort to be met at Belize International Airport by a concierge who will make your arrival as seamless as possible- no queues, you'll simply be waved through and escorted to the local flight that'll take you to Placencia Airstrip where you'll be met by the resort's private shuttle for the 15-minute hop to the Belize Ocean Club. Travelling really doesn't get any easier than this.
Belize is a fascinating country and during your stay here, the resort staff will make it as easy as possible for you to enjoy your romantic trip and explore the country. You'll even be able to enjoy some seclusion at the resort's exclusive island, Ranguane Caye.
While staying at the resort it's easy to visit a jaguar sanctuary in the foothills of the Belize rainforest in Victoria Park. Or, you can visit Mayan ruins at Lubaantan. You can tick off spotting manatees or howler monkeys from your wish list if you take a boat trip down the Monkey river. All these excursions can be arranged by the hotel – you can simply be together with your loved one and enjoy the ride.
#3 Hopkins Bay Resort


Sea Front Splendour
Roughly 135 kilometres of Belize City, and right on the shores of the Caribbean Sea is the stunning Hopkins Bay Resort. Any couples planning a stay at this venue are in for a real treat. Destination weddings are a house speciality and you'll soon discover that with 18, 3-bedroom beach houses you can invite up to 30 guests. The resort is also a wonderful place to celebrate your vows' renewal, a honeymoon or just a very special romantic trip.
With its laid-back atmosphere and fantastic customer service – expect champagne and other treats on your arrival, decadence and relaxation are the names of the game here. The one-bedroom beach houses have either a balcony or a private patio, so you can really relish the intimate surroundings as you gaze out over the shimmering sea. You can enjoy exquisite gourmet meals on the beach all cooked by your own chef, or you can try the restaurants in the local village.
You're going to want to make the best of your stay here, build some fantastic memories and discover Belize. Make a start by going under the sea and exploring the Belize Barrier reef, this is the longest reef in the Western hemisphere and the resort offers SCUBA diving courses for the uninitiated. You can always spend the day reef fishing, the resort will supply a pack lunch, all you have to do is catch some fish.
Off the Beaten Track
Spend the day on Thatch Caye and enjoy a tropical island experience. This private island is 15-minutes away from Hopkins Bay, and once there you'll be able to sit back and savour a well-earned meal and cocktail at either the Cocoa lounge or the Starfish bar. Visitors who have spent time here say that the island offered them, 'the honeymoon of our dreams,'
The Ancient World
Belize is famous for its Mayan civilization, they lived here for over 3,000 years, and when you stay at Hopkins Bay, take advantage of one of the specialist tour guides and take a unique trip to nearest Mayan ruins – they're exquisite.
Or you can indulge your lust for sport by going zip lining through the rainforest and finish your day by rappelling down a waterfall. Romance thrives on adventure and you'll soon find that your stay at Hopkins Bay will satisfy and stimulate all the senses.
Belize is Seductive
Travelling to Belize for a romantic trip you'll soon be able to lose yourselves when walking in the country's majestic rainforests. If your idea of an evening's fun is to dance the night away, then you're in luck as both Placencia and Garifuna, close to Hopkins Bay, have wonderful local drummers and other types of live music.
Another reason to visit Belize is that it's mainly undiscovered by the tourist industry, so you will be able to enjoy your stay in relative and intimate seclusion.
The Culinary Arts
Exploration is the key should you wish to sample some of the local cuisine. The food at our favourite resorts is of the highest quality and reflects the food of Belize, but if you want a real adventure try a nearby restaurant. There you'll find that the menu is Creole in origin and diverse. Try out some Mayan eggs with burritos for breakfast, or some tasty tamales. Expect to enjoy a lot of dishes that use the freshest seafood as their base.
Whether you prefer exhausting yourselves with countless maritime or rainforest adventures or if your idea of heaven is simply to chill out on a beach with a cocktail, you'll soon find that Belize caters for all tastes. The country has many superlatives, the largest reef, the most extensive cave system, a pristine rainforest as well as an amazing collection of Mayan ruins. There should be a sign at the airport that says that dreamers and romantics are very welcome here, go and enjoy the experience for yourselves.