Chervò Golf Hotel & Resort San Vigilio SPA | Weddings Lake Garda
From picturesque day trips around Lake Garda, to unforgettable wedding services at a 12th-century abbey, there's not much missing from a break or special celebration at the Chervò Golf Hotel & Resort San Vigilio SPA. Find out why this historic resort has been making romantic dreams come true for many years...
Where is the Chervò Golf Hotel & Resort San Vigilio SPA?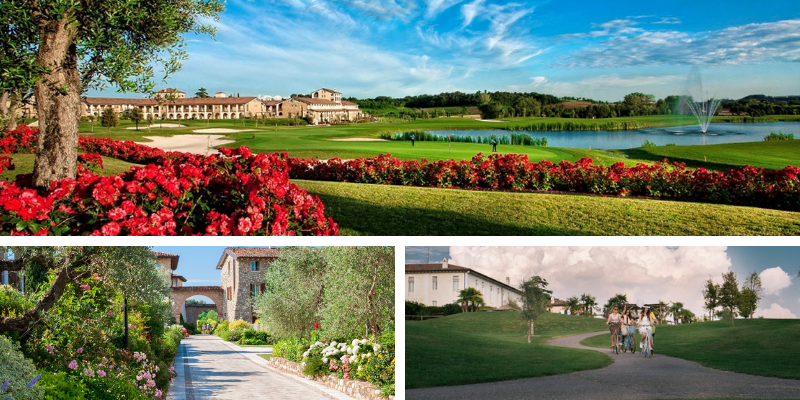 This hotel and resort is based amid the rolling hillsides near to Lake Garda in the heart of Northern Italy. The resort town of Sirmione, with its thermal baths and a castle overlooking the lake, is just a handful of miles away. Even closer are the quaint towns of Peschiera del Garda and Desenzano del Garda. And visitors to this superb resort will be able to walk to the nearby Tower of San Martino della Battaglia near the small town of Pozzolengo.
So, there's plenty of history in this part of the Old Country?
That's right. The southern shore of Lake Garda is stuffed with relics, from ancient convents to the ruins of Roman Villas with intricate mosaics among many other attractions.
The Chervò's grounds are centred on the 12th century Abbey of San Vigilio. Restored by the Vallombrosan monks from Brescia back in 1481, today the church is used for private events.
Tell us about weddings at this special venue...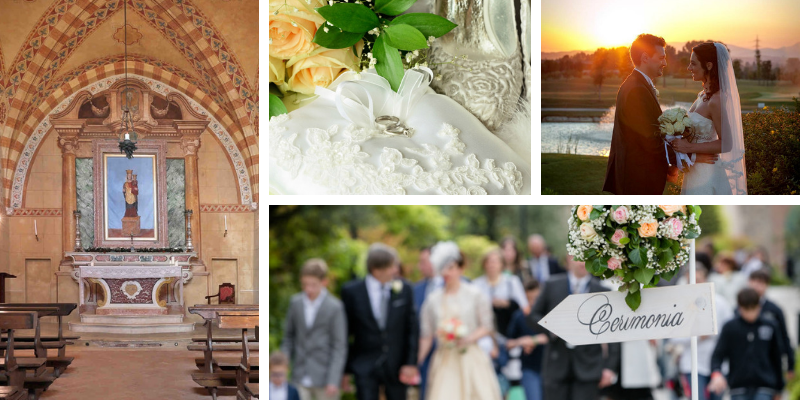 The resort and its surrounds are ideally set up to host weddings. Staff are well versed in hosting a range of ceremony types, and they'll do all they can to personalise your big day so it's how you want it to be. There's a gazebo where you can enjoy an outdoors civil ceremony or the renewal of vows. Meanwhile, the intimate Abbey can host religious sacraments.
Imagine the scene: a select group of your nearest and dearest coming together - amid more than 100 hectares of tidy gardens and unspoilt parkland - to celebrate your union. After the lovely formalities, you'll be able to enjoy a splendid dinner on-site at the San Vigilio restaurant, offering the finest Italian and Mediterranean seafood dishes; plus vegetarian options. The wine list at San Vigilio is extensive too, as local drops compete with international favourites.
And for the happy couple?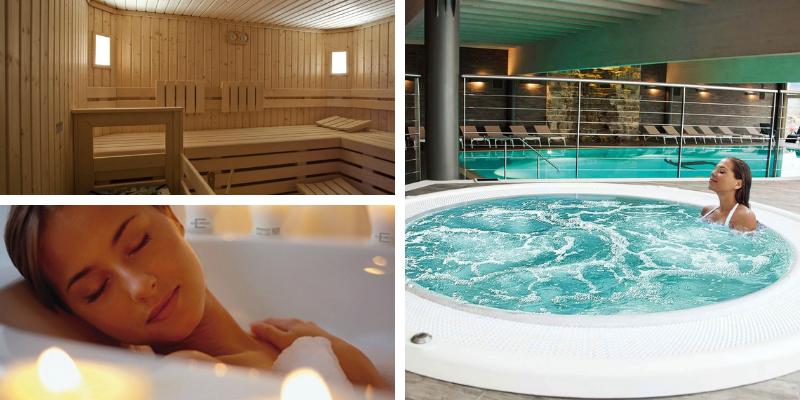 Newlyweds can indulge in total luxury through the exclusive use of the Royal private SPA room. Spend your first night together as a married couple, completely free from any other guests. This candlelit treasure has a tempting Jacuzzi for two. There's also a heated water bed and a steam bath, alongside other romantic touches such as petals, pure oils and a special hot butter massage. You won't need much more help dizzying the mood, as things get even more romantic and sensual. Your next days can be spent unwinding with a spot of pampering in the Spa.
What if we're after some (non-romantic) activity for a while?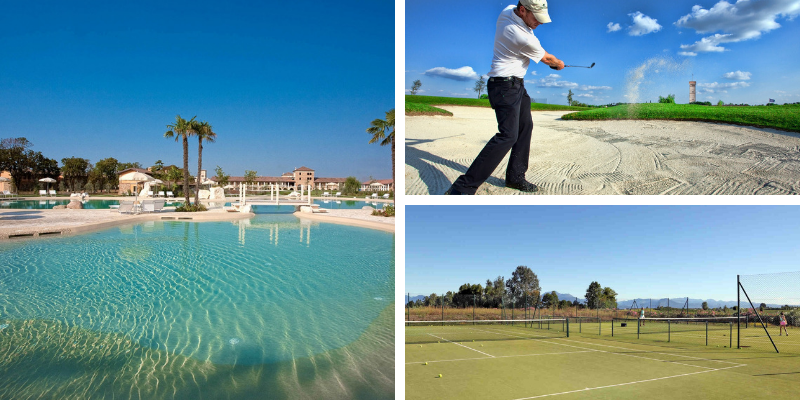 For starters, there are two on-site swimming pools, and golf courses for sporting types to enjoy. Tennis courts, beach volleyball and football are also possible here if you'd like a little more intensity with your activity. And there's a water park close by. If you are choosing this place because of its renowned golf courses, then be sure to ask about the range of packages which are available when booking short stays here.
The aforementioned San Vigilio Spa has a focus on wellbeing, including through its natural cabin which has a heated water bed, wellness paths, saunas along with modern treatments for your face and body. Guests can loosen any sore muscles in the massage area through rub-downs from attentive staff. Heading a bit further afield, the Chervo's location makes it a great base for day trips, one opportunity being wine tasting in local vineyards. And, of course, the timeless towns near to Lake Garda are worth paying a visit to.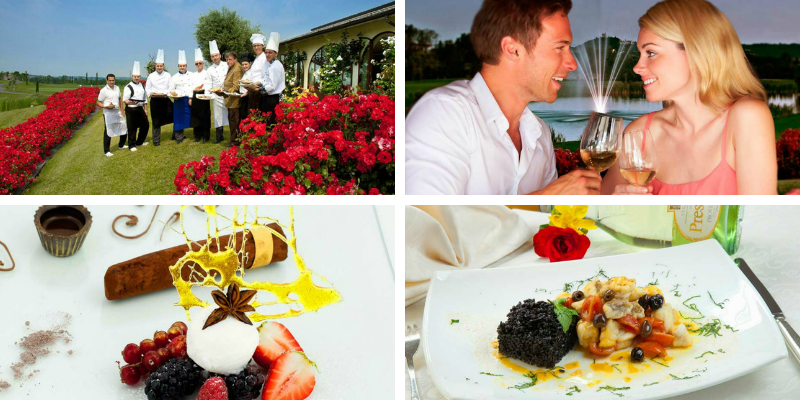 And for wining and dining?
It's well known that wedding guests like to imbibe as part of their celebrations, and you're really spoilt for choice in this sense. Back at the resort there are a total of three bars. At the Club House, the American Bar opens early in the morning offering fresh croissants and hot coffee. There, you'll also be able to enjoy a long lunch, or cocktails over sunset in front of the illuminated pond by the golf course. Meanwhile the Hotel Bar is a splendid place to unwind over a beer or a glass or fizz. Finally, the Sports Centre Bar will also vie for the attention of your visitors.
What else should we know?
Another romantic touch comes through the cute rooms which, modern and clean, manage to retain the grand architectural class seen across the grounds. There are a total of 89 guestrooms and you might want to ask for one with a balcony room with a view. Your guests can upgrade to these rooms, some of which have marble bathrooms and fireplaces, and family-friendly suites come with additional bedrooms and bathrooms. There are apartments available too. What's more, your furry friends might be able to join you on your trip. That's because the resort allows pets, for an extra charge of just 10 Euro (per animal, per day).
Find out more about how to build a perfect romantic break at the Chervò Golf Hotel & Resort San Vigilio SPA. Or, get in touch with one of our expert Romantic Consultants at The Romantic Tourist if you've got any further questions. We'll be more than happy to help you find a deal that suits you.