Thailand's second biggest island, Koh Samui, can feel very exclusive indeed when it comes to romantic wedding ceremonies. The generous staff at the Beach Republic are able to make sure there's only one marriage each day, and they'll be happy to deliver something bespoke and extra special for you. The palm-lined beach of Lamai makes for a terrific location to host a ceremony on the sand (in glam-looking flats or sandals) and looking out to the stunning sea view.
Given Bali's reputation as a hedonistic holiday spot, it may not surprise you that the spirit of excess extends to weddings here. You'll be spoilt for choice by Avavi Bali Weddings – choose between a church, villa, beach or resort setting. These specialist wedding planners are a team of seasoned professionals who will help you decide on your perfect celebration and ceremony, from the most popular wedding arrangements right through to bespoke luxury packages.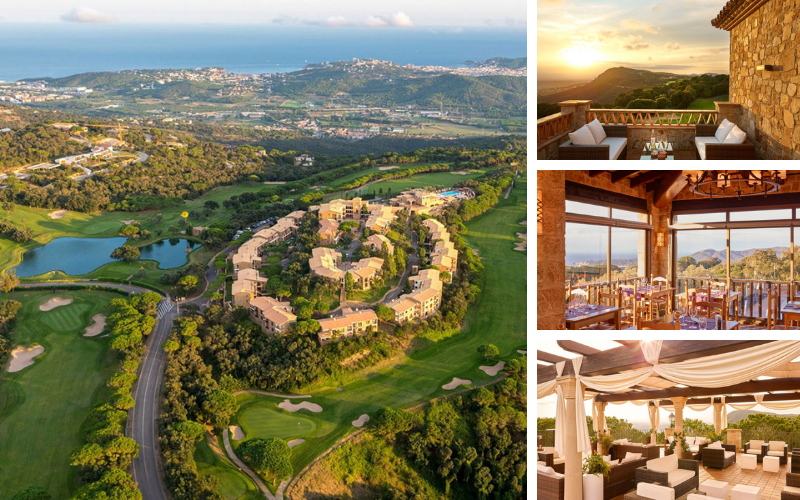 Hapimag Resort Mas Nou –Costa Brava, Spain
With its rugged landscapes, sensational sunsets and hilltop views, and nearby the cities of Girona and Barcelona, the Hapimag Resort Mas Nou is in a location that effortlessly lends itself to romance. Situated in the centre of the splendid Club Golf d'Aro golf course, your wedding will be hosted in a venue that typifies the beautiful regional architecture offered by Catalonia. And all within an affordable 4-star resort that is perfect for hosting family, friends and larger wedding parties.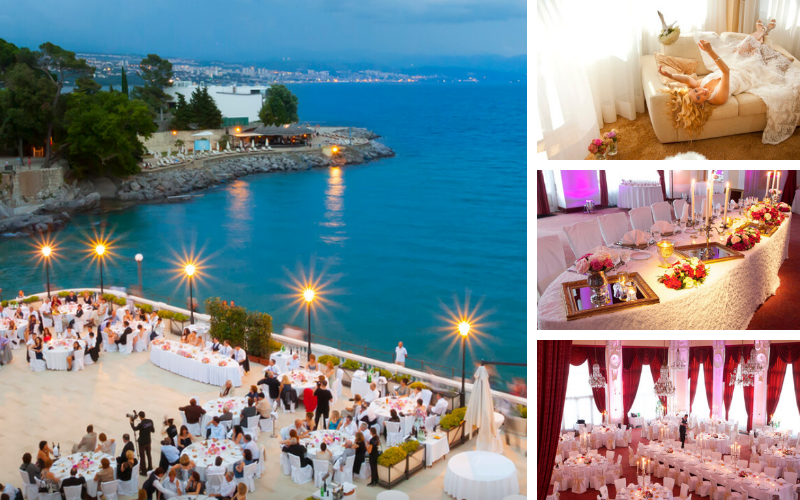 Remisens Premium Hotel Kvarner – Opatija, Croatia
The elegant and celebrated ballroom of Crystal Hall could be the ideal setting for your perfect wedding in Croatia. Remisens Premium Hotel Kvarner's super-spacious hall can accommodate up to 400 guests for a private ceremony, and you can have the space decked out how you want it. Massive bonuses here include a private beach, with a view of Kvarner Bay, a choice of two restaurants and a Spa. The events space at Remisens Premium Hotel Kvarner was renovated in 2014 and is one of the Adriatic coast's oldest and grandest hotels.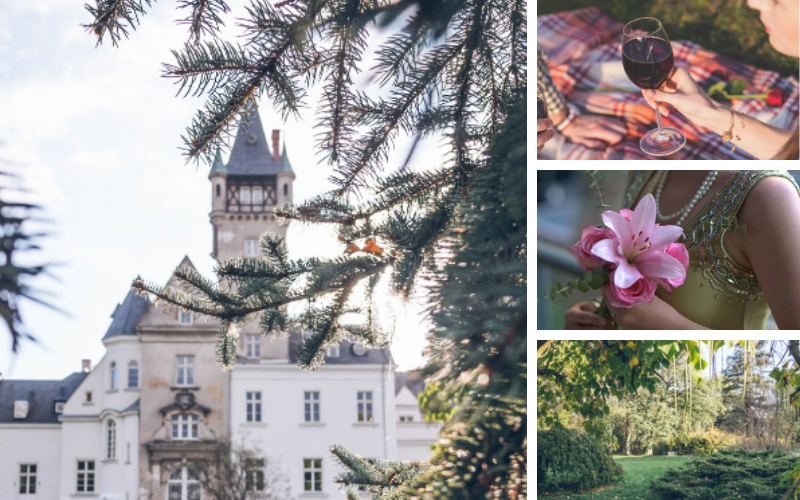 The Palace at Osowa Sien – Poland
If you're a couple looking to book an intimate wedding abroad, then The Palace at Osowa Sien is a charming venue hidden deep in the West Polish countryside that could work for you. Up to 32 guests can be accommodated at this classy retreat, the grounds of which include an ancient tower that could be a tourist attraction on its own. A neat little extra is that newlyweds can stay free of charge if they book a group of 20 or more guests. And finally, you can enjoy a choice of locations – from the bright and airy Ballroom, to the garden grounds themselves in the warmer months.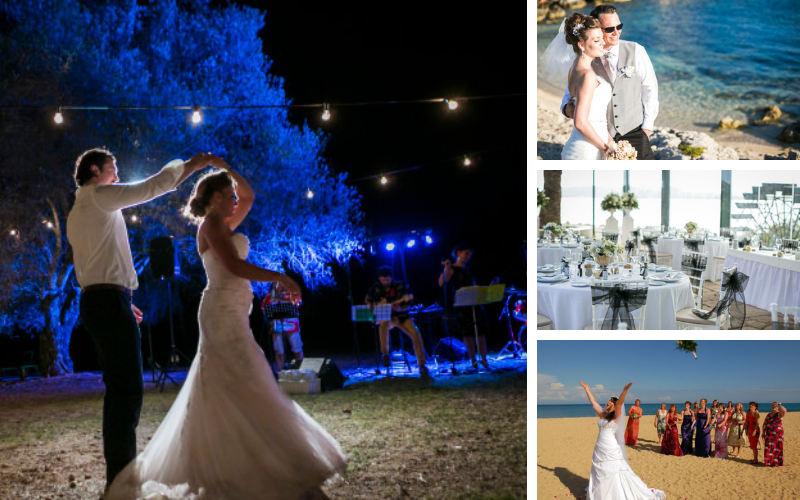 For a dream Greek island wedding, Kefalonia has some of the best beaches in Greece. And if you want to say 'I do' in heels then the city can also offer stylish, boutique hotel venues near the main square, shops and nightlife. Kefalonia Weddings are experts in arranging your perfect day whatever your style. And for a more intimate or exclusive wedding you can even choose to host your celebrations in a private villa or manor house with its own pool - offering you privacy, intimacy and the pleasure of celebrating your special day precisely to your own 'house rules.'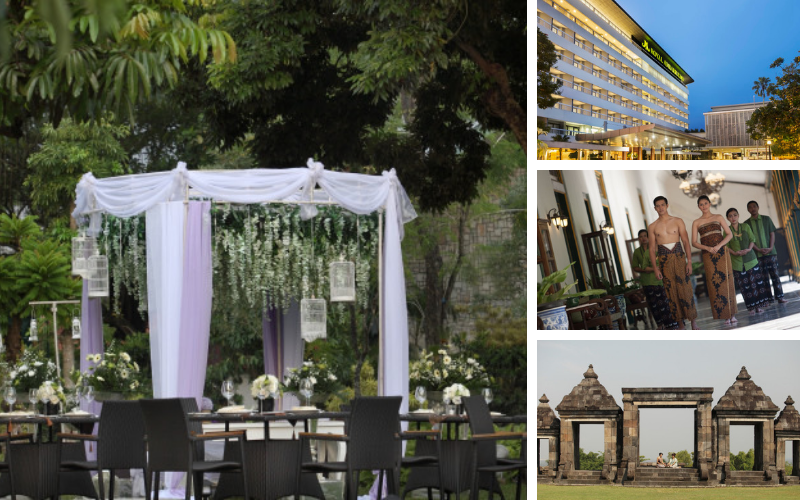 Royal Ambarrukmo Yogyakarta – Indonesia
It's fair to say you'll get the royal treatment as a couple getting married at Royal Ambarrukmo Yogyakarta - a 5-star hotel in Yogyakarta city. Different processions and rituals, including those which chime with the ancient Javanese manuscript, can be arranged for a truly unique wedding experience. The luxuriously-designed Kasultanan Ballroom, which is located in the garden grounds, has its own entrance and reception area – helpful for facilitating a feeling of exclusivity. There's a built-in stage and a pre-function room too. Your guests will have plenty to keep themselves entertained with too, as the hotel's near to a shopping mall and some tasty local culinary options.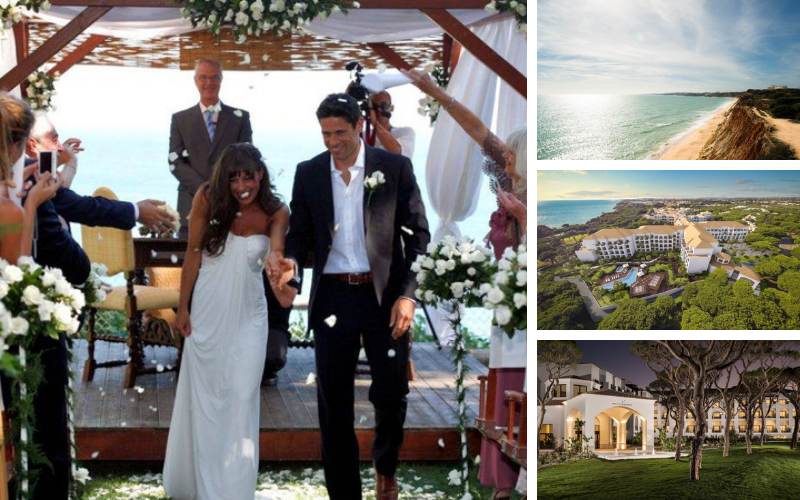 Pine Cliffs Luxury Collection Resort – Algarve, Portugal
Set over more than 70 hectares of lush gardens and pine trees, Pine Cliffs is a luxury resort that sits on a row of breathtaking cliff formations. And you'll be partial to so me incomparable views over the Atlantic Ocean. The well-kept gardens are just one of numerous venue choices for your ceremony. Another is a laid-back and lovely beach-side event on the unspoiled white sands of Portugal's well-known Praia da Falésia Beach.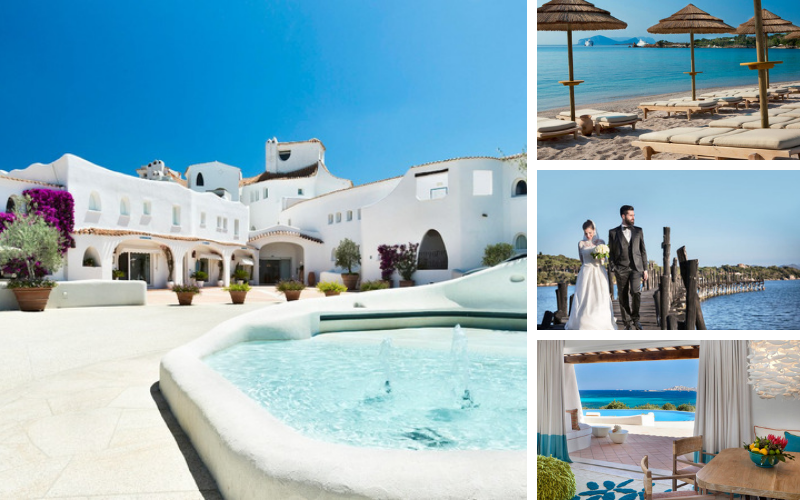 Hotel Romazzino, a Luxury Collection Hotel – Sardinia, Italy
The Hotel Romazzino has spent more than half a century hosting wedding bashes and ceremonies in their secluded corner of Costa Smeralda, a stretch of land along the northeast coast of Sardinia. Perched on a hillside overlooking a sheltered bay with golden beaches, and with the waft of wildflower scent sweeping over the gardens you'd have a very fine and slightly dizzying environment for a large or intimate wedding. Features to complete your superb Italian ceremony include wooden garden chairs, a sound system and drinks station. You and your partner can stay for free - assuming your guests are booked to stay at this venue, while private valet and transportation can be arranged for all.
Castilla Termal Burgode Osma – Castile & Leon, Spain
Nestled in the sparsely populated Spanish heartlands of Castile and Leon is this stunning 16th-century Gothic building that today is a unique Spa hotel and wedding venue. The renaissance courtyard and a glass-paned ceiling and dome is one of the highlights of Castilla Termal Burgo de Osma, creating a visual treat in which to get wed. To facilitate your wedding guests, there are separate function rooms – and you'll get personalised menus for the many celebrations you'll be having in the resort's Banqueting Hall.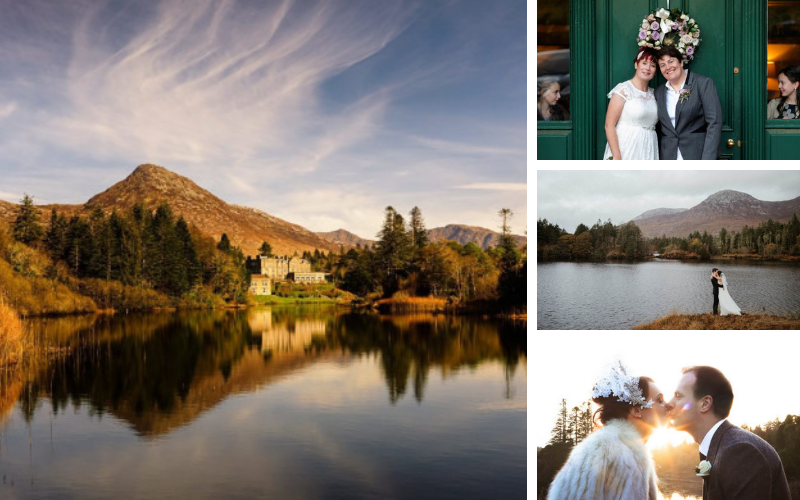 Ballynahinch Castle Hotel & Estate – Ireland
For your special day at Ballynahinch Castle you'll be offered the private use of the estate's Hunts Room, as well as the inter-connecting Morning Room, complete with access to the hotel gardens for your ceremony. Afterwards, your amazed party can enjoy a celebratory dinner in the semi-private dining area of the on-site restaurant.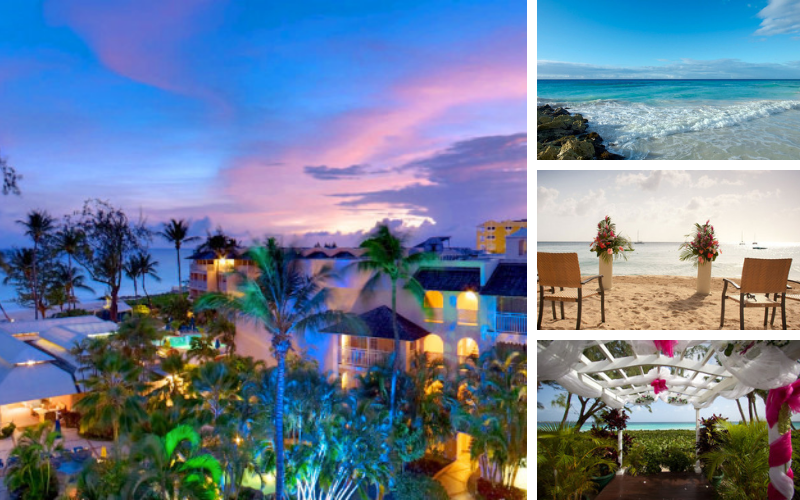 With four ceremony locations and nine receptions to choose from, Turtle Beach gives plenty of choice based on your individual needs and wants for creating your ideal Caribbean beach wedding. Add into the mix fresh flower bouquets, cakes and entertainment – as well as photography and video services – and, with the help of your dedicated wedding coordinator, you dream wedding can come true with a minimum of fuss. Being able to hire a live steel band, and a Spa indulgence package are just a couple of special extras we simply couldn't not tell you about…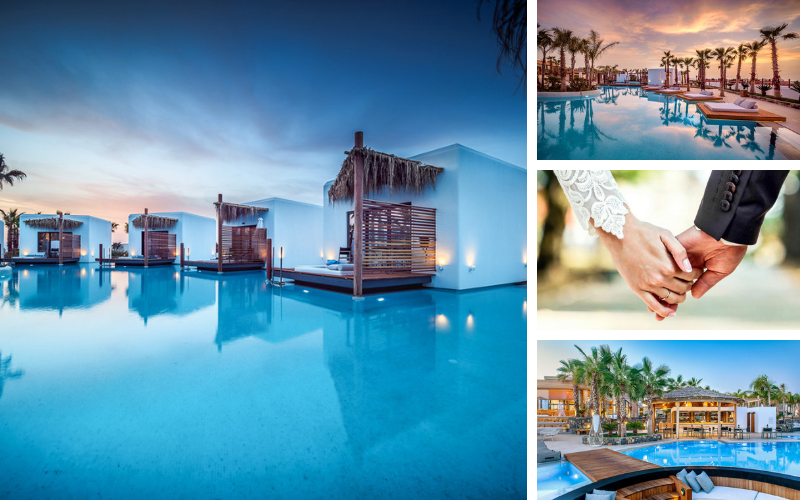 Stella Island Luxury Resort & Spa – Crete, Greece
A romantic seaside location, a roof-top terrace and a small chapel are all options on the table when it comes to getting married at Stella Island Luxury Resort & Spa. The hotel's dedicated wedding planners can take care of all the small details, so that you can get on and enjoy your big day – including a charming reception venue on a rooftop that offers a stunning view above the lagoon pool. Couples here on honeymoon are also very welcome to enjoy an intimate private dinner, prepared by their executive chef before unwinding with a signature couples' treatment in Spa.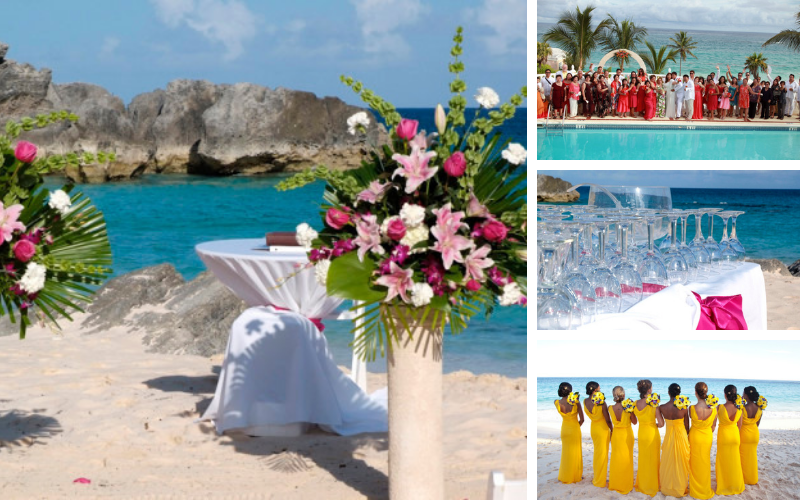 Rose of Sharon Event Planning – Bermuda
Rose of Sharon are wedding and event planning experts based in Sandys, one of the nine parishes in picturesque Bermuda. Founded back in 1999, these professionals have a passion to see couples pledge their commitment against a backdrop of crystal blue waters and soft island sand. They'll handle every detail, big or small, to ensure that your dream vision for your wedding day is brought to life.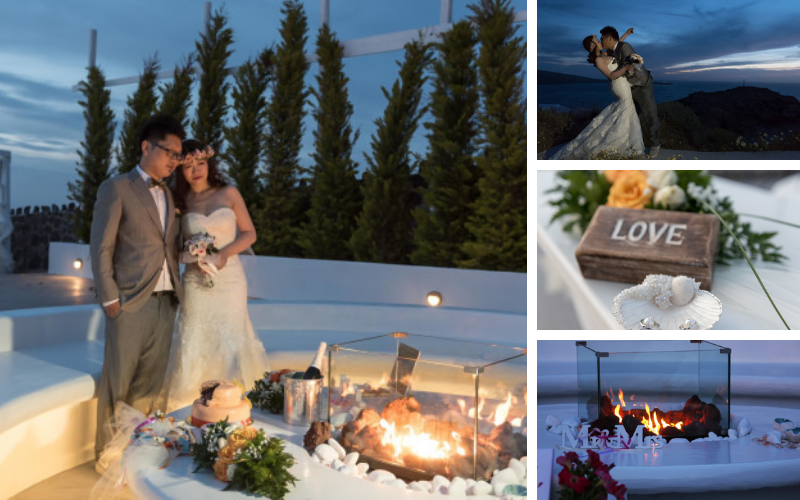 Oia Sunset Villas – Santorini, Greece
Few of your guests are likely to grumble about the chance to go to the world-famous Greek island of Santorini for a wedding. Oia's considered to be one of the most romantic towns to stay in, and it certainly offers views which are among the very best of the island. Oia Sunset Villas can host a breath-taking ceremony on a private terrace at sunset. Alternatively, there's the beautiful pool gazebo. Everyone who stays with you at this resort will feel a tad special, because each villa comes with a private dining area to enjoy alfresco drinks and nibbles, as well as a garden and heated hydro massage spa.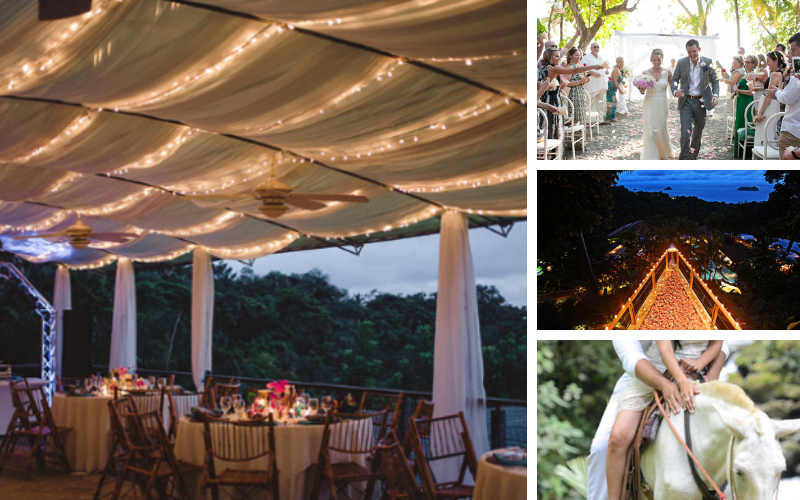 Sí Como No Resort & Wildlife Refuge – Costa Rica
If you're after an exotic destination wedding experience, then all of your needs can be served by Costa Rica. This popular tourist country always wows visitors with its biodiversity and nature, and at the Sí Como No Resort & Wildlife Refuge they've even crafted a wedding space within a private Butterfly Atrium. And you'll be able to retreat to the luxurious Honeymoon Suite at the end of your unforgettable day. Also, you and your guests will enjoy the very best of the resort's personalised services, such as spas, dining, guided or self-guided tours.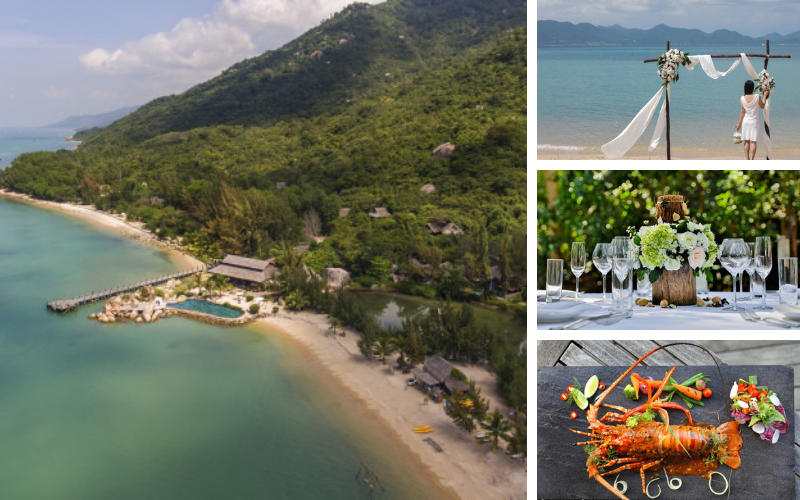 L'Alyana Ninh Van Bay –Vietnam
L'Alyana Ninh Van Bay has been named the second best hotel in all of Vietnam by TripAdvisor and it's not hard to see why. From full butler services in all villas, to relaxing Vietnamese spa services, traditional cooking classes, yoga – and much, much more. L'Alyana Ninh Van Bay is also a spectacular setting for beach weddings and romantic escapes: At the place where time is forgotten, you will be pampered in the openness of tranquil woods, blue natural sea and spectacular settings under the sunset.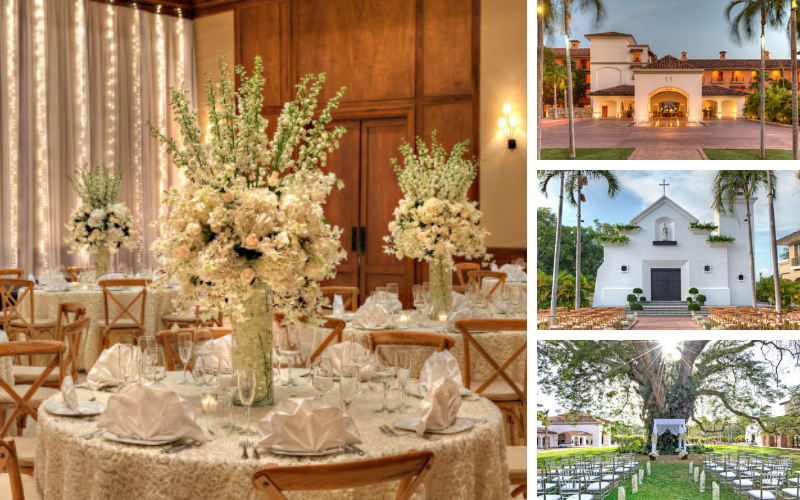 The Buenaventura Golf & Beach Resort – Panama
Ever thought about turning up to get married in a horse drawn carriage? It's possible at the Buenaventura Golf & Beach Resort, and as well as a movie-like entrance there's plenty else to make you feel like a star if you choose this Central American treasure. The 5-star resort can host up to 800 guests for your celebration and you can pick from venues including a beachfront spot at the El Faro beach club, to a romantic ceremony at the La Ermita chapel - to name just two options. The resort's designed to cater for both intimate ceremonies and more lavish events. Group accommodation discounts, fun tours and bespoke venue design are a couple more reasons to seriously think about saying your vows here.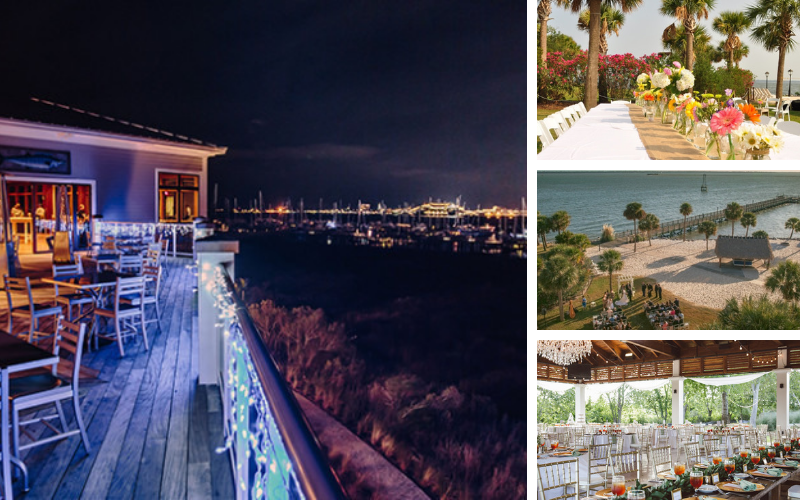 Charleston Harbor Resort & Marina – South Carolina, United States
America loves to do things bigger and better, and Charleston Harbor Resort boasts a 30,000 square foot tropical deck, which can be used as an event space all year round. Private poolside cabanas, fire pits, and access to the beachfront are a couple of further luxury splashes here. You can also take in a cold drink from Charleston's only waterfront Tiki Bar. Find out about the ten amazing wedding venues at this resort.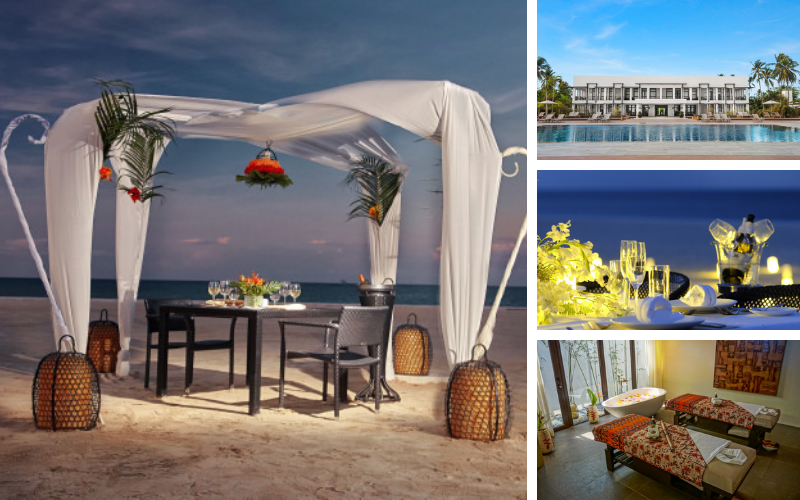 Tie the knot along a pristine white sandy beach at Kandaya Resort, in an area known for its remarkable sunrise and sunsets. Something of a water lover's paradise, there's ample chance to combine your ceremony with opportunities to delight in the crystal clear waters of Northen Cebu Kandaya Resort – borrow a kayak or jet-ski, or simply cruise along in one of the well-appointed outrigger boats which come fitted with hammocks for a touch of added luxury.
Want some help?
Our expert romantic consultants are waiting to hear from you. Get in touch HERE today.