Unique Honeymoon in St Lucia at Fond Doux Plantation & Resort
Nature trails... history tours... and intimate tree-top bungalows – not three of the first things that come to mind when you think of a honeymoon or romantic getaway in 'St.Lucia'.
But the Fond Doux Plantation is a luxury boutique resort with ALL these treats, and plenty others, right on its doorstep. Here's why a stay at this corner of the Caribbean could offer romantic couples a new perspective on the famous sun, sea 'n' sand destination.
Located in the south-west corner of St Lucia, Fond Doux is nestled away in an area of dense rainforest, yet is handily close to the Hewanorra International Airport, as well as some of the most popular tourist spots offered by the Caribbean island.
The nature on offer close-by is second to none: from the sublime tapered mountains of the jagged Pitons, to the coastal reef-diving sites and quaint fishing villages. The luxurious resort itself can help guests to get to day trips through its free beach shuttle service, while back at base camp you'll be able to marvel at the resort's historical gardens in what's been a traditional working plantation stretching back more than 250 years.
Where should couples stay at Fond Doux?
That'll depend on how adventurous – and to a point, how fit – you are.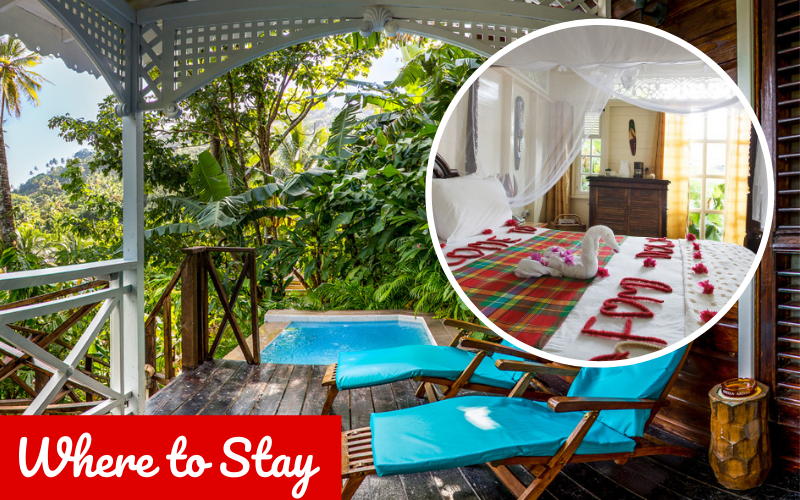 The hilltop Nutmeg porch is a villa with a particularly high elevation, but skyscraper-like rooms like this one may not be best if you have trouble walking. If that's not a factor, then you'll be rewarded with an outdoor shower, plus a veranda space that's surrounded by some absolutely terrific views. Listening to the calm hiss of the wildlife, among exotic fruits and cocoa, will only add to the romantic vibes felt at all times of day.
A good place to start is by speaking with one of our friendly and expert Romantic Consultants at The Romantic Tourist, and we'll also be able to put you in touch with the right people at the resort directly.
What does a romantic day at Fond Doux look like?
For starters, breakfast spoils you here and it can set just the right the tone for a day of decadence. Some favourite local breakfast delicacies include traditional salt fish Accra, bacon wrapped plantain, coconut and chocolate pancakes plus sumptuous continental choices.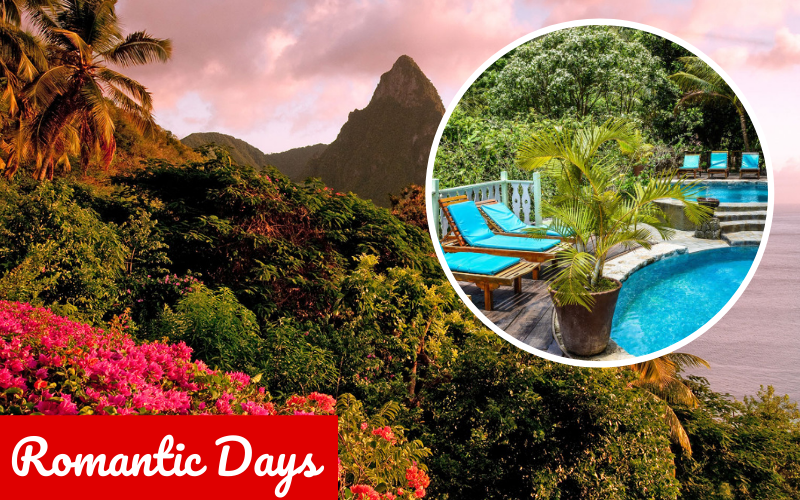 After breakfast, there's a wide choice of activities you'll be able to pick from at your own pace. These include:
Lazy Days on the Pool Deck - a trio of pools are located in heart of this resort. Each one offers a peaceful haven for taking in the lush vegetation and mountainous surroundings. Guests can make use of rainforest hardwood furniture and deck chairs, with bathrooms and showers nearby. Plus there's a unique pool-side library, complete with board games to keep the whole family happy. Drink and snack orders can be phoned in from the pool-side phone.
Nature Trails – there's no fewer than three nature trails by the resort. They all afford breath-taking views of the local flora and fauna, as well as historically rich ruins. In terms of wildlife, St. Lucia has hundreds of different bird species and it feels like nearly all of them congregate at Fond Doux. The wide and colourful palette of birds to look out for here include: the Hen Harrier, the Black Hawk, and the St. Lucia Pewee - while countless doves, parrots and other creatures teem around these grounds too.
Cooking and Cocktail Making Classes – if you're a fan of Caribbean cuisine then you can learn all about the art from an authentic St. Lucian kitchen. Try your hand at creating a variety of local dishes, and life-long skills can be bought for just $40 per person. Meanwhile the magic of tropical cocktails can be revealed by skilled mixologists, who'll teach you how to make that favourite tipple you tried on the first night… what's more, it's just $25 per person for a class.
Tree Planting – the Fond Doux is a Green Globe certified resort thanks to its well-earned green credentials. The forest provides the resort with its own clean water, and it also provides a tree planting programme as part of one of its Green and Sustainable initiatives. Guests here can plant a tree in any area of the resort's gardens, and you can even get the tree labelled with your name making for a lovely romantic gift for your lover. This activity's free of charge.
Zumba – at 5pm each Monday, Wednesday and Friday on the front lawns you can enjoy a workout mixed with some sightseeing; classes often take in walks to the local Tet Paul Nature Trail and the Sulphur Springs nearby
What's there to do in the local area?
In addition to the many charms of Fond Doux, there's a huge range of tours and activities which will suit any type of traveller. These include:
Whale & Dolphin watching – Spot these fine creatures just south of Soufriere, and get stuck into cool drinks provided on-board
Sunset Cruise – Couples can sail into the sunset with complimentary champagne, rum punch and hors d'oeuvres
Anse La Raye Fish Fry – Enjoy a local fish BBQ on a closed and secluded beachfront road, to an event which draws both travellers and locals
Castries Shopping Trip & Rhythm of Rum Tour – take a trip to the local Castries market, and then tackle with, of course, plenty of samples to try for yourselves
Horseback Riding: Ride-In Volcano Tour – Brave a ride into the Qualibou Volcano and try a bubbling mud bath
Fishing - Being home some of the Caribbean's deepest waters, St. Lucia is an ideal fishing spot for a variety of fish including: Blue Marlin, White Marlin, Barracuda and many more.
And or course there's always the beach!

Two other superb local activities which are hosted by Fond Doux are:
Free Beach Shuttle – the resort's beach shuttle goes directly to Sugar Beach, a pristine white sand beach in Soufriere which is a mere 15 minutes' drive away. Each day the bus brings visitors to the golden shores at 10am, picking up again at 2pm or 4pm depending on your individual preference.
While spending the day deep in luxury, you can take a free beach chair from Sugar Beach, or upgraded beach cabanas can be rented for $50. A restaurant is nearby for lunch and refreshments while at the beach. Water sports are also available, and snorkelling equipment can be hired and by booking at reception you could enjoy a discount.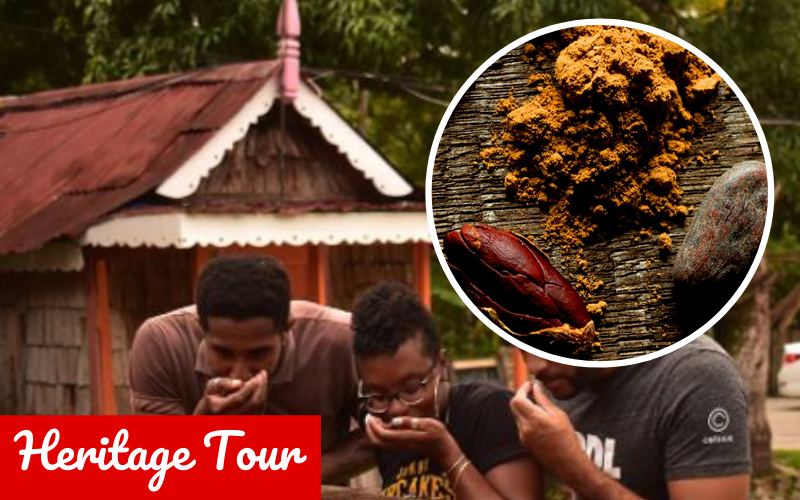 Fond Doux Heritage Tour - The property's Fond Doux Heritage Tour offers you the chance to combine nature and history throughout the expansive property, where you'll be told about both the local vegetation and the rich history of the land. The 135-acre piece of land is located within the UNESCO World Heritage Site of Soufriere.
Fond Doux has retained the character of the early French colonial estate, and is one of the earliest estates established by the French on the lands granted by the Royal decrees of 1745 and 1764. Being among countless cocoa groves, you'll be able to take in the sweet hue of chocolate throughout the tour, and learn about cocoa harvesting, cocoa drying, and even the famous cocoa dancing.
When it comes to fruits of the forest, you're really spoilt for choice at Fond Doux. These range from bananas, to mangoes, apricots, grapefruits, love apples, guavas, star fruits, and even refreshing jelly coconuts. The tour ends with a hike up the Lamontagne's trail offering incomparable views of the Petit Piton and Sugar Beach. Because of its tropical climate, the gardens and property can be enjoyed throughout the year.
Why is Fond Doux a dream venue for a wedding or romantic celebration?
At the Fond Doux they'll be able to tailor an event for both intimate ceremonies and larger gatherings.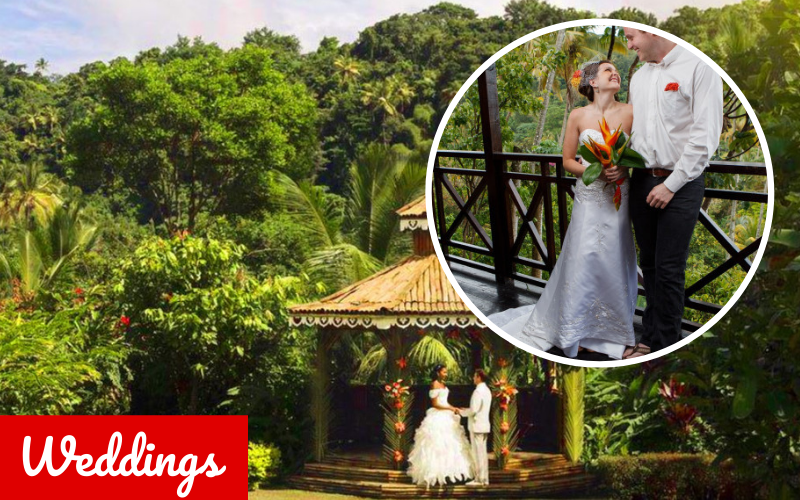 If it's a wedding ceremony you're thinking of, then you'll be offered the exclusive services of a dedicated wedding planner who'll be on hand to help create a fully-personalised experience. Ahead of the special event, you can get a full His and Hers Spa treatment as well as bridal hair and make-up services in your room. Be sure to ask about the unique 'Circle of Love' wedding space and, if it's your thing, a Live Steel band can provide a truly unforgettable soundtrack to your wedding.
Here's a bit more information on weddings and different types of romantic celebrations which can be enjoyed at Fond Doux Plantation and Resort.