Foodies - here's why your next tasty adventure should begin in Salamanca...
Whichever type of romantic getaway you're planning – from sexy escapes during the early days of passion, to luxury wedding anniversaries – it's likely that cuisine will play a big part of your trip. After all, most couples will have restaurants abroad that pop up in fond memories as much as any first, second or third dates.
Here's why we think a trip to the Spanish heartlands can be effortlessly paired with a stay at Salamanca's lovely Hotel Recoletos CocoSalamanca – as easily, in fact, as fresh tapas with a glass of chilled Spanish white…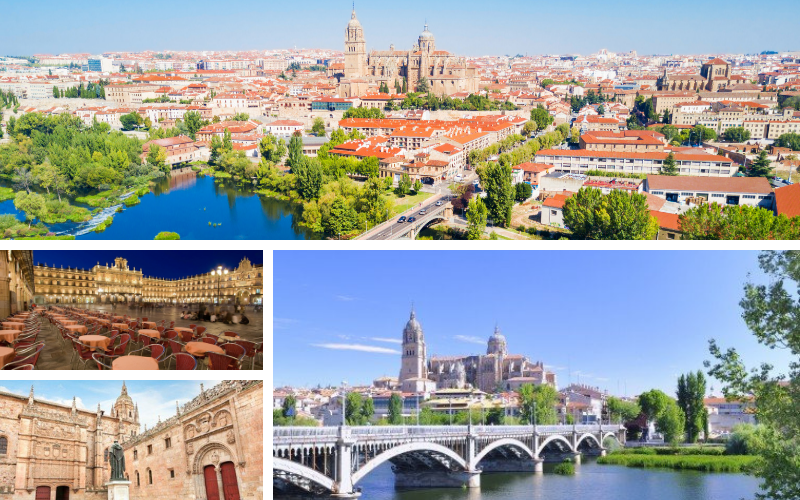 Read more about Salamanca
Known as La Dorada (the Golden One) due to its historic sandstone buildings that glow in the sunlight, Salamanca city in western Spain has plenty going for it when it comes to romantic breaks.
World-class cultural attractions (and plenty of food options) are in abundance at this UNESCO World Heritage Site. Try a sunset walk over Roman Bridge on the banks of the Tormes River, before paying a visit to Plaza Mayor, the Old Cathedral, or one among many other Renaissance and Gothic treasures. You'll have plenty to occupy your time in Salamanca, plus you're surrounded by fascinating places to explore - Madrid's only a couple of hours away.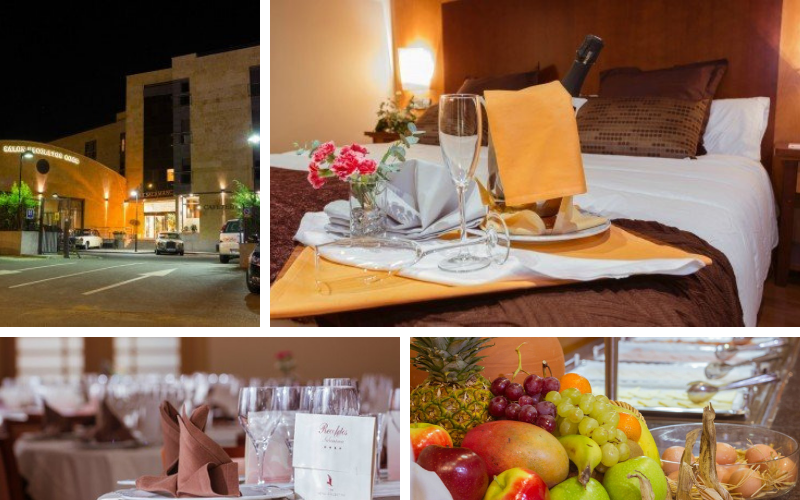 So, where should we stay?
The IBB Hotel Recoletos Coco Salamanca is a wonderful placeto begin your foodie adventure. Enjoy a luxurious meal at the on-site Restaurant La Antigua, which boasts a wide selection of gourmet treasures mixing Spanish and Italian influences.
In the summer months, guests can gaze lovingly at one another over a candlelit setting for dinner in the hotel's gardens. (This charming space can also host up to 120 for an outdoor wedding.) Plus, breakfast can be delivered right to your door after a night of romance.
Guests at this classy property can enjoy rooms of superior quality, which stand out for their spacious feel and for the quality of their bedding. Couples are recommended to stay in a Superior Room, complete with luxury King Size beds.
And depending on the type of celebration you're exploring, staff will be more than pleased to create a romantic atmosphere in your room completed by surprise details you can pre-select. Other features at IBB Recoletos Coco Salamanca include an outdoor pool, a kid's pool and a lounge bar. What's more, the hotel is ideally situated about a 15-20 minute stroll from the spectacular sights of the city.


Food, glorious food…
There's much more to Spanish cuisine than the famed seafood and paella of the coastal regions. The lush inlands with its dry, but cool, highland air makes the ideal platform for delicious cheeses, blood sausages and cured meats. Unsurprisingly then, Salamanca has a terrific food culture with plenty of seasonal produce that's influenced by the surrounding terrain – a melting pot of mountains and countryside – along with cultural influences from the area's rich history.
Some of the region's finest dishes include:
Cochinillo al fuego - a melt-in-the-mouth roasted suckling pig
Hornazo - look out for this salty, stuffed pastry with ham, bacon, sausage which is completed with a hard-boiled egg or two. You may find your oven baked delight comes with chicken too
Farinato - a sizzling white sausage that's usually fried with eggs and comes seasoned with breadcrumbs
Pats negra - a cured ham that's quickly identified thanks to the black hoof left on the shank.
Chanfaina salmantina - a delicious mix of a dish that includes chorizo, rice, swine cuts, giblet, lamb and sweet bread
When it comes to cheeses, the region certainly doesn't disappoint. One favourite here is called 'hinojosa de duero'. The mountainous areas have a wide range of fruit and vegetables – fresh figs, beans and ripe cherries to name just a few.
And if you're a couple who love wine, you should pay a visit to the Hacienda Zorita Winery. Located close to Salamanca, this local tourist spot is one example of age-old vines , the likes of which have been growing in the area since the 14th Century. The Ribera del Duero and the Sierra de Salamanca are two popular areas which house some of the finest local wines.
The local restaurants around Plaza Mayor are particularly dreamy places to while away another slow afternoon. You don't have to be a wine connoisseur to appreciate the rich full bodied flavours of the reds, or fruity whites, on most restaurant wine lists in the heart of the city.


Why are you so sweet?
Dessert in these parts is historically significant – with both Islamic and Jewish influenced sweets being enjoyed on an hourly basis. Today nuns who live at Convento de las Deunas make biscuits and cakes which can be enjoyed at this centrally located convent. Almonds and honey from Moorish times can be found in the region too. Look out for a crunchy Alicante Almond Turron Candy in particular. The renowned producer '1880' makes these crunchy almond turrón bars utilising premium whole Marcona almonds with local orange blossom honey following an old artisanal recipe. Other sweet treats here include rich marzipan and sponge cakes.
IBB Recoletos Coco Salamanca – a snapshot
Opened back in 2002, This hotel, which first opened in 2002, is situated in a quiet part of Salamanca. It offers wireless internet access and free parking, a 24-hour reception and has 82 rooms, including 6 singles, 74 doubles and 2 junior suites.
Address: IBB Recoletos Coco Salamanca, Av. de los Agustinos Recoletos, 44, 37005 Salamanca, Spain
Related links
If you're food lovers, you could also enjoy a luxury stay at County Mayo's Ashford Castle in Ireland. Pick between fine traditional dining in their George V Dining Room, the atmospheric Dungeon or a spot of afternoon tea in the Connaught Room.
The Montague on the Gardens in London's ever-hip Bloomsbury is situated close to lots of world-class international cuisine. On-site you can savour this magnificent hotel's extensive collection of vintage wines, or enjoy their fun and tantalising Safari themed afternoon tea.
Elsewhere, the Grand Hotel Majestic "già Baglioni"in Bologna would make a perfect base to explore some of the local cuisine ofnorthern Italy - such as a visit to Fico Eataly World, the foodie theme park, which offers intimate cooking classes.
Finally, check out our list of the 9 most romantic dinners around the world.