Go West | Romantic Beach Holidays - Palm Beach, Cancun or Placencia?
Florida and the Caribbean coastlines of Mexico and Central America are home to some of the most beautiful and romantic beach destinations in the world.
But whilst white sands and turquoise waters feature heavily throughout - the diversity of cultures and experiences these destinations offer is real.
Here we take a closer look at 3 of the most famous and popular beach destinations in this part of the world including Palm Beach in Florida, Cancun in Mexico and Belize's Placencia Peninsula.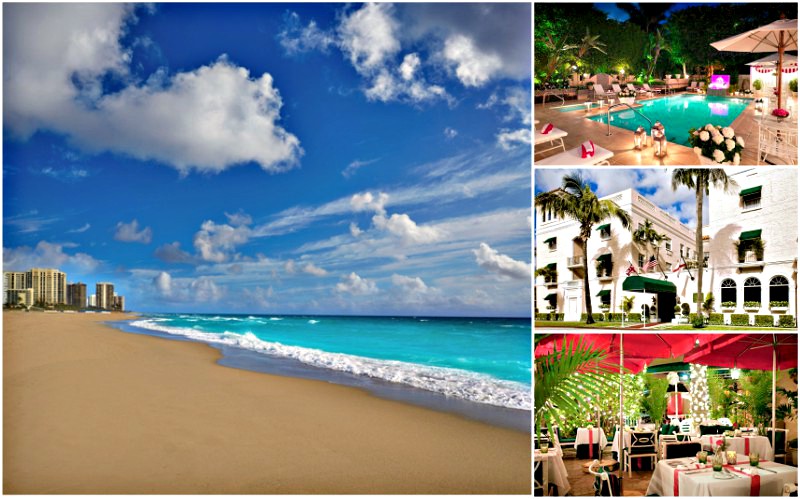 #1 The Billionaire's Playground - Palm Beach, Florida, USA
Palm Beach is an affluent island enclave located just across the Intracoastal Waterway from the mainland. This is a place where old-money millionaires and society ladies inhabit exquisite mansions flanked by immaculately manicured palm trees.
Visitors come year-round, but the island really buzzes with activity during the cooler period from November through May, when the "snowbirds" descend from up north and settle into their winter homes. Couples wanting to indulge their own jet-set fantasies love to visit (sans kids) for weekend getaways to enjoy the beaches, bars, museums, shopping and spas.
The Henry Flagler Museum in Palm Beach is possibly one of America's most romantic attractions. Built in 1902 as a wedding gift from industrialist Henry Flagler to his new bride, the 75-room, 100,000-square-foot mansion formerly known as Whitehall is a masterpiece of Beaux arts style and architecture. Visitors are transported back in time among the stately columns, antique furniture, and painted ceilings of this grand residence, where they can also enjoy tea for two or wander through the serene garden.
Nature-loving couples can steal a kiss while kayaking alongside manatees on the Loxahatchee River, stand-up paddle boarding at Palm Beach, or snorkelling at one of the offshore reefs.
Foodies have hundreds of fine restaurants to choose from, including the French-American cuisine of Café Boulud and Ta-boo, the legendary American bistro and bar.
Culture vultures can head to the Kravis Center for the Arts to catch a play or musical performance, or the Society of the Four Arts, which offers an ever-changing line-up of art exhibits, concerts, theatre performances and weekly film screenings.
Shopaholic couples can explore elegant Worth Avenue and its romantic side alleys, where world-famous designer boutiques sit side by side with quirky independent merchants amid the rich charm and unique architectural character of the avenue.
Palm Beach is also renowned as a spa and wellness destination. Couples can get side-by-side massages and other nurturing body treatments with a beach backdrop at Tideline Ocean Spa, or after an invigorating round of golf at the Spa at PGA National.
Stay at The Chesterfield Palm Beach:
Book or request a private quote to stay at The Chesterfield palm Beach - located on Cocoanut Row in the chic, dynamic heart of the island, this distinctive, romantic, and elegant hotel is just a short stroll from the glittering boutiques and stylish bistros of Worth Avenue – Florida's version of Rodeo Drive – and the golden sandy beaches of the Atlantic Ocean.
This luxury boutique hotel in swank Palm Beach is the perfect place for an intimate, memorable stay with the one you love. Built in 1926, the hotel's unique blend of stylish Italianate architecture and discreet English charm makes it a standout among Palm Beach hotels.
53 beautifully appointed rooms and suites are the perfect backdrop for amorous encounters. Every room is a unique statement of luxury and exclusivity, decorated in styles and colours that accentuate the clear warm days and soft nights of Palm Beach and fitted with marble bathrooms, silk wall coverings, and plush linens.
By day guests can lounge in the serene pool deck area and have traditional English tea for two in the cosy wood-panelled library.
By night you can dine, dance and hear live music at the unforgettable Leopard Lounge & Restaurant, an ebony and gold masterpiece of Gilded Age style and colonial grandeur. The candlelit ambience of the room will seduce you as the palm fans gently wave overhead, and the innovative food of Executive Chef Gerard Coughlin will excite you with its bold flavours and international influences.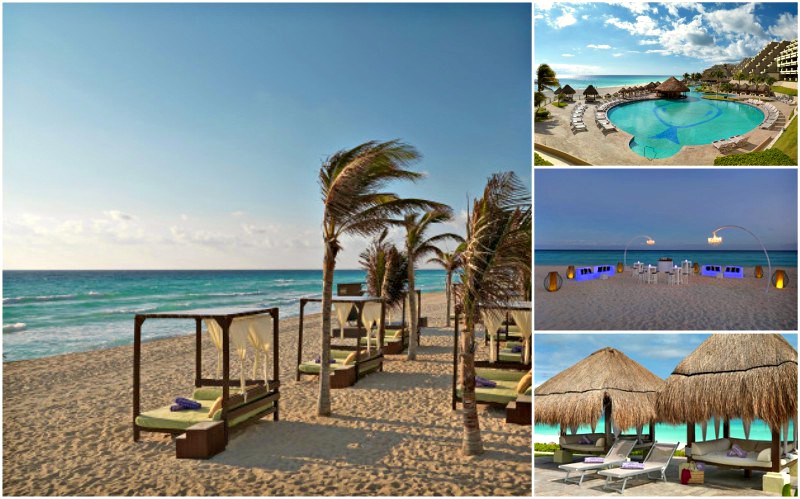 #2 Hedonism & Heavenly Beaches - Cancun, Mexico
Palm trees, warm Caribbean breezes, white sand beaches and turquoise blue waters, make Cancun one of the most romantic destinations in the world.
Cancun is a city in Quintana Roo, Mexico. It is located 21.17 latitude and -86.85 longitude and it is situated at elevation 11 meters above sea level. And offers many activities and tours that are sure to reignite the romance in a relationship – escape for a day trip into the city to experience the real Cancun.
The average temperature in Cancun is 80F. Whilst June and July are the hottest months of the year and January and February are the coolest months, the temperature does not vary that much throughout the year. Although there are 2 distinct seasons in Cancun - the wet (rainy) season from May to October when it is slightly hotter. And Cancun's dry season from November to April when it is cooler.
January and February is best time of year to travel to Cancun (weather-wise), during the dry season's coolest months. March and April are the driest months of the year, and also the sunniest months in Cancun. Humidity is high in Cancun, often around 80%. April and May have the lowest humidity.
Although famous for its party-scene, Cancun offers something for all types of couples. Cancun has the perfect diversity for adventurous couples, couples looking to relax, for couples that want the party and couples to want to experience some culture - Cancun has the perfect combination for all kinds of tastes.
Celebrate romance with a Lobster Dinner Tour is the most romantic tour in all of Cancun - a boat cruise which takes place at sunset on Nichupte Lagoon.
Romantic experiences and popular activities for couples also include relaxing massages at the Yhi Spa or couple treatment, a day trip to Isla Mujeres (Island of Women), renting a golf cart and touring this place where the ancient Mayan civilization worshipped Ixchel, the goddess of fertility.
For nature lovers, Sian Ka'an Biosphere Reserve and Isla Contoy highlight the mysterious natural treasures of the Yucatan Peninsula. To explore what's below the surface, snorkel or dive at Cenote Dos Ojos, Puerto Morelos National Reef Park or Xel-Ha ecopark.
Stay at Paradisus Cancun:
Book your stay on Mexico's sandy white Cancun beach at Paradise Cancún - an exclusive holiday resort and the ideal destination for those looking to relax while lapping up the luxurious surroundings. The recipient of Four Diamond honours from AAA since 2006, this incredible resort boasts exceptional facilities, sleek modern design and welcoming staff who are always on hand to help.
An impressive variety of spacious and luxurious rooms and suites, Paradise Cancún's stunning accommodation options are sure to leave guests feeling right at home throughout their stay. Delicately designed with marble floors and chic furnishings, each suite also includes a private terrace with breath-taking views over the Caribbean Sea or the Nichupté lagoon.

Whether it's a lavish wedding ceremony or an unforgettable honeymoon, Paradise Cancún is the perfect resort for your romantic occasion. And with the resort's Romance Team by your side, you can be certain that the big day will go off without a hitch. Meanwhile, those simply looking to spend a magical holiday with their significant other will be pleased by Cancun's awe-inspiring location and calming atmosphere that provides the perfect opportunity to get lost on a romantic wander.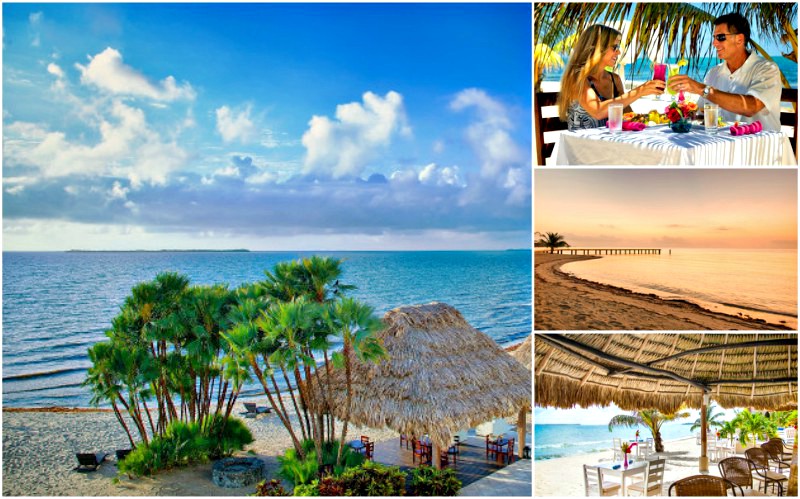 #3 Laid Back Caribbean Vibes - Placenia, Belize
Surrounded by the Caribbean Sea and the lagoon, Placencia, Belize is on a peninsula in Southern Belize and offers various Mayan Ruins, some of the best diving sites in the world along the Belize Barrier Reef (second largest in the world) and has the longest sidewalk in the world with all of the shopping and beach bars you could want. Placencia is a 45 minute commuter flight from Belize City International Airport.
Placencia is a great place to visit year-round, as the temperature various less than 10 degrees Fahrenheit from season to season. It's a tropical destination with an average temperature of 85 degrees Fahrenheit.
The best time to visit is during lobster season from June – February. Placencia is a beach destination with views of the Mayan Mountains and the jungles of Belize.
Placencia is a very chill Caribbean village. There's a good mix of locals and expats living in Placencia and it's increasingly becoming a more popular tourist destination.
There's plenty of shops and bars, but the real beauty of Belize lies in all of the activities. Bars don't stay open past 11pm or so, because most tourists are catching a ride to their next adventure in the morning.
Active couples who like a little adventure with their romance will fall in love with Placencia. Activities range from zip lines through jungles, climbing ancient maya ruins, repelling down waterfalls, snorkeling or SCUBA diving the Belize Barrier Reef, or fly fishing with legends.
The most romantic dining experience is on the private pier outside of 16 Degrees Restaurant with a personal waiter, full décor, and wine, of course. Add a honeymoon package (even if you're not on your honeymoon) for a complete romantic experience from arrival till departure.
Choose to stay on your own private island, Ranguana Caye, for a night for a truly unforgettable experience.
Stay at Belize Ocean Club Resort:
Book your beach escape to Belize Ocean Club Resort situated onthe beautiful Maya Beach - just a hop, skip and a jump from the quaint and charming village of Placencia, this posh resort oozes peace and tranquillity. With its mesmerising setting between a lagoon and the ocean, you'll be swept off your feet by the spectacular views, and luxury facilities include refined restaurants and a serene spa.
The water's edge is just steps away, each suite has a perfect view... The Waterfront and Ocean View Suites are chic and modern, with large open-plan living and dining areas, double doors opening onto private balconies, overlooking the Placencia Lagoon or the unobstructed Caribbean ocean; the perfect place to watch the sensational sunset with a glass of champagne at the end of the day. You can also cruise out to your own private two-acre island, where you can spend the time sunbathing, swimming, napping in a hammock, being brought cocktails and lunch... heaven.
Getting married at Belize Ocean Club will be truly unforgettable. There are many venues to choose from for your celebrations; inside you have Shore House, with two floors for decadent dining, with stunning ocean views. For your wedding ceremony, you could say 'I do' on the Shore House Deck, on the Lagoon Front Lawn, or even on a private beach, with the sun shining down as you exchange vows against the sounds of the sparkling waves gently lapping at the shore, and a honeymoon here will make you both feel as special as your wedding day.