Le Weekend: A Romantic 48 hours in Paris! Featuring Hotel Napoleon
Two passion-packed nights in Paris. What could be more romantic?
Paris is known for being the ROMANCE CAPITAL of the world, and with its mesmerizing architecture… mouth-watering cuisine… chic pavement cafés… and spellbinding je ne sais quoi… many couples consider Paris the ultimate destination for lovers.
But with so many iconic landmarks to see… and so many magical memories waiting to be made… it can be hard to know where to start and how to get the most out of your romantic weekend getaway.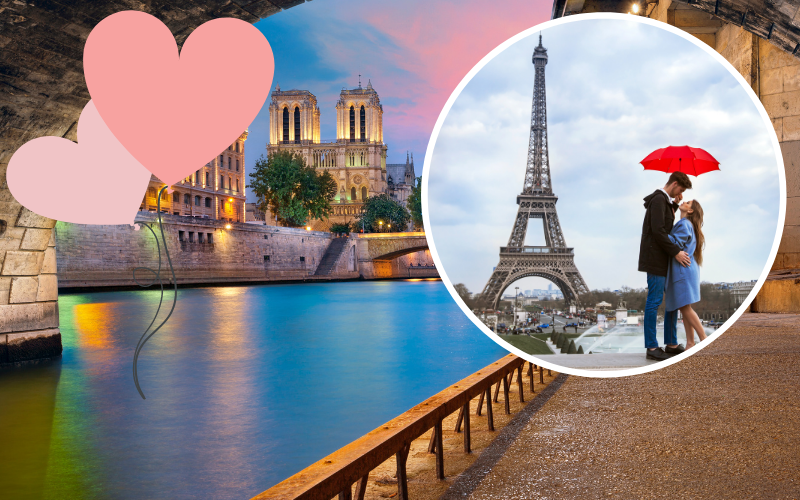 How to see Paris in a weekend (and still make time for romance).
Whether you're planning on popping the question to your better half, celebrating a special anniversary, or just looking for a romantic weekend escape, the trick to experiencing your perfect Parisian getaway is… PLANNING.
I know… it's a dirty word!
You want spontaneity, passion and seduction. And planning just isn't glamorous.
But here's the trick… by planning out your weekend's activities in advance you'll reduce the stress (and inevitable arguments) of trying to see the whole of Paris in one short weekend… leaving you free to throw in a few spontaneous (and sexy) curveballs along the way.
Get it?
Read on for our suggested itinerary for 48 romantic hours in Paris featuring one of our favourite hotels for lovers, Hotel Napoleon. This elegant five-star hotel in the centre of Paris is both luxurious and perfectly located just a stone's throw from the Champs-Elysées and the Arc de Triomphe. And with a charming back story - a Russian traveller gifted the building to his young French bride in 1928 - the hotel is steeped in history and romance.
What more could you want?
Here's our must-do itinerary to ensure your weekend in Paris is très romantique.
Your Perfect Romantic Weekend Paris - Itinerary
DAY 1 - Friday Late Afternoon in Paris
Arrival! Simply arriving in Paris after sundown is a romantic treat: the Eiffel Tower, lit by a million warm lights, the splendid bridges crossing the Seine, and the sense of anticipation as your driver navigates the Place Charles de Gaulle and you first glimpse the magnificent Arc de Triomphe. Having checked into your hotel, spend this first evening getting your bearings and resetting your internal clock to unhurried and relaxed. Find a bistro table, order a bottle of red and let Paris work its magic.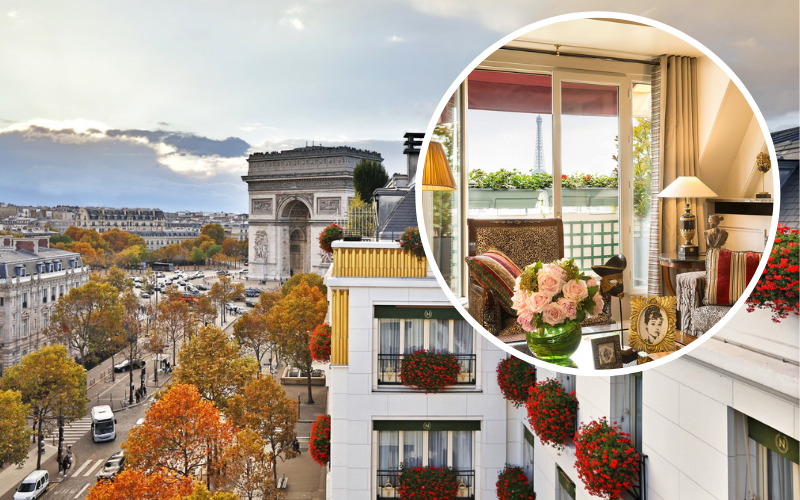 Arrival and check in at Hotel Napoleon
Start your trip in comfort and ask the friendly hotel staff to arrange a limousine to pick you up and bring you to the hotel. Freshen up and settle into your room taking in the generous proportions, elegant decor and wonderful views.
Top tip! Make sure to ask for a suite with a view of the Eiffel Tower or L'Arc de Triomphe for an extra special touch that is sure to make your stay in Paris super-romantic and memorable.
Explore the neighbourhood
There's nothing better than walking hand-in-hand with your loved one and stepping out off the front steps of the Hotel Napoleon you're just moments away from some of city's most well-loved sights. Situated on the famous Avenue de Friedland it's just a short walk away from the Arc de Triomphe, and the area is brimming with traditional French cafés, perfect for a spot of people-watching over a delicate chilled rose.
DAY 1 - Friday Evening / Friday Night in Paris
Take a trip up the Eiffel Tower
A trip to Paris wouldn't be complete without visiting this magical monument. Time your visit to reach the top at sunset so you can take in the stunning views in the last hours of daylight with your loved one. Share a kiss with the beautifully illuminated city as your backdrop. Make sure you watch out for the Tower's sparkling lights which twinkle for 5 minutes every hour. It's a truly special moment you'll treasure together.
Explore the culinary scene
Stroll along the banks of the Seine taking in the captivating views and slowly head north, stopping in one of the many wonderful restaurants you pass on the way. Enjoy an apéro before an intimate dinner for two, sampling some fine French cuisine at one of Paris's renowned eateries.
Nightcap at the hotel bar
Head back to the Hotel Napoleon for a drink in the chic and contemporary Bar 1807. Adorned in an art-deco style, the bar offers the ideal place for an intimate cocktail or two before bed.
You can check out the full bar and cocktail menu here.
DAY 2 - Saturday Morning in Paris
Artistic Endeavour and Classic Romance… followed by Glamour and Excess! Get ready for a full-on Paris experience in one day.*
*If for you Paris' art is its primary draw, it would be easy to spend a fortnight exploring the city's creative backbone. But if you're only here for a weekend visit, you may want to get up early, and squeeze in a couple of the city's big Monet attractions. Be sure to experience Musée Marmottan-Claude Monet, which has the world's largest collection of the artist's work. Also, not to be missed is Musée de l'Orangerie, which is home to no fewer than eight of Monet's water lily canvases.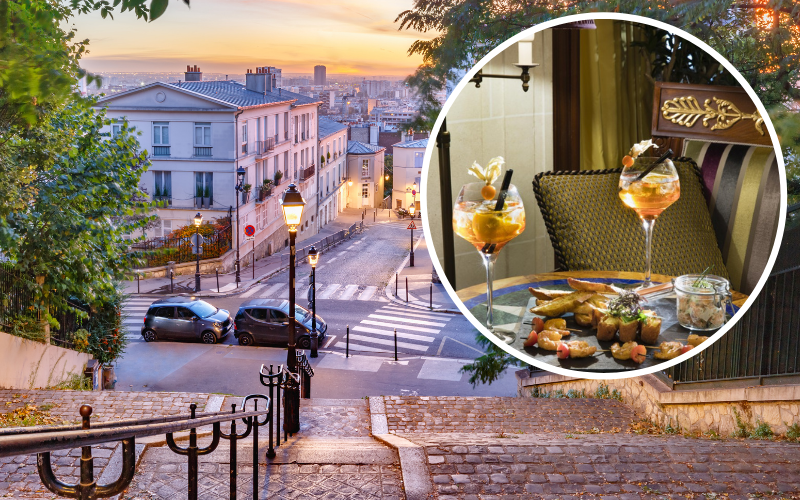 Breakfast in bed at Hotel Napoleon
Start your first full day together in Paris in style, and order breakfast in bed: warm buttery pastries, fresh fruit and an aromatic cup of coffee from the comfort of your room before getting ready for the busy day of culture and indulgence ahead.
Venture out for a spot of shopping and culture
Leave the hotel and head down the iconic Champs Elysees for some retail therapy before making your way through the beautiful Jardin des Tuileries, a wonderful place to leisurely explore. On the far side of the gardens you'll end up at the Louvre museum, a must-see in Paris where you will be able to admire some of the incredible exhibits on display. Musée du Louvre, which is fascinating both for its art and its royalty is one of Paris' big attractions, and home to arguably the world's most famous artwork - DaVinci's Mona Lisa.
DAY 2 - Saturday Afternoon in Paris
Visit Montmartre and the 'Wall of Love'
Travel up to the charming district of Montmartre and stroll along its cosy little streets lined with old ivy clad houses and climb the long stairways. They may be steep but there's something special about taking the hike hand in hand with your other half.
(This is one of our favourite parts of Paris.)
While you're here don't forget to visit the 'Wall of Love' in the Jehan Rictus garden square in Montmartre. Hidden away in a small park is a love-themed wall covered with the words 'I love you' written in over 250 different languages. A unique and spectacular backdrop for your Insta, this is also a popular spot for proposals and romantic gestures.
DAY 2 - Saturday Evening / Saturday Night in Paris
Dinner at the hotel's Le Bivouac restaurant
After a busy day soaking up the city sights, head back to the Hotel Napoleon for some traditional yet inventive French cuisine at the hotel's highly regarded restaurant 'Le Bivouac'. Offering seasonal dishes using the freshest ingredients it's the perfect setting for a romantic dinner for two.
After dark fun
Saturday nights were made for the sequin-strewn glamour, high-end spectacle and the sheer unadulterated joy of Parisian cabaret!
Be sure to dress to your ostentatious best and take your pick of the city's famous night-time hotspots:
The best-known destination is of course the Moulin Rouge, where flamboyant performers have been slathering themselves in greasepaint and entertaining audiences since 1889.
At the largest cabaret, Le Lido, the proposition is altogether more contemporary, with clever audio-visual effects adding an extra element of intrigue to the sexy performances.
The bravest souls should choose Le Crazy Horse. Heading towards the top end of the risqué scale, with teasing burlesque and exquisite displays of female beauty, this is sexy Parisian entertainment.
DAY 3 - Sunday Morning in Paris
Breakfast & Peaceful Picnicking! After all the debauchery and indulgence of the night before, you're going to need a lie in! So, take your time over a leisurely breakfast of hot croissants, unbeatable French butter and rich coffee. Then, make your way to le Jardin de Luxembourg. This delightful 17th century royal garden inspired by the Boboli Gardens in Florence is perfect for romantic strolling, with its French and English gardens, orchard and monumental Medici fountain. Pack yourselves a simple picnic of warm baguettes, Camembert cheese, cold meat and chilled rosé to round off a jam-packed weekend with some typically Parisian down time.
Breakfast on the terrace
Of course, you can have breakfast in your room should you prefer… but to make the MOST of your last day here in Paris, slip on some oversized sunglasses (to hide any tell-tale signs of the night before) and get yourselves a table for breakfast at the all-year-round-terrace of The Napoleon.
Here you can refuel and rehydrate with a butter-rich French breakfast and plenty of strong coffee. And nestled behind the tree-lined streets that form the iconic Arc de Triomphe and Champs-Elysées you'll have front row seats to Paris' real-life runway.
Intimate and informal it's a gentle beginning for the last day of your trip.
Indulge in a massage
As a final treat before you leave this elegant hotel, why not arrange a massage? While the hotel doesn't have a spa, massages can be booked in a private room next to the fitness centre to ensure you leave Paris feeling pampered and relaxed.
Enjoy a romantic picnic at one of the city's beautiful parks
Head across the river and pick up some supplies for an al-fresco lunch at Jardin de Luxembourg. With its colourful flower displays, tree-lined promenades and picturesque Medici fountain, it's the ideal city oasis for sharing some quality time together.
DAY 3 - Sunday Afternoon in Paris
Check out
It may be time to leave but the hotel is on hand to make your departure as smooth as possible. Avoid the hassle of carrying your luggage through the city and ask the accommodating staff to book you a taxi to take you to the station or airport.
And make sure you take the opportunity to take in Parisian life one last time while you sit back and think about your wonderfully romantic break together.
Book Hotel Napoleon ROMANCE IN THE CITY package. Includes accommodation, Champagne, chocolates, breakfast and lots of romantic extras from just €430 per couple.