Love in Latin America | 20 Romantic Recommendations
Latin America loves life and sings romance from its soul!
Stretching all the way from Mexico's northern border to Tierra del Fuego at the southernmost tip of Argentina, Latin America is a land of vibrant culture and the most diversely beautiful landscapes on our planet. Indeed, anyone who's been there will tell you – you haven't lived or loved until you've been to Latin America!
Discover the passion for yourself with our top 20 recommendations…
#1 GUIDING PERU LLC... MACHU PICCHU AND BEYOND! | PERU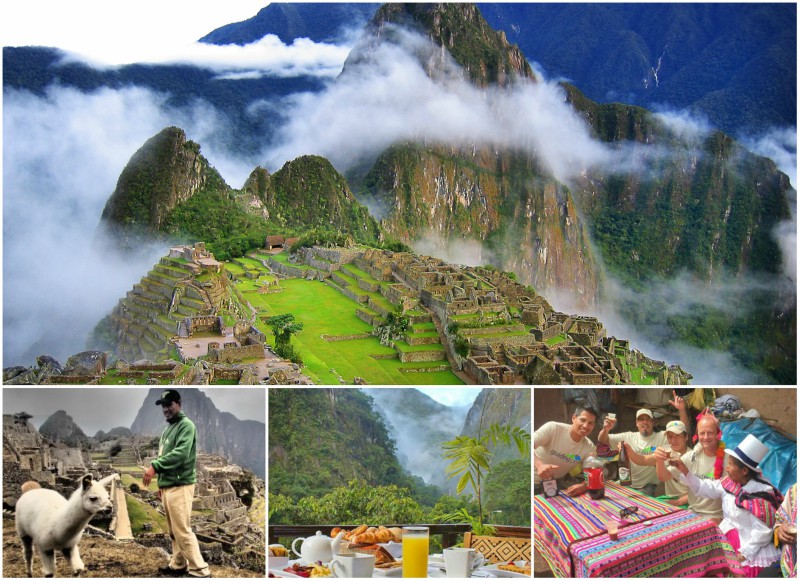 Couples love Guiding Peru because…
Guiding Peru tailors its packages to suit each couple, to ensure you experience the most romantic getaway or honeymoon in Peru for an unforgettable adventure where the romantic spirit is in the air from the moment you arrive, with a personalised romantic welcome gift for each couple. The breath-taking natural beauty inspires the true sense of wellbeing, but you can also get a helping hand in achieving inner peace and harmony; indulge in a sensual couple's massage at the Inca Spa in Cusco, or experience a private Peruvian Shaman session together, designed to reset your mind and body's energy. Share a moment together watching the sun rise over Machu Picchu from a private terrace at the Sun Gate, and make a romantic memory that you will cherish for a lifetime.
#2 PARADOR RESORT AND SPA | COSTA RICA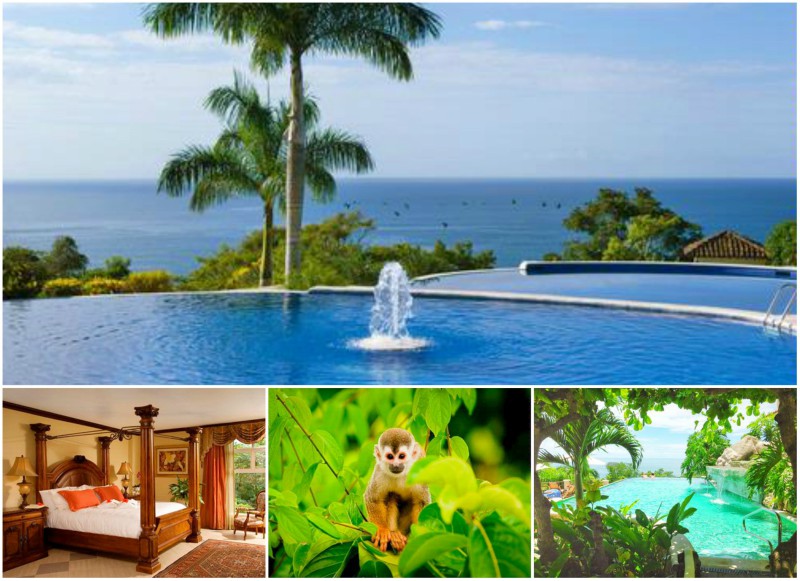 Couples love Parador Resort & Spa because…
Set high above the spectacular sweeping Pacific coastline on Punta Quepos in Costa Rica, you'll find Parador Resort & Spa – the epitome of 'responsible luxury'. Surrounded by 12 acres of wildlife-rich tropical rainforest, yet right on the white sandy shores of the beach, you can lose yourself in the beauty of nature; the hotel gardens also receive some colourful visitors each day, including monkeys, sloths and tropical birds – so you'll make some unique acquaintances on your stay! Parador Resort & Spa is an oasis of peace and tranquillity, and the perfect place for an intimate escape.
#3 HACIENDA ALTAGRACIA - AUBERGE RESORTS COLLECTION | COSTA RICA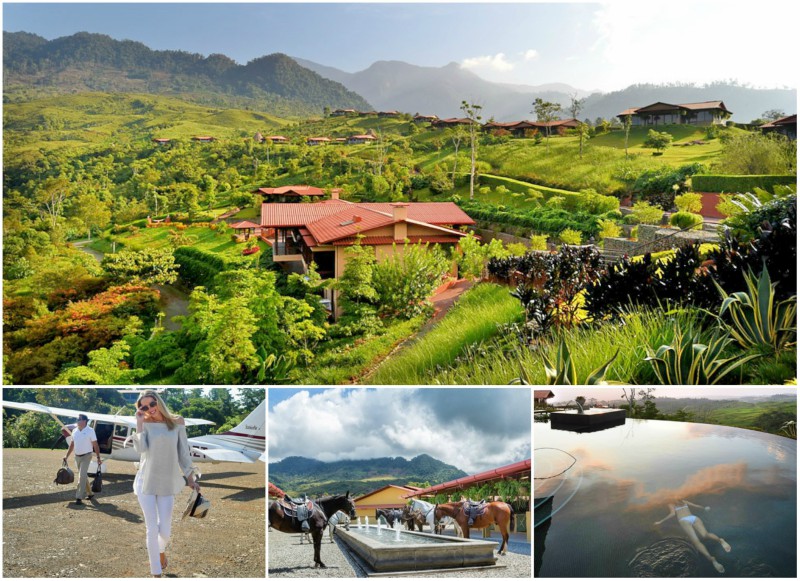 Couples love Hacienda Altagracia because…
This jungle hideaway has all the ingredients for an unforgettable romantic getaway; the majestic scenery of the surrounding mountains and the vibrant luxuriance of the rainforest make for a breathtaking setting that couples will love. Inside the resort, cosy open fireplaces, terraces with incredible views and an amazing choice of dining options mean you and your loved one will experience a romantic stay unlike any other. For couples planning a destination wedding or celebrating a special occasion, Hacienda AltaGracia truly is a unique venue that will ensure your event is one you will never forget.
#4 THE CHILI BEACH BOUTIQUE HOTEL | BRAZIL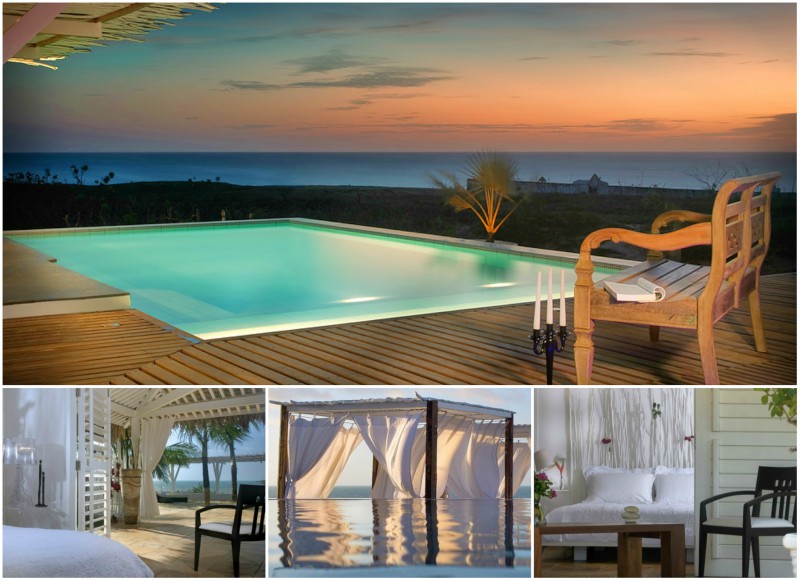 Couples love Chili Beach because…
Chili Beach is one of the most romantic hotels in Brazil offering a tranquil and secluded retreat for couples seeking beachfront tropical luxury. Located in the unspoilt and uncommercialised area of Jericoacoara, the hotel has direct access to its own private beach which has been voted one of the top ten most beautiful beaches in the world by the Washington Post and which Chili Beach guests have all to themselves! Sit in the lounge area and crack open a bottle of bubbly as the sun sets over Jeri for a must-do romantic experience in Brazil.
#5 THIS IS MENDOZA | ARGENTINA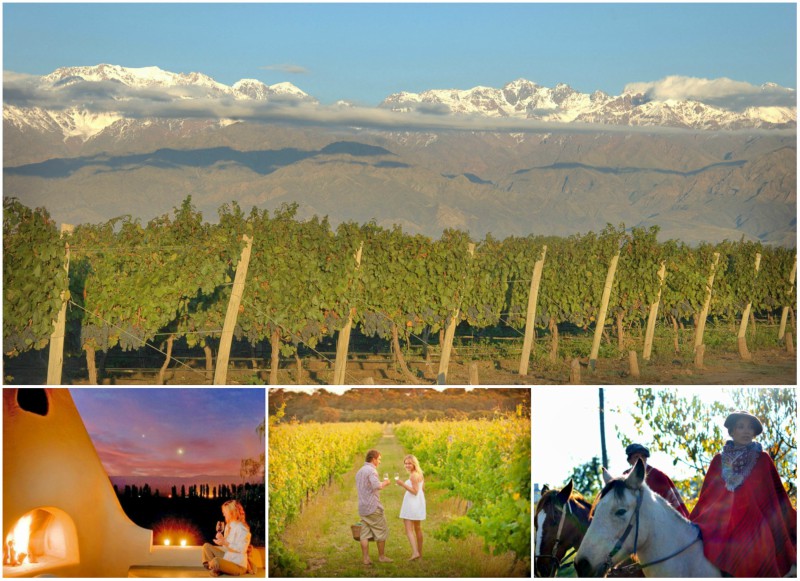 Couples love This is Mendoza because…
At "This is Mendoza" romance is everything! As Argentina's number one producer of Malbec, they provide private and exclusive services including simple romantic wine tastings to a gourmet lunch between vineyards or a city tour enjoying the best wine of this amazing region. Dedicated to offering couples a variety of different romantic experiences and celebrations, This is Mendoza always put extra effort into the smaller details as they take you on an unforgettable journey through their marvellous city filled with breath-taking moments for you to share as a couple.
#6 GRAND MIRAMAR ALL LUXURY SUITES & RESIDENCES | MEXICO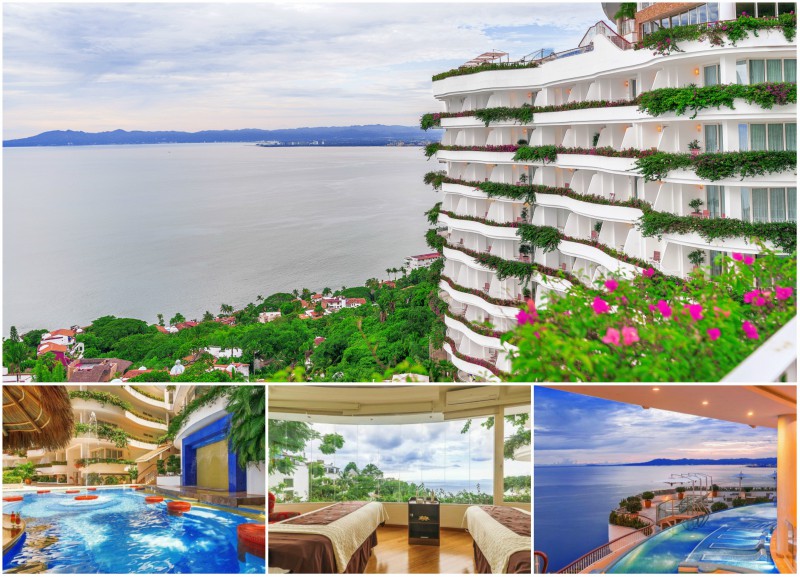 Couples love Grand Miramar because…
Mountaintop views of the Pacific Ocean, luxury accommodations and world-class personalised services make Grand Miramar an excellent choice for a romantic holiday or honeymoon. Couples can take advantage of the amazing pampering at Grand Miramar Spa and indulge in a couples massage, and for couples marking a special occasion the property offers bespoke event planning for every celebration. Destination weddings see couples exchanging vows against a backdrop of ocean views and tropical sunsets. Intimate dinners, pool parties and private banquets overlooking the sea are perfect for birthday or anniversary celebrations. The resort also offers photo-shoot experiences for couples to create special memories of their stay and which are especially popular for engagements, milestone anniversaries, babymoons and weddings.
#7 MYSTIC RIVER RESORT | BELIZE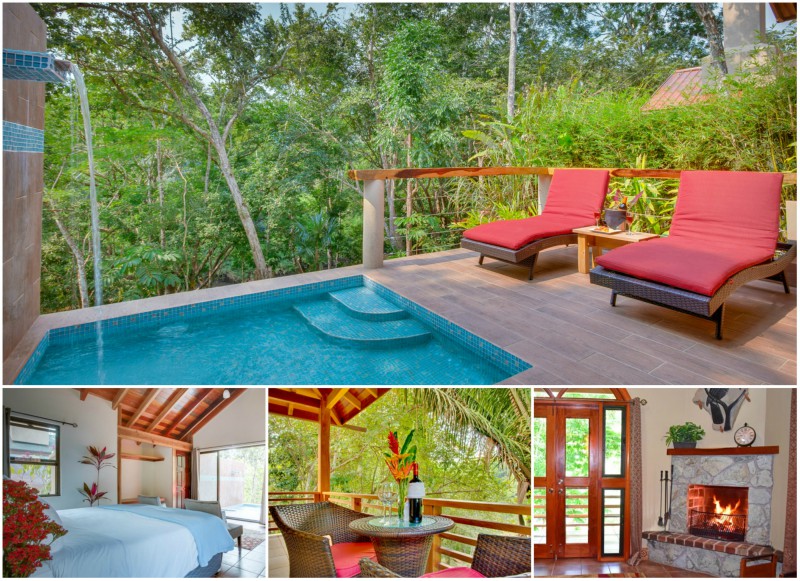 Couples love Mystic River Resort because…
Mystic River Resort is a nature-based luxury resort in the heart of the Belize Jungle. You will experience adventure and serenity at Mystic River Resort while canoeing or tubing the Macal River, climbing atop ancient Maya Ruins, wading through the Maya Underworlds, or hiking their onsite jungle trails. These hands-on experiences paired with delicious local cuisine will expose your senses to an unforgettable Belize immersion. So, come with your sense of wonder and let Mystic River Resort leave you with a sense of awe.
#8 HAUGAN CRUISES | ECUADOR & GALAPAGOS ISLANDS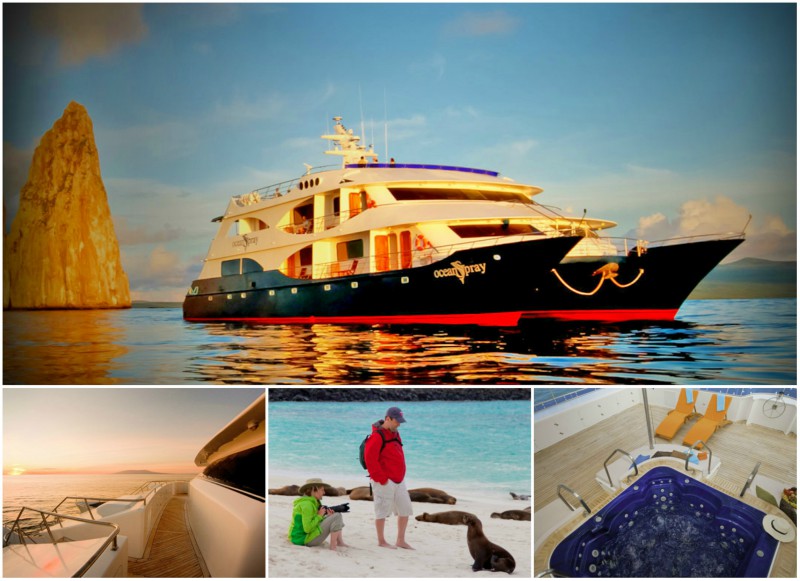 Couples love Haugan Cruises because…
This once in a life time trip to South America's Ecuador and the Galapagos Islands, made famous by Charles Darwin, promises some of the most awe inspiring experiences imaginable. Head to the ocean for a secluded and remote honeymoon or romantic escape where sailing couples stay in spacious luxury cabins with their own private balcony and stunning views. Go diving on the Galapagos Islands or trek the Andes Mountains as you create special memories you'll treasure forever.
#9 LIMA TOURS | PERU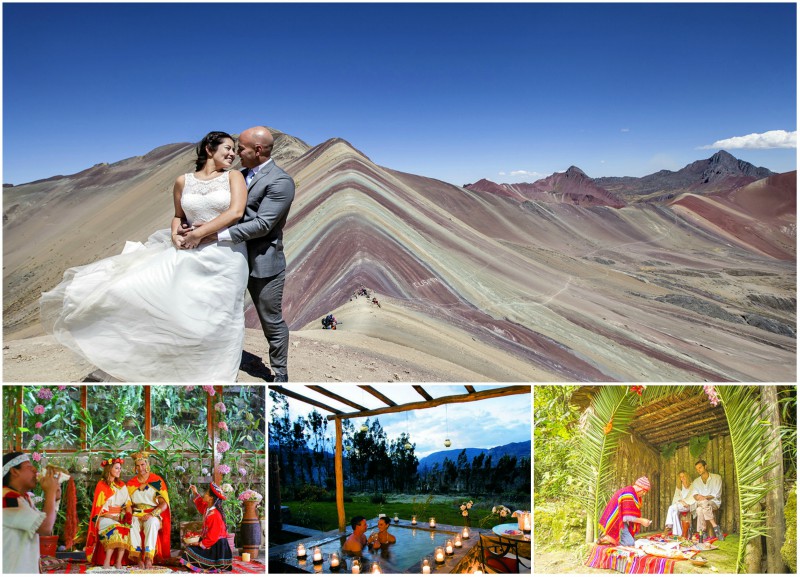 Couples love Lima Tours because…
Peru is a breathtaking, dream-like destination that needs to be experienced to believed. An ideal blend of romance, adventure and rejuvenation will make your honeymoon or romantic getaway both special and memorable with highlights including rich ancient civilisation, panoramic vistas of some of nature's finest scenery, man-made wonders and a plethora of outdoor activities. Lima Tours will take you to the most popular and romantic destinations in Peru including Lima, Cusco, Sacred Valley of the Incas and Machu Picchu and arrange special romantic experiences such as dining at the most exclusive restaurants located at unparalleled sites, or a couple's massage at a luxury hotel in the highlands. Royal Inca Weddings in the Peruvian Andes are also the ultimate destination wedding where couples can exchange their vows in a mystic ceremony of ancient traditions and spiritual union with nature.
#10 TANGO MAR BEACHFRONT BOUTIQUE HOTEL & VILLAS | COSTA RICA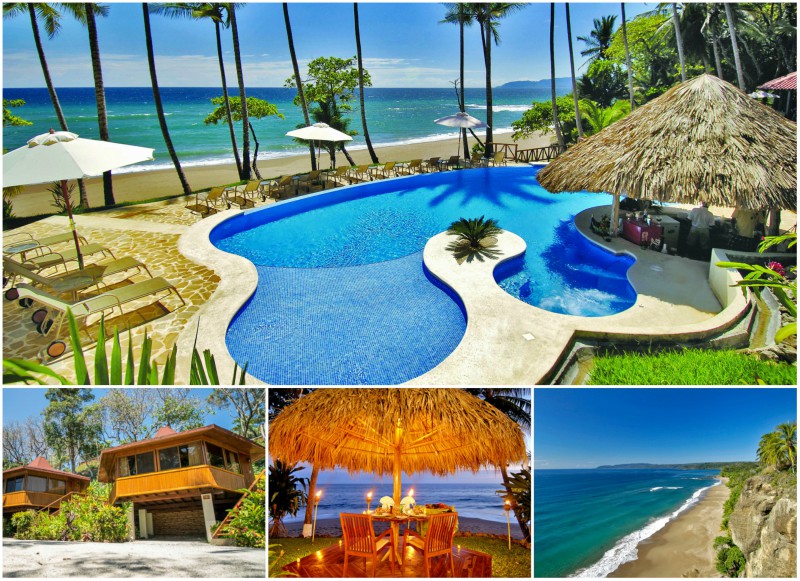 Couples love Tango Mar because…
Tango Mar's spectacular seafront setting makes it a perfect paradise for romantic celebrations, be it a honeymoon, a wedding, or simply a romantic getaway. Celebration packages have been prepared for your convenience, but can be tailored to meet your personal wishes and desires, with romantic features ranging from lovely little details - such as flowers and champagne awaiting you in your villa - to horse riding on the beach and private sunset boat tours, where you can soak up the sensational sights of the Pochote Mangroves. If you're saying 'I do', every element of your day can be taken care of, so all you need to do is relax in this romantic retreat, celebrating your love with your nearest and dearest.
#11 MAIPO VALLEY WINE TOURS | CHILE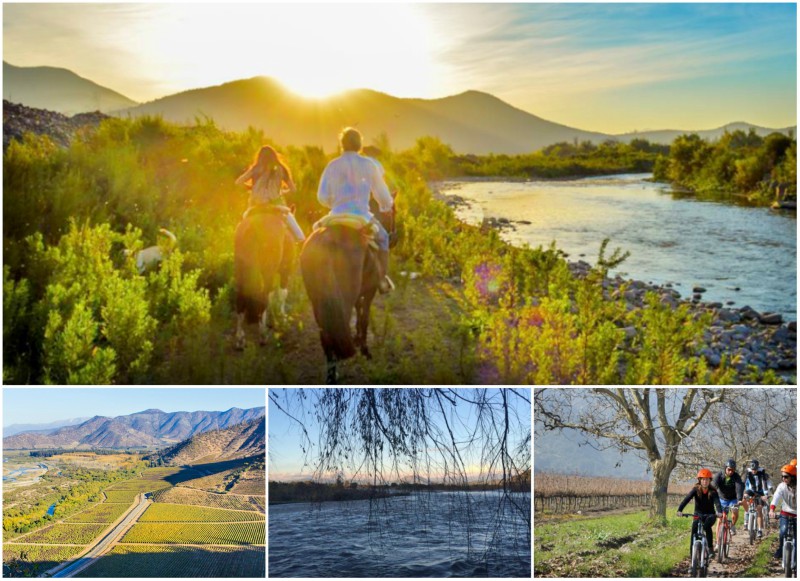 Couples love Maipo Valley Wine Tours because…
Maipo ValleyWine Tours raises its glass and invites you on a journey of discovery. You'll be swept off your feet by the rustic charm of the vineyards and idyllic countryside, as you experience the traditions, culture and values of the Chilean country residents and learn about the legacy of winemaking. A dreamlike destination, Maipo Valley attracts both couples for romantic retreats, and bigger parties of family and friends who are celebrating milestone birthdays, cherished anniversaries, or a renewal of wedding vows. You'll find romance floating through the balmy breeze at every turn as old farmhouses and the luscious land sweetly set the scene for your love story. See the sights with a classic horse-drawn carriage taking you on a trip around the town, or take a dip in the swimming pool, or sunbathe by in the gorgeous gardens that surround the sparkling waters.
#12 HOTEL PLAZA GRANDE | ECUADOR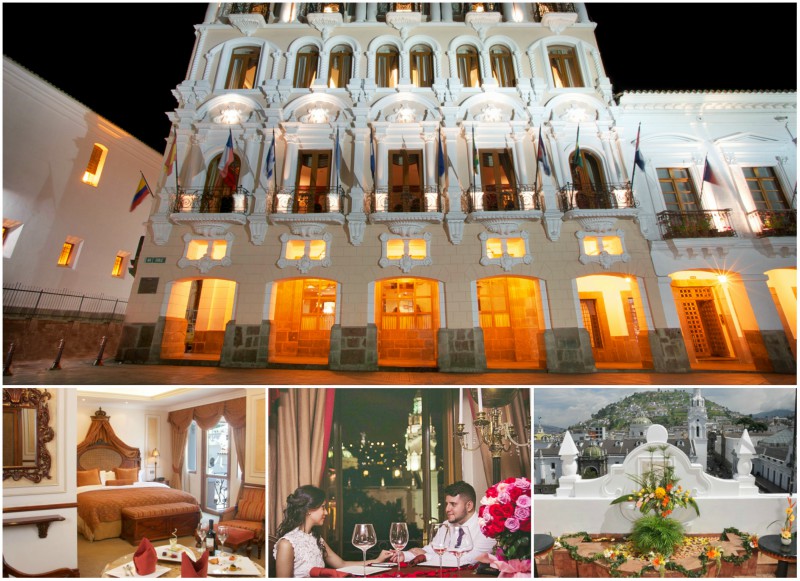 Couples love Hotel Plaza Grande because…
Dating back five centuries, Hotel Plaza Grande is a luxury all-suite hotel bursting with historical significance and charm. Couples are offered a unique opportunity to stay in the historic heart of Quito's main square with unrivalled views of the old town and many of the city's most famous landmarks including even Panecillo Hill in the distance. The hotel's San Francisco Hall balcony is a romantic place that has witnessed many special moments, proposals and wedding celebrations. Outside the hotel, guests can enjoy a romantic date discovering Ecuador's capital with a carriage ride through the most attractive streets of the city in the historic centre of Quito.
#13 LA CANTERA JUNGLE LODGE | ARGENTINA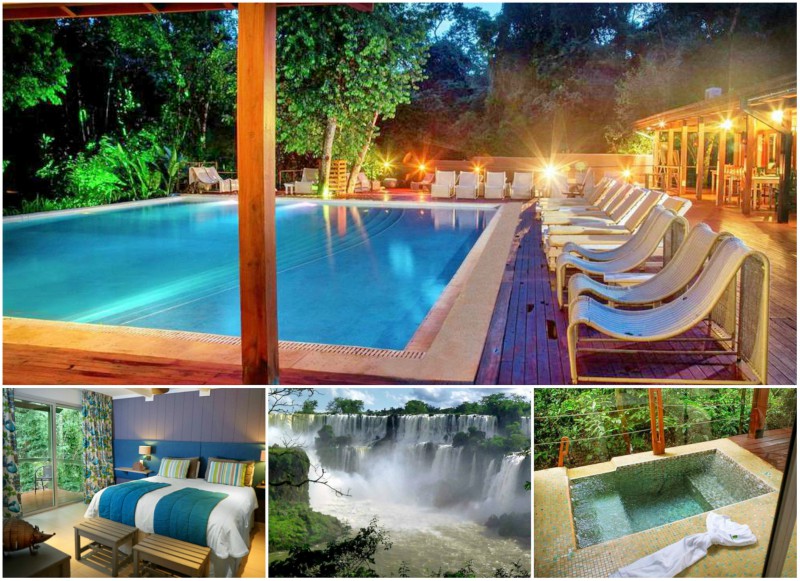 Couples love La Cantera Jungle Lodge because…
Nearby the Argentinian / Brazil border and close to the stunning Iguazú Falls (the largest waterfall system in the world and one of the new seven natural wonders of the world), La Cantera Jungle Lodge is a stunning venue, built into the very tree tops themselves. Priding itself on cultivating a reciprocal respect for its neighbouring wildlife and plant life, the lodge is powered by bioenergy and designed to work with, rather than against, nature. Ideal for couples and honeymooners looking for something special, here romance is served with a shot of adventure.
#14 WILD CABO TOURS | MEXICO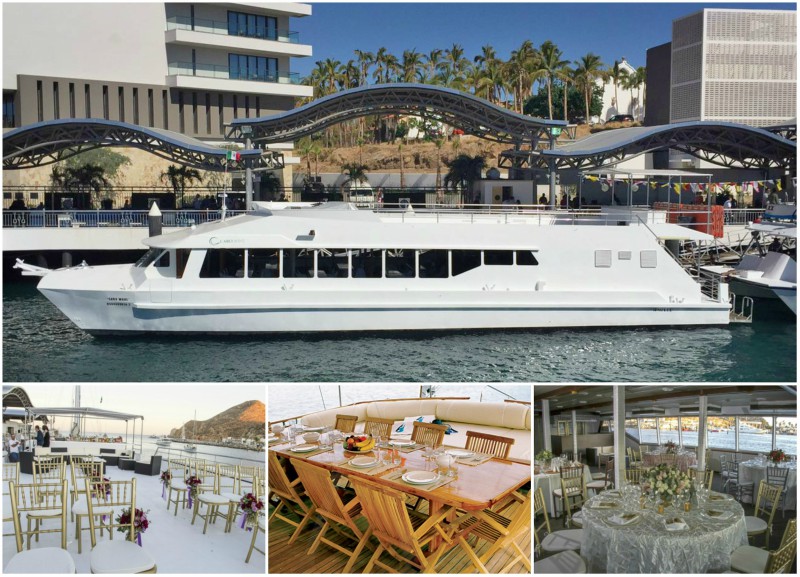 Couples love Wild Cabo Tours because…
Setting sail from the Cabo San Lucas coast in Mexico, a variety of boats, including catamarans and classic pirate ships, provide couples with the perfect excuse to enjoy a day out upon the high seas. Why not celebrate your wedding in the unique environment of a private ship, where the dramatic views and calm of the ocean provide a relaxing atmosphere for all to enjoy either the fancy Cabo Wave, or the more intimate sailboat Tu Enamorado. Guests, as well as the bride and groom, are sure to enjoy a truly memorable experience with a range of tempting food cooked upon the ship's deck and carefully chosen decorations providing the perfect setting for any special occasion.
#15 VICTORIA HOUSE RESORT & SPA | BELIZE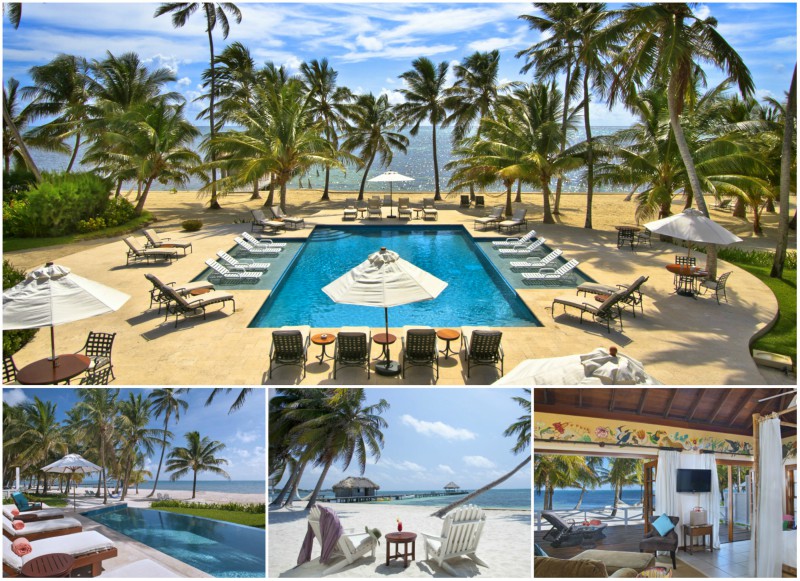 Couples love Victoria House Resort because…
A gently swaying hammock on a tropical beach, palm fronds rustling in the warm, tropical breeze and icy Pina Coladas in hand – that's just the Victoria House style. 42 rooms arranged artistically on an 8 acre waterfront property provide plenty of space and privacy for everything from a proposal to a wedding party to a honeymoon. Consider a couples massage over the water at our sea spa, or in the luxurious new Spa and Wellness Center at Victoria House. There's also plenty of adventure to be had, and memories to make together. Wander through the ruins of a mighty Mayan city, marvelling at the architecture or discover the Mesoamerican Barrier Reef, just a short boat trip away and where you can snorkel and dive on the 2nd largest reef on the planet.
#16 BAHIA VIK | URUGUAY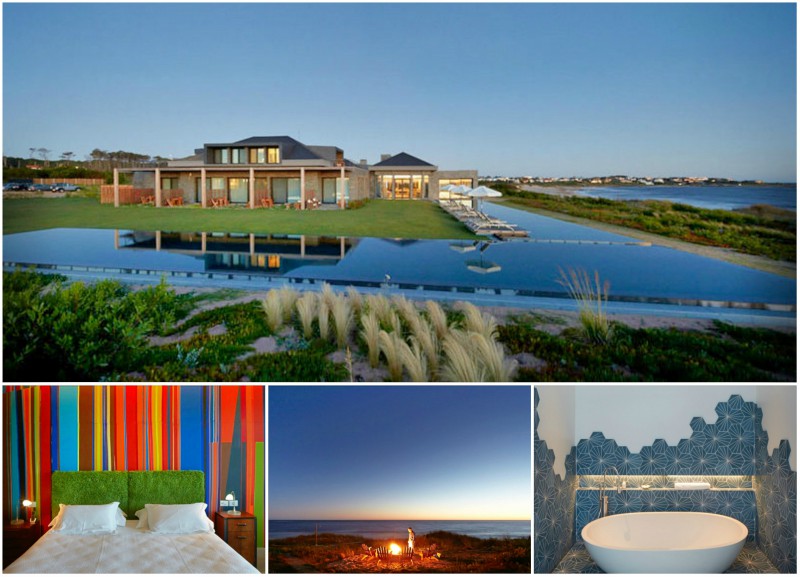 Couples love Bahia Vik because…
Set in 10 acres of sand dunes on the Uruguayan coast, some 95 miles east of the capital city Montevideo, Bahia Vik is a beachfront hotel in the former fishing village of José Ignacio, now a fashionable resort destination. The hotel's location facing west over the ocean and the Playa Mansa beach means it gets some of the most spectacular sunsets you'll see anywhere. Wake up for a refreshing ocean dip before a gourmet breakfast and spend the day exploring the beach and dunes. You can even get married at Bahia Vik, and if you choose to, hotel staff are on hand to help you arrange every detail of the special day, and your honeymoon as well. Sunset horseback riding, candlelit dinners, beach picnics and sensuous couples' massages are all available.
#17 CHARLES EXPEDITION | PERU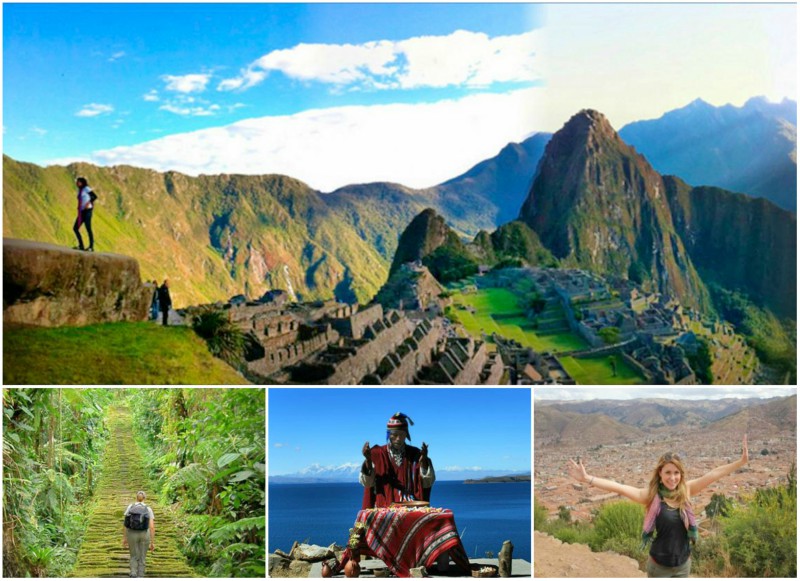 Couples love Charles Expedition because…
The combination of the peace and tranquillity of nature with luxury facilities and services makes Charles Expeditions an incredible option for those once-in-a-lifetime experiences. One of the most magical and mystical tours they offer is to Machu Picchu in the Andres Mountains, just above the Urubamba River Valley. Its former purpose and use has never been discovered, making it a source of much mystery and intrigue, where people ponder what might have been those many moons ago... Depending on the tour you choose, lavish little details include guest suites with breathtakingly beautiful views, Jacuzzis decorated with rose petals, and chilled champagne and strawberries awaiting you in your room. Some guest suites also include a chic and stylish campfire, the warm light casting the room in a serene and sensual glow, creating the most relaxing ambience for a romantic retreat.
#18 PENSATIVO HOUSE HOTEL | GUATEMALA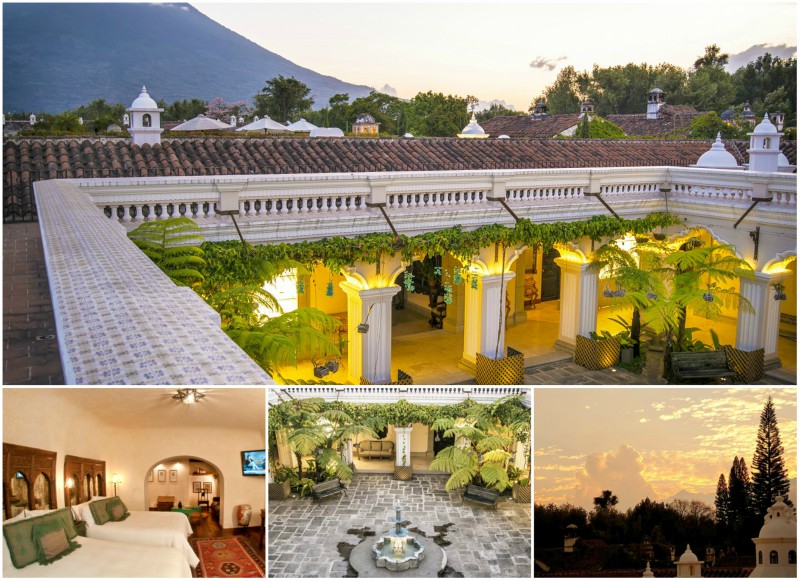 Couples love Pensativo House Hotel because…
Pensativo House Hotel is an extraordinary hotel in an extraordinary part of the world. Antigua Guatemala is an ancient place full of stories and enchantment, pleasure and intrigue. From the moment you arrive in Antigua Guatemala you know you're somewhere very special and a stay at Pensativo House Hotel can only enhance that certainty. The service is attentive, events are magical and the buildings themselves are unforgettably beautiful. This destination has three incredible volcanoes, forest land and a rich history to explore, as well as an inviting city. Welcome to Pensativo House Hotel.
#19 JW MARRIOT PANAMA GOLF AND BEACH RESORT | PANAMA
Couples love JW Marriot Panama because…
For couples dreaming of a honeymoon or getaway in paradise, the JW Marriott Panama Golf& Beach Resort is the perfect host for special romantic celebrations. Located on the Pacific coast of Panama, just 80 minutes west of Panama City, this resort is the perfect retreat for couples. Simply let the hotel know what your occasion is and they will be delighted to offer ideas and suggestions to make your romantic stay truly memorable. Romantic treats include champagne and chocolate covered strawberries waiting for you at check-in or in your guestroom, a bed covered in rose petals, a private romantic dinner on the beach, a Champagne breakfast in bed every morning, couples massages at sunset and horseback excursions to a secluded beach.
#20 CHARMING LUXURY LODGE & PRIVATE SPA | ARGENTINA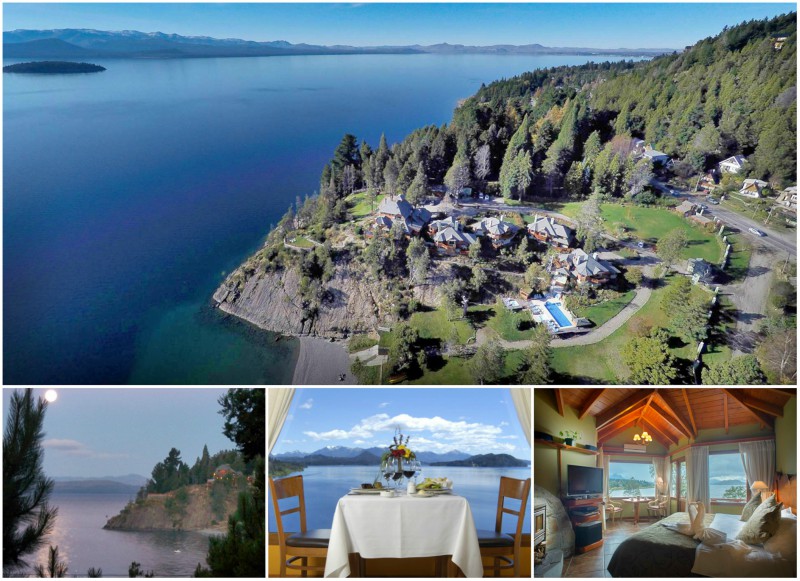 Couples love Charming Luxury Lodge because…
The Charming Luxury Lodge & Private Spa enjoys a stunning location overlooking Lake Nahuel Huapi in the Patagonia region of Argentina. This 200-square-mile glacial lake lies at an altitude of 2,500 feet and is surrounded by snow-capped mountains. Built in mountain lodge style, the hotel is set among landscaped gardens and mature pine forests with a beach, Playa Bonita, adjacent. The centre of the picturesque town of Bariloche, with its charming old town, is just over four miles from the hotel and the ski slopes of Cerro Catedral are seven miles away. The breath-taking views of the spectacular scenery around Charming Luxury Lodge, the glorious sunsets and the luxurious spa facilities make this an eminently romantic location.