Love Islands – Honeymoon Destinations Worldwide
Nothing speaks louder of romance than idyllic island destinations, with their unrivalled fairy-tale-like magic; you're instantly transported from the stresses and strains of modern life, to suddenly living inside your very own love story. These are places where dreams come true and fantasy becomes a reality, which is why they are the perfect choice for the most romantic holiday of them all - YOUR HONEYMOON!
HONEYMOON ISLANDS IN EUROPE
Malta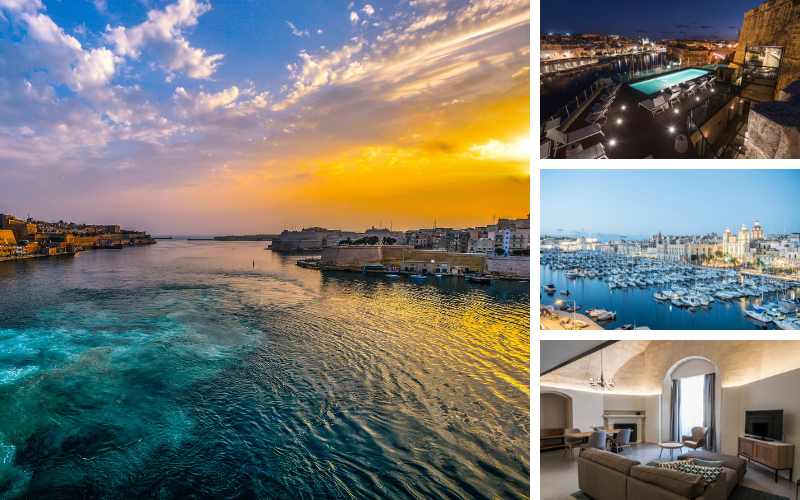 Why go to Malta on honeymoon?
Newlyweds will have few problems finding luxury accommodation in Malta. And being the most southern European country, the weather rarely disappoints in this part of the world. Activities can be enjoyed at your own pace: from boat trips that wind around rugged cliffs and secluded bays, to incredible local architecture and much more.
Recommended honeymoon hotel in Malta?
Cugó Gran Macina Grand Harbour is a 5-star resort with many charms, not least a large rooftop pool featuring breath-taking views of Valletta – Malta's historic and unique capital. Honeymooners will find themselves in a quiet area, yet close to excellent links of all the sights and the airport.

Santorini (Greece)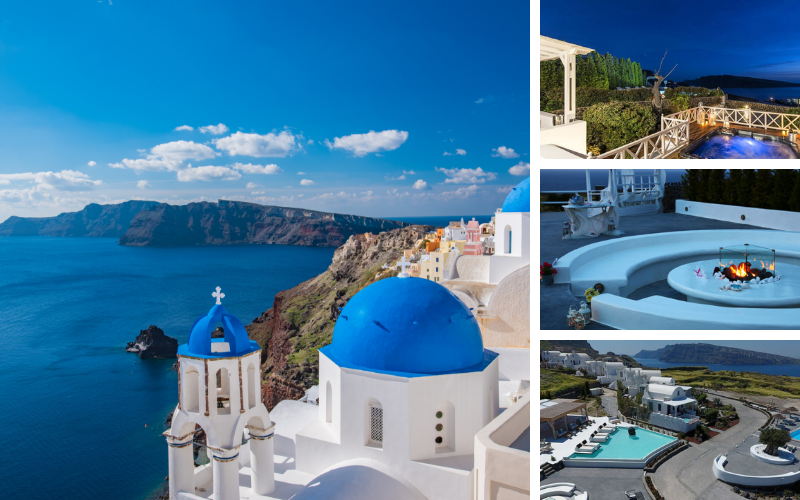 Why go to Santorini on honeymoon?
For many years, the Greek island of Santorini has been a honeymoon favourite and it's not hard to see why. Visitors here can adore the crystal clear waters of the Aegean Sea, dramatic rugged landscapes and cosmopolitan style. It's a safe bet to stay in one of the four towns – Fira, Oia, Imerovigli, and Firostafani – situated on the Santorini cliff, from which guests will be in total awe at the caldera, volcano, and of course the incomparable sunset views.
Recommended honeymoon hotel in Santorini?
Oia Sunset Villas have six luxury properties, each of which offer private havens with a garden. You'll be able to unwind with some al-fresco dining and drinking, plus there's a private heated hydro massage spa. Expect infinity pools and hot tubs, from which honeymooners can make the most of the spectacular sunset – which would make for a perfect end to a scenic hike from Fira to Oia.
Guernsey (United Kingdom)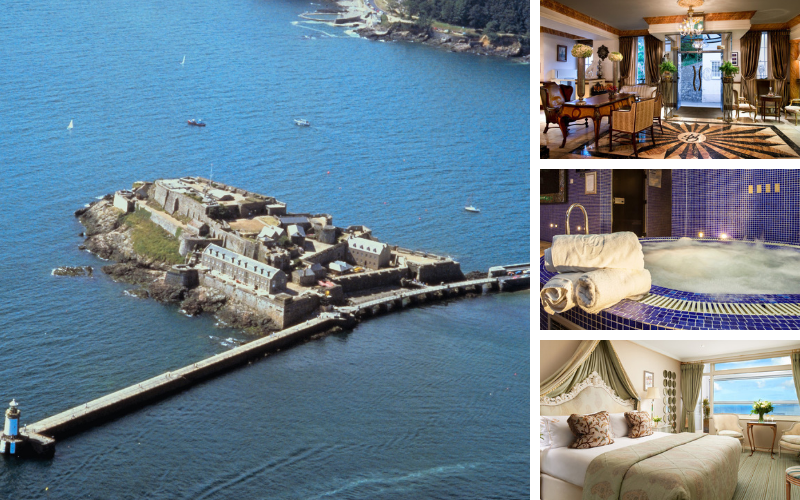 Why go to Guernsey on honeymoon?
With beach resorts like Cobo Bay and stunning coastal cliff scenery, Guernsey would offer a charming backdrop for a spring or summer honeymoon. A recent movie (The Guernsey Literary and Potato Peel Pie Society) about a romance-linked book club - formed during the island's German occupation during the War - has lent a new interest in this Channel Island. There's a great mix of coastal, spa and luxury hotels to choose from too.
Recommended honeymoon hotel in Guernsey?
The Old Government House Hotel & Spa would make for an ideal honeymoon hideaway. Ask for a room with a balcony, where you can sip champagne together over a captivating sea view.
Majorca (Spain)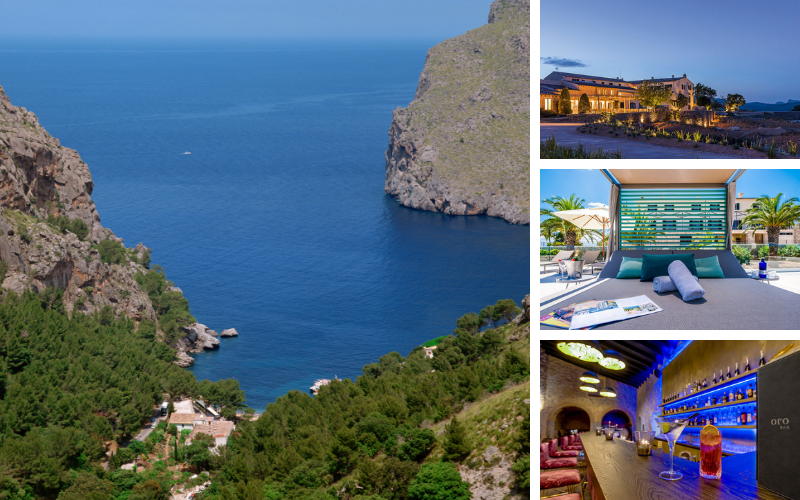 Why go to Majorca on honeymoon?
The Balearic Islands of Spain are ripe territory for an extra special romantic holiday. Northeast Majorca makes an ideal base to explore the sandy hills of the Levant and the surrounding coves from Alcúdia to Cala Millor.
Recommended honeymoon hotel in Majorca?
The luxury villas of Majorca have been put on the map thanks to the show Love Island and the 5-star Carrossa resort is right up there with the best accommodation on the island. Open a bottle of wine on your private terrace in one of the recently-built Bay View suites, which offer an enchanting landscape view of the Bay of Alcúdia. Take a dip in the boutique resort's terrific Spa, before enjoying a candle-light dinner on the panorama terrace of Bistro Badia.
Sardinia (Italy)
Why go to Sardinia on honeymoon?
Proudly boasting nearly 2,000km of coastline (much of it fine sandy beaches), the coastline and mountainous terrain have shaped the foodie culture in this island region of Italy. There's plenty else to get your teeth into (other than each other) through a romantic break here…
Recommended honeymoon hotel in Sardinia?
Hotel Costa Dei Fiori offers a breath-taking landscape of sea front and luscious greenery, and this stone-built property is up-market and traditional. There's a divinely rustic Italian charm here, which is combined with the finest luxury accommodation.
HONEYMOON ISLANDS IN THE CARIBBEAN
Barbados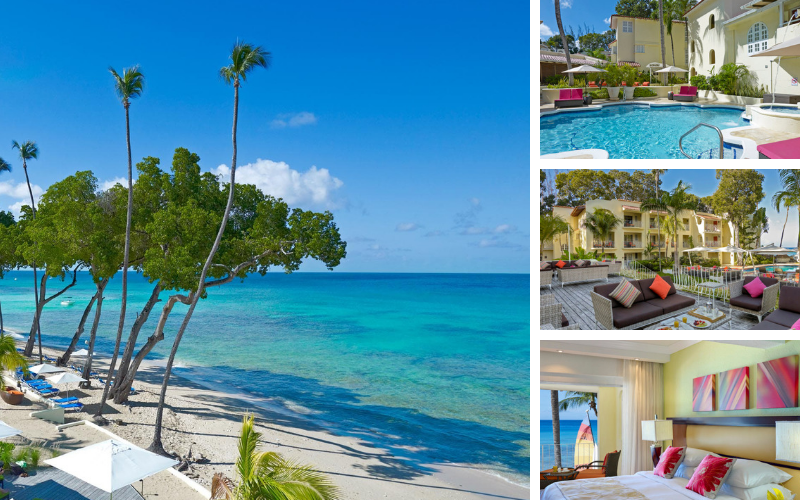 Why go to Barbados on honeymoon?
A dream place to spend your first days as a married couple, Barbados has many things going for it: pristine beaches, wall-to-wall sunshine and line-fresh seafood to name just three.
Recommended honeymoon hotel in Barbados?
Tamarind is a 4-star resort located on a superb crescent of white sandy beach on the Platinum West Coast. This splendid hotel is part of a local Dine Around programme, meaning you'll be able to take advantage of bookings at some of the finest restaurants in the area.
Tobago
Why go to Tobago on honeymoon?
Tobago, the slightly smaller sister island of Trinidad, is bursting at the seams with natural wonders. From the volcanic beaches home to Hawksbill turtles, to the majestic Nylon Pool lagoon; this a magical eco-destination to explore.
Recommended honeymoon hotel in Tobago?
Miller's Guest House is located away from some of the more crowded beaches and touristy areas. That said, the traditionally styled hotel is in the heart of the tranquil fishing village of Buccoo, with an unspoilt beach just a stone's throw away.
Puerto Rico
Why go to Puerto Rico on honeymoon?
Puerto Rico has a buzz which will really suit fun-loving honeymooners. Nicknamed the 'island of enchantment', it's hard not to feel the heady romance offered by Puerto Rico's unique beauty.
Recommended honeymoon hotel in Puerto Rico?
La Concha a Renaissance Resort lets you enjoy exotic and local flavours at their on-site restaurants, or sip a deliciously fresh cocktail at their plush bar and lounges. Expect lightly swaying palm trees and infinity pools over a backdrop of colours during the incomparable sunset.
St. Lucia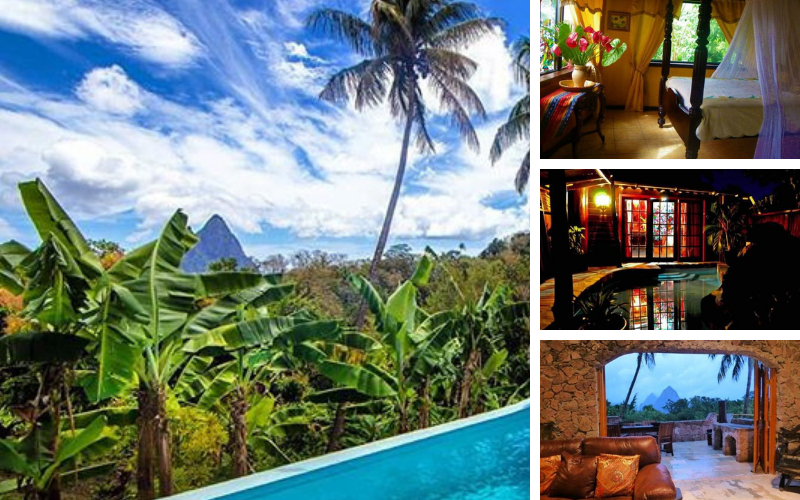 Why go to St Lucia on honeymoon?
This Eastern Caribbean nation offers a pair of dramatically tapered mountains – named the Pitons – on its west coast. The coast is home to volcanic beaches, reef-diving, fishing villages and a wide range of luxury resorts.
Recommended honeymoon hotel in St Lucia?
Crystals is a glorious hillside retreat which gives visitors some of the most spectacular views of the Pitons, sea and rainforest and is near to the charming town of Soufriere (original capital of the island). This exquisite property is a remote hideout which would ideally suit lovers celebrating their new future together.
HONEYMOON ISLANDS IN ASIA
Koh Samui (Thailand)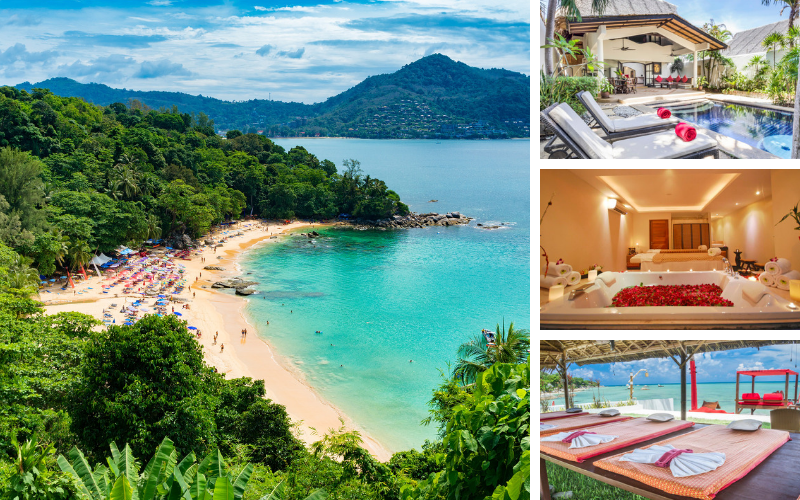 Why go to Koh Samui on honeymoon?
The large island of Koh Samui should be near the top of all couple's honeymoon wish-lists in Thailand. Lovers here are only a short boat trip away from stunning smaller islands, such as Koh Tao - putting the country's best scuba diving only a few hours away. Private tours of the surrounding islands can easily be arranged.
Recommended honeymoon hotel in Koh Samui?
The Beach Republic is situated at the northern end of Lamai beach, and offers a slice of paradise through its modern resort. There's a huge outdoor pool overlooking the sea, a spa and a superb on-site restaurant. Enjoy a spot of fine dining at the Ocean Club & Restaurant, which serves up a weekly Sunday Sessions Brunch – all in front of the stunning Lamai Bay.
Bali (Indonesia)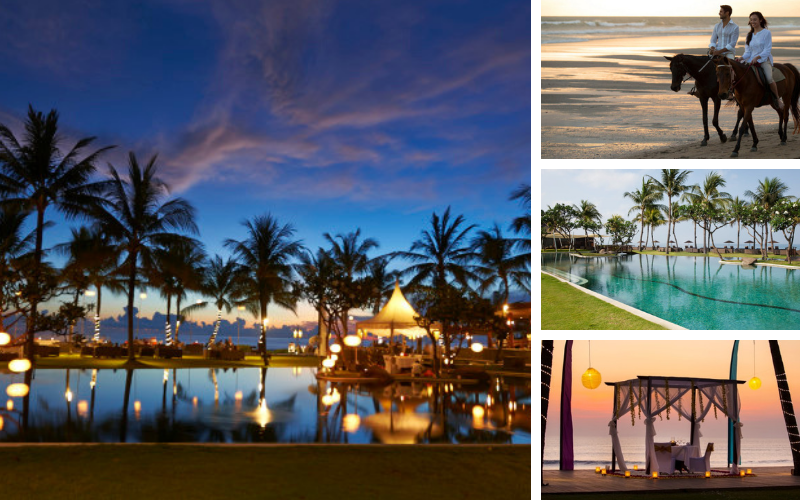 Why go to Bali on honeymoon?
Idyllic resorts and romantic retreats are enveloped by breath-taking scenery and culture. Bali is cheap yet high-class, and has plenty of experience in hosting fabulous honeymoons.
Recommended honeymoon hotel in Bali?
The Samaya Seminyak offers poolside villas and cute gifts on arrival (among many other treasures) for holidaymakers. The location is prime – being on the beachfront of Seminyak.
This resort is the natural choice for romantic couples and honeymooners wishing to escape the bustle of street life, while at the same time is within walking distance of the area's restaurants and bars.
Philippines

Why go to the Philippines on honeymoon?
Comprising more than 7,000 islands, the Philippines has a huge range of all-inclusive resorts and packages to choose from.
Recommended honeymoon hotel in the Philippines?
Amorita Resort is a tranquil seaside retreat, and was the only resort in Bohol that is awarded by the prestigious Conde Nast Johansens Excellence Award for Best in Service in 2017. It's a truly beautiful place, with two amazing pools and you're just a minute's walk from the beach.
Lombok (Indonesia)
Why go to Lombok on honeymoon?
Indonesia can be the base for a once-in-a-lifetime honeymoon trip. Newlyweds often bundle their trip taking in Lombok, Bali and the nearby Gili Islands taking in some of the country's most beautiful islands in one holiday.
Recommended honeymoon hotel in Lombok?
Lombok's Puri Mas Boutique Resorts & Spa has a special Black Magic package which could tick all of the boxes for your special trip. On arrival, you'll have welcome drinks and a special flower arrangement will be ready for you in your suite. The friendly and professional staff will host a romantic Rijsttafel Dinner, after your couples' massage. All of your transfers are included in this dream deal as well.
Sri Lanka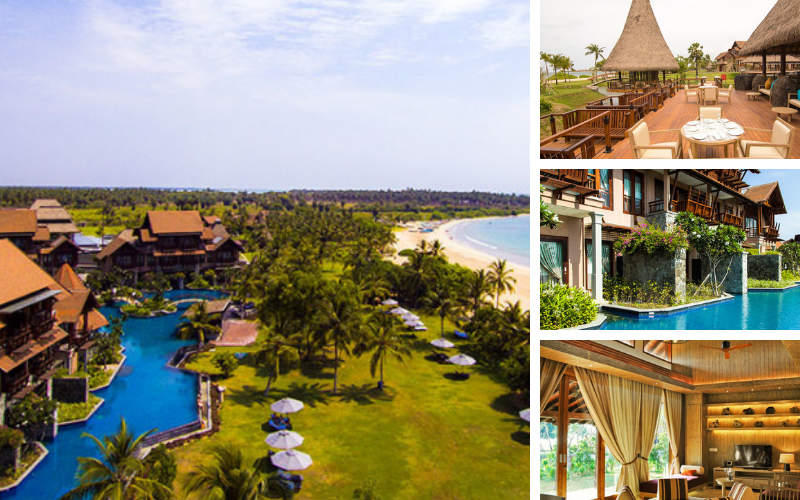 Why go to Sri Lanka on honeymoon?
With its extravagant retreats, natural beauty and plentiful spa resorts, Sri Lanka is an island which ever-more couples are choosing to take their honeymoons.
Recommended honeymoon hotel in Sri Lanka?
The Anantaya Resort & Spa in Passikudah would make for an ideal tropical retreat. There's two cuisine high-class restaurants, plus you can stroll from your private veranda straight out on to the beach and crystal-clear seas.
HONEYMOON ISLANDS IN THE SOUTH PACIFIC
Cook Islands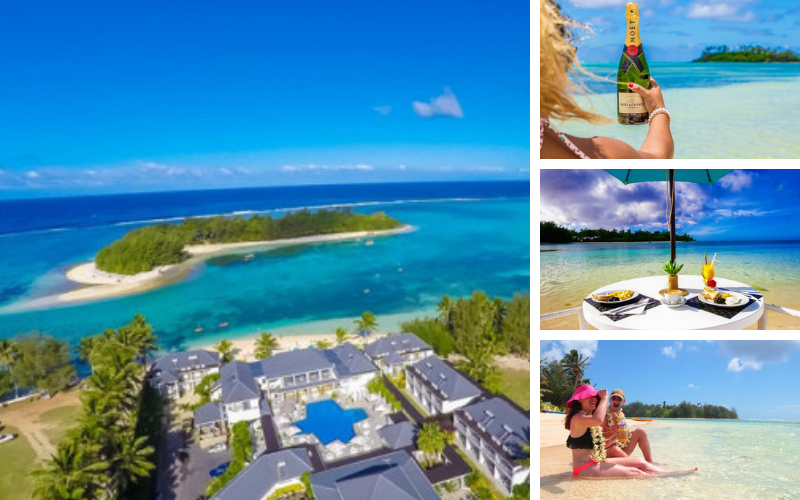 Why go to the Cook Islands on honeymoon?
With less heavy tourism than other tropical islands in the region, the Cook Islands are typified by peaceful and quiet beaches. There are plenty of chilled activities to choose from, and resorts to suit a range of budgets.
Recommended honeymoon hotel in the Cook Islands?
Muri Beach Club Hotel is an ideal destination for unwinding with your life-long mate. An adults-only oasis of tranquillity, the resort is a tropical paradise. Warm white sand meet the alluring waters of the Muri Lagoon and all of your worldly cares will ease from the minute you arrive at this magical location.
HONEYMOON ISLANDS IN THE INDIAN OCEAN
Maldives
Why go to the Maldives on honeymoon?
The ring-shaped atolls, which make up more than 1,000 coral islands of the Maldives offer complete relaxation and seclusion for honeymoon travellers. All-inclusive resorts (often over-water) are spoilt by the turquoise lagoons and clear sandy beaches all around the area.
Recommended honeymoon hotel in the Maldives?
Choose between beach and water villas at the Diamonds Athuruga Beach & Water Villas. Amid pure luxury, there's a weekly Maldivian evening where tables are laid out on the beach. Gaze into your new spouse's eyes over a sumptuous meal as the sun goes down.
To find out more, get in touch with one of our expert
Romantic Consultants
at The Romantic Tourist, we'll be more than happy to help you find a deal that suits you.