Luxury Experiences in Asia for Romance, Weddings & Celebration Trips
We've picked 5 of the world's finest destinations in Asia where high-end travel experiences go hand-in-hand with celebrating the most special occasions in life - including weddings, honeymoons and unforgettable romantic getaways.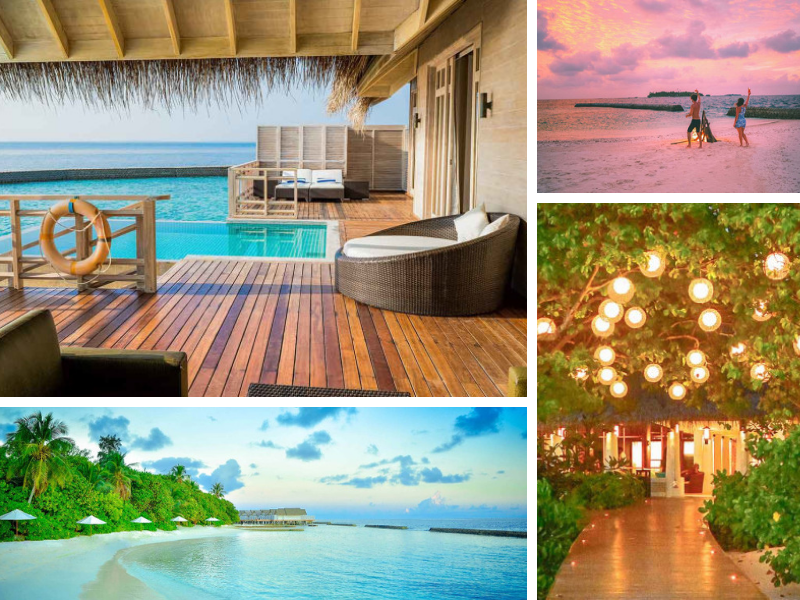 #1 Choose The Maldives for Overwater Villas, Destination Dining & Beautiful Beaches
Amaya Kuda Rah!, in South Ari Atoll, is a 5-star beachfront resort that offers lovers Overwater Suites with private access to the pristine sea. After a sun-soaked day, you can make the shortest of trips to the beach for an intimate sunset dinner for two. And a midnight walk around the island sanctuary is a great way to create memories if you're on your first holiday as a married couple.
For weddings, this marvellous hotel offers the choice between a dreamy ceremony on the white sandy beach or the resort's Sunset Pavilion.
Kuda Rah is also home to some of the best diving in almost 1,200 islands of The Maldives. And if you're looking for luxury that's also environmentally responsible you can even be a part of a coral replanting project (something which may tempt you back for an anniversary trip a few years later when amid the bright Napoleon fish and sea turtles of a snorkelling tour, you could see how your coral has blossomed just like your love).
Find your perfect host for romance and celebrations in The Maldives
#2 Choose Siem Reap, Cambodia for Iconic Luxury & Culture
A 24-hour butler service. Cambodia's biggest swimming pool. A state-of-the-art Spa with six treatment rooms. These three features alone tell you all you need to know about the luxury on offer at Raffles Grand Hotel d'Angkor.
Visitors to Siem Reap often marvel at this grand resort, lined by Frangipani trees, but only the guests get to enjoy the grand lobby and its colonial-style cage lift before heading for their first night between the finest sheets.
Guests at Raffles have a wide range of cultural activities to choose from. These include watching classic Apsara dances, taking part in Cambodian cooking classes or a wine and cheese workshop. The hotel will even take the hassle out of arranging your tours. Simply ask your butler about organising a trip that lasts anything from a couple of hours to two days. The splendid Royal Gardens and the temples of the Angkor Archaeological Park are both on your doorstep. Or, you could take a little more time and visit a colourful floating village on the amazing freshwater lake of Tonle Sap.
There can be few better ways to start a wedding day at Raffles than at the on-site Café d'Angkor, which is renowned for its signature champagne breakfast. An unforgettable ceremony can take the form of a monk's blessing in the hotel gardens or at the nearby pagoda, ahead of a charming reception at the Temple.
If you're planning a post-wedding trip, have a look at the resort's 3-night honeymoon package.
*Please note Raffles Grand Hotel d'Angkor is currently closed for renovation however reservations can be made for October 2019 onwards.
Find your perfect host for romance and celebrations in Cambodia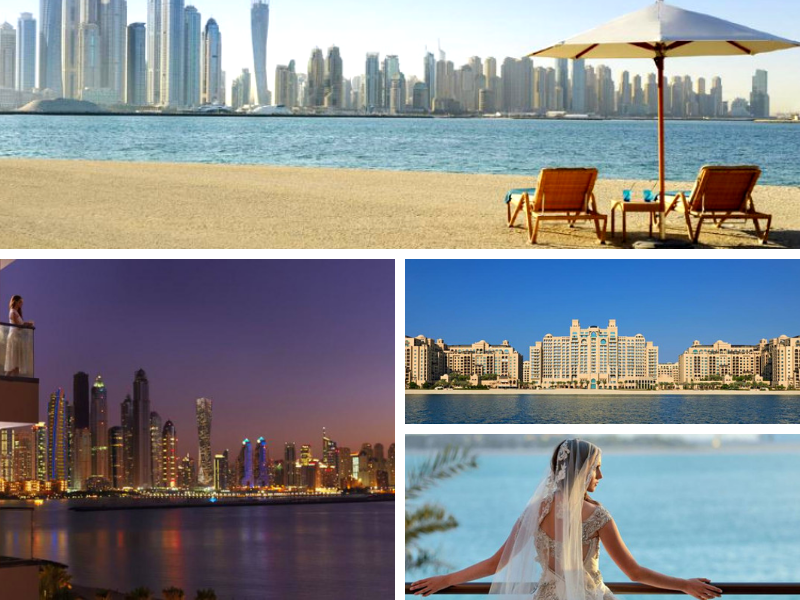 #3 Choose Dubai for Unapologetic Luxury & Shopping
In the relaxing moments following your first traditional hammam at the Willow Stream Spa, you'll know Fairmont the Palm is the perfect location for your luxury romantic break in the Middle East. Located on the man-made marina of Palm Jumeirah, this 5-star hotel offers guests a private beach with sweeping views of palm-shaded pools and Dubai's impressive skyscrapers.
The resort can ensure your arrival is marked in style with rose petals and balloons in your spacious suite, plus an ice bucket full of refreshing drinks. In the elegant creamy marble bathrooms, you can make the most of a rain shower, a separate tub and Fairmont's signature Le Labo amenities. Spacious balconies offer ocean or leafy neighbourhood views. Meanwhile club rooms come with lounge access, butler service and even a smartphone to use during your stay!
Throughout your stay at the Fairmont the Palm you'll enjoy personalised attention from their friendly staff - you can even get a personal consultation with the Executive Chef about getting a specially tailored menu that meets your tastes and desires.
And you're looking for an impressively luxurious destination wedding, be sure to check out the Queen Wedding package, which includes a dedicated wedding concierge and an intricately designed three-tiered model wedding cake.
Find your perfect host for romance and celebrations in the UAE including Dubai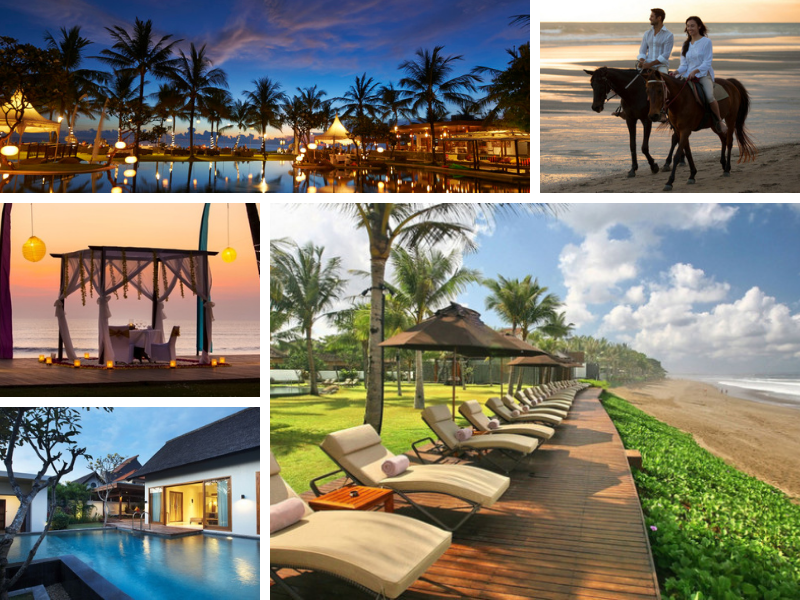 #4 Choose Bali for Sumptuous Private Villas, Pampering & Beachfront Romantic Experiences
The Samaya Seminyak Bali is a luxury beachfront resort which is proud of its world class service and indulgence in every direction you look. Get pampered on the famous Seminyak beach as you watch the sunset over the Indian ocean. Alternatively, honeymooners can spend a day chilling by their private pool or enjoying blissful spa treatments.
Private villas at the Samaya Seminyak have spacious bathtubs and even larger king sized beds. You'll have the round-the-clock service of a personal butler, who'll be pleased to help with any questions you might have. What's more, you're just a short walk to nearby restaurants where you can sample delicious dishes such as seared scallops or Balinese pork.
If you're thinking about a bespoke luxury escape in Bali, get in touch with one of our expert romantic consultants who'll assist you with all aspects of your booking.
Find your perfect host for romance and celebrations in Indonesia including Bali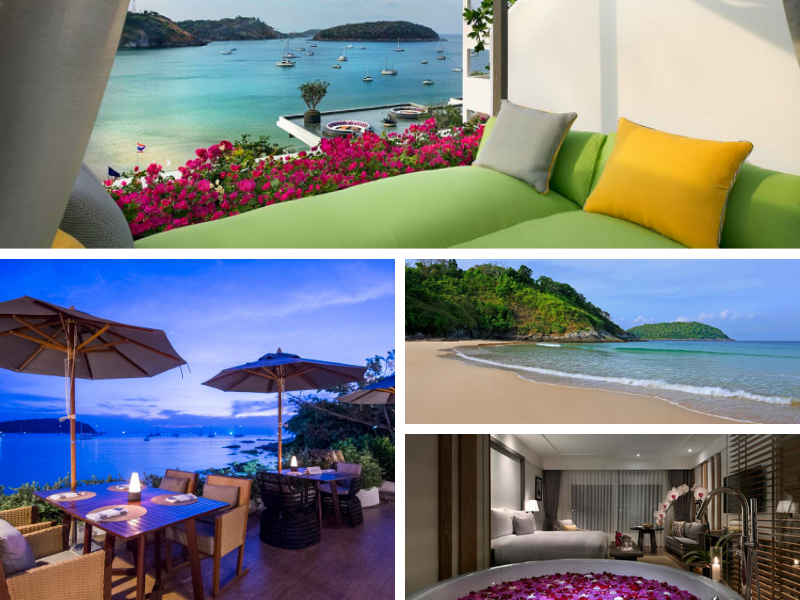 #5 Choose Phuket, Thailand for Champagne Celebrations & Canopied Day Beds Overlooking the Ocean
With its golden beaches and hot spring retreats nestled in hidden forests - plus the buzz of Patong and Phuket City - it's no surprise that Phuket has lots of choice for a once-in-a-lifetime trip to this unique Thai hot spot of romance.
Nai Harn, in the south west corner of the island, typifies the kind of luxury you can indulge in alongside your beau. This dazzling 5-star hotel comes with canopied four-poster beds, amazing panoramic vistas over the bay and even a 'Press for Champagne' button. Suites here include beautiful ocean views - the beach is long, the water's crystal clear and the sand makes an ideal terrain for arm-locked strolls. Savour a romantic dinner at your own secluded dining terrace under sparkling stars. This resort's intimate on-site restaurant serves up tasty fresh curries with fluffy pineapple rice. The breakfast buffet is sumptuous, and the resort's sushi and sashimi bar, Hansha, won't disappoint either.
Find your perfect host for romance and celebrations in Thailand