Luxury Romance in Paris at Hotel Napoleon
There are few romantic getaways that could be topped by a stay at Hotel Napoleon.
Situated in the chic and up-market 8th arrondissement of Paris, a visit places you in the heart of some of the finest art and architecture on the planet. History oozes from the cobbled streets here, while the present day buzzes with life: scooters toot-toot around lovers on their way to their next café or lunch date.
There are lots of reasons why you should consider a romantic break here – starting with the historic 5-star hotel...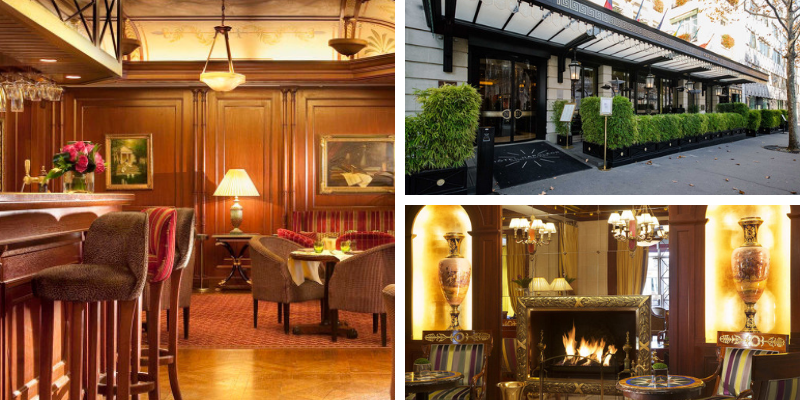 History and luxury meet at the Hotel Napoleon
Hotel Napoleon came into being thanks to the union of a rich Russian entrepreneur and a Parisian dame who met during a literary fair in the late 1920s. Almost instantly, love blossomed between the pair and this Hotel was a wedding gift from him to her. It remains in the same family's hands today.
Nowadays, it's tourists in love who meet where high society used to rub shoulders amid luxury. The decor retains its grand French classiness - the reception staying true to its royal roots with a ruby red and gold colour scheme. All of the modern amenities are presented with a smile, and spacious rooms are still fit for a king and queen.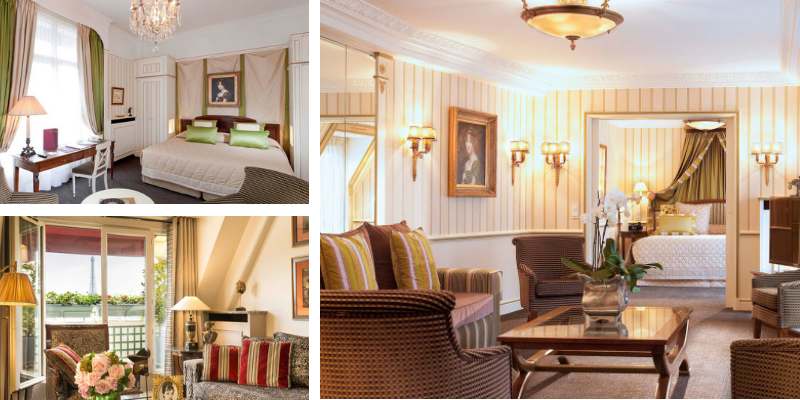 Suites built for romance
Guests at Hotel Napoleon can choose between a couple of different high-ticket suites, one being the richly decorated Junior Suites Avenues. This particular room is completed with a private terrace featuring incomparable views of the Arc de Triomphe. Or there's the Imperial Suite, whose balcony lets you take in the Eiffel Tower.
There are plenty of other slightly cosier options (there's a total of 51 rooms here) including those with large adjoining rooms. Contemporary Parisian touches only add to the elegant style, even down to the beautiful collection of L'Occitane toiletries. Romance-friendly amenities - from bathrobes to Champagne and chocolates - are offered to guests, while those who have special wants and desires can easily ask for a little extra help through the friendly Concierges Clef d'Or. A special romantic décor can be made up for you too, before you look towards the fully-stocked minibar ahead of a hot night spent between the sheets.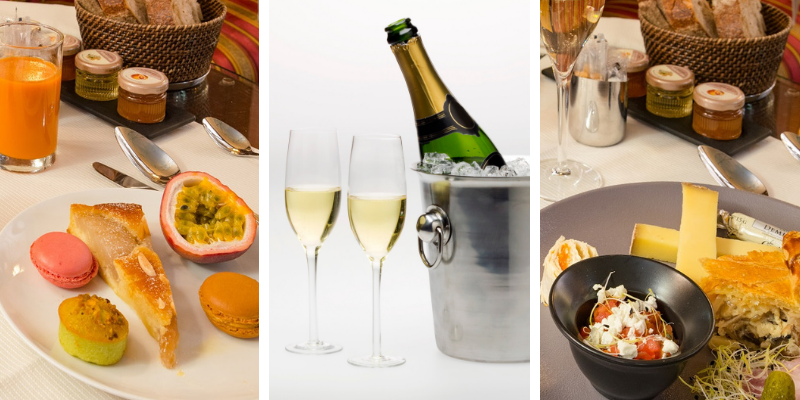 Sip Champagne morning, noon or night…
For divine food with more than a splash of glitz and glam, you needn't look much further than Hotel Napoleon's on-site restaurant. Le Bivouac is a luxurious and intimate restaurant, which opens from noon until midnight each day. What's more, they've recently launched a new weekly Champagne Sunday Brunch. Running from 12.30 to 3pm, you'll be welcomed with a glass of – you guessed it – bubbles, which can be enjoyed alongside hot drinks and seasonal gourmet juices. From local affined cheese to freshly made pancakes, there's a wealth of culinary choice to be savoured. The highest quality small plates – including salmon, terrine and pork dishes – are sumptuously presented; as traditional French foods compete with some of the finest international flavours. The sweet treats are really something to behold, from lime cheesecake to chocolate mousse dishes, delicious cookies, macaroons and pastries and plenty more; or, enjoy a charming plate of fresh fruit. Either way, you definitely won't regret making it out of bed for this brunch.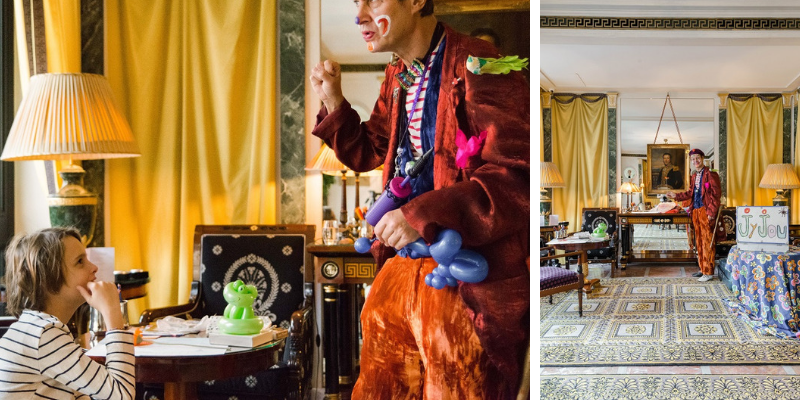 Le Bivouac is something of a natural extension of the hotel and its lobby, where you'll encounter the same luxury comforts. Chef Olivier Legentil and his troops create a market-fresh lunch once a week, and there's live music each Thursday (if no other private events are taking place). Taking inspiration from traditional and seasonal French cuisine from yesterday, today's dishes use fresh local ingredients mostly coming from producers nearby with a focus on the unsurpassable Ile de France region.

And even better is the fact that Le Bivouac has an all-year-round terrace that sprawls outside and on to a covered area which is lent intimacy (leaving aside a spot of rush-hour traffic) by the tree-lined enclosure. The setting makes for an ideal romantic spot to pass away an afternoon with your lover. And, of course, the restaurant's welcoming terrace is nestled behind the trees and bamboo hedges in front of the Arc de Triomphe and Champs-Elysées district of Paris. In other words, it's an absolutely dream setting for (another) bottle of fizz served with a selection of tasty nibbles (and perhaps a special proposal too…). Brut Cuvée des Moines Besserat de Bellefon, Extra Brut Première Cuvée Bruno Paillard and Blanc de blancs Napoléon are just three of the tipples here. Truly, the only thing that'll run dry is the superlatives when you tell all of your friends on your return home…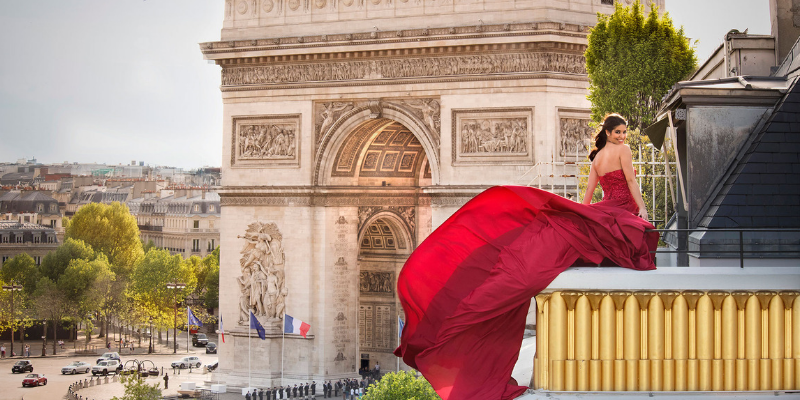 If you do need to leave your suite…
At Hotel Napoleon, you're a stone's throw from L'Arc D'Triomphe with the splendid Champs De Elysees just across the road. What's more, the Charles De Gaulle Etoile stations are a mere few minutes' walk away. And if that's not enough, a shuttle bus runs from the station to Foundation Louis Vuitton, amazing collection of arts and modern architecture. This majestic place also has you covered from round-trip airport transfers to shows, restaurants, exhibitions or excursions, to private drivers and museum tickets.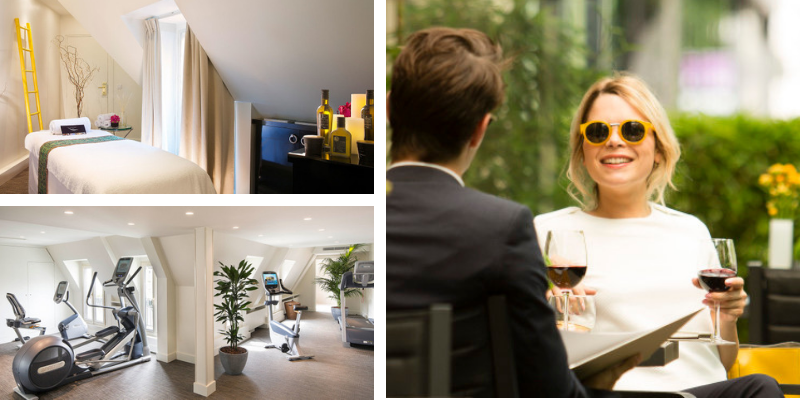 For extra special romantic occasions
This fine venue would make the ideal location for wedding receptions or the renewal of vows – it caters for up to 120 – along with special birthdays or anniversaries. The hotel has a handful of function rooms which would be perfect for all manner of romantic events. Extremely well catered for guests can enjoy a range of facilities and amenities, including parking. Currency exchange is offered by the hotel, which is also family-friendly to the point that there's entertainment for the little ones at the Sunday Brunch. Romantic visitors can make their own choice between the gym or another trip to the Lobby Bar…
Find out more about Hotel Napoleon, which has one-night packages starting from 269€ per couple. Or, get in touch with one of our expert Romantic Consultants at The Romantic Tourist if you've got any further questions. We'll be more than happy to help you find a deal that suits you.
Or, why not start perusing our many romantic breaks across France.