Malaysia's Best Honeymoon Package at The Banjaran Hotsprings Retreat
If you're getting married in the next 12 months and you're on the hunt for your perfect honeymoon experience, then here's a honeymoon package you simply MUST see!
Offering a tropical escape surrounded by towering limestone hills and lush rainforest, The Banjaran Hotsprings Retreat is an exotic adult-only paradise with romance high on their agenda. Which is nowhere more evident than as exampled by their fiercely in-demand 'Celebrate Love' experience – which just happens to be one of our most popular honeymoon packages in the whole of Malaysia.
Why is Malaysia a great honeymoon destination?
Before we WOW you with the package itself, it's worth a quick look at what makes Malaysia such as great choice for honeymooners.
Because whilst Malaysia is still not quite as popular as its neighbouring Thailand, it's fast becoming a favourite destination for couples celebrating romance. And we love it!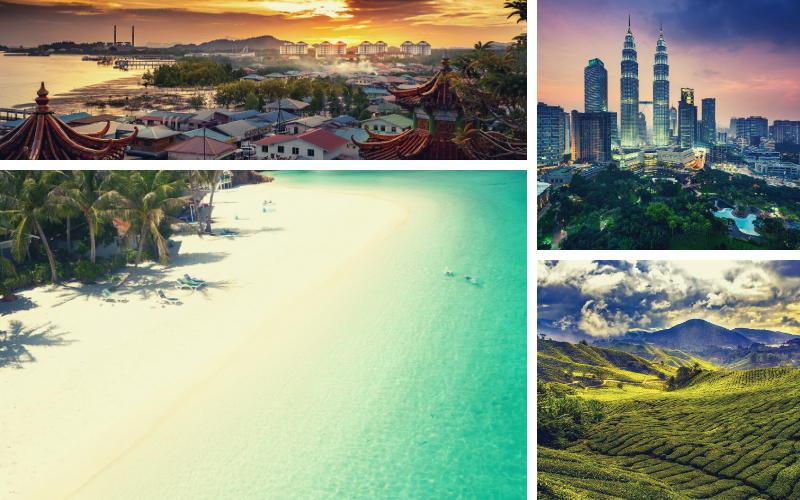 A few of the reasons for Malaysia's growing popularity include:
Its diverse and spectacular natural beauty including heroic mountains, glorious rain-forests, secluded bays and breath-taking beaches. Just imagine the romantic evenings spent together as you watch yet another spellbinding sunset, as you share a chilled bottle of fizz.
Its fascinating cultural history including its enchanting colonial villages and proudly ornate temples.
It's great value for money as a destination and with lots of luxury resorts catering especially for honeymooners.
There's loads to do from romantic boat trips, to eco-adventures, to buzzing city nightlife.
Where in Malaysia is The Banjaran Hotsprings Retreat?
The Banjaran Hotsprings Retreat is located in the north-western city of Ipoh. This vibrant colonial city still hasn't quite reached the heady heights of mass-tourism making NOW the ideal time to book your trip – just before the rest of world all get in on the secret.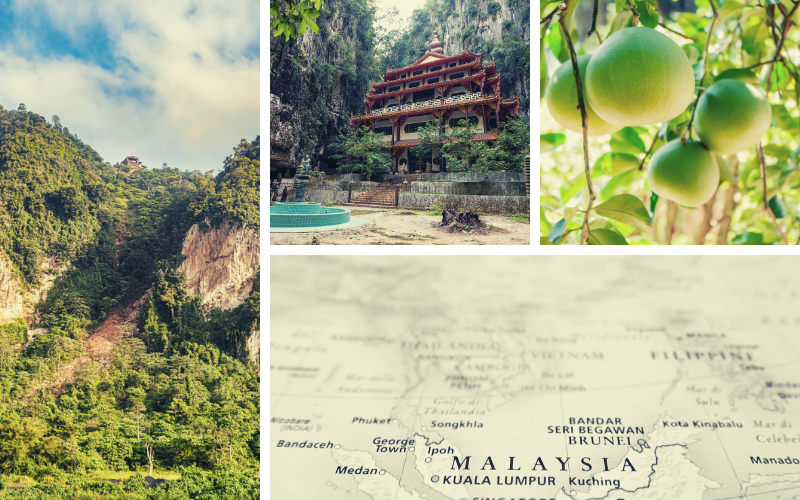 This is especially urgent as the city itself has in recent years earned itself the title as Malaysia's culture capital, thanks to its impressive British-influenced colonial architecture, secret street art, cave temples and lip-smacking cuisine. TOP TIP: if you're a pair of foodies this could most certainly be the honeymoon destination for you.
Alongside Ipoh's trendy café culture (you must try their famous white coffee during your time here), boutiques and hotels, Ipoh is also home to some of the most staggering natural scenery Malaysia has to offer. You'll be nothing but amazed by the limestone cliffs here that house exotic cave temples within dramatic rock formations. As well as other natural attractions here such as the awesome cascading waterfall at Ulu Kinta Forest Reserve, or strolling hand-in-hand along the Kinta River that meanders through the limestone cliffs and divides Ipoh's old and new towns.
Only 15 minutes drive from Ipoh city (and 2 hours drive from Kuala Lumpur) you'll find the Banjaran Hotsprings Retreat.
Welcome to The Banjaran Hotsprings Retreat
There are many reasons why couples and honeymooners are drawn to the Banjaran Hotsprings Retreat.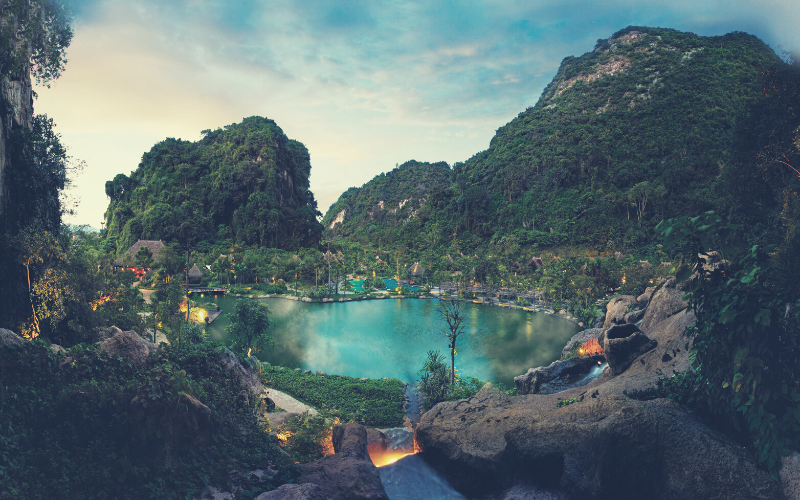 Not least because of its unique setting in a 22.7-acre valley, cradled by 260 million-year old towering Paleozoic limestone hills, verdant rainforest, rejuvenating geothermal hot springs, natural caves and cascading waterfalls.

Yep, it's impressive!
And now for their mind-blowing honeymoon extravaganza of ROMANCE…
So, if you've got this far and you're thinking Ipoh could be the honeymoon destination for you then you'll no doubt be waiting with baited breath to see just what it is that makes THIS (in our opinion and many of our customers) the best honeymoon experience in Malaysia.
Here goes…
Firstly, you'll get to stay in one of the Banjaran's 25 Luxurious Villas.
Each contemporary villa comes with its own private pool and sunken Jacuzzi, and honeymooners are guaranteed to enjoy a relaxed and peaceful retreat in complete privacy.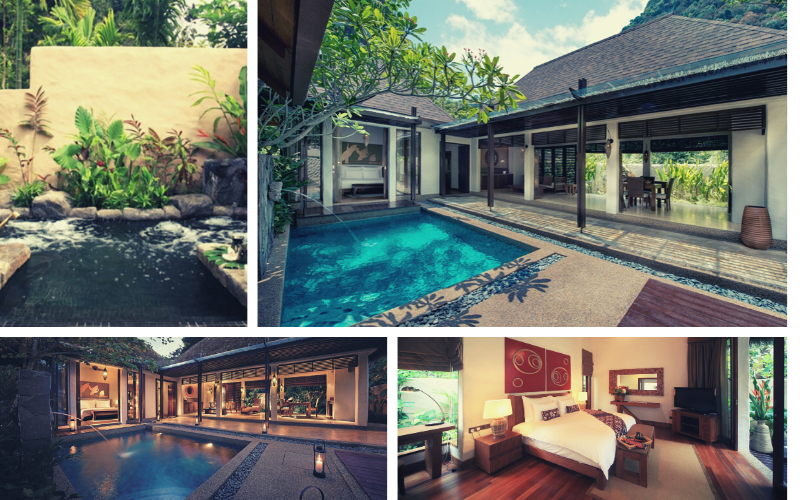 You can also choose to stay in either the Garden Villas with their breath-taking jungle views…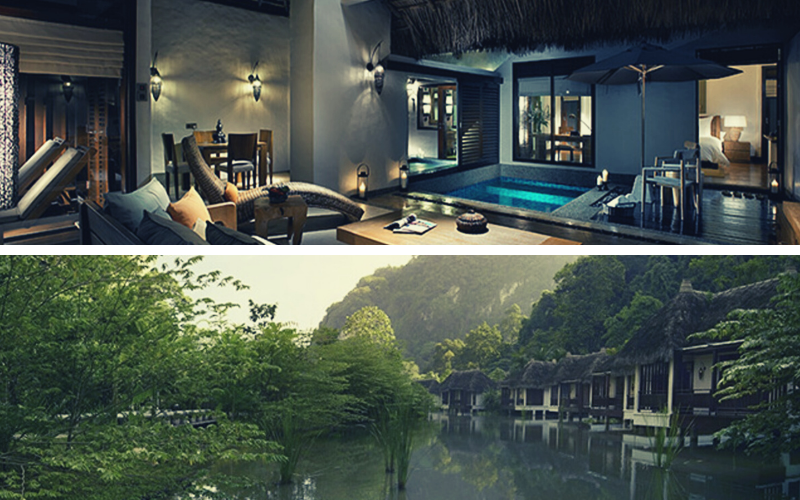 …Or the Water Villas that look straight out onto the passing canal.
Either way each villa offers something unique and unforgettable, including a romantic welcome with sparkling wine and canapés. You'll also awake each morning to a delicious (and healthy) daily breakfast.
But it's the romantic dining experiences here that really see things taken to another level.
As part of the 'Celebrate Love' package you'll be treated to 2 romantic candlelight 4-course set dinners.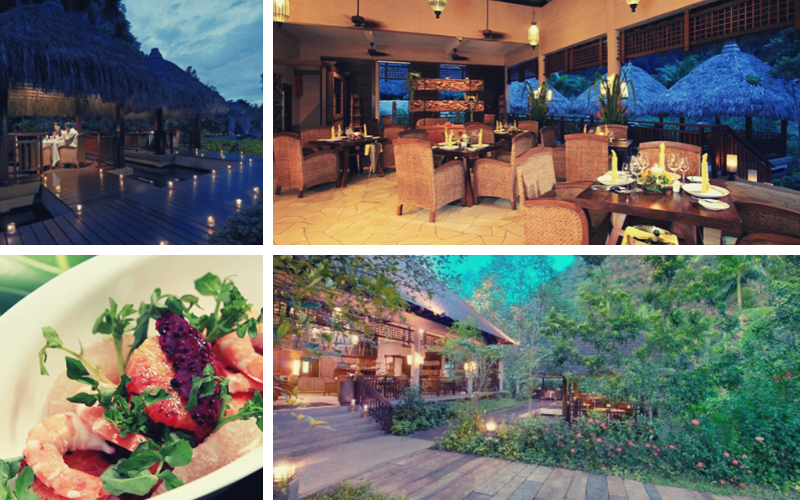 The first is at their Pomelo Restaurant (named after a famous Ipoh fruit). And here you'll be led by candlelight along a wooden deck towards an exclusive romantic dining experience just for two.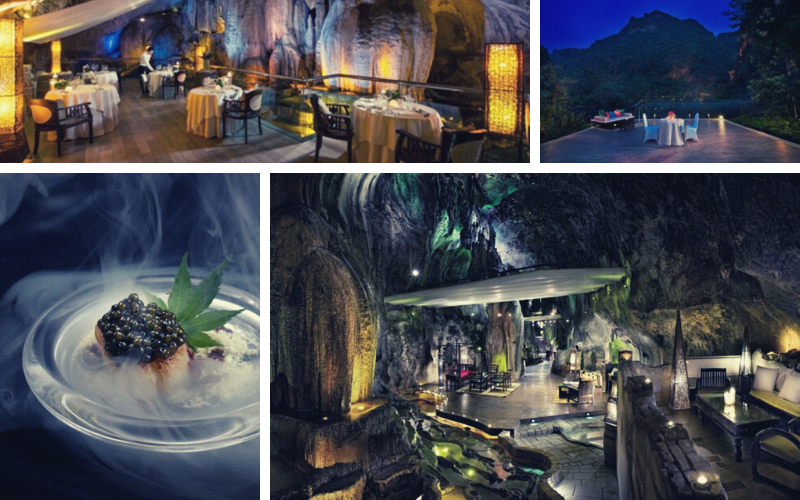 Your next honeymoon dinner (and one you'll ever forget) is set within a limestone cave restaurant known as Jeff's Cellar. This truly unique venue offers an incredible selection of wines, while its mesmerising natural beauty is sure to leave a lasting impression on all who visit.
And finally, (although this is additional to the package inclusions) we highly recommend honeymooners book Banjaran's magical Star Deck seven-course gourmet dinner served up under Malaysia's star filled night sky.
Does it get any more romantic than this?
Well yes, at the Banjaran it does!
Honeymooners and romantic couples are also spoilt on one evening of your choice with a candlelight illuminated Jacuzzi bath on turn-down in the privacy of your Villa with rose petal walkway.
And then there's some more super-special wellness and pampering...
(As you'd probably expect from a world-class wellness destination such as the Banjaran Hotsprings Retreat).
Here's a quick overview...
Within the resort itself you'll have access to its natural geothermal hot springs dipping pools containing three million litres of fresh hot water that bubbles up daily from the ground below and is renown for its healing properties.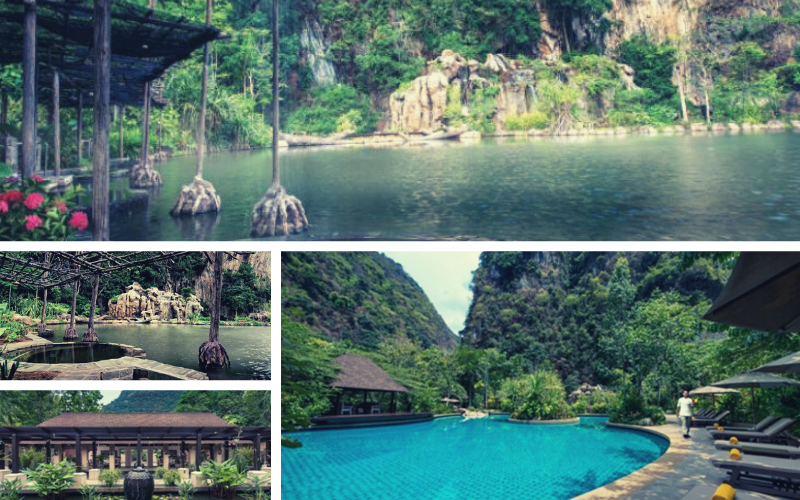 The hotsprings also creating a natural sauna in the thermal steam cave and the brave can then cool off by plunging into a freezing ice bath.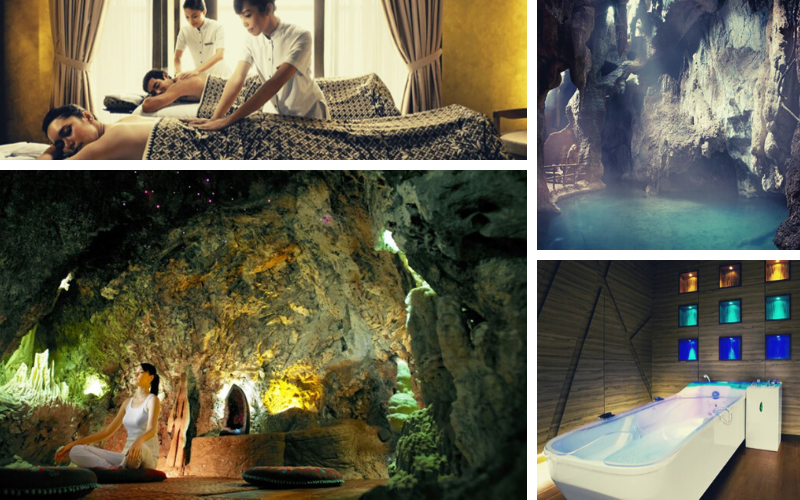 As you can see much what makes the Banjaran so special is its otherworldly setting within the limestones caves of Ipoh. And just as the Chinese Buddhists were inspired to use theses caves as places of worship, the calming temperatures and absence of external sounds and interruptions, will focus your mind in silence for complete relaxation and contemplation in the natural granite and limestone – and the resort reserves a couples of caves specifically for guest meditation and reiki.
Alongside romance your stay here will also be truly holistic experience and the Celebrate Love package includes a 60-minute AromatherapyMassage for you and your partner. You may of course wish to book yourselves in for additional treatments during your stay and there's a choice of over 40 Asian holistic treatments and therapies offered for the full relaxation of the body and rejuvenation of the mind.
It's important to mention that there's also plenty of adventures to be shared here too
So, if you're a honeymooning couple who like a bit of action, you'll most certainly want to go on the Banjaran's jungle walk which takes you on a 30-minute trail through the region's unique flora and fauna, cascading waterfalls and mysterious caves deep within the limestone hill forest of the Lost World of Tambun.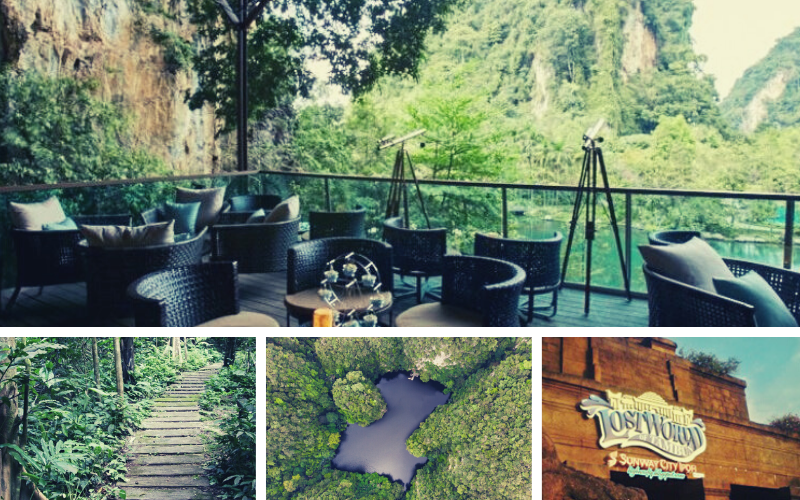 For those who are unacquainted, the Lost World of Tambun is one of Asia's top theme parks and you'll enjoy complimentary access as part of your package. Even if theme parks aren't you're thing this place is well worth a visit thanks to its setting amongst some of the region's most staggeringly beautiful landscapes.
The park itself is described as a world of adventure comprising a total of 9 different attractions including the Water Park, Lost World Amusement Park, Lost World Hot Springs & Night Park, Lost World Tiger Valley, Lost World Petting Zoo, the Lost World Tin Valley, Lost World Adventure Park, Hippo Kingdom and Luminous Forest.
So, there you have it. Malaysia's best honeymoon experience. Courtesy of Banjaran Hotsprings Retreat, Ipoh.
And if we've tickled your fancy, here's a quick overview of everything the full package includes and its terms for booking...
Celebrate Love Package for Honeymooners and Couples
Package includes:
Two (2) nights' stay in a Luxurious Villa
Daily healthy breakfast
One (1) complimentary bottle of sparkling wine and canapé in the Villa
One (1) romantic candlelight 4-course set dinner at Pomelo
One (1) romantic candlelight 4-course set dinner at Jeff's Cellar
One (1) chocolate cake served in the privacy of your Villa with coffee or tea of choice
One (1) 60-minute Aromatherapy Massage for two (2) persons with Aromatherapy Associates products
One (1) candlelight illuminated Jacuzzi bath on turn down in the privacy of your Villa with rose petal walkway
Complimentary access to Lost World Of Tambun (Closed on Tuesday, except on Malaysian school & public holidays)
Package Policies:
Package is valid for maximum of two (2) persons only in a villa.
To maintain its tranquillity and exclusivity, The Banjaran welcome adults and guests 12 years of age and above only.
Advanced booking is required and is subject to availability.
High season surcharge is applicable during peak seasons
Rates are subject to a 10% service charge and 6% government tax
Unused portions of the package items are not transferable and will not be refunded to your hotel bill
Free cancellation up to 14 days prior to arrival
The price for this whole package is around £260 per person per night based on a 2-night stay for 2 people sharing a villa. Additional nights can then be booked at the standard nightly rate which starts at around £70 per villa.
Not only is this an amazing once-in-a-lifetime experience, it's also amazing value.
You can book the package directly with our partners at Banjaran HERE by simply confirming your dates of travel and any other requests. They will then send you a confirmed offer of availability and a final quote for your full trip including any additional nights or extras you might wish include (like the Star Deck dinner because it's your honeymoon and you know it makes sense).
Alternatively you can see here everything the Banjaran has to offer and send a direct message to their team if you'd like to create something special for your trip.
Not found exactly what you're looking for? Don't worry... Our expert romantic consultants are waiting to hear from you. Yes, really! This is what we love... helping couples like you find and book their dream romantic trip, wedding or celebration. Get in touch HERE today. The fun is just about to begin