Mexico – an Inspiring Destination for Romance & Weddings
Hedonism and heavenly beaches! Just two of the reasons we LOVE Mexico.
We're talking palm trees...warm sea breezes... soft white sands... and turquoise blue waters.
We've picked three luxury resorts that would make for the very best romantic celebrations and once-in-a-lifetime getaways. Plus, find out some info on what you need to know about travelling to this awesome country.

Why choose Mexico for ROMANCE?
This huge Latin American nation boasts more than 6,000 miles of coastline, with both the Pacific and Gulf of Mexico offering a slew of sandy beaches and luxurious resorts. Amazing food, jungles brimming with exotic wildlife, stunning architectural history and modern-day arts all add to the romantic melting pot.
Whatever your travel style, there'll be something in Mexico to sweep you off your feet. Feelings of romance are inevitable as you stroll along another long stretch of Caribbean sand, pay a visit to a town from the Spanish colonial era, or gaze at another extraordinary Mayan temple or pyramid.
Where should we stay in Mexico? 3 top recommendations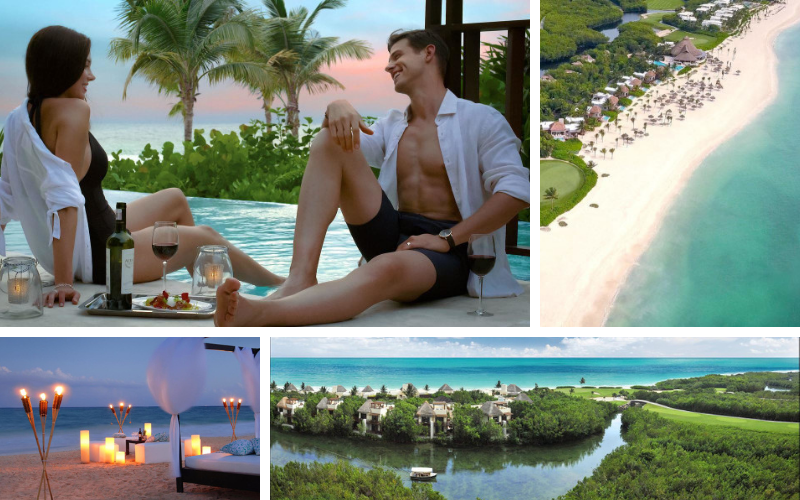 #1 Romance & Weddings at Fairmont Mayakoba, Playa del Carmen
Loved up couples booking a romantic beach getaway, destination wedding or renewal of vows will be blown away by the romantic offerings available at Fairmont Mayakoba, where luxury is found at every turn. And despite counting more than 400 modern rooms and suites, Fairmont Mayakoba is a master of personalised and intimate experiences for couples. Our top things to do here for couples are:
Romantic Boat Tour
Couples Massage at Willow Stream Spa
Coral Reef Restoration Tour
For couples getting married at the Fairmont Mayakoba vows are taken amid spectacular views of the Caribbean Sea, with ceremonies being hosted on the beach, by the pool, in the property gardens, or even the grand ballroom. And if you're looking for something extra-special for a honeymoon or celebration we recommend booking their Beach Area Casita Suite. It's perfect if you want privacy in a luxurious and romantic ambiance (and the sunset viewed from the roof top is simply spectacular).
Get in touch with the hotel to find out about their all-inclusive plans and special offers which can make your holiday life even easier.
Fairmont Mayakoba is located 40 minutes drive away from Cancun International Airport. The easiest way to get from the Airport to the hotel is by a private or shared transfer.
.
#2 Romance & Weddings at Viceroy Los Cabos
Recent visitors to Viceroy Los Cabos have heaped praise on the outrageous luxury and tranquil vibe of this San Jose Del Cabo resort. The spacious property, situated on the Coast of Baja California, would make for an unforgettable romantic event: you and your guest list can enjoy an on-site cinema room, along with a plethora of buzzing restaurants and bars in close proximity to the hotel. There's a very appealing rooftop bar to get stuck into too. The on-site spa is lovely and a masseuse will be pleased to give you a soothing massage.
Some of the slick, modern guest rooms have an outside space which adds a level of serenity that not all of the hotels in the region have. They're also set up for amorous couples: from double showers in luxurious stone bathrooms, to bespoke romantic add-ons and balconies with tubs and lounger beds. Meanwhile if you're after some activity outside of the bedroom, book a day of snorkelling around the famous Los Arcos rock formation, or try deep-sea fishing.
Viceroy Los Cabos operates a local concierge service can take care of all your transport needs. Viceroy is just 13 miles south of San Jose Del Cabo International Airport.
.
#3 Romance & Weddings at Blue Diamond Luxury Boutique Hotel
Nature and luxury combine at the Blue Diamond Luxury Boutique Hotel, helped in no small part by the resort's large garden setting and 36 acres of lush tropical jungle. What's more, the 128 rooms are a short stroll away from the turquoise Caribbean Sea. If that's all not enough there's a spellbinding river waterway, a mystical Mayan Cenote and some first-class cuisine.
The resort, which is situated close to Playa del Carmen, has a Heart of the ocean wedding package that can set you and your guests up for your Big Day. Their wedding specialists will be able to put together a plan which includes in-room champagne check-in, a fully decked out beach ceremony location and a magnificent reception and dinner for up to 50 guests. The lucky couple also get a lobster based dinner as a special treat during their stay.
Blue Diamond's Playa Del Carma setting makes it just a 25 mile trip from Cancun Airport and 13 from Cozumel Airport.
Mexico - the travel essentials

Getting to Mexico

There are a choice of direct flights from the UK to popular visitor locations such as Mexico City, Cancún and Puerto Vallarta among others. Although you won't need a visa to go to Mexico as a tourist, you'll need to get a tourist card – either when you arrive in the county, or occasionally during the flight there. Treat your card like you would an engagement ring, keeping it safe as you'll need the piece of paper to leave! Don't forget to sort out an ESTA if you're taking a connecting flight via North America.
Tipping Culture
While tipping is optional in hotels, it's likely to be well-received by staff. Porters will expect a decent tip of $50 or more. For restaurants where service isn't included, a tip of about 10%-15% is seen as standard. For taxi drivers, there's no need to tip unless they've gone above and beyond…
Safety and Security
Keep an eye on the Gov.uk website for the most up-to-date information about visiting the country.