Most Romantic Places to Stay in Switzerland - Brig | Geneva | Valais | Ticino | Engadin
With its jaw-dropping Alpine views, dazzling lakes and a famous penchant for luxury - there's plenty of reasons why Switzerland is a great destination for romance.
And it's little wonder this landlocked country in central Europe – which has more than 200 mountains and lots more flavours of chocolate – ranks so high each year in the happiest countries in the world to live. As well as its boundless natural gifts, Switzerland has a fantastic urban culture and history.
Let's take a look at some of the Swiss' hottest spots for romance including Brig, Geneva, Valais, Ticino and Engadin...
#1 Romantic Getaways in Brig (Upper Valais)...


Why is Brig a great destination for romance?
The town of Brig is wonderfully positioned in the south of Switzerland at the base of the Simplon Pass, giving a direct and scenic link to the commune of Domodossola in Italy. Needless to say there are plenty of opportunities to explore some of the finest hiking routes in the world.
This is especially true around the Aletsch Glacier – the biggest glacier in the European Alps and a Unesco World Heritage site. For something a little different, try a romantic wander around Brig's historic old quarter and the Stockalper Palace.
Romantic things to see and do in and around Brig:
Take a rejuvenating day trip to Brigerbad, the town's thermal baths
Ride the Glacier Express train, taking in spectacular Alpine views between Zermatt and St.Moritz
Hop over the Italian border to Milan in less than two hours
Start a ski-based adventure from the sunny terrace of Rosswald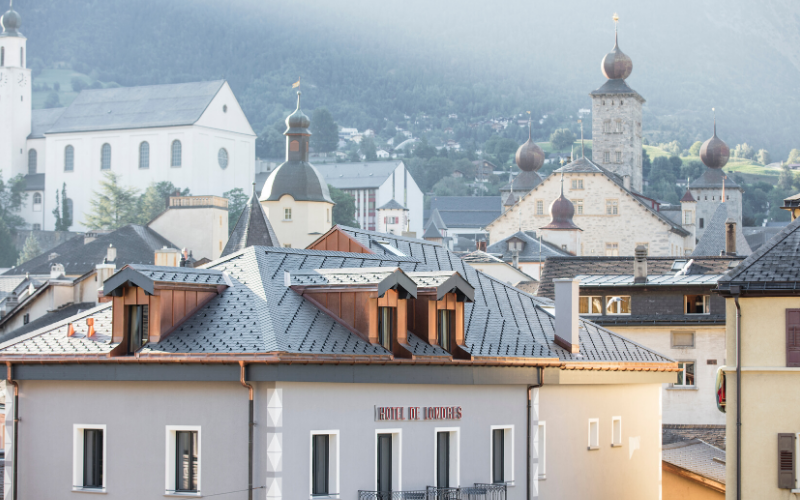 Recommended places to stay in Brig?
Hotel de Londres has style and luxury in abundance. The boutique hotel has a dream location which overlooks the main square and many suites have their own balcony. Don't miss the sumptuous breakfast buffet, which features the freshest local and seasonal produce. Find out more and book a stay at Hotel de Londres

#2 Romantic Getways in Geneva...


Why is Geneva a great destination for romance?
The rugged Alps surround the magnificent Lake Geneva and provide a very special backdrop for romantic exploration. There truly is a plethora of things to see and do in the 'City of Peace'. Outdoor markets and shops will provide lovely breaks in between quiet walks amid traditional cafes. Then there's the more upmarket options, with lots of Michelin-starred restaurants offering gourmet cuisine drawing its influence from both within the country and its close European neighbours.
Romantic things to see and do in Geneva:
Explore 2,000 years of history in the charming Old Town
Snap a selfie under the Jet d'Eau, a huge frothing water fountain
Visit a local jazz haunt for a night out
Devour a melty fondue for two
Stroll through the leafy Bastions Park




Where to stay in Geneva?
Hotel d'Angleterre is set on the waterfront in the heart of Geneva. Guests are dazzled by views of Mount Blanc, while the human touches at this hotel come very close to matching the natural wonders. Staff here will pamper you and the Leopard Room Bar is uber-trendy watering hole and cigar lounge which is frequented by hotel guests and tourists seeking to be regaled by its decadent charms . Find out more and book a stay at Hotel d'Angleterre.
#3 Romantic Getaways in Valais...


Why is Valais a great destination for romance?
- Leukerbad: This mountain spa resort is the largest of its kind in Switzerland: 3.9 million litres of bubbling thermal waters fill the pools in this municipality each day. The healing properties of such a place can only boost thoughts of love and romance. What's more, the centre of Leukerbad is traffic-free and is geared up to every whim and need of visitors in search of a quaint break where the focus can remain on one another…
- Villars-sur-Ollon: The mountainous region of Villars-sur-Ollon has outstanding views and look-outs which make this holiday resort in south-west Switzerland stand out from its competition. Located on a south-facing terrace above the base of the Rhone valley, this area gives breath-taking views of the Dents-du-Midi circuit, Mont Blanc and Lake Geneva.
Romantic things to see and do in Valais:
Take a romantic day trip to Lake Geneva
Visit the village of Lauterbrunnen, and awake to the soothing tones of 72 waterfalls
Choose between Alpine skiing on the Torrent and cross-country routes on the Gemmi Pass
Pay a visit to Lavey, a thermal spa which is said to have one of the country's hottest springs – it's popular with locals and tourists alike
Visit Aigle Castle, which is situated at the heart of a grand vineyard
Where to stay in Leukerbad?
Hôtel Les Sources des Alpes is an all-encompassing hub of wellness and romance. The 5-star resort has a stunning thermal open-air bath and thermal springs. Each day you'll have a choice between a range of spa therapies and more down time to re-stoke the flames of passion in the most tranquil of settings. The hotel itself is in a high position, which allows for incredible views of the mountains. Find out more and book a stay at Hôtel Les Soutces des Alpes.
Where to stay in Villars-sur-Ollon?
The Chalet RoyAlp Hôtel & Spa boasts some top-of-the range facilities, including a fab pool and spa. At night, the hotel will often puts on live entertainment in its splendid bar which is set on a mountainside lodge; while its on-site restaurant has a Michelin star. Find out more and book a stay at Chalet RoyAlp Hôtel & SPA.
#4 Romantic Getaways in Ticino...


Why is Ticino a great destination for romance?
This chic southern region of Switzerland enjoys masses of sunshine — plenty more than central Switzerland, and even compared with some parts of Italy next door. Classy vacation resorts and homes – like those found in the lakeside resorts of Locarno and Lugano – dot this majestic landscape of this long-held mountain culture. Picture a slower pace of life with steaming pots of mushroom risotto on outdoor fires accompanied by quality Merlot. That's Ticino.
Romantic things to see and do in Ticino:
Take a romantic walk along the waterfront promenade at Lugano
Hire a boat on Lake Lugano – or even a yacht! Prices are typically by the hour or day
Visit a foothill or mountain village and stroll between low-roof stone cabins



Where to stay in Ticino?
Swiss Diamond Hotel & SPA with its spectacular views of the Lake of Lugano make it a perfect choice for a romantic getaway. The mountains and lake make this a truly magical backdrop for Couples looking to spend some quality time together in one of our beautiful and elegant room & Suite. They can book a couple's session at our SPA in the and The SPA Suite is a charming and secret place where you can live moments of total relax and privacy.
The View Lugano is home to slick suites that offer stately lakeside views.

This hotel has all the ingredients for a romantic weekend, including delicious cuisine and a spa to name just a couple of attractions. Helpfully, the View will lend you an electric Smart car - or bicycles - so that you can head downtown on another charming excursion.

Find out more and book a stay at The View Lugano.
Hotel Ascona Set on the gorgeous hill of Monte Verita and overlooking Lake Maggoire, this upscale hotel has suites with spacious balconies which are ideal for taking in the panoramic views of the snow-capped mountains. Find out more and book a stay at Hotel Ascona.
Resort Collina d'Oro is set on 25 acres of luscious gardens and overlooks Lake Lugano. The hotel's full of lovely romantic touches – you can even buy a bottle of wine grown from the resort's own estate, while there's an indoor pool and sauna to help you unwind after a day's hiking. There's a smashing buffet breakfast here to set you up for each memorable day. Find out more and book a stay at Resort Collina d'Oro.
#5 Romantic Getaways in Engadin...


Why is Engadin a great destination for romance?
This long and lofty Alpine valley region in the eastern Swiss Alps has a myriad of treasures: from winding forest paths in unspoilt national parks, to quaint alpine villages and super-cool ski resorts. This romantic valley is made up in two parts: Upper Engadin with the famous St. Moritz, and Lower Engadin with the main town of Scuol. But there are several valleys right next to the Engadin which are just as ripe for discovery…
Romantic things to see and do in Engadin:
Take a trip to St.Moritz, a world renowned ski and spa bolthole
Shop at Samnaun and buy your partner a duty-free treat
Visit Pontresina, a winter destination with historic buildings to explore
Where to stay in Engadin?
Pensiun Chesa Pool Val Fex is located in the heart of the car-free Fex Valley and is the apex of style: the resort looks like it could have come straight out of the pages of a contemporary design mag, while staying true to the rustic feel of the great outdoors. Superb gastronomy is on offer, utilising local organic produce and they've a great choice of vegetarian options. Suites come with sweeping panoramic views. Find out more and book a stay at Pensiun Chesa Pool Val Fex.
Hotel Waldhaus Sils-Maria is a historic, family run estate that's set in a delightful village just seven miles from St. Moritz – promising lovers of snow plenty of winter sports opportunities. The hotel itself is a visual wonder, with castellation and towers, and the surroundings are equally spectacular with the high Alps in the background and mature pine forests; plus, the Alpine countryside which surrounds this amazing property. Find out more and book a stay at Hotel Waldhaus Sils-Maria.
Switzerland - the travel essentials
Language: There are four national languages in Switzerland – French, Italian, German and Romanish. You'll typically hear the language of the border you're closest to. So, more French in spoken in the west of the country, while Italian is heard the further you head south.
Getting around: Train travel is both popular and economical in Switzerland. So, if you aren't driving then you might want to look into a Swiss Rail pass.
Visa: Brits won't need a visa to travel to Switzerland. But don't forget to check you have a valid EHIC card to get access to healthcare on the same terms as a local.
Currency: The Swiss Franc is Switzerland's national currency.
Tipping: A service charge is usually added on to your bill at restaurants. If so, you won't need to leave an extra tip unless of course you had great service.
Not found what you're looking for? Check out all our most romantic experiences and highly recommended hotels in SWITZERLAND HERE