Romance at Desa Visesa Ubud | 6 reasons couples love it
Bali is one of the most popular romantic destinations in the world, a tropical island rich in both natural and cultural beauty. If you are planning a romantic trip to Bali the Desa Visesa Ubud is an amazing place to stay offering once-in-a lifetime romantic experiences.
Want to know more? Here are 6 reasons couples like you love it: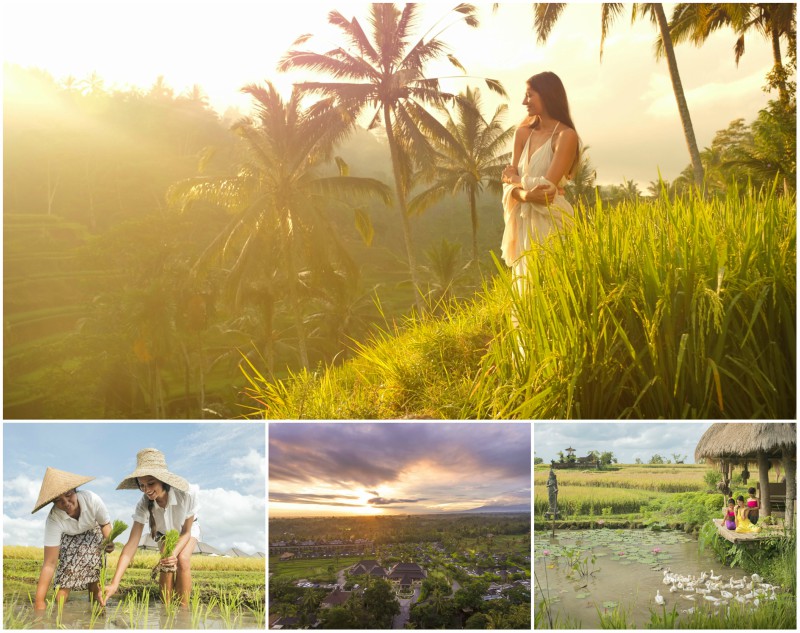 #1 STUNNING LOCATION IN UBUD
Desa Visesa Ubudis situated in the heart of Bali, spreading across 6.5 hectares of natural landscape and overlooking a tropical forest in its original lush greenery. Set around cascading streams and verdant rice fields, Visesa is a haven of peace and tranquility just a few hundred metres away from downtown Ubud - a world famous global village that has become a hub for sustainable tourism and holistic lifestyle.
Set in the uplands of Bali, Ubud enjoys a slightly cooler climate than the island's southern beach resorts and the area is famous for its breath-taking natural beauty. Surrounded by dense rainforests, green rice paddies and deep ravines, it's easy to see why Ubud is a favourite destination for couples travelling to Bali in search of a romantic escape from the western world. Ubud invites you to get lost in the spiritual wilderness of Balinese culture and hospitality and at Royal Tulip Visesa Ubud you are treated to first hand experiences of local Balinese agriculture, rituals and heritage.
Ubud is considered to be the cultural heart of Bali and hidden within its verdant hills a bounty of Hindu temples, shrines and royal palaces are just waiting to be discovered and explored. Bathe in the purifying, holy spring waters of Tirta Empul, venture into the darkness as you enter the elephant cave of Goa Gajah and visit the beautiful royal water temple Pura Taman Saraswati with its magnificent entrance of blooming pink lotuses. Ubud's sacred monkey forest also houses a complex of temples and a walk through the sanctuary is a must-do activity for lots of couples staying in Ubud: just remember the monkeys here are very used to tourists and only have one thing in mind when they see you: food! So buy your bananas and be prepared for their lively antics.

Traditional Balinese arts and crafts can also be found in abundance in Ubud and there are plenty of shops, markets, museums and galleries selling local artwork, jewellery, woodcraft and antiques. Whilst you can find more expensive items if you're looking for them, most items on sale are very affordable and couples will enjoy browsing and bargaining for their favourite pieces, perfect for taking home as authentic souvenirs of your special time in Bali.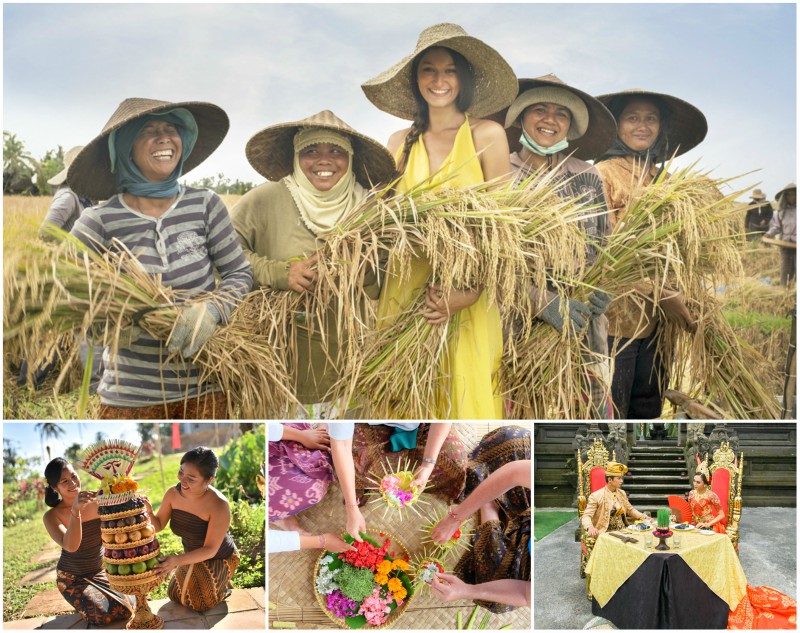 #2 UNIQUE OPPORTUNITY TO LEARN ABOUT BALINESE CULTURE & THE BALI LOVE MAKING STORY
The magic of Balinese culture draws couples to Ubud from all over the world and providing its guests with an authentic experience of local village life is at the heart of everything they do at Desa Visesa Ubud. Here you are not only let in on the secrets of Balinese culture, you are openly invited to get involved and experience for yourselves exactly what life is like for locals on the island.
Working with a team of local experts, the Visesa experience gives its guests the unique opportunity to learn the skills and heritage of authentic Balinese life and traditions. Always promoting spiritual harmony and the balance of mind, body and spirit, couples travelling to Bali for a romantic getaway, honeymoon or a destination wedding are encouraged to embrace local beliefs and mythology including those surrounding sex and romantic love.
Famous French writer, Jean Coutou has written an interesting study about the Balinese beliefs and terminology around making love. He notes that when a couple make love in Bali they unite the white karma (kama petak) and the red karma (kama bang) – the original forces of human life. Indeed in Bali, sex is much less of a private affair than we understand it to be western society and each time a couple unites they activate cosmic forces, as they are joined in their passion by the god of love, Asmara and his beloved wife, the goddess of the moon. When making love in Bali it's not only your performance you should be thinking about!
Do's and Don'ts of Making Love in Bali
DO visit your ancestor's temple the day after making love if you are trying to conceive
DON'T make love during the week of Wata Gunung (the Balinese Oedipus who married his mother)
DO be careful where you make love and choose a setting respectful of the karmic forces you are activating. Public toilets, for example, are not a place for making love and inciting positive karma and may have serious consequences.
DON'T make love at sunrise, midday or sunset as at these times during the day when demons can enter freely into conception and may end up with some little baby demons
DO enjoy every time you make love in Bali and let yourselves get lost in the experience as your unite with each other and the universe.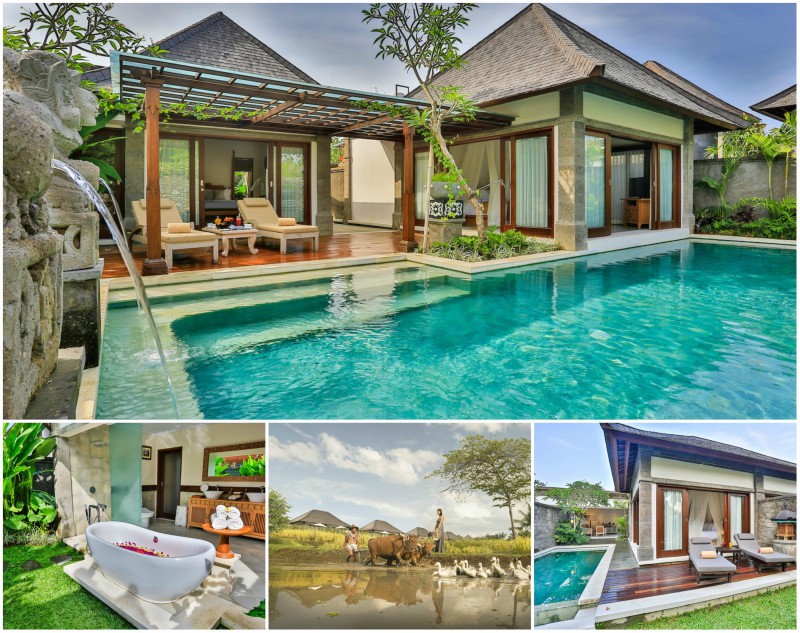 #3 LUXURY POOL VILLA LOVE NESTS WITH PRIVATE OUTDOOR BATHTUBS
Perfect for honeymooners and romantic couples, Desa Visesa Ubud is a luxury retreat purpose built for sharing intimate moments and escaping from the world. High-end design and luxury resort facilities create a sanctuary of peace and tranquility where guests immediately feel at home, surrounded by modern comforts and ultimate relaxation.
The resort offers a collection of 66 luxury pool villas and a further 40 large suites and its one bedroom pool villas are the ideal accommodation for romantic couples. With amazing views of the surrounding rainforest, these secluded sanctuaries are generously spacious in design and feature a private terrace with deep cushioned sunbeds, private outdoor bathtubs, rainshowers and large private pools.
Inside the villas epitomize luxury Balinese chic: dressed in the finest linens, canopy king-size beds provide a tropical love nest with complimentary wifi, 40'' LED Smart TV with interactive entertainment platform, in-room safes, iphone docking stations and capsules coffee machines.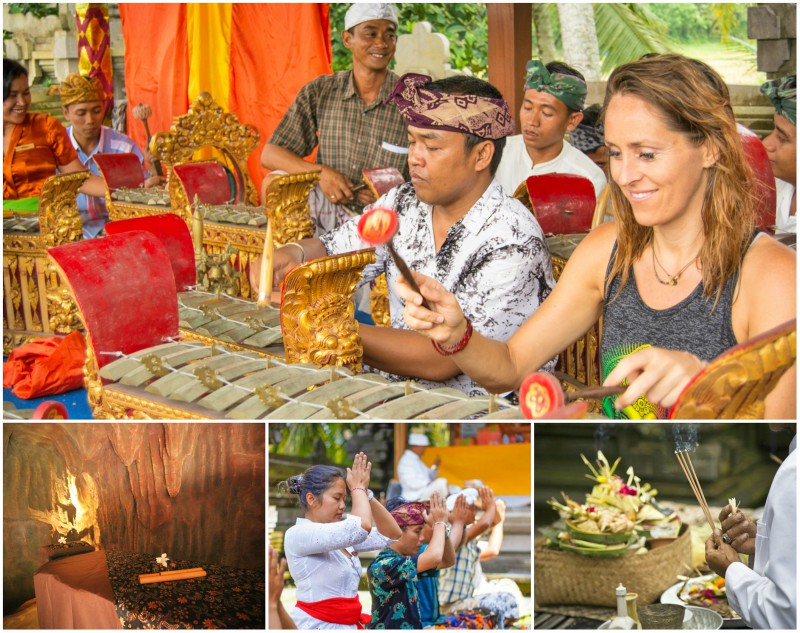 #4 UNIQUE SPA & HOLISTIC HEALING EXPERIENCES
As the cultural heart of Bali, experiencing the unique spa and wellness traditions of the area is an absolute must during your stay in Ubud. This is not Champneys! Whilst you will absolutely find blissful pampering treatments, Visesa Balinese Healing and Spa is all about holistic experiences and healing practices of Bali Usada.
Founded by Merta Ada, Bali Usada promotes mindfulness and meditative healing with benefits including:
Relaxation and stress relief

Emotional and spiritual balance

Healing of specific ailments

Reduced tiredness and extra energy

Inner calm and happiness
Also incorporating the practices of ancient Ayurvedic medicine, the resort permaculture gardens provide homegrown plants, spices and herbs including white ginger and turmeric which are blended and used to make healing body scrubs and medicinal masks from local natural ingredients.

You are invited to a one-to-one consultation with an experienced Balinese healer where you can discuss personal ailments and emotional anxieties. Individual treatments and therapies will then be recommended including Balinese healing massage, Hindu cave therapies, traditional beauty treatments and body rituals.
For couples staying at Desa Viseasa Ubud for their honeymoon or a special romantic celebration, romantic spa experiences are also available. Try the one-hour 'Romantic Interlude' treatment featuring a healthy loloh drink, a soothing foot ritual and relaxing body massage delivered by experienced therapists in an open bamboo pavilions with serene views on the rice fields complete with outdoor spa bath.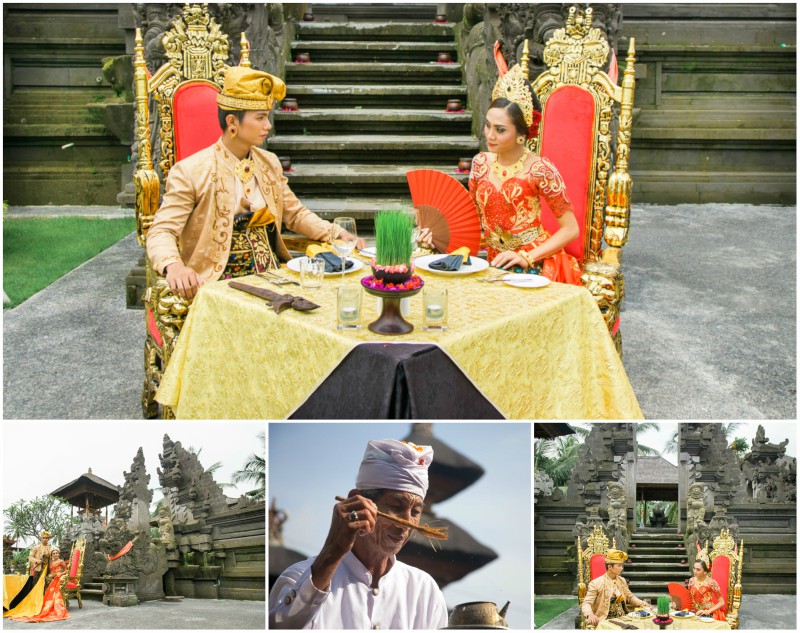 #5 ROYAL ROMANTIC DINNER AT THE TEMPLE
No romantic celebration is complete without sharing a special romantic dinner and the Royal Dinner at the Temple experience at Desa Visesa Ubud guarantees to be one romantic dinner neither of you will ever forget.
Discover the magic of a real-life fairytale romance as you become the prince and princess of your very own Cinderella dream. The experience begins with you dressing up in complimentary Balinese Payas Agung, the traditional luxury clothing of Bali often worn by royalty for wedding ceremony and special occasions. Traditional Balinese wedding costumes are elaborate and honour the golden splendor of Balinese royalty. At Royal Tulip Visesa Ubud, guests can take pleasure in a dress-up session to look like a real Balinese prince or princess and their Cultural Ambassador is on hand to oversee all the fine details and take photos as a memento of this unique experience.
Serenaded by Balinese Gamelan, the royal couple are then invited to walk hand-in-hand through the Pura Desa temple before being seating at their royal dinner table. Dinner will begin with wine pairing as well as a three-course authentic Balinese menu.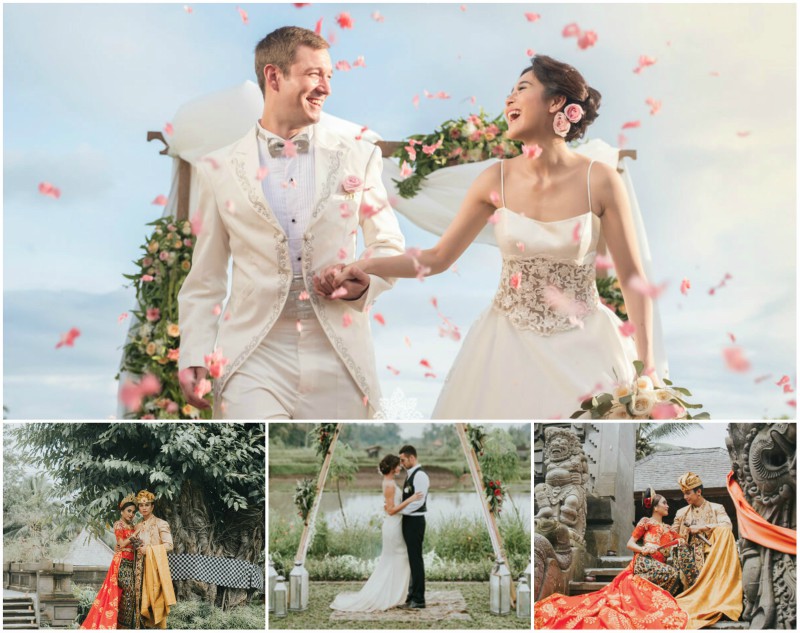 #6 BEAUTIFUL WEDDINGS & RENEWAL OF VOWS CELEBRATIONS
Bali is one of the most popular wedding destinations in the world and wedding day dreams really do come true at Desa Visesa Ubud. The resort offers couples a choice of three wedding venues and a selection of dedicated wedding packages to cater for different sized celebrations. Choose from a pastoral garden wedding with rice field views at Taman Sari, or say "I do" in an intimate ceremony overlooking the river at Puri Desa temple, or go for a more traditional setting and get married at the Ubud Royal Palace – the choice is yours.
Wedding packages and services available include:
Marriage priest or celebrant

Wedding flowers

Live music

Drinks and canapes

Wedding photos and video

Commemorative wedding certificate

Romantic dinner for bride and groom

White doves

Balinese flower girls

Sunrise gazebo breakfast

Complimentary spa treatments

& Much more….