Runaway Weddings | 9 Destinations to Elope
Eloping is often thought of as taking the easy way out.
Or a runaway wedding for couples getting married when their family or friends might not agree with it.
But eloping doesn't have to carry these negative connotations. Take them away, and you're left with a spontaneous wedding; marrying the one you love in an intimate ceremony for just the two of you…. (or perhaps a very refined selection of guests).
What could be more romantic?
Get married without the stress
Eloping takes out the stress of traditional weddings, adds in a dash more fun and excitement, and usually comes at a slice of the price – especially if it's just the two of you.
This way, all you'll have to think about is where you want to get married… All those niggling worries of place name decorations, thank-you gifts, cake toppers and chair covers all of a sudden float away from your consciousness.
And if you decide to keep your special day as a celebration just for the two of you - but you're feeling guilty about not handing out the invites - you can always live stream your ceremony so your nearest and dearest can watch from the comfort of their own home…and still feel like a part of your big day.
How to choose the perfect place to elope
If you're reading this and thinking eloping may be right for you, but you're not sure Vegas is quite the experience you're looking for, here are 9 destinations you might like to consider: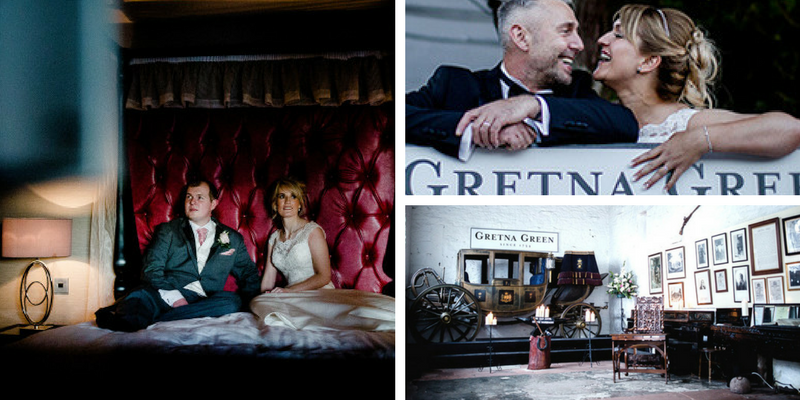 #1 Gretna Green, Scotland
For the full elopement experience, Gretna Green in Scotland is the classic option. Located just over the Scottish border, Gretna Green is world-famous for attracting young runaway couples (getting married without parental consent) since 1745. And today, Gretna Green still hosts more than 1500 weddings and 200 renewal of vows ceremonies every year. Get married in the infamous blacksmith's shop where your union will be sealed with the original blacksmith's anvil, before spending your wedding night in one of Gretna Green's wonderful hotels dedicated to newlyweds..


#2 Bali, Indonesia
For peace, serenity and the much-welcomed sunshine, over 300 couples choose to elope to Bali each year. Walk bare-footed down the aisle on the beach with your hair blowing gracefully in the wind and looking out to sea with your partner. Then spend the rest of the time lazily lying on the beach or delving into Indonesia's blissful culture. Alternatively, you can host your ceremony in a beautiful tropical garden, wedding chapel or Balinese temple – with many hotels offering all-inclusive wedding packages tailored to your wishes.


#3 Mozambique
Mozambique offers a truly unique experience for couples seeking a remote island wedding in the Indian Ocean. Choose an intimate ceremony held on one of the island's endless sandy beaches and you'll feel as though you (and your wedding party) are the only people alive on the planet. And surrounded by Mozambique's untouched turquoise waters and wildlife – you'll be stunned at just how unimaginably beautiful our planet really is.


#4 Florence, Italy
Culture vultures will love the historic architecture of Florence as a backdrop to their special day. If you love Italy, but you don't want to be obvious and go for Venice, then Florence is a magical city to get married in. Soak up the romantic atmosphere and tie the knot in one of the city's wealth of churches, which is great if you want a church wedding. It's also easy for foreigners to obtain a marriage license here.


#5 Dominican Republic
No list of places to elope would be complete without including the Caribbean. And one of the Caribbean's most popular island nations for weddings and romance is undoubtedly the Dominican Republic. Combining the tropical with its strong European influence, offering activity and total relaxation, and with everything from all-inclusive resorts to hidden boutique hotels – the Dominican Republic has a wedding experience for everyone.


#6 Koh Samui, Thailand
If you're dreaming of a picture-perfect beach wedding complete with sizzling sunsets and tropical flowers… Koh Samui needs your attention. This favourite wedding destination for couples getting married in Thailand is a lovers' paradise where you can choose from either western, traditional Thai or Buddhist ceremonies. And with a great selection of luxury and boutique hotels on Koh Samui all offering beautiful wedding experiences – you'll be spoilt for choice.


#7 South Africa
Few destinations in the world offer quite the diversity of experiences as South Africa. Which is why South Africa is a terrific destination for a small intimate wedding that uniquely matches your tastes as a couple. Adventurous couples can say 'I do' on safari, wine lovers can tie the knot in a vineyard, and its cosmopolitan cities and spectacular land-&-sea-scapes provide a breath-taking backdrop for your wedding album.


#8 Costa Rica
Want to get married on a volcano? In Costa Rica, you can - or in a cloud forest, jungle, tropical garden, waterfall, mangrove or beach. In fact, getting married in Costa Rica is so simple for foreign nationals, deciding on your perfect wedding venue will likely be the trickiest part.


#9 London, UK
Eloping doesn't always equate to getting married on a beach in a far-flung destination. And we think arranging a secret wedding in your favourite part of London is an impossibly romantic way to get married. And whilst you may have to do the legal bit first – a celebrant led blessing gives you a much wider range of options when it comes to planning an unforgettable and unique ceremony in the capital. Explore everything from a hipster wedding in Shoreditch, quirky theatre venues, outdoor celebrations in one of London's parks, to a rooftop setting where you can say 'I do' overlooking the London skyline.
But wherever you decide to elope, do it for the both of you - whether that's whilst dressed as Elvis, or lying on a beach in the middle of Indonesia - it is sure to make your wedding a day neither of you will ever forget!