The Most Romantic Destinations in Croatia | Opatija, Lovran, Losinj & Korcula
Spectacular sunsets in Croatia are as regular as the little islands that dot the Adriatic Sea along this country's rugged and dramatic coastline.
And these historic lands, sandwiched between the Balklans and Central Europe, make a dream destination for romance. Because plenty has changed here since Croatia's independence 30 years ago, and the country continues to re-invent itself, with countless hotels being renovated and modernised for luxury in recent years (in enthusiastic response to the surge of tourists who now head to Croatia every year).
But don't worry, high levels of tourism (and plenty more coats of fresh paint) haven't managed to spoil the timeless historic charms of this small yet expansive land! Take the medieval towns of Dubrovnik and Split, for example, which both proudly boast Unesco world heritage status. Or there's the country's famed and super-long stretch of coastline, making an ideal setting for romantic sailing trips as well as water sports including diving and windsurfing among many others.
Of course, Croatia's biggest and brightest attraction is likely its gorgeous azure seas which can be easily reached from stylish hotels nearby. Dreamlike views are only increased by the presence of the Dinaric Range, which stretches all the way from Italy to Albania, and hugs much of the coast. And romantic trip to Croatia could very easily be paired with a trip via boat to Italy, or by a drive across the border to Slovenia.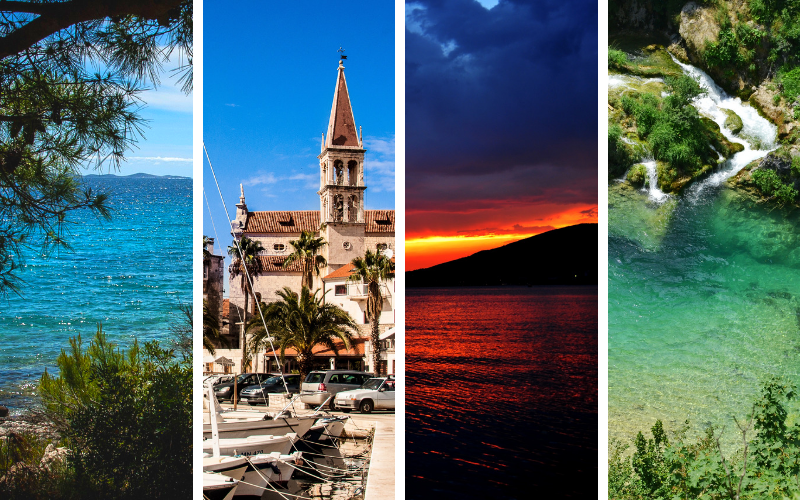 Recommended Romantic Destinations in Croatia
#1 Opatija
The magical promenade of The Lungomare offers peerless views of the town of Opatija, along with a slew of nearby islands. Once a highly trendy resort of the 19th century, the remnants of that era can be seen through the Habsburg villas. Just one more reason a visit to this fabulous western Croatia location, which would make for a classy and unforgettable romantic escape or wedding destination for any type of couple.
Romantic things to see and do in Opatija
• Sample fresh seafood at a local grill house, before taking a sunset stroll along the promenade
• Pay a visit to, or stay at, the Adriatic Coast's first hotel
• Enjoy a laidback day on the beach between the old port and the old-world marina
• See the majestic two fountains of Helios and Selena
Where should we stay in Opatija?
Remisens Premium Heritage Hotel Imperial
Being situated a few steps from the town's main beach of Slatina, Remisens Premium Heritage Hotel can be a wonderful base for a chilled haven for lovers. Amid the calm and seclusion are enough photo-friendly attractions to be enjoyed at your own pace, such as the church and park of St. James. Join a themed walking tour of Opatija town, and the nearby parks which feature a dizzying introduction to the unique scents offered by the Mediterranean fauna and flora.
The Hotel Imperial boasts one of the most amazing wedding venues in Croatia. The elegant ballroom of The Golden Hall features crystal chandeliers, richly decorated walls and grand old windows which can host a reception for up to 200 guests. Find out more about Remisens Premium Heritage Hotel Imperial.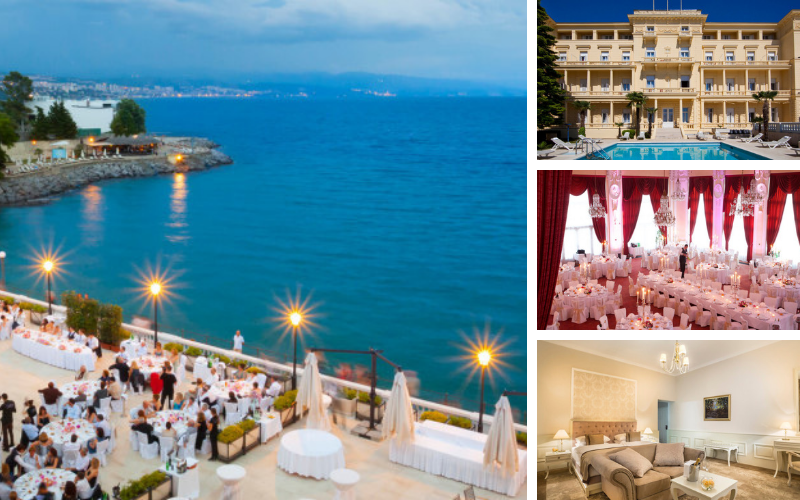 Remisens Premium Hotel Kvarner
As the first hotel to be built along the Adriatic Coast, tracing its roots back to 1884, Remisens Premium Hotel Kvarner Opatija is a very historic property which enjoyed a full renovation five years ago. The Crystal Hall is a splendid architectural delight – the ballroom being an ideal space for weddings of up to 400. This grandiose room can be designed for you and your future spouse's every whim on your Big Day, while your guests can indulge in a private beach overlooking Kvarner Bay. Or, you can unwind at the hotel's luxury Spa. Discover more about the highly recommended wedding destination of Hotel Kvarner. Find out more about Remisens Premium Hotel Kvarner.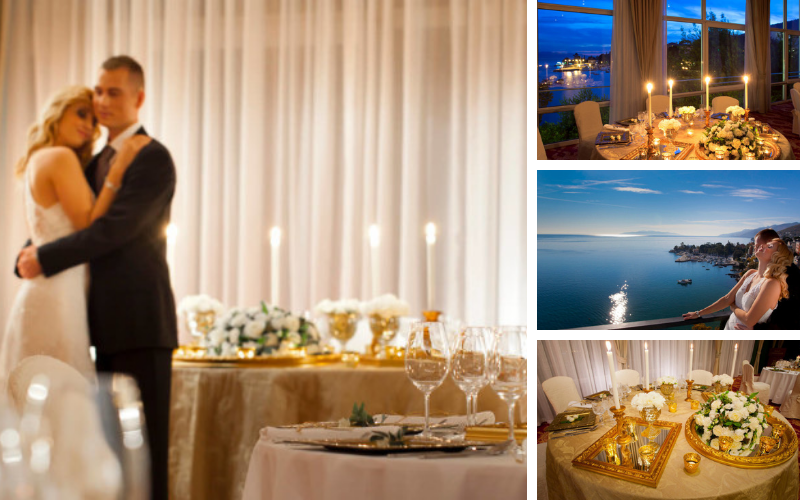 Remisens Premium Ambasador
The Remisens Premium Hotel Ambasador is another option for a spectacular wedding, with a choice of locations to while away another baking hot and sunny afternoon in Croatia. The stunning hotel's restaurant, the garden area and terrace by the outdoor pool can all host a summer wedding ceremony. Visitors will adore the garden restaurant of Hortenzija - complete with a wide choice of homemade pastas and seafood dishes made up from the latest catches at Kvarner Bay. Find out more about Remisens Premium Ambasador.
#2 Lošinj
Suitated in the northern Adriatic Sea, Lošinj is an island with a bit of something for everyone. From the stunning pebbled bays with colourful Venetian fishing villages, to the Museum of Apoxyomenos with its bronze statue that's more than two thousand years old. Rich vegetation surrounds the island's main town of Mali Lošinj, which is home to even more for lovers of culture. This small and charming town is home to the main branch of the Museum of Lošinj, with its heady mix of Italian baroque and modern Croatian paintings.
Romantic things to see and do in Lošinj
• Fly over the island, enjoying panoramic views of the forested isle
• Rent a boat and take in the quaint views of the harbours and secluded beaches
• Unwind with sunset drinks at Borik Mediterranean Bar and restaurant
• Visit the viewing point at Providenca, at Mali Losinj's peak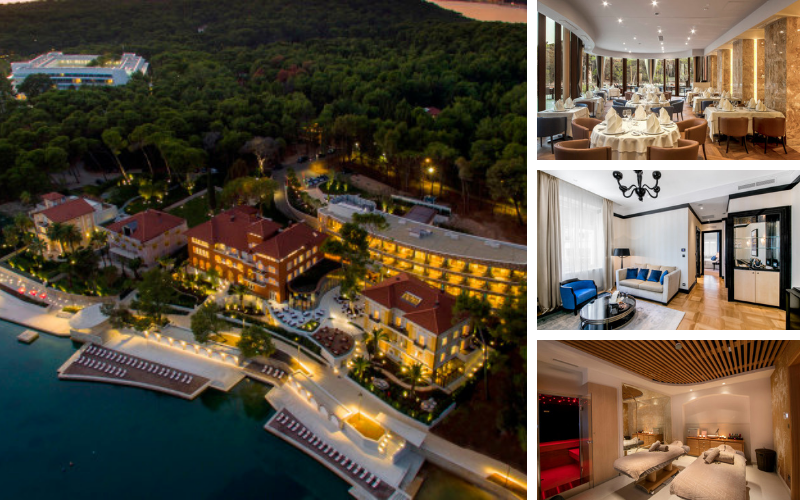 Where should we stay in Losinj?
Alhambra Boutique Hotel
If Lošinj is one of Croatia's most hidden gems, then the Alambra Boutique is an even rarer pearl. Hidden in the beautiful Cikat Bay - with stunning views of the unspoiled sea and boats gently swaying in the breeze - you and your lover will be in paradise after sampling the resort's private beach, where you might even catch sight of a dolphin. The charming and secluded beach, only 10 meters from the hotel, is fully stocked with sun loungers, parasols and beach towels. This getaway location would make for an ideal honeymoon trip. Find out more about the Alhambra Boutique Hotel.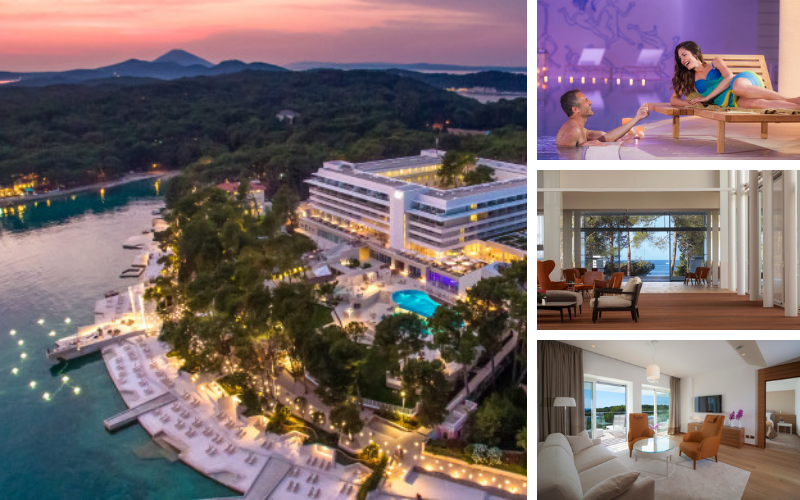 Hotel Bellevue
At the close of the 19th-century, Čikat Bay was seen as a place of healing due to its specific microclimate, something which made it particularly popular among the Viennese aristocracy. Today luxury and pampering is still very much alive at the spotless Hotel Bellevue. The modern, spacious and yet carefully decorated building, with its breathtaking architecture, would offer the ideal setting for an intimate or medium sized wedding. Guests can soak up traditional Ayurveda Spa treatments, along with various massages with the finest premium cosmetics and aromatic oils. Find out more about the wedding packages offered at Hotel Bellevue. Find out more about Hotel Bellevue.
#3 Lovran
Lovran is a quaint town situated on the jagged eastern slopes of the Ucka Mountain. Lovran is one of the oldest coastal settlements on the eastern shore of Istrian peninsula. It is situated on the western coast of the Kvarner Bay, and has a population of a smidge over 4,000 natives. Couples really can get away from it all and focus on each other here, in a place that's just a short distance from the town of Opatija in western Croatia.
Romantic things to see and do in Lovran
• Take in Lovran's medieval Old Town, with churches dating back for many centuries
• Take a drive to Ucka Nature Park
• Enjoy a lazy day on the lovely Medveja Beach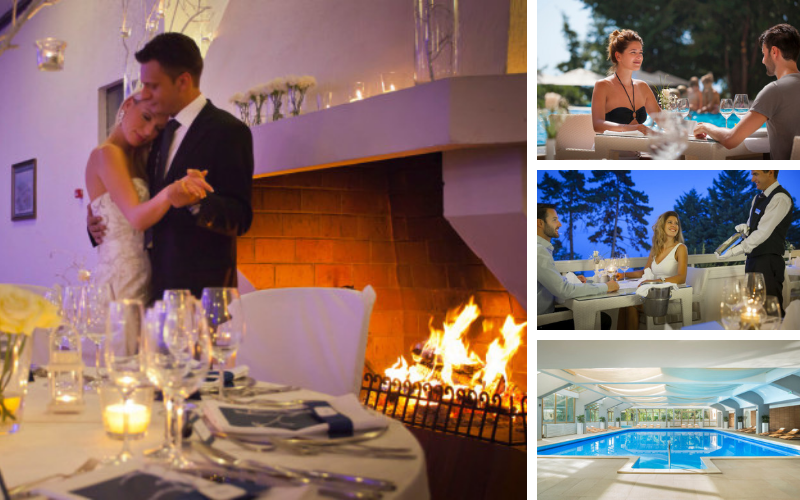 Where should we stay in Lovran?
Remisens Hotel Excelsior
Remisens Hotel Excelsior Lovran offers a relaxing beach on Croatia's Opatija Riviera. Hotel guests can enjoy the sea and sun with a complimentary deckchair and umbrella to use at the beach. The hotel's also handily surrounded by a tree-filled park in the Destination Opatija. What's more, the backdrop of the Adriatic Sea and the town's elegant surroundings make for an ideal wedding ceremony setting. Read more about the many charms of Remisense Hotel Excelsior. Find out more about the Remisens Hotel Excelsior
#4 Korčula
Korčula is the second most populous Adriatic island after Krk, and is the most populous Croatian island that's not connected to the mainland by a bridge. The population's nearly all made up from Croats, and this beautiful island really oozes romance. Surrounded by stunning scenery, visitors find themselves conveniently located between Dubrovnik and Split. While not as bustling as Dubrovnik, it retains a very authentic charm instead.
Romantic things to see and do in Korčula
• Walk hand-in-had along the secluded beach at Bacva Bay
• Indulge in a massage at the tranquil Lesic Dimitri Spa
• Climb the Massimo cocktail tower and watch the sunset with your special one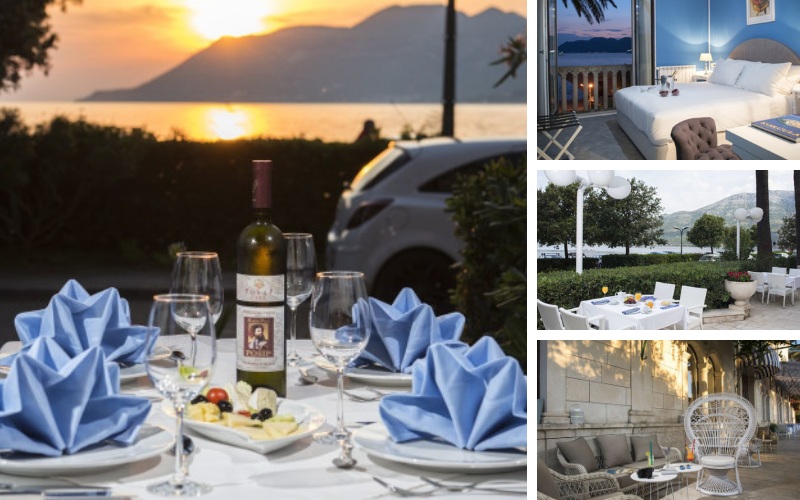 Where should we stay in Korčula?
Hotel Korčula de la Ville
The island of Korčula makes for a truly unique base for exploring the very best of Mediterranean nature, along with succulent fresh Dalmatian cuisine and chilled wines. The view from the waterside terrace of Korčula de la Ville, simply has to be seen to be believed. Find out more about the Hotel Korčula de la Ville.