The Ultimate Jamaica Wedding Package | Oceancliff Hotel Negril
Your wedding is one of the most important milestone events of your lifetime, and tropical destination weddings are a particularly coveted choice.
If you're looking for a destination wedding with sea views and seductive sunsets... then this just may be the Caribbean wedding package you've been dreaming of!
Why You'll Love Weddings in Jamaica
Arguably the most famous of the Caribbean islands, Jamaica is a vibrant destination decorated with palm trees, sandy beaches and the bright colours of nature.

Crystal clear waters stretch as far as the eye can see to meet expansive blue sky horizons.
And its laid-back Caribbean charm sizzles against it's effervescent passion for life.
But there are two key elements to ensuring a destination can meet the unique responsibility of hosting a magical destination wedding:
Choosing the right destination as the perfect backdrop to your commitment together
Choosing the right venue offering the best wedding package and experience for your celebration
And for weddings in Jamaica we highly recommend the gorgeous Oceancliff Hotel in Negril.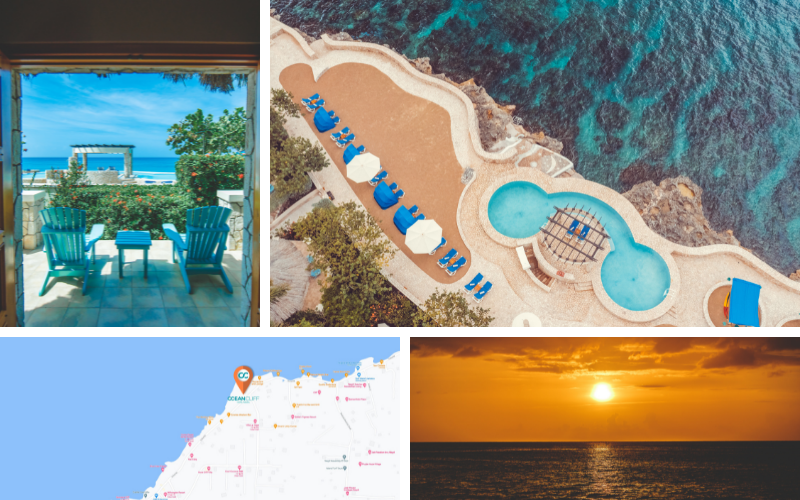 A little piece of tranquil bliss in the middle of the Caribbean Sea, this brand new adults-only hotel provides a private island feel on the western coast of Jamaica.
In fact, Oceancliff was built for, and is continually inspired by, ROMANCE.
This adult-only hotel boasts easy access to the open water via the Cliffside ladder leading directly to the warm Jamaican sea.

And it hosts unforgettable weddings!
Making this the ideal backdrop to your romantic story, from the day you are married to the day you renew your vows and beyond.
How to get Married in Jamaica
Destination weddings require different planning to domestic weddings.
Not only does the celebration span across more than the wedding day itself, there's also a few things you need to get in order ahead of your arrival in Jamaica to make sure your wedding goes without a hitch.
To get married in Jamaica you need to give the Registrar General's Office certain documents for each of you so they can issue a Marriage License.
These documents are:
Certified copy of your Birth Certificate
Valid photographic identification
Divorce Certificate or Death Certificate if applicable
Change of name documents if applicable
You'll also need to complete the relevant forms to apply for the license and pay a stamp duty fee of J$4,000. The license is valid for 90 days from issue and your wedding ceremony can be performed any day of the week between 6:00am and 8:00pm (perfect for that dream sunrise or sunset wedding!).
Wedding Licenses can take some time to arrange, especially if there are delays so it's important to get the license organised in good time. You'll also need to be on the island for at least 24 hours before the ceremony starts, and once you've sealed the deal, you'll need to get a Marriage Certificate to legalise the wedding.
Oceancliff's wedding packages can take care of all these necessary processes on your behalf, so if you'd like more information just have a chat with their expert team.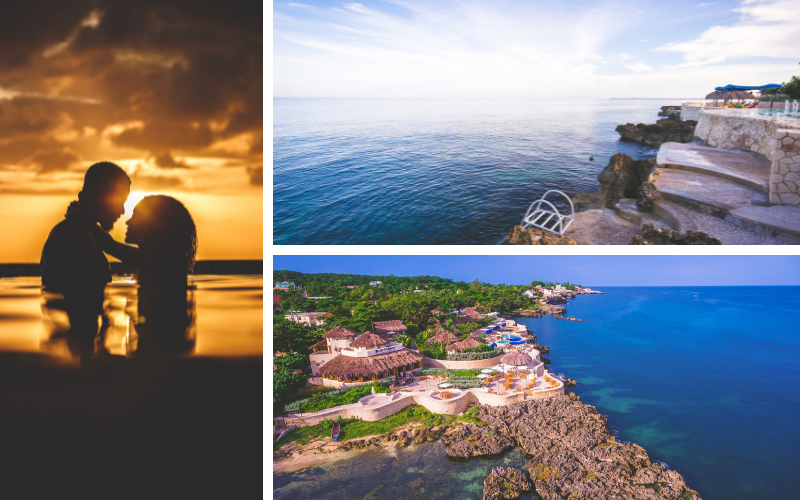 Beyond all the formalities, planning any wedding takes a while to perfect the details, so it's a good idea to be in touch with your dedicated wedding planner in good time for them to make sure even the tiniest details of your wedding are exactly to your specification.
There are also a fantastic range of romantic experiences at Oceancliff (more on those later!!) that you'll want to take of advantage of during your stay, so it might be wise to ensure they are chosen and booked well in advance of your arrival. This is especially true of the open-air Cliffside spa as its also open to guests not staying at the hotel, so treatment slots could fill up fast!
Arriving at the Resort (before your big day)
While the expert wedding planners take care of the particulars of your special day, why not spend a week (or even two) getting to know the resort and all the spectacular sights the island has to offer.
The hand built stone cottages are a perfect romantic hideaway to connect with each other and intimately affirm your love to one other before declaring it in front of your loved ones.
There's a choice of three cottage views, each with its own tropical charm. The ground level Garden Cottages overlook boundless tropical greenery, while the elevated Rooftop Cottages provide a vista that can be enjoyed all day long from their cool, covered balconies. The open air balconies of the Seaside Cottages offer panoramic views of the sea.
Each spacious cottage provides a glorious, airy ambience and tantalisingly cool breeze, with the air conditioned interior decor and wooden accents matching the tropical green hues of the native Jamaican plant life. With bath robes, a king sized bed and mini bar included in your accommodation, it's the perfect luxurious start your wedding experience. Not to mention the possibility of a tasty breakfast for you both to enjoy while lounging together the morning after the night before!
Meet your dedicated Romance Concierge
Oceancliff provide a truly unique service; your very own Romance Concierge!
Your dedicated romance assistant will not only do all you ask to make your stay as romantic as possible, they have an active approach in recommending romance builders, complimentary upgrades and enchanting surprises... you might not have thought of.
Any wish you have is their genuine pleasure to fulfil.
And there's plenty to do to keep you occupied in anticipation of your big day, both inside and outside your opulent king sized bed!
Your Romance Concierge can custom build your pre-ceremony stay for maximum romantic memories.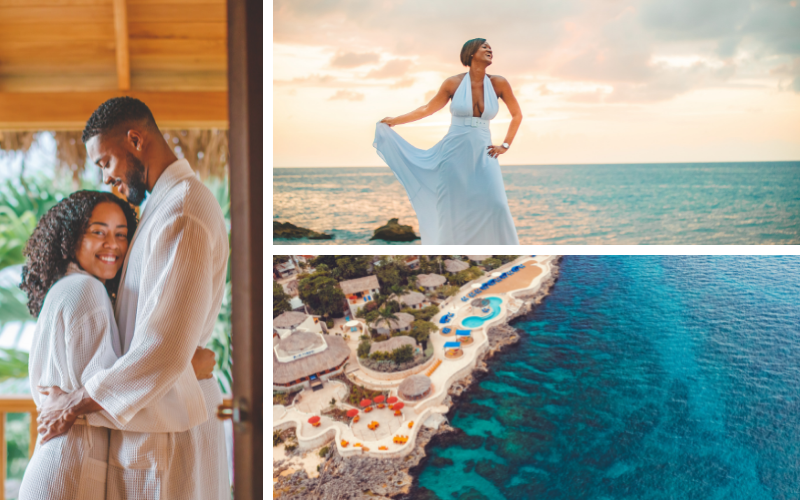 Explore the wonders of Jamaica and visit some of their world class sandy beaches, or go on a magical adventure at the wondrous Mayfield Falls.
Time is also very well spent inside the hotel itself.
Spend the afternoon luxuriating in the incredible sea-fed pool or sampling the exquisite Caribbean cuisine at Blue Mahoe Restaurant and Bar, before being indulgently pampered ocean-side at the extraordinary open concept Cliffside spa. A relaxing yoga session can also help to calm any pre-wedding nerves, whether it's meditative breath work, a restorative flow or just a simple satisfying stretch!
In the lead up to your wedding day, look and feel better than ever before with the array of divine spa offerings available. Pamper yourself as part of your pre-marital ritual with a manicure and pedicure, reflexology massage, body wrap or facial and feel your best self on your special day. Top all this off with a luxurious night-time massage overlooking the calm indigo sea. Do this the night before your big day to fully embody the relaxed Caribbean vibe.
Your Wedding Day in Jamaica - Choosing your perfect wedding package
After all that sumptuous rejuvenation, allow the specialist wedding planning team to take care of executing your day to perfection while you soak up every enchanting moment. No matter the query, request or reassurance, the team is at your complete disposal to make your wedding dreams come true.
Oceancliff also offer a fantastic variety of wedding packages to suit all tastes and budgets, but one thing's absolutely certain: each package has the unmistakeable Jamaican magic of a Caribbean destination wedding.
There's a choice of four locations to suit your particular tropical wedding dream:
Exchange vows at the Blue Mahoe Restaurant's outdoor dining deck,
Or at their secluded sunset bar.
If that's not your thing, you can declare your love under the Ocean Spa gazebo, while guests observe from the pavilion
Or, even become man and wife poolside, surrounded by incredible sea views.
One thing's for sure - no matter where in the hotel you choose to say your vows, the wedding photos will be phenomenal!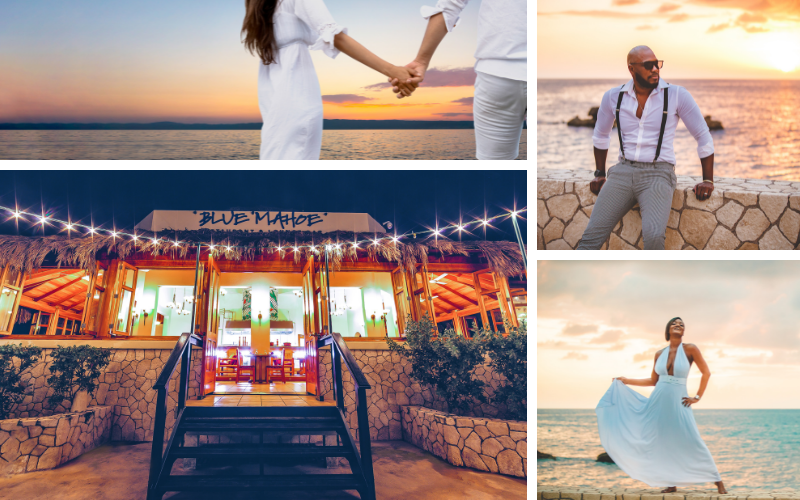 You can invite up to 100 guests to share in your special day, but Oceancliff also host much more intimate weddings.
Have an Intimate Wedding in Jamaica - up to 15 guests
For smaller gatherings of up to 15 guests, the Ocean Package could be perfect for you.
For $1500 USD, you can say 'I do' at any of the above locations, with a host of included extras. The package takes care of formalities such as an included Marriage Officer and Marriage License, alongside a bridal bouquet and a boutonniere for the groom, a single tier 8 inch wedding cake is also included, as is a bottle of fizz for good measure. You can also make use of their PA system and of course the excellent onsite wedding planners. Ocean Cliff are dedicated to making your day special so don't be shy when honing the fine details with your professional romance team!
Or Hire the Whole Property
For an all-out, truly private, once in a lifetime wedding experience, the Sunset Package provides everything you need. Alongside any one of the Ocean, Cliff or Pavilion packages, and a complimentary night for the bride and groom, you can rent the entire property out for at least 2 nights (and longer if you wish!) for the ultimate private celebration of your love. With rates starting at $20,000, this exclusive package is worth the splurge for a supreme seafront wedding that will be hard to match.
Your Wedding Night in Jamaica
While you can choose from any of the hotel's enchanting cottages for your wedding night, the Romance Suite is designed for this celebration.
Its larger size doesn't detract from the intimate privacy of its secluded location; instead providing unmatched tropical grandeur and panoramic ocean views that are truly breath-taking.
The onsite Wedding and Romance Specialists are there to ensure your day is exactly what you desire. They are perfectly placed to not only grant your every wish, but can also help enhance your wedding with those Caribbean touches to create a tropical wedding full of authentic Jamaican magic.
Not only can the team help make your wedding the most memorable experience of your life, they are poised to help extend that magic with the romance packed honeymoon package.
Continue your Honeymoon at Oceancliff Hotel Negril
Once you have said your vows, continue to soak in the romantic seclusion of the Bridal Suite and extend your celebration by choosing to honeymoon at Oceancliff.
There are countless romantic, indulgent and intimate things to do both on the island, but also within the hotel itself.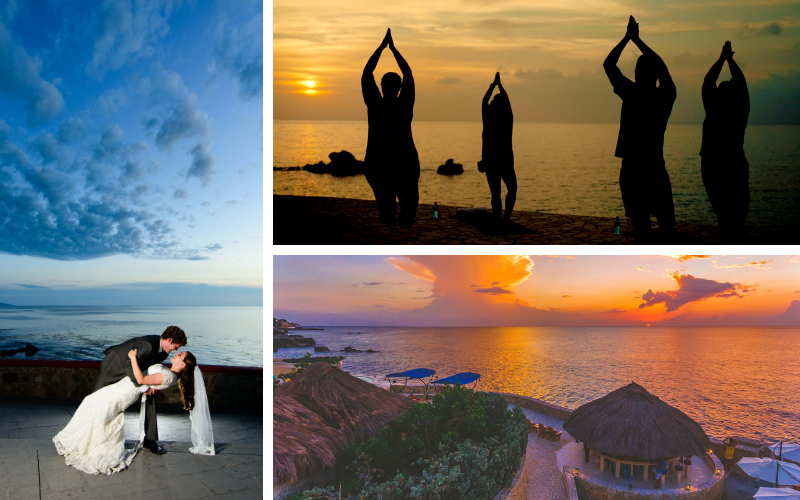 The beauty of the location oozes romance and luxury, but this can be further enhanced with the Honeymoon Package Cliffside. For $500 USD your dedicated Romance Concierge will help create honeymoon heaven with a one hour couples massage, a private candlelit dinner at a secluded location of your choosing, and of course, a sumptuous breakfast in bed.
A few of our favourite honeymoon experiences include:
A post wedding spa day
An incredible snorkelling experience. Catch a glimpse of the exceptional ocean wildlife, or simply take a cooling dip together in the cooling crystal waters.
For foodie lovers, the Beyond the Menu experience is a must-book. Learn the secrets of the colourful Caribbean cuisine while sipping fine wine together with a 3 course cooking class at the Blue Mahoe Restaurant. This fantastic experience is a memory (and a skill!) that can last for anniversary celebrations and family traditions yet to come.
Fun, casual evenings can be spent enjoying the sunset happy hour at the bar of Blue Mahoe Restaurant.
Top all this off with an awe inspiring midnight swim at Trelawney's indescribable Luminous Lagoon – we promise it will be an experience you'll never forget.
Come back for your 1st Anniversary (or any other!)
Oceancliff Boutique Hotel & Spa caters for a lifelong celebration of your love, romance and commitment.
It's the perfect place to revisit the beginnings of your marriage, whether that's 1, 5 or 50 years after the big day.
Why not bring back those wedding day memories by taking advantage of the Anniversary Package to reinvigorate that freshly married sparkle and spice. With 1 night accommodation included, the $1000 USD package provides a tropical floral arrangement, a bottle of sparkling wine and selected spa treatments for you both to relax and reminisce. You'll even find a Welcome Gift courtesy of the hotel to embrace your return to the island. There's plenty of romantic extras you can add to your celebration, such as an intimate candlelight Cliffside dinner.
You can even go one step further and renew your vows in the very spot you first declared them. Take advantage of the onsite romance and event planners to make things effortless and easy. Recreate that wedding day feeling with a vanilla or chocolate cake, a bouquet and boutonniere for the happy couple and a breakfast in bed, all for $1000 USD with 1 night accommodation included. Both the Anniversary and Vow Renewal Packages can be purchased with additional nights starting at $128 USD, so your celebration can last as long as you'd like.
Why is Oceancliff the most Romantic Hotel in Jamaica?
Oceancliff is a full-service, romance-fuelled idyllic destination wedding venue, with the natural landscape providing the perfect backdrop to all celebrations of love – whether it's the day you become man and wife, a reminiscent reminder of your union a few years into marriage, or a reaffirmation of your love for each other through your renewal of vows.
It's far more than just a wedding at Oceancliff hotel and spa, it's an unspoiled utopia that will hold host to your memories of unforgettable sentiment and emotion to be treasured forever. If you'd like more information about what your special day could look like at this incredible hotel, please get in touch with their expert team.
If you're looking for a Caribbean destination wedding then you need look no further than the offerings of Oceancliff hotel and spa. It truly is the ideal place to celebrate your love together. With packages to suit every budget and a dedicated Romance Concierge, it's the perfect location to begin married life, and also to return for all of your romantic celebrations together.