U Hotels & Resorts – Which will you choose?
Whether you're looking for the wedding or honeymoon destination of your dreams, a place to enjoy a babymoon or a simple romantic getaway, U Hotels have a beautiful selection of resorts in South-East Asia.
With something for everyone, and for every romantic occasion, the question is, which one will you choose?
U Zenmaya Phuket Resort
Perfect for your babymoon or honeymoon...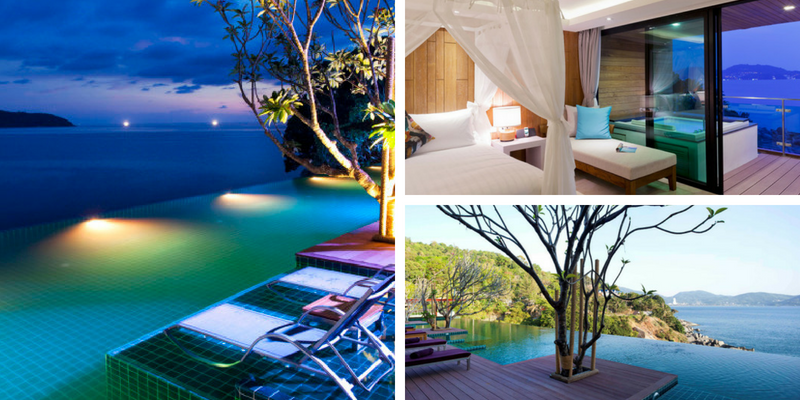 Perfect for a romantic getaway, babymoon or honeymoon, this idyllic boutique hotel hidden on the shores of Kalim beach provides everything you need to ignite passion in Phuket. The accommodation is the epitome of escapist romance, with 50 stunning suites to choose from. Luxurious floor to ceiling windows, with options for private Jacuzzi clad balconies or direct access to the ocean view infinity pool, U Zenmaya is sure to ignite passion. The panoramic balcony views frame the incredible sunset perfectly while you both unwind with a glass of bubbly in the balcony hot tub overlooking the majestic ocean.
Spend some quality alone time together in the resorts very own Zensala spa, then head down to Zeascape for an exquisite meal, romantically perched on the ocean's edge overlooking the Andaman sea. Follow with a cocktail at Breezes Pool Bar as you take in the breath-taking views of Patong Bay. Head up to your room and settle down together on the pillows you hand-picked earlier and end the evening with a bang. Oh, and there's no need to set an alarm – breakfast can be served in bed whenever you prise yourself from your pillow (if at all!). There are plenty of romantic activities to indulge in outside of the resort too. Why not take a private trip to Khao Rang Hill, where the breath-taking summit views are unforgettable. Book or request more details for romantic escapes and celebrations from £129 per room per night - HERE
U Inchantree Kanchanaburi
Wonderful woodland escape to renew vows or for nature lovers to escape...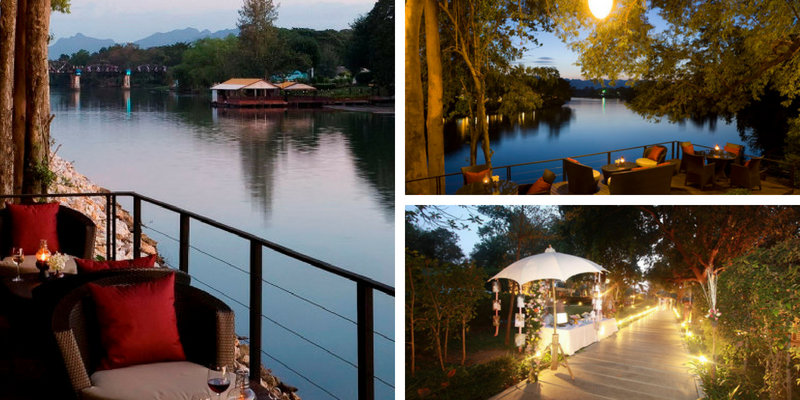 If you are a nature lover, looking for the perfect spot to marry or renew your vows, this breath-taking destination is for you. Sitting serenely on the banks of the River Kwai is the U Hotel's Thailand riverside gem. The beautiful, rustic lodge of U Inchantree is perfect if you are looking to get back to nature - and to each other. This enchanting retreat is ideal for all the right romantic reasons, as a much-needed getaway, to marry or to renew vows. The luxury suites are perfectly equipped to help you reconnect before renewing your vows on the lantern-lit banks of the river. If you are planning to surprise your loved one, you can even have your room decorated with fresh flowers, rose petals and wine by the devoted hotel staff.
There are plenty of romance-inducing endeavours both within and without the lodge. Spend the day at the Sak Yoi National Park making incredible memories surrounded by the ethereal waterfalls. Then head back to the resort and take a leisurely dip in the pool together before sitting down to a relaxing gourmet meal at the Thai Peppers restaurant. The idyllic river suspended terrace sets the perfect backdrop for reminiscing about your love and your life together. Book or request more details for romantic escapes and celebrations from £46 per room per night - HERE
U Sukhumvit Bangkok
Ideal engagement destination or wedding venue for city Lovers...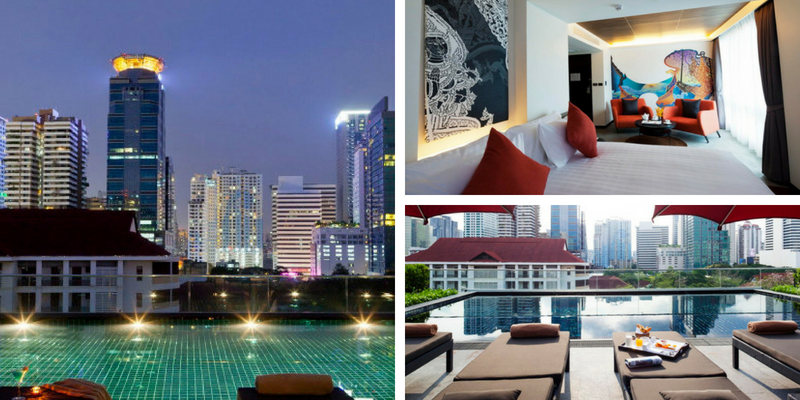 This luxury hideaway in the heart of the city is the perfect place to celebrate an anniversary, plan a proposal or to get married. If you are stylish city lovers, this romantic gem promises a luxurious haven amidst the buzz of Bangkok. Exclusivity and sophistication ooze from each of U Sukhumvit Bangkok's 100 suites which can comfortably cater for your wedding or engagement party no matter how many guests you want to invite!
The intimate indulgence of the Executive Corner rooms is the perfect intimate setting. Walk in rain showers can comfortably fit two people, and the separate living space provides captivating city views whilst you sip champagne together in your rose petal adorned room.
If you are looking to sample the city nightlife, you don't need to travel very far. Start your evening at the suave rooftop bar – a hotspot for both guests and non-guests alike. Then step out of the hotel and sample Bangkok's vast city nightlife before collapsing together at the end of the night in your plush bed. The rooftop pool provides a relaxing perspective of the bustling city below while you reminisce about the fun night before. Take a late brunch on the panoramic rooftop before sampling the relaxed evening cuisine of Thai, Pan Asian and Western dishes in the Uzzie restaurant. Book or request more details for romantic escapes and celebrations from £46 per room per night - HERE
U Pattaya
Idyllic proposal spot and beach wedding venue with something for everyone...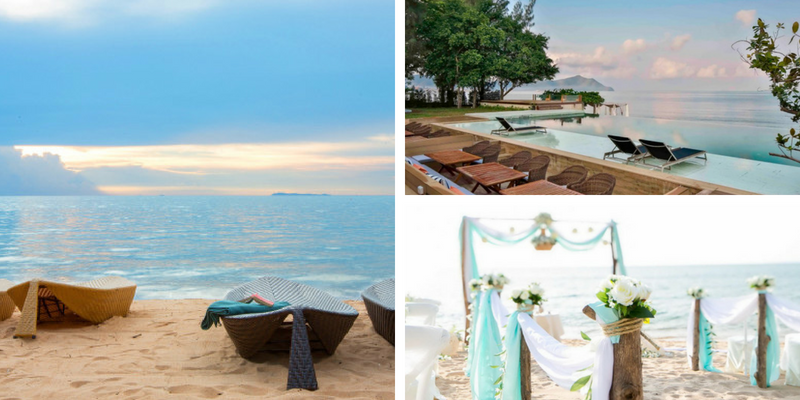 This beachfront resort is a romantic utopia of Thailand. Full of romantic features and dreamy distractions from daily life, this U Hotel is ideal for any romantic occasion. There are room options to suit all guests, with views ranging from the beautiful gardens to the azure sea. By far the most romantic and bedazzling option is a stay in one of the resorts luxurious beachfront villas. Complete with iridescent pools and white sand on your doorstep, this destination is made for romance and for those looking for a slice of paradise.
If you need help planning a proposal then look no further. U Pattaya's proposal package provides romance by the confetti-filled-bucket-load, creating the perfect setting to hear that life-changing three letter word. Complete the experience with proposal balloons, atmospheric music and a heart-shaped beach display with candle and rose decorations. With the proposal accepted, (and once you have celebrated back in your room first of course!) experience the romance both within and without the hotel. Take a scenic bicycle ride and stop at the incredible botanical gardens – an ideal place for memory-making photos. Why not return to marry here too? Peaceful and serene, this charming embodiment of a traditional fishing village is the perfect place to say 'I Do'. Book or request more details for romantic escapes and celebrations from £115 per room per night - HERE
U Sathorn Bangkok
Perfect for a romantic getaway and traditional Thai weddings...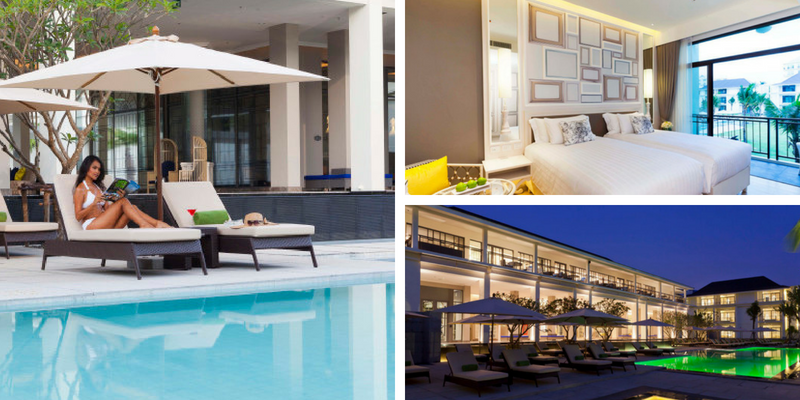 This exclusive, centrally located city hotel is the perfect place to escape if you are looking for a mix of Southeast Asian climate with French-inspired romance. Decorated in the French colonial style, this 86 roomed sanctuary of escapism oozes allure from every luxurious room. With suites boasting rainfall showers and baths big enough for two, it's impossible not to get close with your loved one in this remarkable location. Why don't you take a luxurious bath together, followed by a quiet appreciation of the garden view framed by floor to ceiling windows leading out onto the terrace?
If you are looking for a traditional Thai wedding ceremony, then U Sathorn is the hotel for you. Blessed by Thai Buddhist monks, the outdoor venue allows up to 350 people to share in your declaration of love. What better way to ignite your passion than by sampling the hotel's Michelin starred French cuisine in their main restaurant J'AIME? If you are looking for something a little more secluded why not arrange a private starlit dinner in the tropical gardens, then head to your room for an exquisite massage. When you wake, throw off your luxury robes - this time to leave your room - and take a wander around the beautiful city or explore the nearby Grand Palace. Book or request more details for romantic escapes and celebrations from £76 per room per night - HERE
U Paasha Seminyak Bali
Perfect combined Wedding and Honeymoon destination...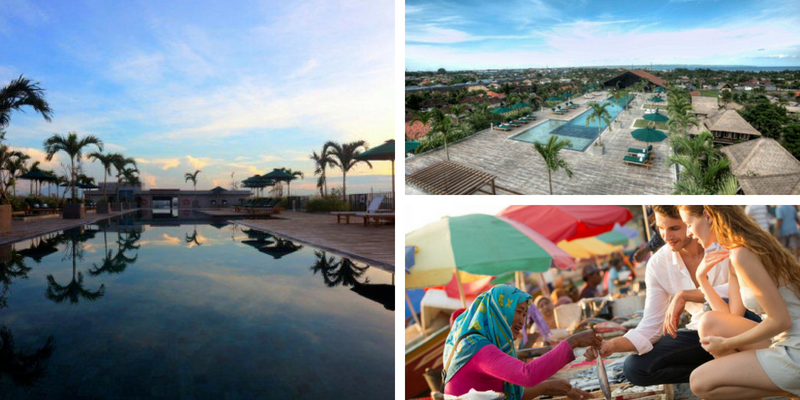 If you are looking for a stress-free, exotic wedding & honeymoon in one, U Paasha Seminyak is the ideal location. With both wedding and honeymoon packages, the expert event coordinators will take care of everything for you. From the chapel and reception even down to providing 3 hours of wedding videography, this really is the ultimate wedding planning package. The incredible honeymoon package has everything you need to enjoy a heavenly honeymoon. The white palm-fringed sands of this beach town resort is the ideal setting to begin your life together.
For your first night as a married couple, book yourself into the Penthouse. The definition of romantic luxury, the Penthouse's huge plush beds surrounded by floor to ceiling windows adorned with billowing white curtains are the blissful backdrop to your lavish honeymoon. Take a dip together in the rooftop pool, followed by tapas and cocktails at the rooftop bar, before losing yourself in the nightlife of this cultured town. Wake up in the ultimate luxury and enjoy breakfast in bed, or if you are otherwise occupied with marital bliss, perhaps a champagne brunch may be more suitable instead! Spend your hazy days luxuriating in the beautiful Bali beaches before returning home to begin married life. Book or request more details for romantic escapes and celebrations from £91 per room per night - HERE
U Khao Yai
Relaxed French country charm perfect for renewing your vows...


Only a couple of hours from the bustling city of Bangkok, this landscape rich hotel resort is the perfect spot to renew your vows. U Khao Yai is a luxurious property nestled among perfectly manicured gardens is an exquisite place to say 'I do' – again. With a variety of magical venues to choose from; not to mention the truly opulent ballroom, this all-new hotel perfectly captures the romance of a French country estate. Whether you are looking for a relaxed al-fresco ceremony or a more glamorous reception room, this U Hotel is the ideal place to contemplate and renew your vows of love for one another.
Surrounded by mountains and rolling hills, this grand resort has some of the most romantic rooms U Hotel's Thailand resorts can offer. Why not try The Suite Corner, where you can enjoy views on the balcony overlooking the calm canal. The spa within the grounds of the resort offers fantastic combination therapies, with the Serene Tao Spa garden the perfect spot for a couples massage. What better way to relax together before you head to the Lobby Lounge to sip champagne and cocktails. The gorgeous gardens make for the perfect alone time to reconnect with one another. Or if you are looking for something a little more invigorating, perhaps take a walk around the Khao Yai National Park to view their famous waterfalls and make some memories. Book or request more details for romantic escapes and celebrations from £58 per room per night - HERE
Whether you are looking to just get away from the day-to-day and reconnect with one another, or you are looking for the ideal honeymoon spot, look no further than one of these exquisite U Hotels in Thailand and South East Asia.
To receive our weekly romantic ideas, exclusive offers and recommendations sign up 

HERE