Weddings & Romance in Castile and León, Spain | Featuring Castilla Termal Hotels
Find out why a destination wedding – or another romantic adventure – at a Castilla Hotel in northern Spain could be your perfect setting for a dream getaway.
What's special about the Spanish region of Castile and León?
It's hard to believe that Castile and León has, on the whole, managed to stay free from the clutches of mass tourism. Especially when you consider that the large autonomous community, in the north-west of Spain, is loaded with eight World Heritage sites – making up more than half of the rest of the country put together.
Home to some of the world's finest Baroque architecture (in some places you'll see more statues than people), these sparsely populated heartlands of Spain make the perfect base for romantic indulgence. And if you're after a luxury spa treatment, or fine dining with fresh local produce, then you may need look no further than Castile and León. That said, nearby attractions include the romance-led city of Madrid, a mere two-hour's drive away; Portugal's close too, as are the vineyard-rich lands of La Rioja. Plus, you're just south of the Basque regions with San Sebastian, Bilbao and plenty of other treasures just a day trip away.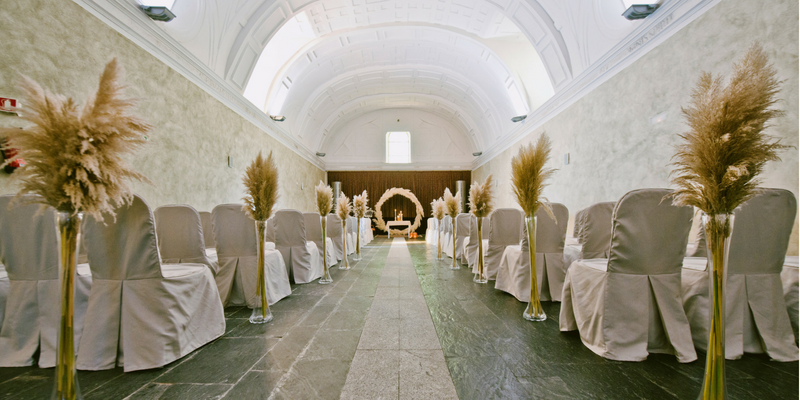 Discover Castile and León's breath-taking nature… And a mushroom-lovers' paradise
The landscape of Soria in central Castile and León has rolling hills, woodlands, lakes and vineyards – so you could combine architecture and history with hiking opportunities, along with a range of local gastronomic specialties. There are more than 700 different types of mushroom here alone; the wooded areas of the province offer the perfect conditions for growing boletus and other porcini. And there are plenty of truffles to be found too. Your guests could take part in a trip to the Pinar Grande Mycology Park and, after a spot of foraging, take in a mushroom-themed-tapas at Mercasetas – a market space devoted to local mushroom and truffle products sourced by expert local collectors. Elsewhere you could visit nearby castles, including the Castle of Berlanga de Duero, the Castle of San Esleban de Gormaz or even the vine Monastery. Or if your party are really into their nature, you could all pay a visit to the craggy rocks and pine trees of the nearby Black Lagoon.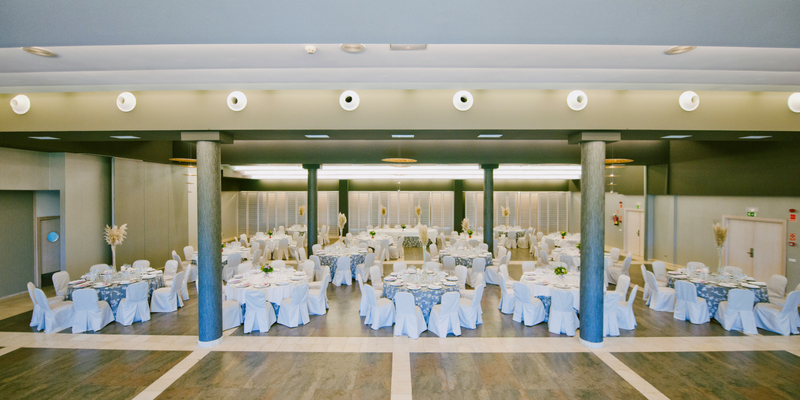 Why you'll love weddings at Castilla Termal Burgo de Osma
Using Castile and León as the centrepiece for a romantic break or destination wedding, look no further than the wonderful Castilla Termal Burgo de Osma - the ideal host for your trip or celebrations. This 4-star hotel has an intimate setting: it's located in El Burgo de Osma, a medieval and walled municipality with a population of just 5,000 or so, and as well as a grand wall, there's a stunning gothic cathedral among other historical buildings.
The resort itself is built on the relics of the former University of Santa Catalina. Built around a spectacular glass-domed roof, the hotel offers a range of suites - all of which are constructed with parts of the original stone walls. El Burgo de Osma has many other charms including an indoor thermal pool, a hot tub and Jacuzzi, a Renaissance style courtyard and a sumptuous breakfast. That's assuming you want to leave your room, which is equipped with couples' robes and a mini bar, and can have plenty of little romantic extras awaiting you, including: sexy mood lighting and welcome hamper with sparkling wine, fruit and chocolate… all promising to set the heart racing.

What's more (for couple's planning their wedding here), to facilitate your wedding guests there are separate function rooms – plus you can get personalised menus for special meals and celebrations in the resort's banqueting hall. It's fair to say that a wedding here will make you and your beloved feel like a pampered old Spanish king or queen.

Discover more about Castilla Termal Burgo de Osma, or get in touch with the property to enquire about how they can help arrange your dream romantic getaway or wedding in Spain – whether it's for a full wedding with planning services, a reception-only, a renewal of vows or something different.
3 more Castilla Termal Hotels in Castile and León highly recommended for weddings and romance…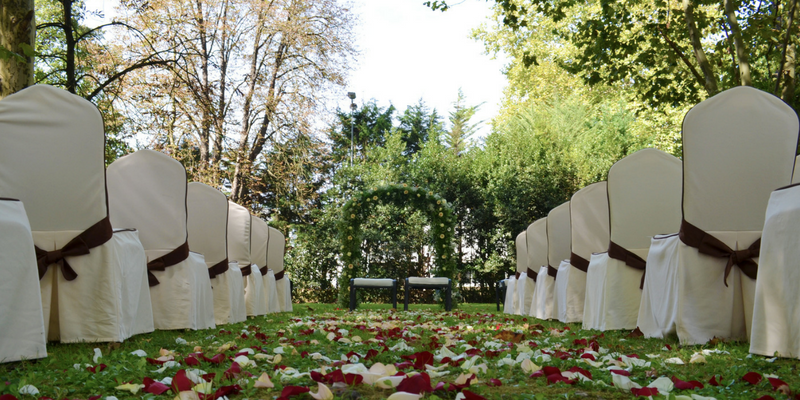 #1 Chose Castilla Termal Monasterio de Valbuena for... 5 stars, an on-site vineyard and an award-winning spa
Another high-class hotel in the Castile and León region is the Castilla Termal Monasterio de Valbuena. This 5-star property, in the province of Valladolid, is built on the grounds of a 12th Century Cistercian monastery. Among the multiple charms of this resort is their Clarins Spa, which was winner of the Best Spa in Spain award at last year's Wellness Spa Experience Awards.

Your wedding guests will want to flock to this place, not least because of its setting in the Milla de Oro (Golden Mile) of the Ribera Del Duro wine region. The hotel's grounds has its own vineyard which supplies newly-pressed wine to the hotel, promising your guests a libatious celebration. And best of all, there's an on-site church which makes for an exquisite wedding venue.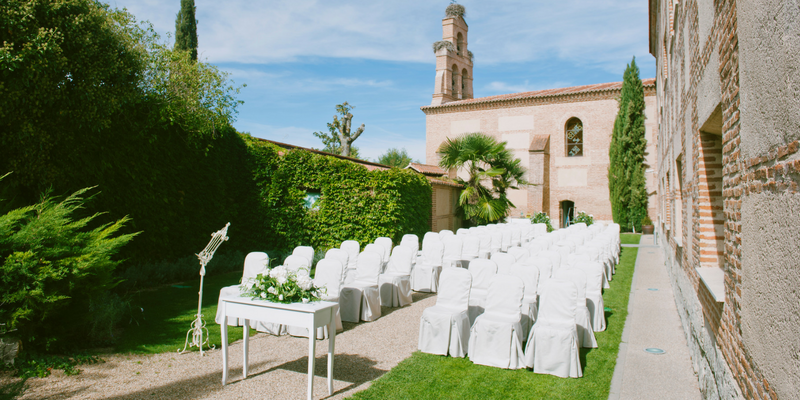 #2 Chose Castilla Termal Balneario de Olmedo to... Experience a Spanish village wedding
Built on the ruins of a historic 12th century convent, the Castilla Termal Balneario de Olmedo is a 4-star spa resort spread across three grandiose buildings. This gem of a property is found in the village of Olmedo, which is considered to be one of the capitals of Mudejar style - an architectural movement borne out of the Iberian peninsula where Moorish and European cultures once met. Wedding-friendly events would be easy to arrange from here. Golf, horse riding and hot air ballooning are all within easy reach.

#3 Chose Castilla Termal Balneario de Solares for... A magical wedding
As with much of this region of northern Spain, a visit to
Castilla Termal Balneario de Solares
in Cantabria puts you within touching distance of Spain's big tourist trails, but away from the throngs of visitors.
This resort is located within its own parkland, whose gardens would make for a dream outdoor wedding. In keeping with romantic Spanish style, many of the rooms come complete with floral and antique decoration – don't forget to ask about booking into a space with its own cute little balcony. The large spa facilities here are second to none, they're set over multiple floors and come complete with medicinal and healing water and a wide selection of different saunas and Jacuzzi are available to book.

From the 4-star hotel you could pay a visit to Santander, the famous city a port on the Bay of Biscay which is known for its curving El Sardinero Beach, and the Cabo Mayor lighthouse. Meanwhile there's the forested Cantabrian Mountains close by, and various hiking trails and ski areas of the Picos de Europa National Park. Alternatively, try an unforgettable visit to the caves of El Soplao complete with their unique sheets of calcite hanging from the roof of the natural wonders.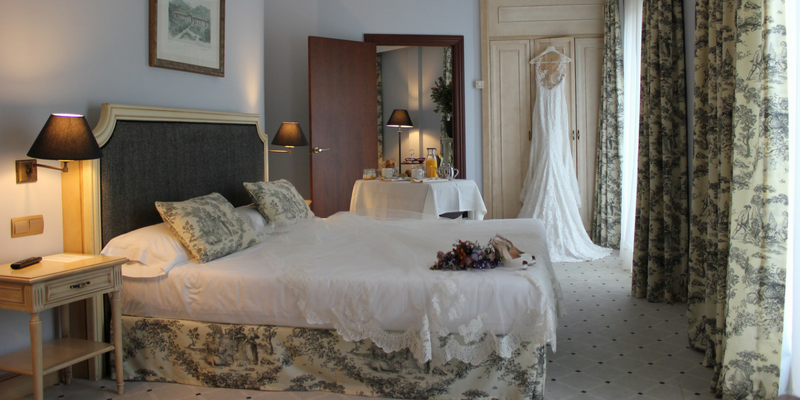 The rings are ready. What to think about next?
If you're committed to a dream wedding abroad, then you might want to think about hiring the services of a wedding planner. These professionals can take the hassle out of organising your special day, by offering expert advice on: local transportation; hair and make-up artists; caterers; florists; entertainment and the PA system; registration; guests' accommodation; and local paperwork for the ceremony.

The need for having a local expert on-hand is another reason why creating a personalised trip at The Romantic Tourist could be really beneficial to you. Our friendly team of advisers can match you up with one of our network of hoteliers, who'll be able to put you in touch with the best people to make your big day go smoothly. Before checking out the world of weddings that could be waiting for you, it could be a good idea to get clued up on some of the most frequently asked questions around weddings.

If Spain isn't for you, then there are plenty of other countries to host your wedding. So, why not start by checking out some of our best-selling wedding destination deals filtered by destination?