Romance & Weddings at Cugó Gran Macina Grand Harbour, Malta
Malta's Cugo Gran Macina Grand Harbour is a historic retreat that fires the imagination for a romantic getaway.

Just a stone's throw away from the island's capital, Valetta, and only five minutes away from the airport, this luxury destination is ideal for all couples looking for a special holiday or destination wedding venue.
Ideal Location
Situated in the historic city of Senglea in the south-east of Malta, this iconic hotel has been lovingly restored and only opened its doors in 2017. If you're looking for somewhere to spend a romantic break in Malta, look no further. This fortified building, dating back to 1554, has been totally transformed. The décor is dreamy, and the interior designers have perfectly blended the original architecture of the hotel with the surrounding ancient fortifications.
Expect beautiful tasteful contemporary design in each of the hotel's 21 spacious suites. The hotel rooms cater for all year-round visitors, so if you're planning a romantic sojourn in the winter you'll be kept warm by the efficient central heating. In the summer you'll be able to relish the air conditioning or simply open your windows wide to embrace the Mediterranean sun.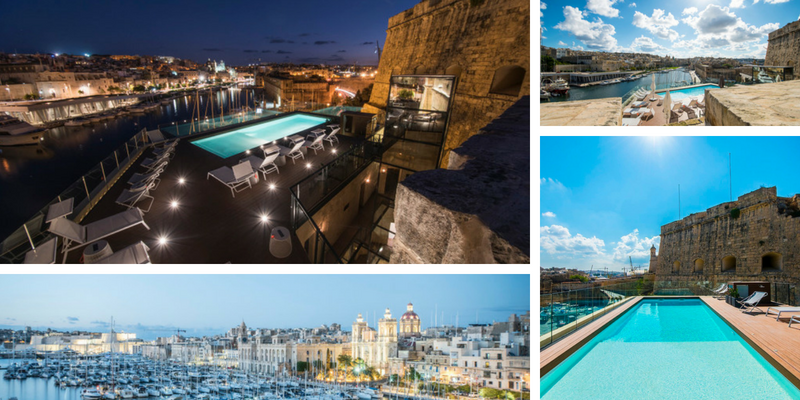 The Iconic Hotel
The Cugo Gran Macina Grand Harbour has been beautifully renovated. The suites have a very contemporary vibe to them, with immaculate furnishings and corresponding interior design, the style is minimalist but it's by no means stark. The suites measure between 40 and 140 square metres and all are furnished with bespoke Italian king size beds and en-suite showers. With cream and white walls set against a background of light coloured wooden floors, beams and furniture the whole, and effect is one of exquisite beauty.
The hotel's communal seating areas are immaculately lit, and the sofas and custom-made rugs are stunning. You'll soon discover that no expense has been spared, look out for Carrara marble in your bathrooms, local Maltese hard stone and stunning black slate incorporated into the hotel's overall design, and many other individual touches. This place is ideal for those looking to forget the cares of the outside world and just abandon themselves to love.
The Suites
All the suites offer your own balcony or terrace. Views from the suites vary, but if you book the Macina Grand Harbour Suite you'll be rewarded with a stunning view of the harbour. A free-standing bath comes with this suite as well as a shower. And you'll also be able to enjoy total privacy during your stay as the suite also boasts its own dining and living room. Alternatively, there's the luxurious Grand Loft suite, with its own sitting room and your own personal terrace – wonderful for intimate late-night drinks or cosy morning breakfasts in your bathrobes.
Romantic Extras
When looking for that distinctive touch for your loved one, simply arrange with the hotel to have the bed festooned with rose petals, gift-wrapped luxury chocolates or exotic tropical fruits to welcome you on your arrival. Romantic breaks should include wonderful presents, these will set the tone for the rest of your hotel stay. You might as well start your break as you mean to continue. This hotel oozes comfort and elegance from its pores, so why not enjoy everything it has to offer.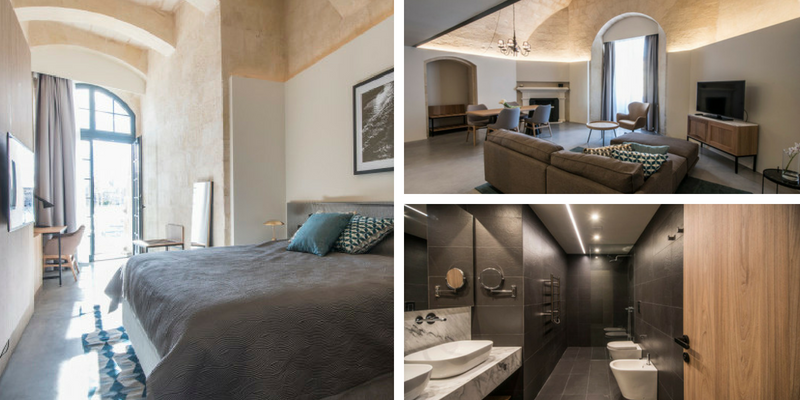 Pampering & Wellness
You can start your day with a trip to the rooftop swimming pool and admire the stunning views over Senglea and the harbour. You'll also be able to take in a Pilates or yoga class or maintain your fitness levels by using the pool for aquacise, personal trainers are available throughout the summer, so you and your loved one can relish the individual care and attention. This boutique hotel certainly knows how to pamper its guests. If you're planning a romantic break at Cugo Gran Macina Grand Harbour, indulging in a massage by your own specialist masseur in the comfort of your suite should be on your wish list.
Food Made with Love
Many civilisations have occupied Malta, and this is reflected in the national cuisine. Expect to eat dishes influenced by North Africa, Sicily and Italy. Rabbit and fish are very popular, as are traditional local deep-fried sweet pasties filled with fennel and date paste.
Hammett's restaurant on the ground floor of the Cugo Macina Grand Harbour serves a varied menu. You can always start your day with a tasty pancake stack, or even the restaurant's own version of a 'full English.' You'll be able to wash down your repast with the usual coffees, teas and juices or, as you're on holiday, why not push the boat out and share a bottle of Prosecco or a Bloody Mary. The hotel prides itself on its individuality and its luxurious ambience and this is also visible in the food and drinks you'll be able to select at Hammett's.
More traditional British cuisine is available, but that means you'd be missing out on the organic mushroom risotto, or the seabass ceviche accompanied by yoghurt and falafel. Be adventurous and celebrate your trip in style.
Out and About
Lovers adore taking intriguing walks and exploring new neighbourhoods. Even if you choose to spend your time in the city of Senglea itself, this fortified city is fascinating. Much of the architecture dates back to the time when Malta was occupied by the Knights of St John in the 16th century. Named after Claude de Sengle who built the city, look out for wonderful narrow winding streets. The Gnien il Ganjola, at the very tip of the harbour which will give you commanding views across the harbour. You'll also be able to look out over to Valletta from this vantage point.
The Senglea Maritime Festival takes place in June and it'll give you the opportunity to savour the local culture and music, you'll also be able to see a representation of the 'Macina' or crane from which the Cugo Gran Macina Harbour hotel gets its name.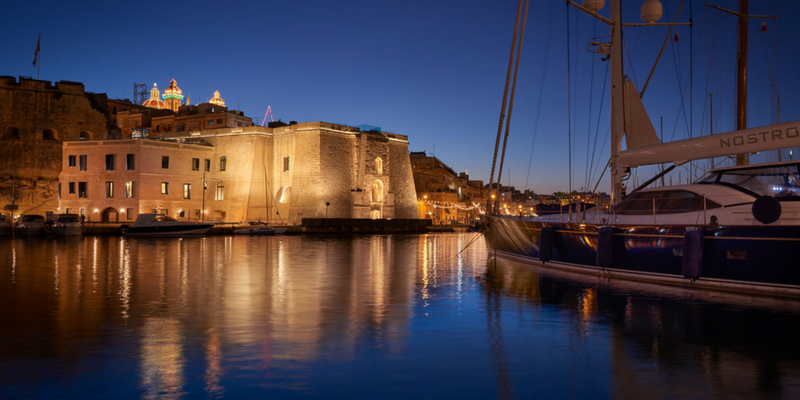 Crossing the Water
If you're feeling adventurous, then simply take the ferry across the water to Valletta. Malta's capital is architecturally beautiful and there's a lot going on here. If you're interested in the arts, there's plenty to see and do. In celebration of this fact, Valletta has been nominated as a European City of Culture for 2018.
St John's Cathedral is home of the world-famous Caravaggio painting, The Beheading of St John the Baptist. This has to be one of blingiest cathedrals ever built, the Baroque period – 17th century is famous for its ornamentation and in this cathedral the architects and designers have taken gold leaf decoration to their hearts. Just look up in awe at the splendid ceiling. The frescos are spellbinding.
Or, you could just wander around and take in some of the city's other Baroque buildings. The city is a World Heritage site and has been described as 'an open-air museum.'
Underground
Valletta has an underground necropolis or 'hypogeum,' that dates back to 3,600 BCE, this silent and wonderful space carved from the natural rock comprises passageways and underground chambers. You must book in advance if you want to visit this fascinating place.
The Grand Master's Palace is another sight that should be on your itinerary. Before you start to think that this city only celebrates the very old – there are some stunning pieces of architecture designed by the renowned Italian, Renzo Piano. The City Gate is well worth a visit as are the Opera House and Malta's new Houses of Parliament. His very modern style complements the work of Valletta's original town planners.
Food and Music
After all of that sightseeing, you'll probably want to unwind with a drink and some food. If the menu at the hotel's Hammett's restaurant has whetted your appetite for some Maltese cuisine, then Rampila is a fantastic place to sample some more local food. The building dates back to 1582, though the restaurant itself has a contemporary menu where you can try Maltese fish soup, traditional Maltese rabbit and a whole range of other delicacies. Special dietary needs aren't a problem at this restaurant, just talk to your waiter on arrival.
Music is the Food of Love
From high culture to an evening of listening and dancing to your favourite tunes. Bridge Bar has a justifiable reputation for great jazz music, and The Pub – frequented by the late British actor, Oliver Reed is always popular. You can then make your way to one of the city's many nightclubs, including Sky club or Q Bar. Maestro e Fresco is another popular late-night venue.
Getting back to the Cugo Gran Macina Grand Harbour is easy, white taxis are plentiful, just agree on the fare before you set off.
Once you're in the quiet luxury of your hotel room, you'll be able to look back on your adventures in Valletta with happiness – just remember to take plenty of pictures of each other while you're exploring – and selfies, so that you have a record of your wonderful romantic trip to this magical island.
For more details and to book romantic trips and wedding at Cugo Gran Macina Grand Harbour - CLICK HERE