Almar Jesolo - Award-Winning Spa Hotel in Venice
Whether you're here because you're planning a city break to Venice, or because you're seeking the perfect hotel for a romantic spa weekend away... you're in the right place.
Because we've found the perfect Venice spa hotel that lets you tick off pampering, romance and sightseeing all in one hit…
Ah, Venice! So much to see and do...
The floating city is without doubt the jewel in northern Italy's crown, and it's easy to see why visitors flock here from all over the world just to get a glimpse of the place.
With winding canals, tucked-away trattorias and elegant architecture, Venice regularly tops the list of the world's most romantic cities. Pay a visit and you'll see that romance runs through its veins, via the winding canals and twisting alleyways that make it such a one-of-a-kind destination.
And of course, a gondola ride for two is one of those must-do activities if you're visiting Venice as a couple. Slowly meandering through the sleepy canals, you'll take in all the sights of the city's backstreets before emerging into the Grand Canal – where the Rialto Bridge steals the spotlight and makes the perfect backdrop for photographs to remember.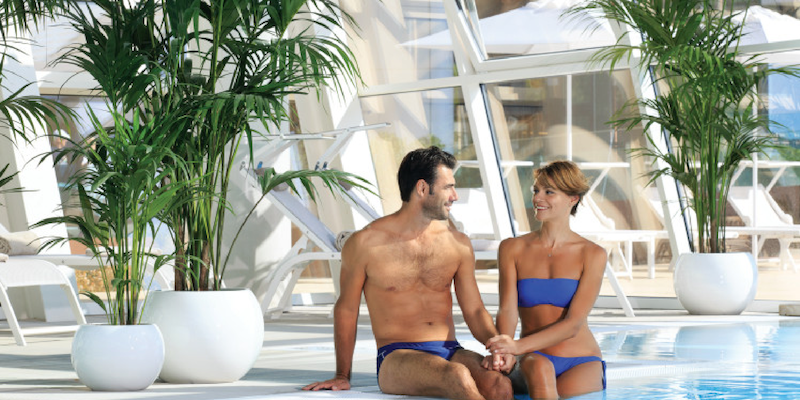 Indeed, if there's one negative to visiting Venice, it's that there's so much to see and do that you'll undoubtedly need a rest to recover.



And that's precisely why staying at a Venice spa hotel is the perfect way to do any Venice city break (especially if it's 5-star and on the beach)!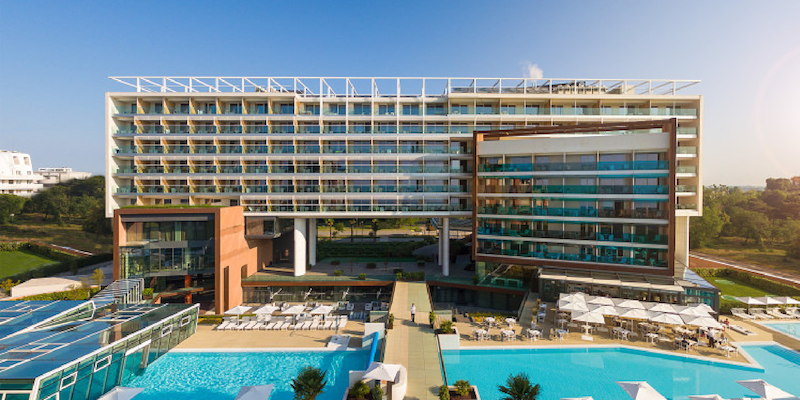 The Almar Jesolo Resort & Spa – a location to covet
When it comes to choosing your accommodation, location is everything!
It's no secret that Venice can get busy, particularly in the summer months when tourist numbers in this part of Italy reach a peak.
And that's why the Almar Jesolo Resort & Spa has clinched the perfect spot on the Lido di Jesolo – a 15-kilometre stretch of the coast that's tucked slightly away from the hustle and bustle, but within easy reach when you want to be right in the thick of things.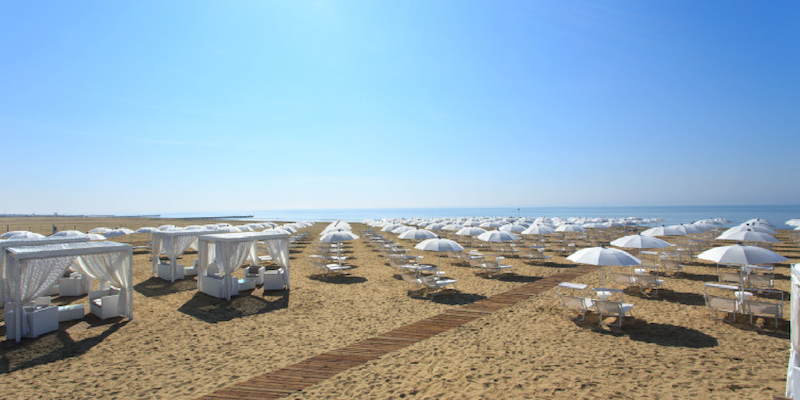 As far as best-of-both-worlds locations go, the Almar Jesolo's spot is hard to beat. Venice is a leisurely 50-minute journey away, and the best way to get there is via water bus, so you can soak up the views as you go.
Venice aside, Jesolo – as it's known – is a world-class destination in its own right. Stroll arm-in-arm along one of Europe's longest promenades, get lost shopping for trinkets and take-homes in the shops of Via Bafile – an easy walk from the hotel – explore the pine forest and neatly-manicured gardens, or just find a secluded spot along the golden coastline. The Almar Jesolo boasts its own private beach, so you can gaze out over the crystal-clear waters without any distractions.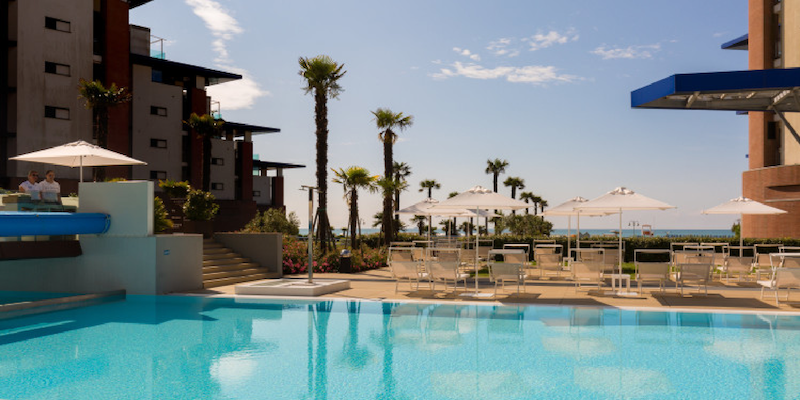 Award- winning spa and wellness a stone's throw from the city
Location aside, the Almar Jesolo has another trump card up its sleeve, in the form of the 2,000-metre Almablu Spa. This peaceful retreat does spa days in Venice in style – from the stress-relieving humid zone right through to the 70-metre outdoor swimming pool. Almablu Spa also won as the Best Luxury Wellness Spa in the World at the World Luxury Spa Awards 2018.
It's the private spa that tips this over into the perfect romantic escape, though. Soak up a relaxing couples' massage overlooking the ocean, or sink into a hot tub for two, and you'll forget this oasis of calm has one of the world's most vibrant cities just next door.
You can personalise your spa package to make it even more special, and there's a long list of wellness treatments to tick off – from restorative massages that draw on the principles of Chinese Medicine, to the hotel's own 'caresses of the sea' treatments inspired by the Adriatic on the doorstep.
Whether you're celebrating a special anniversary or just taking some time out together, this is the perfect place to reconnect and retreat from the outside world.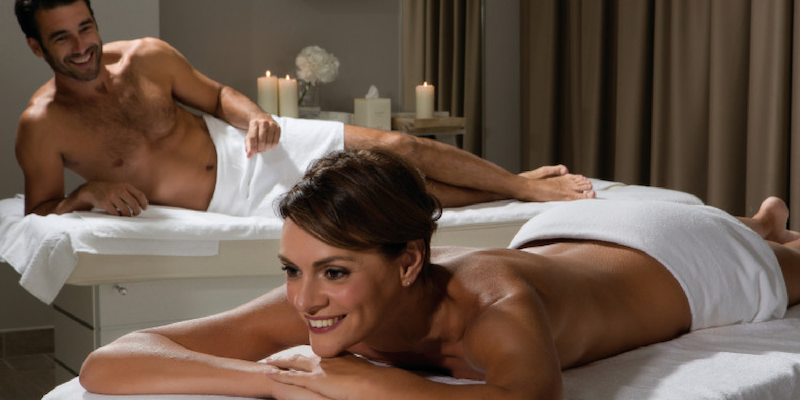 Romantic rooms and luxury loft suites
Speaking of retreating, the Almar Jesolo's rooms are just the ticket if romance is on the cards. Alongside sleek, design-led interiors that blend seamlessly with the outdoors, they each feature a private terrace, so you can sip a glass of fizz and enjoy the view.
For the ultimate in luxury, book one of the hotel's top-floor loft suites. The Loft Suite Aria comes with a roomy private terrace where you can sit down to breakfast, snuggle on a sun-lounger, or sink into a Jacuzzi tub together. Back indoors, underneath a cloud-like ceiling feature and looking out over the sea, you'll find a king-sized platform bed where you're guaranteed to sleep soundly – amongst, ahem, other things.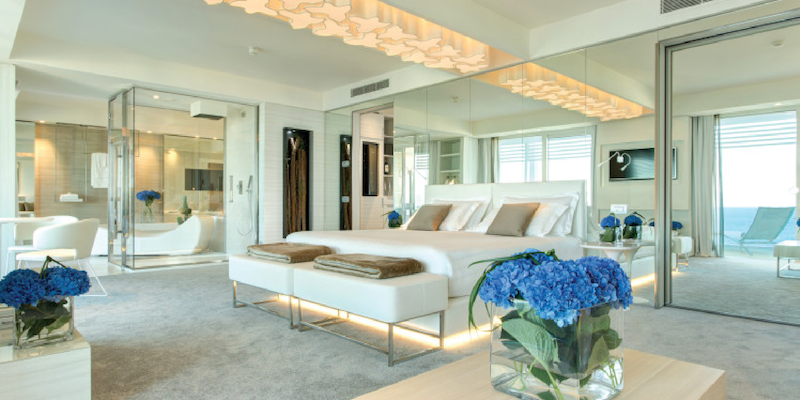 The Loft Suite Aqua, meanwhile, is a seductive mix of contemporary design and sea-inspired features, like glazed blue-glass panels and a waterfall chandelier. Seductive touches come in the form of an en-suite shower room with transparent-glass sides, and a sink-into-me bed that takes centre stage in the room. This being the epitome of five-star luxury, there's also a huge walk-in closet and a private wine cellar – so you can uncork a bottle of something vintage and share it in the whirlpool on your private terrace.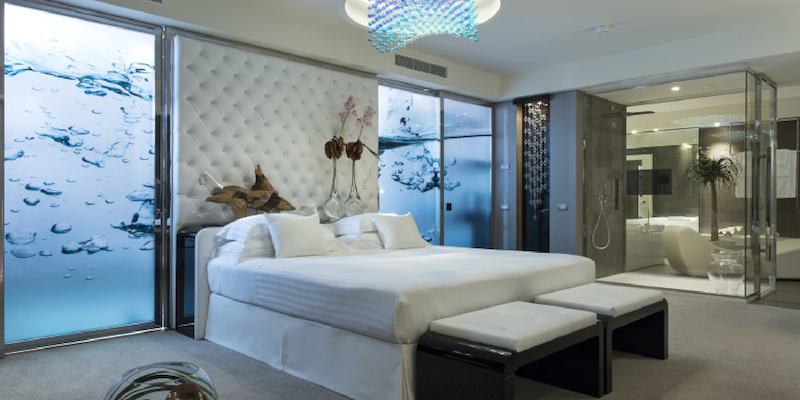 Gourmet dining designed to inspire
This being Italy, the dining scene at the Almar Jesolo Resort & Spa is certainly worth writing home about. And Mediterra – the hotel's main restaurant – is perfectly set for romantic meals for two. A light, airy space that overlooks the swimming pool, it specialises in Mediterranean fare that's cooked to perfection. Think delicate pastries and rich Italian coffee at breakfast, crisp salads and light pasta dishes at lunch, and an a la carte dinner menu that fuses flavours of the sea with locally-sourced ingredients from the region. That could be anything from a traditional moeche crab dish, fresh from Venice's Rialto fish market, to a rich carnaroli risotto flavoured with langoustines.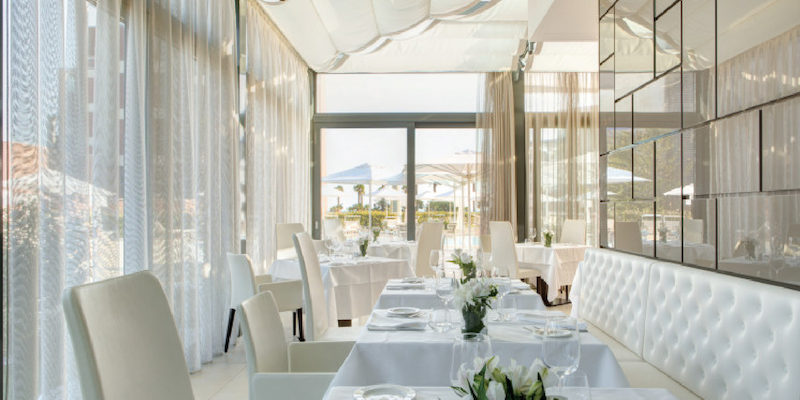 The restaurant also has a private area reserved for more secluded dinners, and for an extra dose of sparkle you can request the Romantic Menu – packed with aphrodisiacs aplenty. For drinks after dinner, head to The River Lounge Bar. It overlooks a waterfall – The River, hence the name – and lines up a gin collection to impress any serious G&T lover. Pull up a stool and sip a classic White Lady or plump for an Almar Cocktail – a heady mix of gin and cointreau with pineapple, grapefruit and orange juice plus a dash of strawberry syrup.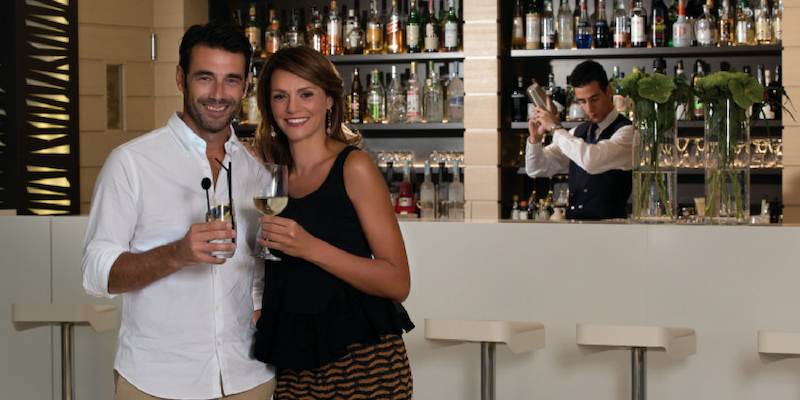 The Almar Jesolo Resort & Spa – the ultimate Venice spa hotel for couples
All in all, it's hard to fault the Almar Jesolo's romantic credentials. From the double daybeds on the beach... to the private sun terraces in the loft suites... and the couple-friendly treatments in the spa, it ticks all the boxes – and then some.
Factor in the incredible city of Venice less than an hour away, and you really can have the best of both worlds when you stay here.
Find out more about a romantic stay at Almar Jesolo Resort & Spa and start planning your break.