Wild Romance in the African Bush | Featuring Cheetah Paw Eco Lodge
What could be more romantic than travelling to a stunning natural wilderness and experiencing the thrill of up-close encounters with some of the world's most beautiful and awesome creatures?

If you are planning a once-in-a-lifetime trip with your partner to celebrate a special occasion - be it a surprise Proposal, your Honeymoon or a milestone Birthday or Anniversary, then the unrivalled natural wonders and wildlife of South Africa are an experience you'll never forget. Imagine sunsets that will visually melt your heart and sharing moments of peaceful tranquillity with nothing more to think about but each other and the inescapable intimacy of being alone together in the wild.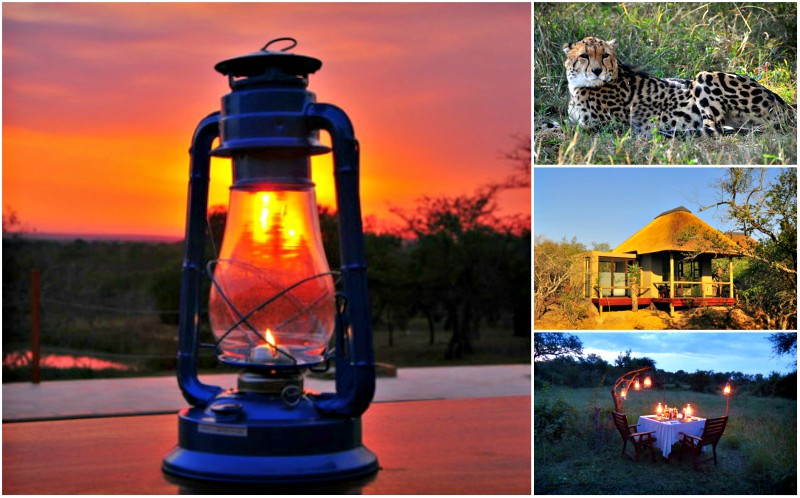 Be Wild Lovers at Cheetah Paw Eco Lodge
Come to a place where the stars burn so brightly against a black night sky they will forever be branded on your memory. A place where you are woken at sunrise by the roar of nearby lions. A place where you can taste the heady infusion of morning dew, mosquito repellent and campfire smoke as it lingers in the air. A place where the romance is palpable and where your body tingles with the seductive trepidation of the being Wild Lovers. For a few precious days take yourselves away from the distractions and anxieties of modern day living and submit to the wilds of the African bush.
Cheetah Paw Eco Lodge is located in the heart of the South African bush in the Guernsey Private Nature Reserve and it is the perfect destination if you and your loved one are looking for some quiet time together, far away from the city and its daily noises. Cheetah Paw is an idyllic retreat where you will reconnect with romance while listening to the unique, unforgettable sounds of Africa including crickets, cicada beetles, roaring lions and the distant mating call of the jackal.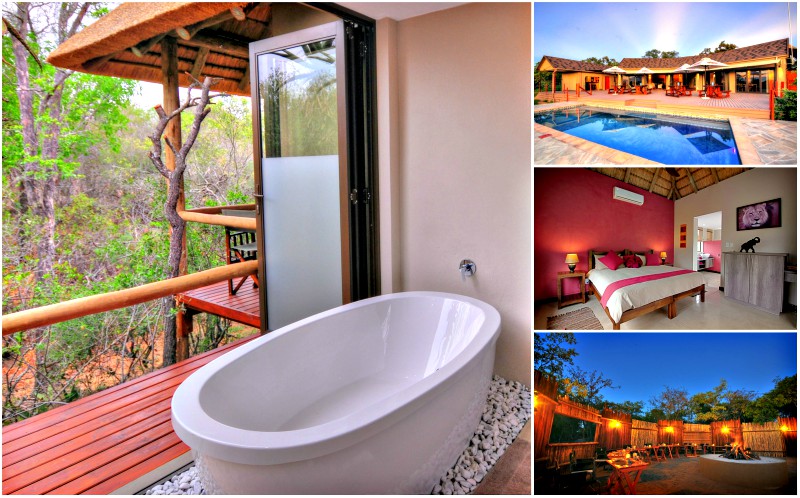 Stay in an exclusive Honeymoon Suite snuggled in the bush on the banks of a small perennial river
For couples booking their honeymoon or celebrating a special romantic occasion at Cheetah paw, the two newly added Superior Deluxe Chalets make perfect Honeymoon Suites and offer the ultimate romantic accommodation in the African bush.
Both chalets are romantically secluded by the surrounding thicket and offer guests a private wooden deck with an exclusive view of the nearby natural waterhole and the visiting African animals. Inside, each chalet is luxuriously equipped with all modern day comforts including eco-friendly air conditioning and a feature bath-tub large enough for two.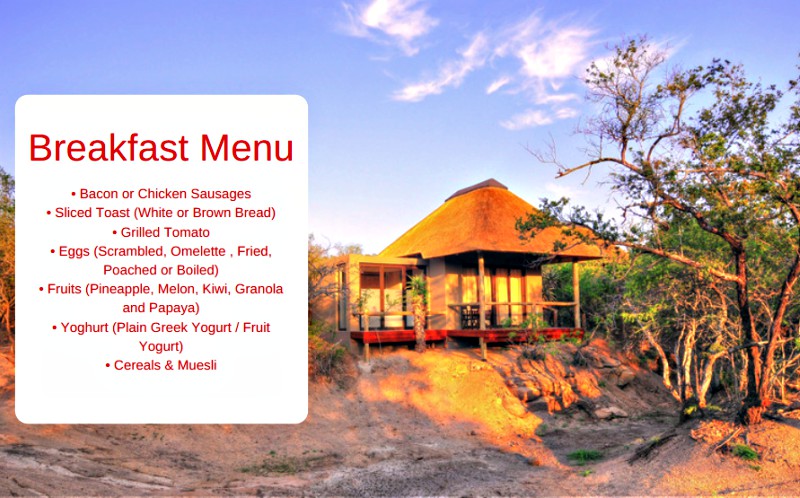 When to Go
Getting the timing right for your trip to Cheetah paw is an important factor and guests should consider the seasons when planning their stay. Summer in South Africa is the rainy season and some activities could rain out and be cancelled. Summer temperatures can also easily reach 40C which is unbearably hot for most tourists. With this in mind, the best time to travel is during the winter and spring between June-October when the weather is drier and less humid and which is also perfect timing for the UK wedding season and couples travelling for a honeymoon or anniversary.
Here are our top five reasons why Cheetah Paw is a world-class destination for romance: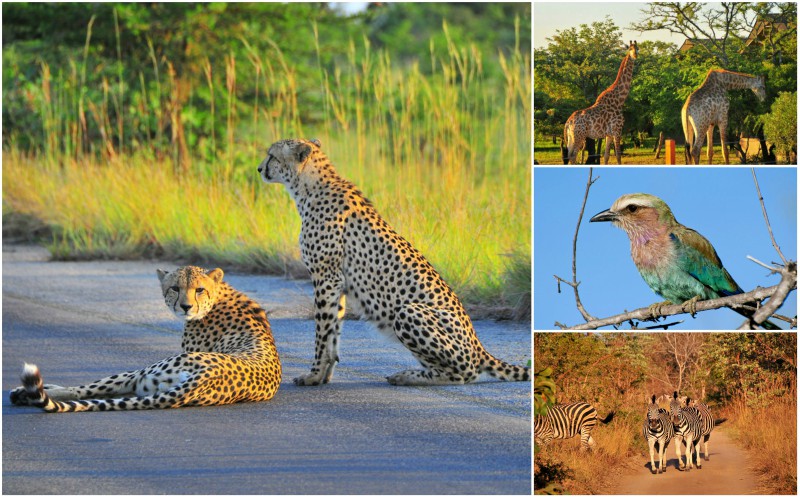 #1 Share once-in-a-lifetime up close encounters with nature and wildlife
Getting up close to nature and experiencing first-hand Africa's unrivalled and awe inspiring wildlife is without question the top reason why couples travel from all over the world to stay at Cheetah Paw. Their famous guided bush walks allow you to learn about Africa's wildlife as you view these magnificent animals in their natural habitat. Neighbouring inhabitants include zebras, giraffes, buffalo and many smaller animals who enjoy grazing throughout the reserve and enjoying the occasional drink at Cheetah Paw's nearby natural waterhole.
One of the best ways to experience the thrills of African wildlife is on a game drive on one of the game reserves that are located close to Cheetah Paw Eco Lodge. Accompanied by your ranger, you will drive through the local game reserves in an open topped safari vehicle to get up close with wild animals in their natural habitat. With elephants, rhinos, lions, buffalos and leopards all living in close proximity, the excitement is electrifying as you set off in anticipation of coming face to face with the wild local residents.
June and October are the best months to visit for game viewing and game drives as the grass and bush are not so thick making it easier to see wildlife camouflaged by the foliage – especially big cats!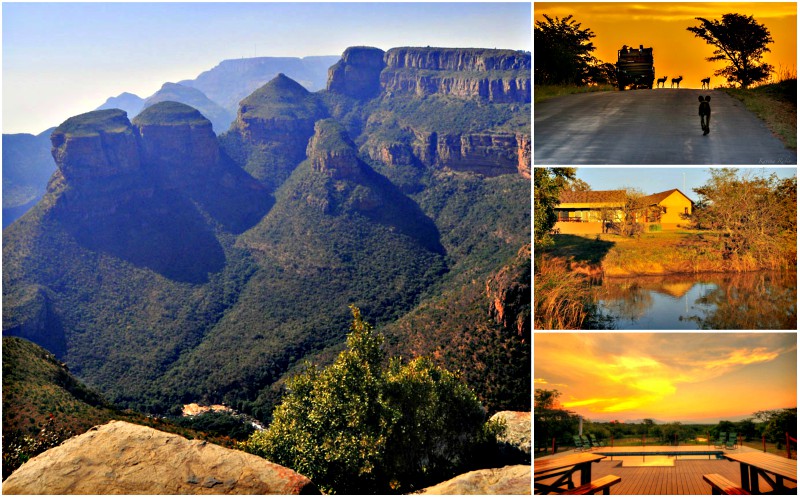 #2 Take a panorama tour of Blyde River Canyon and a boat cruise along the Blyde River Dam
Visitors to Cheetah Paw soon discover the breath-taking views of the stunning South African landscape are as equally enthralling as the wildlife and there is no better or more memorable way to see the beauty of the surrounding area than going on a full day panorama tour and drive along the Blyde River Canyon.
A day tour drive along the Blyde River Canyon takes in sights including the Three Rondavels, Burkes Luck Potholes, God's Window, The Pinnacle and the Lisbon Falls - providing endless photo opportunities to document your romantic trip.
Couples can also arrange a relaxing boat cruise along the Blyde Dam for a more laid back tour of the wonderful African landscape and for the ultimate romantic experience couples can even treat themselves to a private cruise for just the two of them.
Again, June-October is the best time to visit as there are fewer clouds in winter and a better view.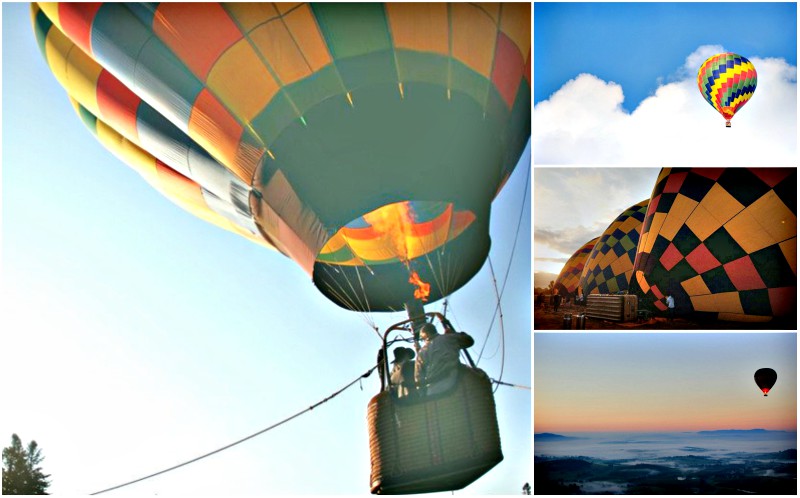 #3 Take a thrilling flight over the beautiful Lowveld landscape and create memories you'll never forget
Once -in-a-lifetime experiences are all about stepping out of your comfort zone and trying new things. With this in mind, there is no better way to experience the true scale and beauty of the South African landscape than on a hot air balloon journey at sunrise over the beautiful Lowveld landscape. Set aside any fear of heights and embark together on a magical sky bound journey of discovery.
Winter is the best season for hot air ballooning as the weather between June and October is far more stable, with very little rain or storms, that could prevent balloons from taking off.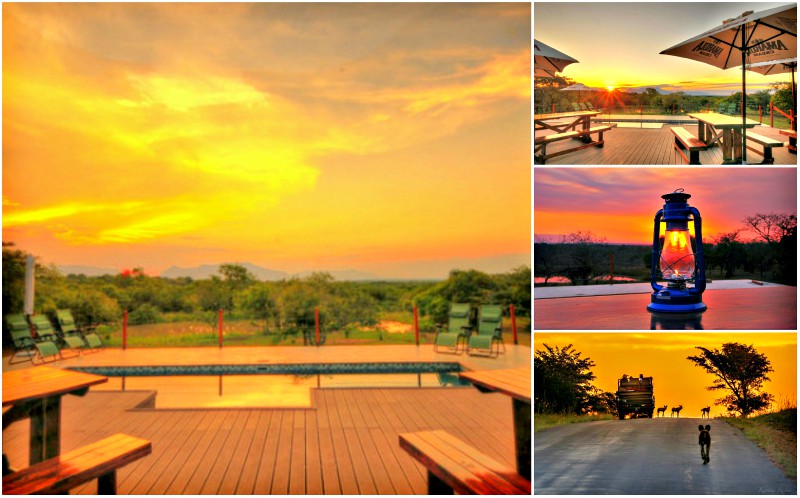 #4 Witness stunningly romantic sunsets over the Guernsey Private Nature Reserve
A sensational sunset is possibly nature's greatest romantic gift and many travellers purposely plan their trips seeking out destinations that offer the most spectacular sunset viewpoints. The team at Cheetah Paw unanimously agree the most romantic time of the day at the lodge is at sunset when guests are treated to clear skies and panoramic views of the hot African sun slowly disappearing behind the waterhole and the Drakensberg.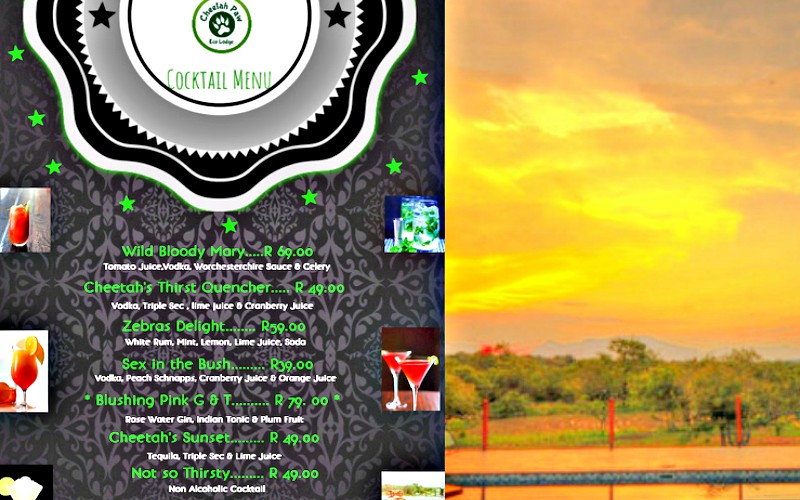 Say goodbye to the day as you sit together by the pool sipping on one of Cheetah Paw's famous cocktails watching the sun melt into the horizon as it fills up the sky with deep hues of yellow, crimson and hot peach.
Favourite cocktails to try include 'Cheetah's Sunset' and 'Sex in the Bush!'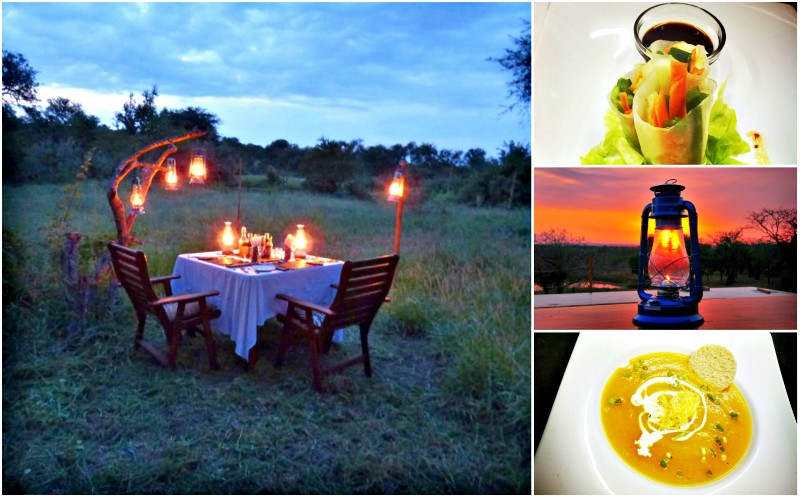 #5 Share secluded candle lit dinners served in the bush
When celebrating a special romantic occasion most couples like to mark the occasion with a special romantic meal and what could be more memorable than sharing a romantic candle-lit dinner for two in wilds of the African bush? This is the perfect setting for an unforgettable proposal to your loved one, or creating a once in a lifetime romantic moment to celebrate your honeymoon, anniversary or birthday.
Let the amazing team at Cheetah Paw set up a romantic three course candle lit dinner with ice cold champagne and flowers served in the privacy of your own superior chalet or luxury tent on the deck while enjoying the sounds of the beautiful African night life as you dine overlooking the waterhole.
Sample 3 course menu: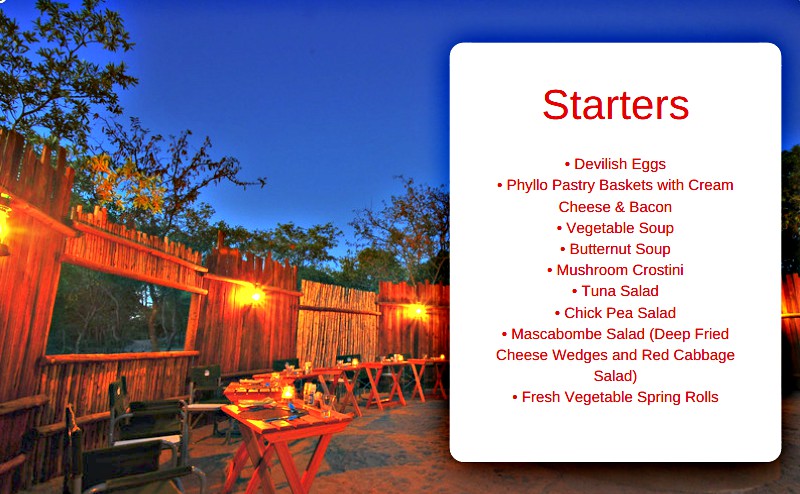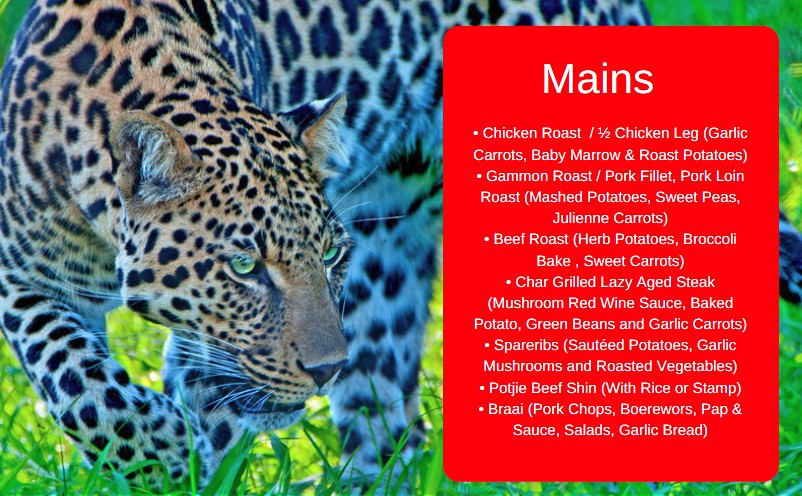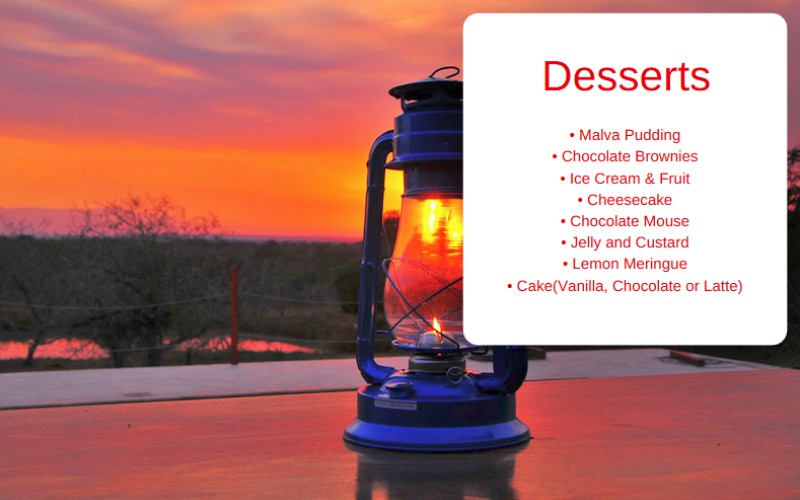 See more details, enquire and book Romantic Safari Experiences at Cheetah Paw Eco lodge