4 Ways to Honeymoon in Africa | Honeymoon Ideas
Discover some of the most special and romantic experiences for couples offered by the incredible and immensely diverse continent of Africa.
Here we explore 4 very different types of honeymoon trips including:
Twin-destination honeymoons in Cape Town and the South African Wilderness
Luxury safaris
City-based getaways to suit all budgets
And island hopping experiences
All of which would make an unforgettable honeymoon or anniversary holiday! Read on for full details...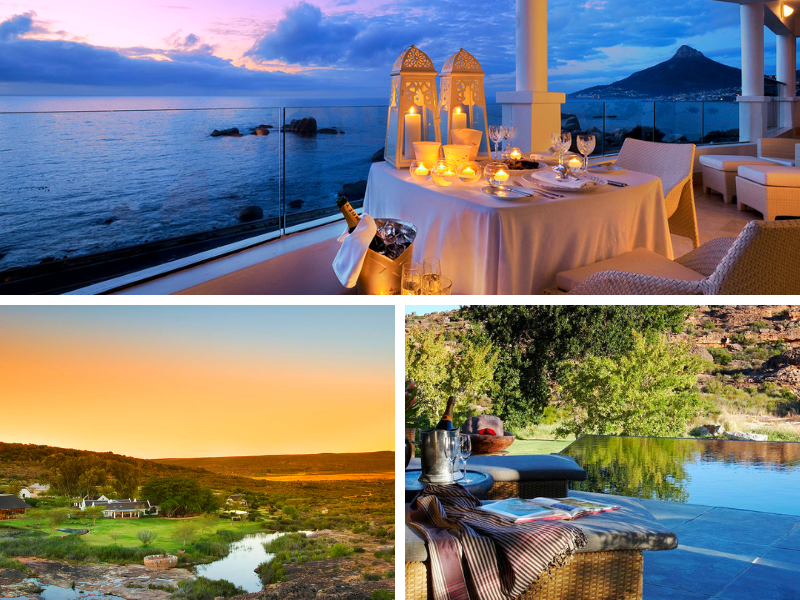 African Honeymoon 1: Twin Cape Town with a Wilderness Experience in South Africa
Starting in Cape Town...
The port city of Cape Town in South Africa has long been an iconic place that draws millions of visitors each year, thanks to its peerless sites of natural beauty including Table Mountain and its magnificent harbour.
Then there's Robben Island, only five miles or so from the mainland shore. This historic settlement, which was declared a World Heritage Site in 1999, held Nelson Mandela captive for 18 years as a political prisoner during apartheid. Today, half-day tours depart to the island on a daily basis from the V&A Waterfront. All which secure Cape Town as a stunningly diverse honeymoon destination that offers both world-class beaches and breath-taking landscapes alongside immense historical and cultural points of interest.
And whilst Cape Town is undeniably a bustling hot-spot, it's also a city that can be taken at your own pace – which makes it especially appealing for honeymooners and romantic couples.
Where to stay in Cape Town...
If you're looking for the perfect base from which to explore the best features of this unique and affordable city, honeymooners won't go wrong staying at the award-winning Twelve Apostles which boasts a beachfront location overlooking the Atlantic Ocean and is world famous for its unrivalled romantic and personalised style of hospitality. Even if your day's activity has simply consisted of a romantic lie-in followed by a stroll along the Golden Mile, you'll be fully pampered on your return to the Twelve Apostles. This 5-star boutique hotel has a reputation for terrific food to match the exceptional service and on-site facilities (and regularly features highly in our top recommendations for the world's most romantic restaurants). Alternatively another highly recommended Cape Town hotel offering luxury honeymoons is One&Only Cape Town.
Heading into the bush...
Honeymooners travelling to Cape town often twin their stay with a safari or bush experience. So once you've had the chance to get accustomed to the South African beat, you might consider a drive from Cape Town to the vast resort of Bushman's Kloof. Your journey promises three unforgettable hours, punctuated by a series of mountain passes, windswept scrublands and tangerine rock formations along the way… a donkey cart trip over the Pakhuis Pass is one novel method of transportation to think about.
Once you arrive at Bushman's Kloof, you'll be in the heart of a secluded nature reserve in the most romantic of settings. Have a look at their 2-night honeymoon package. This 5-star wilderness retreat is a great place from which to discover the rich spiritual culture of the Bushman, who lived for millennia in the Cederberg Mountains. Guides can take you to a range of rock art excursions where you'll gain an insight into amazing lost worlds.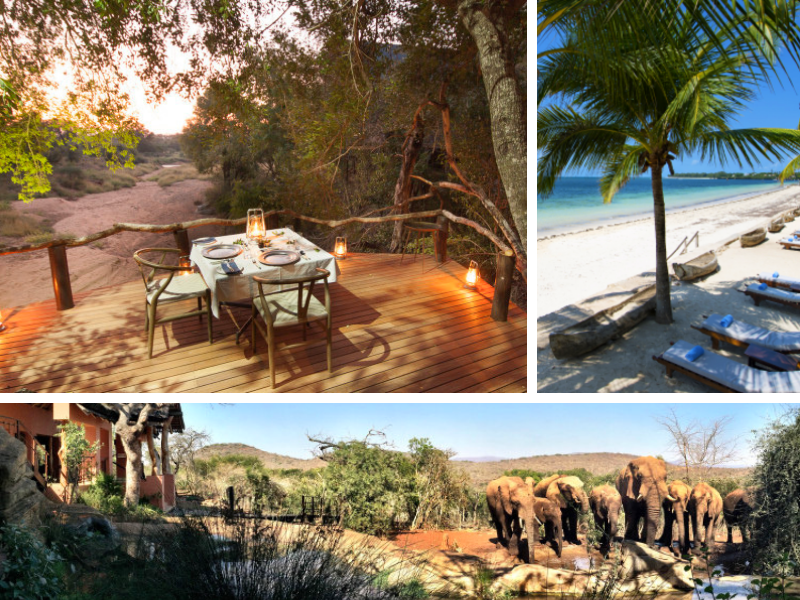 African Honeymoon 2: Take a magical Safari… without sacrificing luxury
Your honeymoon offers the perfect chance to share a once in a lifetime adventure as you indulge in the glow of early wedded bliss. And a trip to a Big Five game reserve will only heighten your already sky-high levels of enthusiasm for life.
When it comes to wildlife, South Africa's truly spoilt. The Garonga Safari Camp has a suite of luxurious camps in the Makalali Conservancy, which places lucky visitors only 90 minutes from the Phalaborwa gate at the world-famous Kruger National Park.
Honeymooners at Garonga get the chance for a gloriously peaceful start to their early days of married life. The staff are very accommodating here, and the safari guides second to none. Expert trackers have many years' experience of living among the huge variety of animals in the nature reserve. They'll have little trouble in explaining how they track game by their prints and will be pleased to point out the rich variety of birdlife in the park.
Morning game drives can be enjoyed with tea, coffee and snacks in the bush as the animals awaken, while cocktails or a glass of wine can be sipped as the sun dips below the horizon on an evening game drive.
If you'd prefer to be a little closer to the stunning South African coastline then look into a stay at Thanda Safari Lodge, which is situated in northern KwaZulu-Natal (about 260 km north of Durban). In addition to two daily game drives at the private reserve, there's a chance to:
Take photography lessons
Experience tailor-made excursions to a local Zulu community, to learn about their culture
Go on a Hippo & Croc Sunset Cruise – all part of an enchanting boat trip at the St Lucia Estuary.
And of course, it's not just South Africa that offers the chance to see once-in-a-lifetime game reserves. Take Tsavo East National Park, the largest (and most impressive) park in Kenya. It's officially split into two (Tsavo East and West), and is divided by the main Nairobi-Mombasa road. It's also linked to the Chyulu Hills National Park, the Tanzania's Mkomazi Game Reserve and various private game conservancies which spread handsomely across this enormous swathe of protected lands.
There's a wide array of wildlife to take in at Tsavo, including some 500 species of birds. And if you're a lovebird on honeymoon, a fabulous package offered by Diamonds Dream of Africa comes with a 5-night stay at their all-inclusive beachfront resort and Spa. This exclusive location is ideally situated along a secluded silver sand beach of Malindi, a town on Malindi Bay, south-east Kenya. Afterwards, couples can marvel at two nights under the stars at Tsavo East.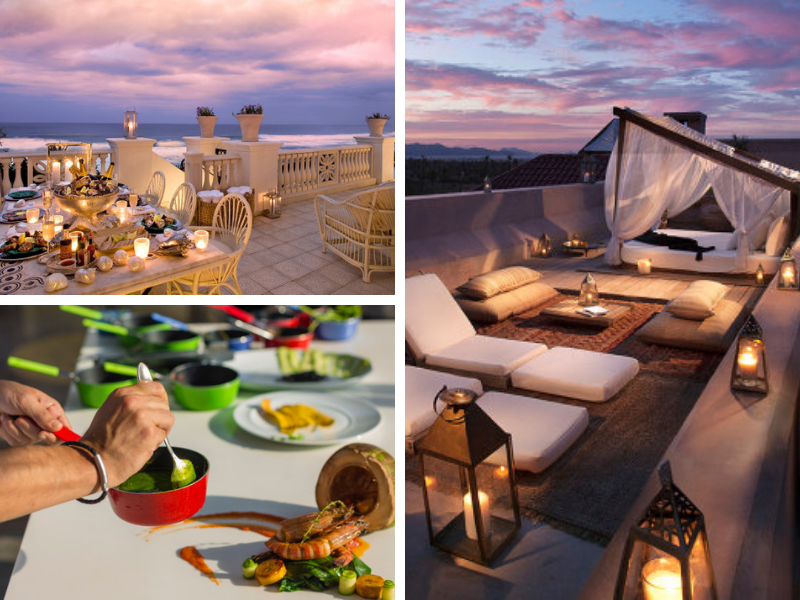 African Honeymoon 3: City destinations with a difference including Marrakech, Durban and Accra
Honeymoons in Marrakech, Morocco...
With the advent of budget flights, city breaks have soared in popularity across Europe in recent times. And included in this trend, due to its proximity to Spain, Marrakech is an easily accessible African city hugely popular with European tourists who love its hot climate, spas, culture and stunning architecture.
Marrakech offers a fantastic choice of accommodation options for honeymooners. Delightful riads in the medina can be booked for unbelievably low prices and are a great option for couples on a very tight budget or those who want to include an intimate and traditional experience of Marrakech for 1 night of their trip (our advice: it's definitely worth choosing one with a pool).
At the other end of the scale this is a city that also does luxury very, very well. There are plenty of high-end resorts to choose from making Marrakech a popular destination for affluent travellers.
For honeymooners and romance, Dar Layyina is a quite beautiful boutique hotel in Marrakech, to name just one of many local Moroccan treasures waiting to be found here. The entire property sleeps just 14, meaning it could easily be taken over for an intimate destination wedding. Marrakech and the countryside around it - with the Atlas Mountains and the magical desert - offer a rich landscape of palm and olive groves, rose farms and endless photo opportunities for your ceremony.
Another boutique hotel highly dedicated to romance is Les Jardins De La Medina. Their 4-night package includes plenty of romantic extras, such as romantic dinners and couples massages.
Or for a full-on luxury experience, Relais & Châteaux Ksar Char-Bagh is a Moorish palace nestled in the palm grove of Marrakech, a mere ten minutes from the medina – and has been voted one of the top 50 hotels in the world.
Another way to book special romantic trips or celebrations in Marrakech, is via a specialist concierge service. Feel Luxury Holidays offer a high-class and personal service for visitors. These experts will be able to use their local knowledge to arrange some truly magical experiences - from camel rides, to visits at authentic berber homes and plenty more. You and your guests will enjoy a level of service from Feel Luxury Holidays that'll make not only leave the bride and groom feeling like kings and queens but also provide luxury villa accommodation and a complete, seamless travel experience for your whole group.
Honeymoons in Durban, South Africa...
For an altogether different style - but just as authentic - upmarket city break in Africa, consider Durban, South Africa. When it comes to accommodation, romantic visitors to The Oyster Box Hotel have hailed the decor and presentation of its luxurious grounds, which offers a great base to explore the buzzing local bar and restaurant scene. A stunning on-site terrace and rooftop bar means you and your beau won't even have to leave the resort to re-fuel ahead of another night of romance.
The Oyster Box even has a dedicated pastry team who prepare a range of fresh and delicious baked goods - High Tea here is a long and leisurely affair, with a pianist helping to further lift the mood of romance. If you needed any more convincing about the Oyster Box, there's also an in-house cinema, a private gym and a spa. Read more on how this super classy resort can host a bespoke wedding, with a beach ceremony being among your options.
Honeymoons in Accra, Ghana...
Finally, the Ghanaian capital city of Accra is a useful centre for exploring the diverse wildlife, historic forts and pristine beaches found here and throughout the West African Republic. Accra promises some of the best jollof (a single pot rice dish) in the continent, along with plantain and beans, plus a wide range of fresh soups.
Then there's a weekly beach party where you can dance the night way, or have a drink at plenty of other bars and clubs enjoying reggae beats and plenty of other local live music and street art.
Honeymooners may prefer to stay in one of the luxury hotels outside the city. For example, The Royal Senchi Hotel offers an exotic escape 75 km from the bustling city and is dedicated to creating memorable experiences for newly-weds. Overlooking the tranquil beauty of the Volta River couples will be treated to romantic sunset dinner cruises, couples massage and tours of the Senchi Nature Park.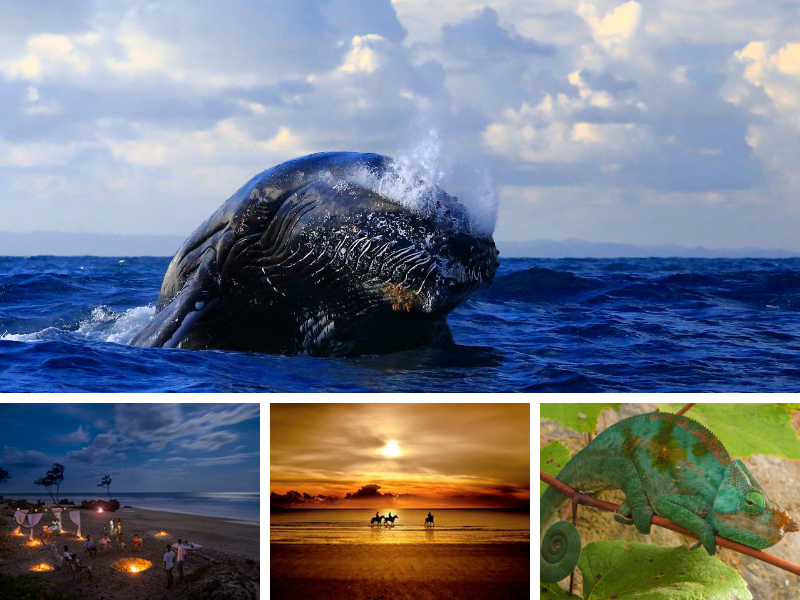 African Honeymoon 4: Hop between some of Africa's most enticing islands
The East African nation of Mozambique boats a tropical Indian Ocean coast from which those seeking a secluded paradise will have plenty to choose from. The Quirimbas Archipelago, just off the northern coast of Mozambique, features islands that are part of Quirimbas National Park – the largest protected marine area in Africa. Characteristics here include unspoiled coral reefs and crystal clear waters inhabited by dolphins and whales in what is considered one of the world's very best diving locations.
Couples might decide to begin their romantic getaway at the luxurious Diamonds Mequfi in the country's mainland. This beachfront resort, part of a large bay, has a choice of three top-notch restaurant, a Spa and a large outdoor pool. There's plenty for the more active travellers to do - from water sports to horse riding amid indigenous fruit trees and evergreen landscapes.
Elsewhere the island country of Madagascar has a wide collection of remote and romantic beaches amid stunning natural beauty. Gassitours Madagascar is a specialist tour operator based in Antananarivo, the capital city, and offers a wide variety of tours throughout the island. They'll also be able to create a safari-style package that will truly wow lovers of nature. You won't regret discovering the unique biodiversity of this incomparable country, where 90% of its flora and fauna are endemic, in other words, are found nowhere else in the world. These are protected in National Parks where rugged hikes are needed to track rare species and in private reserves, and where the island's famous lemurs can be seen grazing.
One of Africa's smallest states, Equatorial Guinea, has slipped under the radar as a tourist destination in the past - but that only makes it more appealing for couples seeking relaxation and quality time to focus on one another. It's also a country between land and sea and its five islands (known collectively as insular Equatorial Guinea) are each more than worthy of a romantic visit: Bioko, Corisco, Great Elobey, Little Elobey, and Annobón.
The Grand Hotel Djibloho is situated in the mainland - in the heart of the Equatorial jungle, no less - and would make a fantastic start or finish on a trip to the country's islands. The huge Spa pool and sauna, along with excellent service all help to add to the leisurely feel and could set the tone for a remarkable journey ahead.
Directory of Featured Hotels - Where to Book
Twelve Apostles - Victoria Road, Camps Bay, Cape Town, South Africa The resort is a 40-minute drive from Cape Town International Airport. Airport transfers are available through Twelve Apostles - be sure to book these while making your reservation.
Bushman's Kloof Wilderness Reserve & Wellness Retreat - Agert Pakhuis Pass, Clanwilliam, South Africa The lodge has a private airstrip receiving charter flights from Cape Town. it's an hour's flight, then a 20-minute transfer to the resort. Alternatively, Bushman's Kloof can arrange minibus and private car transfers via Cape Town, which takes about three hours.
Garonga Safari Camp - Selati Portion 12, KT 143, Phalaborwa, Limpopo, 1390, South Africa The camp is an hour and a half's drive from both Phalaborwa and Hoedspruit airports, which are easily accessed via direct chartered flights from Johannesburg.
Thanda Safaris - P450 Bayala Hluhluwe, KwaZulu Natal, 3915, South Africa The dedicated team at Thanda Safaris will be able to arrange transfers via car from the King Shaka International Airport in Durban. Alternatively, you can be met at the more local Richards Bay Airport.
Diamonds Dream of Africa - Casuarina Rd, Malindi, Kenya A number of international providers fly to Malindi International Airport, including Emirates and KLM.
Dar Layyina - N9- Route de Ouarzazate Lieu Dit Tabouhanit, Marrakech, Morocco The resort is a mere 15 minutes' drive from the center of Marrakech, and 10 minutes from the golfs of Amelkis, Al Maaden and the Royal Golf.
The Oyster Box Hotel - 2 Lighthouse Rd, Umhlanga Rocks, Umhlanga, 4320, South Africa Durban International Airport is just 38 km away, making it less than an hour's drive. The Oyster Box also offers an airport transfer service.
Les Jardins De La Medina - 21 Derb Chtouka, Marrakech 40000, Morocco An excellent location, Les Jardins only 10 minutes from Marrakech Airport . The wide streets leading to the Jardins de la Médina allow cars or minibuses to go right to its entrance gate.
Relais & Châteaux Ksar Char-Bagh - Ksar Char-Bagh, Djnan Abiad La Palmeraie, BP 12478, Marrakech, Morocco

The Royal Senchi Hotel - Senchi Ferry Road, Akosombo, Ghana 75km from Accra

Diamonds Mequfi - Mecufi Road, Pemba, 3200, Mozambique It's a 1-hour drive to the resort from the small international Pemba Airport. You can book a transfer service with the hotel from the airport.
Grand Hotel Djibloho - Djibloho, Oyala, Wele-Nzas, Djibloho, Equatorial Guinea The hotel sits at the heart of Djibloho, the soon-to-be new administrative capital of Equatorial Guinea, and is only 20 km from the new airport in Mongomeyen.
Feel Luxury Holidays - Various locations Marrakech, Morocco
Gassitours Madagascar - Specialist Tours