7 Hotels in Germany for your Dream Destination Wedding
Germany may not be the first place you think of for a destination wedding, but with a huge choice of magnificent hotels and world-class standards of hospitality, it's no surprise that besotted couples are flocking to the central European country.
Here's our round up of some of the best wedding venues in Germany.
1# Villa Rothschild Kempinski near Frankfurt
Ideal if you're a couple who… seek intimacy and luxury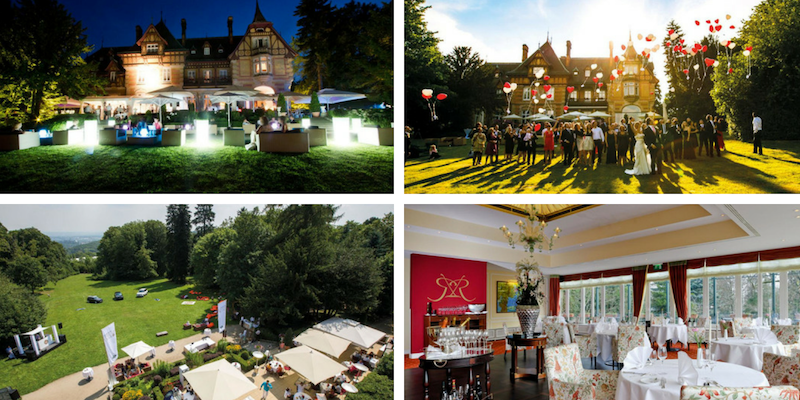 As the most famous wedding venue in the Taunus region of Germany, It's fair to say the Villa Rothschild Kempinski is serious about attention to detail. The 5-star boutique hotel, surrounded by lush parkland, let's you pick your own sleeping aids from its 'pillow menu'. And you'll be able to sleep easy knowing the hotel can help you with wedding planning ahead of the special day.
Options for the ceremony include a church, a luxury villa and the Taunus countryside. Venues host up to 100 guests; 150 for your reception. It's worth knowing that this intimate wedding location has just 22 rooms.
The hotel, easily reached from Frankfurt, is also only an hour's drive from the Rheingau wine district. Fine dining is not far away either. The resort's on-site Villa Rothschild Restaurant boasts a Michelin star. Be sure to ask if they'll create a dreamy wedding cake using their own signature bake as inspiration.
After a night of romantic indulgence, your head will be ready to hit the pillow – whether that's a spelt pillow, an anti-allergy one, or something else… the choice is yours. Find out more about the Villa Rothschild Kempinski. Alternatively, for an equally charming and secluded resort which is also less than 30 minutes away from Frankfurt – try the Falkenstein Grand Kempinski.

2# Grandhotel Hessischer Hof in Frankfurt
Ideal if you're a couple who… wants a classy city wedding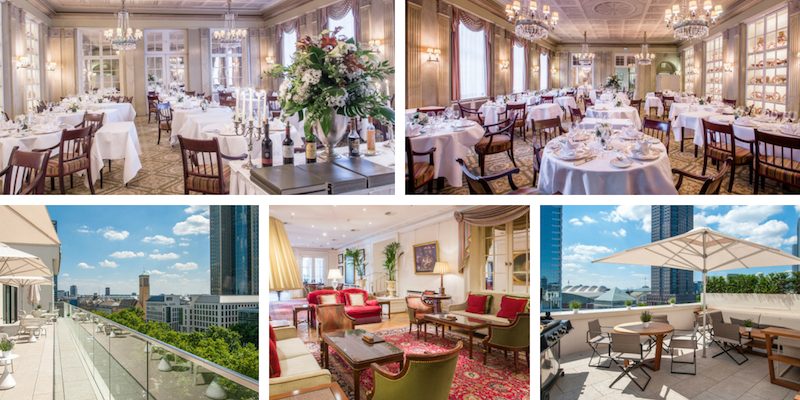 This family-run hotel, a stone's throw from Frankfurt city centre, caters for wedding parties of up to 200 people. Your guests can treat themselves to a selection of high-quality restaurants on the doorstep of the hotel, which offers views of the MesseTurm skyscraper and the Festhalle arena.
For your wedding, a conference room will be transformed into a beautifully crafted setting under chandelier lighting. This grand and authentic European hotel has a majestic sun terrace on its seventh floor as well as a basement bar. For health-conscious travellers it's got a sauna, gym and climbing wall.
Elsewhere the Winter Garden Room offers afternoon tea each Sunday (from October to March) to cater for an out-of-season ceremony. Get in touch if you have any questions about the Grandhotel Hessischer Hof.
3# Schlosshotel Kronberg near Frankfurt
Ideal if you're a couple who… dreams of a royal wedding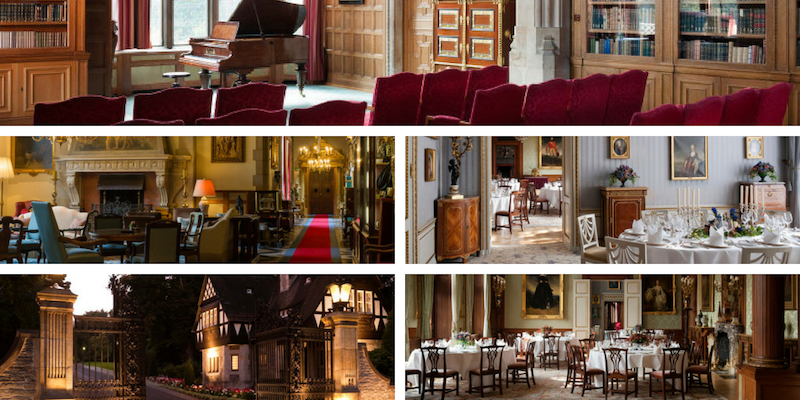 Taking the lead from Harry and Meghan, you can tie the knot at a spectacular castle which was once home to descendants of English royalty. Lead your beau over the manicured turf at Schlosspark retracing the steps made by Victoria, Princess Royal – daughter of Queen Victoria and Prince Albert – who used to reside here.
Today the grounds are kept in the style of a traditional English garden, which surrounds the hotel in the quaint spa town of Kronberg im Taunus.
Groups can make the most of a range of amenities, including a spacious wedding reception area for up to 300.
The hotel offers wedding planning services and you'll have the choice of getting hitched in outdoor or indoor locations, including the grand old library. Find out more about the wedding packages available at Schlosshotel Kronberg.
4# Hotel Taschenbergpalais Kempinski in Dresden
Ideal if you're a couple who… loves history and culture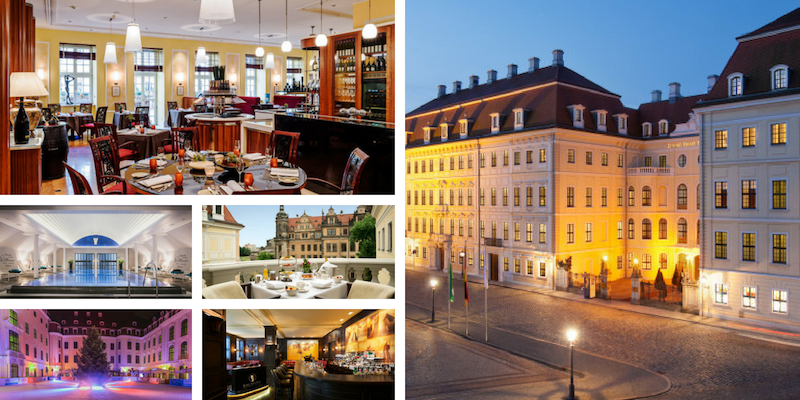 Located in the heart of Dresden's historic city center, Hotel Taschenbergpalais Kempinksi is a truly stunning 5-star hotel. Having been re-constructed in the mid-'90s after Allied bombs partly destroyed the original 1700s building, its owners, the Kempinski Group, have stayed true to its original Baroque charms.
Today the former palace's splendid high ceilings and inner courtyard neatly contrast with the new builds that surround this fascinating Germany city, with its ever-changing skyline.
What's more, the courtyard is available for weddings. Combining this with a stay at the huge Crown Prince Suite would make for a magical wedding experience. Your guests can unwind with a luxurious spa, while a personalised mini-bar and private dining are two further examples of how you can tailor an unforgettable romantic trip meeting all of your needs.
See how a stay at the renowned Hotel Taschenbergpalais Kempinski could make for a perfect wedding.

5# Kempinski Hotel Berchtesgaden in Bavaria
Ideal if you're a couple who… want a winter wonderland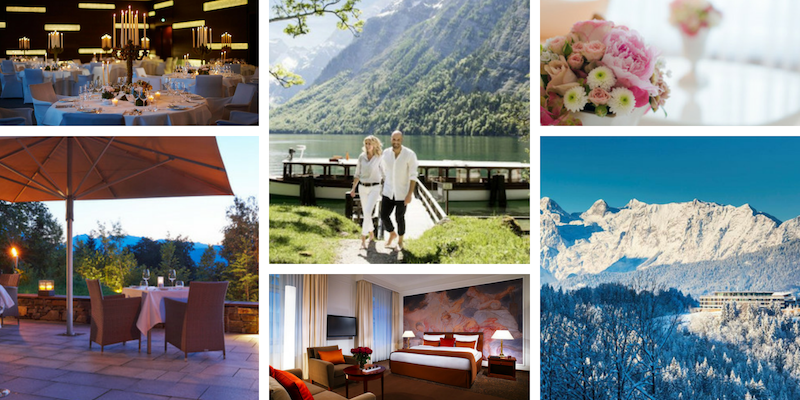 Another jewel in the Kempinski crown, Hotel Berchtesgaden offers chalet style accommodation and Micheline-starred French cuisine at its Restaurant Le Ciel.
High in the Bavarian Alps, you'll drive across winding mountain roads to find this lavish resort which makes for an ideal winter ceremony. Upon arrival, you can warm up in front of a roaring fireplace with a glass or two of your favourite gin or whiskey. Or take a dip in their indoor and outdoor pools.
In the wintertime, guests have direct access to the ski route Gutshof from the hotel. Get in touch to find out how the Kempinski Hotel Berchtesgaden can deliver 'marriages at 1000 meters'.
6# Radisson Blu Park Hotel & Conference Centre in Dresden
Ideal if you're a couple who… has lots of guests to keep happy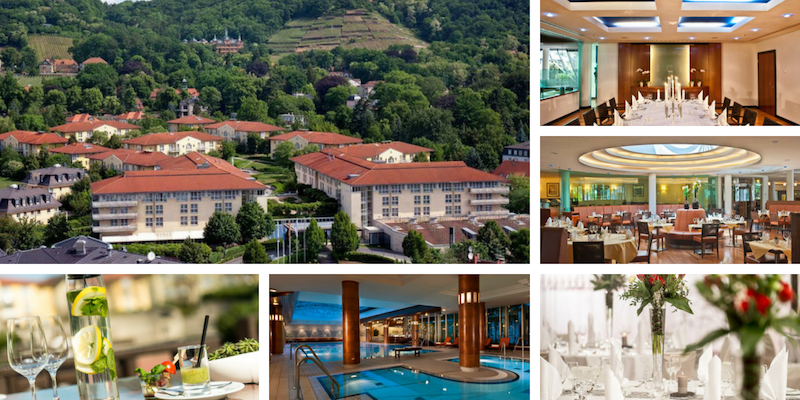 There are plenty of little romantic extras for you and your wedding guests to indulge in at this hotel in the Saxon town of Radebeul, just 10 kilometres from Dresden city centre.
The 4-star resort is nestled among vineyards and a baroque garden. And if you're getting hitched in the warmer months, your loved ones could enjoy a summer barbeque on the hotel's terrace.
Inside you can take in the Radisson's bold modern décor at its large indoor pool, sauna and gym. There's even underground parking. Or, take a trip to the historic city of Dresden via a tram that stops close to your accommodation.
See how you can build a truly romantic package with a stay at the Radisson Blu Park Hotel, which offers garden weddings, on-site reception and wedding planning services.

7# The Lindner Hotel & Residence Main Plaza in Frankfurt
Ideal if you're a couple who… likes art deco style with an American twist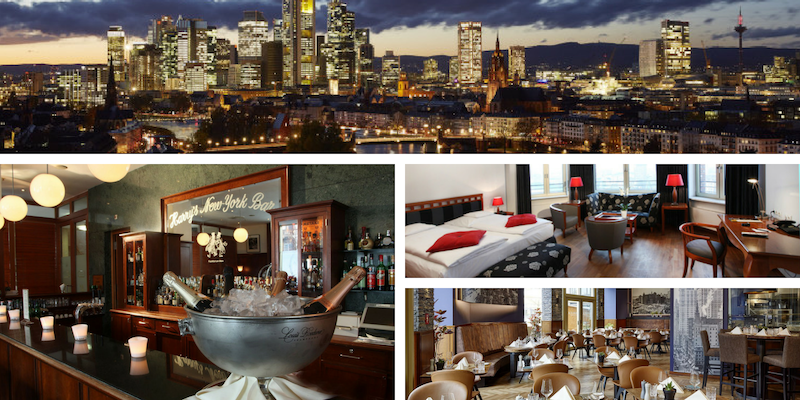 An elegant fixture in the Frankfurt skyline, The Linder is modelled on old-school New York architecture.
If you'd like some intimate time together, your hosts will happily oblige with a picnic by the Main riverbank (which the hotel overlooks). Don't forget to place your love keychain at your perfect place on the Eiserner Steg Bridge.
Frankfurt has a couple of official registry offices, which both offer similar romantic charms. You could tie the knot in Römer, the baroque city hall or at the similarly special Bolongaro Palace in the old Höchst district.
Find out more about the jazzy Lindner Hotel & Residence Main Plaza, which offers a reception-only wedding package.
What next?
These are a selection of dozens of hotels we partner with across Germany. It's quick to compare all of our destinations in Germany – whatever romantic occasion it is you're celebrating. Get in touch with our friendly romantic consultants who'll help you personalise a trip for you.

If you are looking at hotels in Germany for weddings, make sure you do plenty of research. German law states that only a civil ceremony is legally binding; there may be additional fees for non-nationals and you'll also need to be in the country for at least 21 days to give notice of your intention to marry.

Alternatively, a wedding blessing is a great solution for couples who may wish to legally marry in the UK before their trip and then celebrate with family and friends in a romantic marriage blessing ceremony and reception in Germany.