Discover Chianti - Tuscany for Wine Lovers | Featuring Villa il Poggiale
The mere mention of Tuscany evokes visions of a pastoral paradise filled with sun ripened vineyards and olive groves, lush rolling hillsides and pretty rural villages: images of Italy we all know so well from luxury travel magazines and which are almost always of Chianti - Tuscany's picture perfect, world-famous wine region.
Stretching from Florence to Siena, Chianti is the Tuscan region of wine production covering the hillside areas within the Golden Triangle of the art cities. As our taste for Chianti wine has grown over the last 300 years the region has naturally expanded to supply the demand, with the original Chianti area as defined by Cosimo III de' Medici, Grand Duke of Tuscany in 1716, now recognised as the "Chianti Classico" subregion.
Covering a significant area of Tuscany, many visitors to the region will happily find themselves staying in Chianti during their trip but Chianti is also very much a destination in its own right. Globally recognised as the producer of the world's greatest red wines, Chianti is the ultimate romantic destination for wine lovers.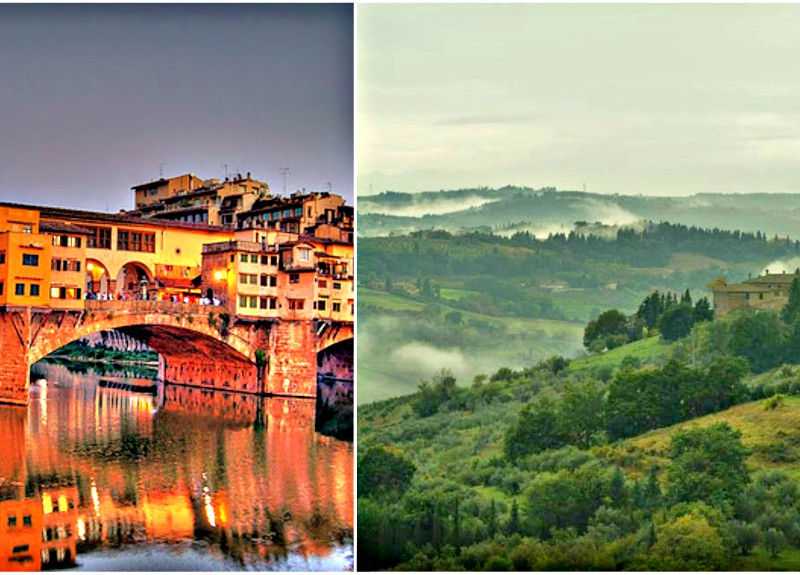 Where to Stay - Villa il Poggiale
For an aristocratic, authentic and romantic experience in Chianti, Villa il Poggiale offer its guests a luxury stay at a historical Italian residence in the heart of Tuscany near San Casciano in Val di Pesa. So if you're dedicated foodies or simply a couple who love a glass of ruby red Chianti, here are 5 reasons you'll love Villa il Poggiale:
#1 Alfresco Breakfast in Chianti
An alfresco breakfast for two with views across Tuscany's beautiful rural landscapes is the ultimate way to start your day in Chianti. Guests at Villa il Poggiale can enjoy a sumptuous breakfast of freshly laid eggs, ham, cheese, bread, schiacciata, marmalade, brioches, fruits, yogurt all served on a panoramic terrace with breath-takings view of the valley.
#2 A Romantic Poolside Lunch Under the Tuscan Sun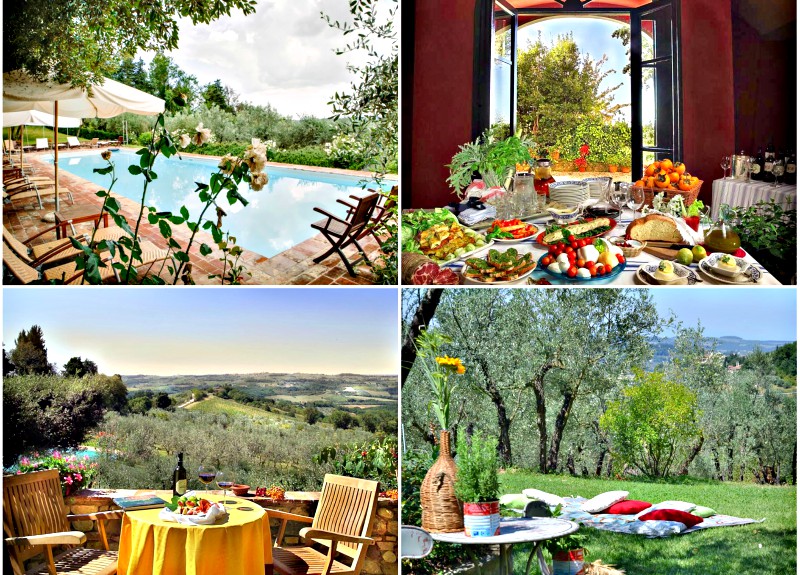 Lunch is traditionally the most important meal of the day for Italians, with many families still taking a daily break from work and school to meet at home and share their meal together from 1pm til 4pm. To experience lunch the Italian way Villa il Poggiale can serve a romantic and leisurely meal for two next to the pool, where couples can enjoy beautiful views across the valley in the midday sunshine. A typical lunch menu will include a selection of perfectly prepared light dishes such as homemade pasta, Tuscan plate, caprese salad, Cesar salad, fruits, ice cream...
#3 Wine, Cheese and Olive Oil Tours and Tasting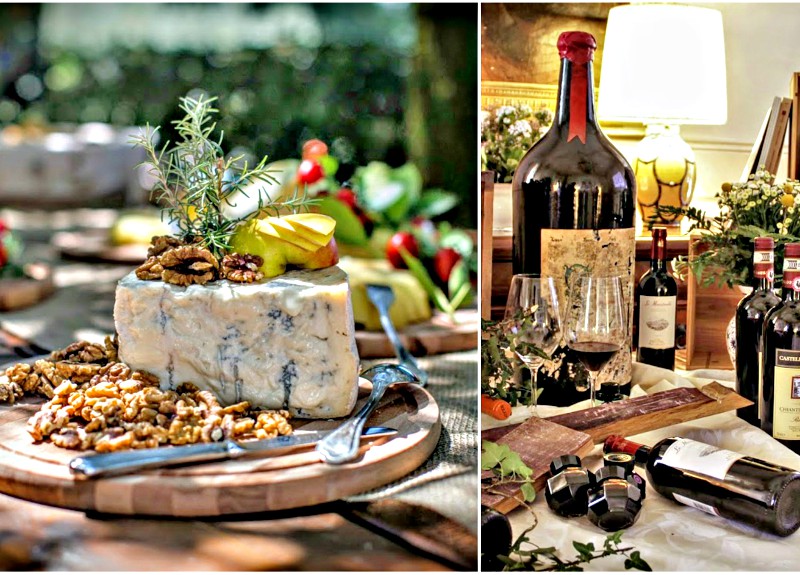 Located in Chianti, Villa il Poggiale sits in the heart of Tuscany's wine region making it an ideal destination for wine, cheese and olive oil tasting experiences. There are a selection of tasting experiences on offer which can be arranged to suit all preferences, depending on the farm you choose to visit. Usually a typical tasting experience will include a tour and presentation of the farm's produce alongside a tasting of their wines, cheeses or oils, and with many also offering a post-tour lunch naturally offering a delicious menu of their local produce.
#4 A Romantic Dinner Under the Tuscan Stars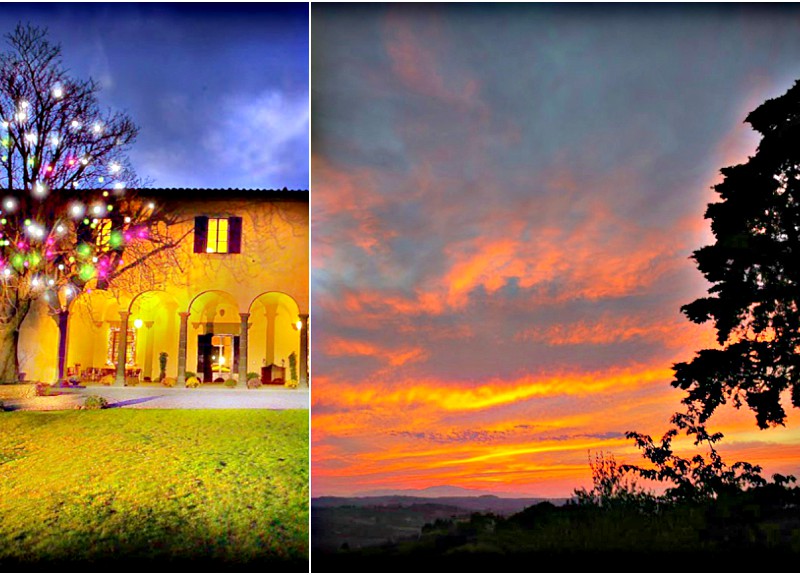 Away from the bright lights of the city the rural night skies of Chianti twinkle with breath-taking brilliance. So during the summer months, from April to October, Villa il Poggiale serves a romantic dinner by candle light every night on their gazebo and terrace area. Dinner starts at 7.30 pm. and comprises a traditional Tuscan menu the region's best local dishes and the house recipes using local seasonal produce.
#5 A Celebration Banquet for Weddings, Anniversaries and Birthdays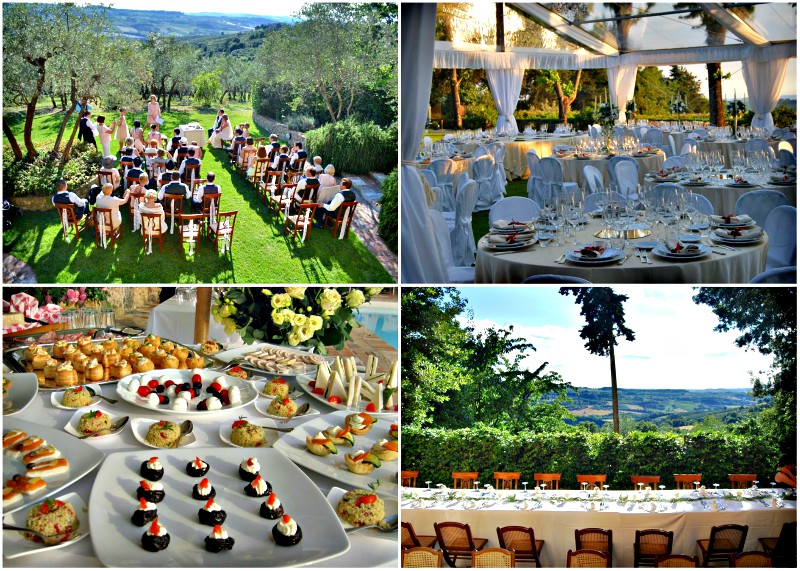 Villa Il Poggiale is the ideal location for weddings, ceremonies, parties and special events. The Poggiale staff will be at your beck and call to organise the perfect celebration for your occasion and engage the services of the very best wedding planners and caterers in Tuscany. They can customize your ceremony to create unique and perfectly personalised celebrations by working with you directly and helping you anyway you need! On the day of your event, neither your guests, the bride or groom will be required to do anything more than enjoy the most important day of your lives in one of the world's most beautiful and romantic places to get married and celebrate romance: Tuscany.

Personal Recommendations from Villa il Poggiale | Q&A with host Irene Cubattoli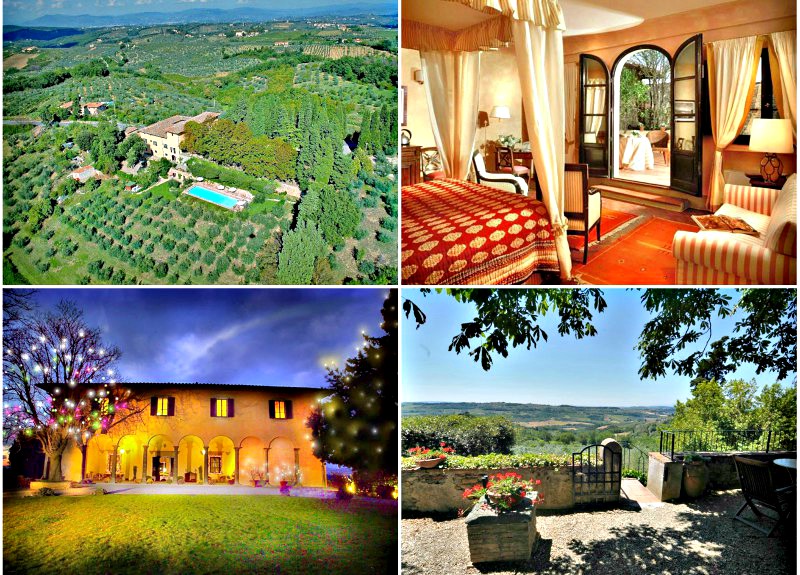 Q1. Why would you recommend Villa il Poggiale to couples who love food and wine?
Villa il Poggiale is located in a central position of Tuscany so from here is easy to reach all important and famous Tuscany cities like Florence (17 km) Siena (50 km) Pisa (80 km) Lucca (90 KM) San Gimignano (35 km) Greve in Chianti (20 km). We are located at 2 km from San Casciano val di Pesa which is the gate of wine region of Chianti Classico area. The Chianti area is full of wineries to visit and typical Trattoria, osteria and restaurants to try. We are able also to organize degustation menù at our restaurant with the most famous typical Tuscan dishes and Tuscany wines.
Q2. What is your favourite dish on your menu?
A tough one as all the dishes in our restaurant are so good and genuinely delicious. But if I had to choose I would probably go for one of our most famously Tuscan plates such as the Beef Tagliata with Rocket Salad and Parmesan Cheese or the Pappardelle with white Cinta Senese Meat Sauce. Both are simpy yummy!
Q3. What's the most romantic dining experience you can arrange for a couple at Villa il Poggiale.
For a really romantic experience for a wedding anniversary or proposal for example, we can organise private and exclusive day tours in the local area with your own private driver and guide to discover the secret medieval villages that surround us. This will then be followed by private dinner exclusively for two by the pool at sunset, with candles light only, and accompanied after and during dinner by a personal violinist to create the ultimate romantic ambience for your occasion.
See more details and book Villa il Poggiale