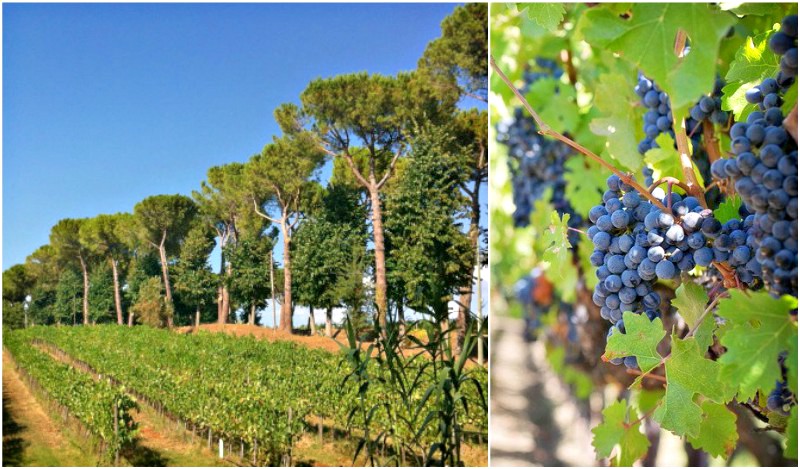 14 Romantic Trips for Wine Lovers | Tours, Tasting & Titillation
Imagine it's your wedding anniversary…
You're in Paris, Venice, or maybe Rome...
And your eyes smile with excited anticipation as you glance across the charming candlelit restaurant you've booked to celebrate your special occasion... as your waiter approaches with his wares.
What do you do now?
Are you straight into the menu…hunting hungrily for the delicious duck dish your sister (who came here last month for her birthday) is still raving about…or is it all about the wine?
Because wine is culturally such an important part of our celebrations.
From anniversary dinners, to a birthday breakfast-in-bed, to your wedding day, or just snuggling up together on the sofa after a long week at work… Wine makes it all a little bit more special.
Which is why - offering the perfect mix of fun, culture and sophisticated titillation - wine tours and experiences are getting more and more popular.
Here are 14 of the best destinations and places to stay if you're lovers who love wine...

Sicily makes some of the most exciting wines coming out of Italy.
Producing everything from full-bodied reds to vibrant, mineral-driven whites…Pair them with the fantastic local cuisine, and you'll understand why this is a wine-lover's paradise.
Want to try some of the island's native grapes?
From the hot plains of Marsala, try Grillo, a crisp and savoury white…Or Marsala, a fortified dessert wine that's making a big comeback… And of course, Sicily's flagship red - the smooth and juicy Nero d'Avola. At its best in the Noto area it's a wine you'll find on many a Sicilian's table.
Producers encourage you to come and taste, just make an appointment ahead of time.
And you must also try the local almond wine which is proven to be a fierce aphrodisiac.
In Sicily the wine is always the star of the show. So, whether you're an experienced wine lover or you're popping corks for the first time… you'll be equally enthralled by the attentive sommelier in most restaurants and local eateries... as you're guided you through a lesson on Firriato wines and terroir (sometimes even including recommended food pairings if you're lucky).
And for once you won't have to worry about the cost of ordering the best wine on the menu... one of the great revelations of Sicily is the how their most amazing wines... are actually so inexpensive.
(It's because they're produced from grapes locally grown on mineral rich volcanic soils)
You caneven test your wine skills with the Blind Tasting Game. A sensory journey of wines – without seeing the labels. Will you correctly match each wine to its vine and production area?
And if you're celebrating an extra special occasion in Sicily and need some fizz? Check out Saint Germain as the ultimate ally of pleasure and happiness. Racy bubbles infuse a perky blend of Catarratto and Grillo with mellow notes of white fruits and Sicilian citrus.
Welcome to Spain's answer to Tuscany.
With 275 wineries and more than 72,500 hectares of vineyards, the counties of Valencia are one of the world's great wine regions… and the perfect destination if you're a wine lover who also wants to stay by the sea.
Valencia's Utiel-Requena Wine Route is just a few kilometres from the coast and takes you on a journey going back 2,500 years in wine history. Producing tantalising red and rosé wines, the Utiel-Requena region is most famous for 2 things: its deep purple Bobal grape (which is practically exclusive to the area) and Cava.
Up the romance factor on your trip with a tour of the charming Terres dels Alforins region. Or for a once-in-a-lifetime wine experience, head up into the clouds on a balloon flight through the vineyards of Hoya de Cadenas and toast each other at 900m...raising a glass of Cava Brut Nature, naturally.
Cava, the region's famous sparkling wine, really is the only choice when it comes to special occasions in Valencia. Easily rivalling well known Catalan Cava wineries like Recaredo or Gramona, some of the best Valencian Cava to try include Tantum Ergo Brut Nature, Privée 18 Brut Nature and Reserva Nodus Brut Nature.

#3 Introducing Maremma, Tuscany's New Arrival - Stay at Villa Acquaviva
Maremma is the new kid on the block when it comes to wine in Tuscany. Following in the hallowed footsteps of its famous neighbouring wine regions such as Chianti, Brunello and Bolgheri, wine lovers are steadily falling in love with this part of Italy.
Which is hardly surprising when you consider Maremma's tempting combination of delicious new wines, sparkling sea views, seductive undulating hillsides and good Tuscan living.
To experience the romance of the region's wine making traditions first hand go straight to the wine makers themselves and visit one of the family run vineyards for authentic wine tasting in the old cellars. The hot springs at Saturnia Cascate are also just 3 miles from Villa Acquaviva and the perfect place to stop off for a steamy pre or post wine tasting bath.
Greedy grape lovers who want both amazing white wines and incredible reds (which is pretty much all of us) are truly spoilt for choice in Maremma. But if you're looking recommendations then try one of region's Chardonnays, which are quite different from other Chardonnays you may know and love, due to the unique conditions of the weather and soil which totally change this most delicate of grapes.
A favourite red wine of the region is the Morellino di Scansano which perfectly mimics the characteristics of Maremma: wild, rude, genuine, fresh! This is a wine that really lets its hair down and fully encourages you to do the same.
And for weddings or more sophisticated occasions? The Morellino di Scansano Riserva is the wine of choice. More elegant than the punchy classic Morellino, its aroma and full body make this wine the perfect partner for special celebrations and events.
Indulge in a unique discovery of wine and terroir at Viña Vik Vineyard.
Nestled on 11,000 acres in the gorgeous Millahue Valley and drawing visitors from around the globe, your romantic break here will include private tours and tastings, horseback riding and trekking experiences through the breath-taking vineyard, seductive wine and chocolate pairings, cooking classes, and secluded picnics amongst the vines.
And when you want to relax? Escape to the onsite Wine Spa for some luxurious couples' therapies with treatment products made with VIK grapes. You'll love the Aromatherapy Massage, or a Divine Body treatment by Caudalie.
The must-try wine here is VIK, the property's premier wine, Milla Cala. Decant for two hours before drinking…and enjoy with food or simply on its own.
For special occasions we recommend La Piu Belle. Exceptional in its flavour profile this wine is also singularly beautiful in its design. The wine, which was created in homage to the art of wine-making is testament to the importance of art at VIK, featuring an exclusive label imagined by Chilean artist Gonzalo Cienfuegos which is a work of art in itself. Produced in limited quantities, each of the bottles is hand crafted, making La Piu Belle a particularly special gift.
Facing south, with more than 3000 hours of sun and protected by a mountainous barrier from the dry Nordic winds, the Algarve is one of the best places in the world to grow vineyards.
But this Mediterranean paradise is not only perfect terroir to produce wine...it's also begging you to enjoy it!
Macdonald Monchique Resort & Spa provide several in-house wine tasting events throughout the year...as they believe their setting is always best when paired with a glass of wine.
Book yourselves in for a few interesting wine tasting tours. Or simply enjoy a glass of wine with your loved one at the Mezzanine Bar, with its breath-taking view of the Algarve sunset.
It's hard to pick just one favourite wine from the region but João Clara Red is top list for this winter. Produced from Trincadeira, Syrah, Alicante Bouschet, Touriga Nacional and Aragonez grapes, it has an intense aroma of red fruits, flora, spice and toast, from ageing in French oak…and its long lasting finish goes great with traditional winter dishes like cured meats or cheese.
Just imagine the romantic evenings sharing a bottle in the Mon-chic restaurant…looking out to scenes of the undulating hillsides…while the fog sits for the night.
And for couples seeking the perfect wine to accompany more intimate celebrations…Try the Paxá Premium Rosé. This fresh, smooth and well-balanced wine is pressed gently to extract the minimum possible colour, maintaining the acidity and fresh aromas of the Touriga Nacional grape. Perfect with grilled fish, cold meats or fresh pasta this wine is light but memorable - with a very pleasant finish...Just like that special moment. And you can grab yourselves a bottle at the hotel Mercearia shop.
You've seen the pictures…and tasted the wine.
One of the best wine regions in the world both for its stunning landscape and the quality of wines: Tuscany is at the top of many a wine lover's wish-list.
'The Complete Wine Experience' at Conti di San Bonifacio Wine and Hospitality includes a private tasting with their winemaker and sommelier in the winery, where you'll taste the wines during their ageing process directly from the barrels. There is also 'The Blend Your Own Wine' experience where after tasting the wines you will try to make your own special blend to take home complete with your own label.
A favourite wine from Tuscany at the moment is Sustinet IGT Toscana - a pure Syrah…perfectly made. When produced in this area of Tuscany, this ancient grape finds a modern elegance and finesse whilst retaining enormous structure. An intense deep red…decisively spicy with aromas of white pepper, cherry, plum, violet…lots of minerality…round in the mouth…the acidity is balanced by the sweetness of the tannins…the finish is long. And perfect with strong flavours such as aged cheeses, beef or mackerel.
And when you fancy some afternoon delight? Go for Conti di San Bonifacio Prosecco: aromas of apple, fresh white fruit and notes of yeast escape from the glass without creating excessive complexity. A wine, fun and young in spirit…perfect for a lunchtime flirtation or for an early aperitif poolside.
Shhhh! We're going to let you in on a secret...
West Sussex produces world-class sparkling wines…which more than rival the Champagnes from France.
In fact, the area sits within the same geological landscape as the Champagne region (and is 80 miles away as the crow flies), with the South Downs creating its own micro-climate that is absolutely perfect for grape production.
Ockenden Manor offers a number of wine tours and tastings, working very closely with a number of award-winning vineyards in the area including Ridgeview and Bolney. The hotel lists 28 of these sparkling wines and wines on their wine menu and you can enjoy a romantic walk to the vineyard through some of the most stunning South Downs countryside…or perhaps a proposal amongst the vines!
Ridgeview also produces one of the Queen's favourite sparkling wines - served at Kate and William's wedding.
Favourite wines here include Ridgeview, Bolney Estate and Bluebell….however, Wiston Estate wines made by Dermot Sugrue, are fast becoming a first wine of choice – in particular his own special cuvee, Sugrue Pierre 'The Trouble with Dreams' is very special indeed. It has good bottle age and is made with Dermot's passion and love. It was also the only gold medal winner at the inaugural IEWA (independent English wine competition). And we like it served with smoked salmon, shellfish and oysters. Umm Ummmmmm!
Thanks to its unique micro-climate and clay-limestone soils Lisbon has a long history of wine making.
And cultivating both native grapes as well as many international favourites, Lisbon's wines are proud to be different - due mainly to the unique Atlantic influence of the region.
Praia D'ElRey Golf & Beach Resort organise wine tours to Quinta do Gradil where you can visit one of the oldest vineyards in Lisbon and taste some of the best wines of the West Region. Other recommended wine tours include Quinta do Gradil, Quinta do Sanguinhal and Adega Mãe.
The wine you have to try here is the Dory Reserva Tinto 2013. And the region's best-selling and most requested wine is the perfect accompaniment for intense local dishes such as Rib of Veal, a Steak of Acém with Garlic Sauce and even a Jarret of Veal. Try it for yourself at one of Praia D'El Rey's monthly wine tasting dinners, or stay at the hotel from mid-October until mid-November when there is wine tasting every week.
The best wine for special occasions here is the "Niepoort" Charm 2014 - a great wine! From the Douro region, it's bright red in colour, reminiscent of strawberries and cherries and very pleasant in the mouth...smooth with a persistent end.
With more than 900 vineyards inside a 5,600 km² area Provence is wine heaven.
Stay in the heart of Provence at The Hostellerie de l'Abbaye de La Celle, where the the Coteaux Varois wine conservatory is also located in the hotel garden, and visit 20 of the most popular vineyards of Coteaux Varois such as Château la Margillière, Château Lafoux and Château la Lieue...Many of which the hotel has partnerships to arrange personalised and complimentary visits and wine tasting.
The wine house just adjacent to the Hostellerie de l'Abbaye de La Celle also invites you to taste and learn about all the Coteaux Varois wines and (perhaps most importantly) buy a few bottles to take home.
When it come to picking a favourite wine in Provence, it often comes down to your preference of colour…Provence is well known for its Rosé wine but there are also some very nice reds! For a special recommendation from the hotel's Restaurant Director...try Grenache 17, a sweet natural red wine with notes of chocolate…it's the very best sweet dessert wine!
And for special occasions, some of the nearby wine regions, such as "Côtes du Rhône" have both exceptional and very famous wines too…We're talking Châteauneuf du Pape, Saint Joseph, Côte Rotie, and many more.
Want to try the most famous wine in history? Come to Campania.
Disappearing for over 1700 years, ancient literature's most famous wine – Farlernum – was revived here on the volcanic hillside vineyards of Ville Matilde in the 1970s.
Indeed, wine is the beating heart of culture and tradition in Campania. And Ville Matilde warmly invites you to fully experience the flavours of a by-gone era and the finest culinary traditions of the region.
Another favourite and must-try wine during your stay here is Terre Cerase. This shimmering cherry red wine has a delicious Morello cherry fragrance, flanked by black and red wild berries, and delicate hints of spice and blossom. In the mouth, it is smooth and full-bodied, making this a fine aperitif wine, or the perfect partner with sauced fish, poultry, and veal. For us though, its best enjoyed with Campania Mozzarella di Bufala or a freshly cooked Pizza Napoletana…you don't get much closer to food heaven than this.
And for extra special occasions? Cà del Bosco, Cuvée Prestige is one of the best… and perfectly represents the Metodo Franciacorta personal philosophy that excellence in winemaking is essential for upholding the honour and traditions of the region.
Rows of vineyards recall the ancient charms, unique scents and colours fill the air with a heady nostalgia, and powerful and unforgettable flavours of the past burst into the present.
Eastern Sicily is a land of wine and traditions. And with a perfect climate for the production of full-bodied and unique wine.
Ragusa is a particular area of winemaking excellence and the only DOCG wine of Sicily is produced between Ragusa and Syracuse: the exclusive Cerasuolo di Vittoria.
Other great wines to try from the region are Moscato di Siracusa DOC, the Eloro, and the Moscato di Noto. The Eloro was born from the local Nero D'Avola: red and balanced, with scents of berries, vanilla and cherry. The Moscato of Noto, whose wine grape variety was imported by the Greeks, has a dark amber colour and a sweet taste. It is a DOC wine and is produced by lapping the grapes to increase the sugar percentage - creating a round and aromatically complex taste.
With many wineries surrounding the region: a visit and wine tasting are the perfect experience to get to understand the techniques of cultivation, production and winemaking. And also learn how to drink wine with more "awareness". La Moresca has a partnership with many local wineries and can arrange wine tasting during your stay in Eastern Sicily.
Siena is one of the most beautiful and historic wine destinations in the world. Surrounded by beautiful countryside and home to many traditional and modern wineries. And noble families including Ricasoli, Mazzei, Antinori, Biondi Santi have firmly secured the region's place in history as one of the world's greatest wine makers, producing wines like Chianti Classico and Brunello di Montalcino.
If this is your first time in Tuscany your first stop has to be the Chianti region. It's castle, vineyards, and medieval hamlet are unmissable. Next up we recommend Montalcino and Val d'Orcia to taste the great Brunello and see some of Tuscany most picture perfect landscapes, followed by Pienza and San Gimignano which are both just so romantic.
The wine you have to try in Siena is Brunello di Montalcino – perfectly expressing the unique qualities of the region, the expertise of local winemakers has produced one of the world's greatest wines. Pair with local food in the area such as fresh handmade pasta with meat ragu sauces, tagliolini with truffle, chianina beef steak (fiorentina) or aged pecorino cheese produced in Pienza.
And for a special occasions? It's Franciacorta…this brut sparkling wine is produced near Milan, from chardonnay, Pinot noir or blanc grape varieties. And it's the wine recommended to honeymooners at Campo Regio Relais.
Choosing a favourite wine at Cristallo is simple: because the Veneto is the region where the famous Prosecco wine is produced.
Prosecco is a sparkling white wine which is getting more and more popular worldwide (and will be appearing shortly at many Christmas and New Year parties).
If you're passionate about Prosecco, Cristallo can organise tours to the Prosecco area and through it vineyards. And as Prosecco is also one of the main ingredients of Spritz, the most famous drink in Italy, you are sure to have lots of opportunity to enjoy some bubbles during your stay, as either a starter with dry snacks or as an accompaniment with your dinner.
And for very special occasions we recommend Spumante, an Italian sparkling white wine which can be either dry or sweet. It is refined but at the same time not too demanding, a pleasure to drink and to share…as a relationship should be!


If you love Malbec this one's for you.
Mendoza is one of the best and most important wine regions in South America, and globally recognised as one of the world's seven great wine capitals. Apart from that Mendoza is also number one Malbec producer, producing the best Malbec in the world.
For the ultimate romantic trip in Mendoza we highly recommend the Relais & Chateaux Experience package. And if you celebrating a special day such as an anniversary or birthday, book a lunch or dinner in the middle of the vineyards.
There are two wines you must try in Mendoza. One is obviously Malbec, which should be served at around 12 degrees Celsius to best bring out it flavour of black pepper and pears. The other is Cabernet Franc or Bonarda. And the best pairing for these wines is a great Argentinian beef steak! Embrace the local culture and enjoy your wine while preparing the famous "asado" barbecue.
For an amazing sparkling wine made in Cruzt Winwry by wine maker Pedro Rossell try Millesime. Made by traditional methods this sparkling wine is fermented inside the bottle for approximately 10 years.