20 Most Romantic Hotels in Bali | Where to stay in Bali
Imagine Bali...

The bear hug of the tropical breeze. Silky, silver sand sliding between your toes. The hypnotic soundtrack of waves lustfully lashing the cliffs. And a rainbow of art and culture popping against rainforest vistas soaked in green.
Are you there yet?
Bali is an Indonesian island of dazzling natural beauty.
And best known today as an island for romance. Steadily growing in popularity over the last 30 years, Bali is famous for seducing couples with its romantic resorts and mystical charms. Because Bali is a fantasy setting for destination weddings, tropical honeymoons and once-in-a-lifetime romantic moments.
So if you're thinking Bali might be the perfect host for your special romantic trip, where in Bali best suits your romantic style?
With a rich assortment of beaches including palm-fringed white sandy coastlines, cliff-guarded 'secret' shores and the striking black sands of its north-west seafront, Bali gives you choices. And if beaches aren't top of your tropical wish list? Then Bali's lush rainforest covered heartland of hills and volcanic mountains offer a romantic hideaway buzzing with nature's magic.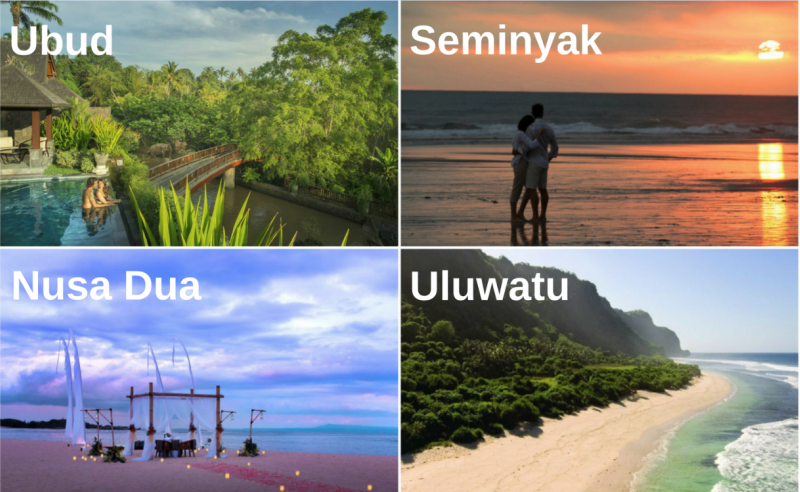 Here are some of the most popular destinations in Bali for couples:
Ubud is the soul of Bali. Rich in culture and singing with spirituality. Surrounded by rice paddies and rainforests, Ubud is the place to stay if you want to experience the true wealth of Bali's flora and fauna. And all within easy reach of many of Bali's best restaurants, local art galleries and artesian markets.

Seminyak is a trendy tourist hotspot and home to Bali's most fashionable beach. Perfect for couples that want to live The High Life, Seminyak offers luxurious hotels and resorts, fancy restaurants and chic boutiques in abundance.
Nusa Dua is an exclusive destination designed for couples who want to escape from reality. Come here if you're seeking a tropical paradise cocooned in luxury. Think: white sand beaches, crystal clear waters and unapologetic indulgence in world-class hospitality.
Uluwatu on the southwestern tip of Bali's Bukit Peninsula is known for its towering cliffs and scary-big surf waves. Less accessible than some of Bali's more popular romantic destinations, this is a great place to stay if you're a bit more adventurous...or a couple that likes to take the path less travelled.
And here's our top 20 romantic places to stay in Bali:
#1 The Chedi Club Tanah Gajah | Ubud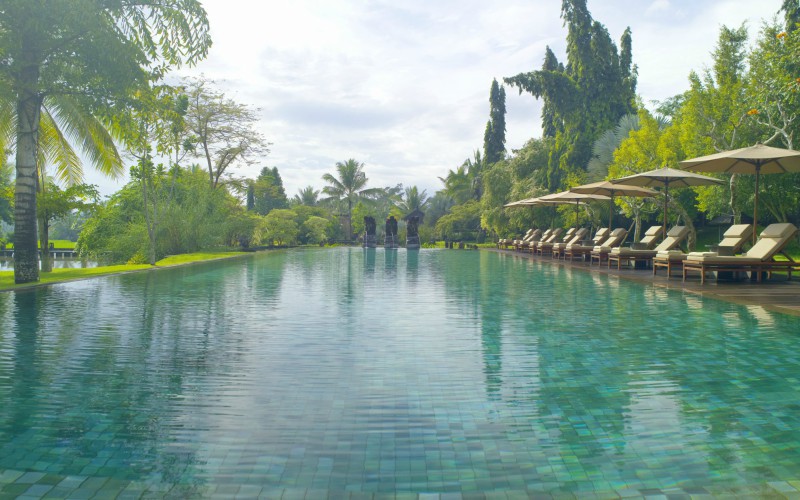 Balinese bliss. The Chedi Club Tanah Gajah is a tropical treat of 5-star luxury amid the luxuriant green landscapes of Ubud. This is one of Bali's (and the world's) most exclusive retreats where couples honeymoon and celebrate romance in world-class style.
#2 Awarta Nusa Dua Luxury Villas & Spa | Nusa Dua
Once-in-a-lifetime romance. Dedicated to giving each and every guest the ultimate personalised service, you'll be treated like royalty from the second you arrive at Awarta Nusa Dua. This is your Balinese home from home (so long as your home is a luxury villa with hot-tub).
#3 Villa Beji Indah | Ubud
Tropical sanctuary. Villa Beji Indah is an intimate hideaway where private pools meet lush tropical gardens to create a secluded and romantic experience. The vibe here is relaxed and authentic, and their weddings are simply magical.
#4 Desa Visesa | Ubud
Experience the cultural heritage of Bali. Desa Visesa Ubud is 6.5 hectares of rich rural landscapes where you can have a go at living like a local (albeit in 5-star luxury). Discover the 6 reasons why couples love it.
#5 Berry Amour Romantic Villas | Seminyak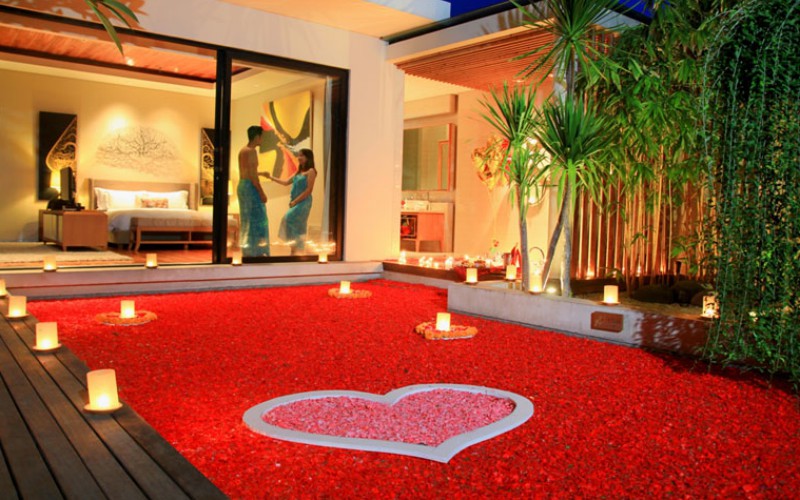 Are you ready for love? Berry Amour Romantic Villas is one of the sexiest and most sensual resorts in the world. Adults-only, romantic couples and honeymooners choose from 3 choices of love-themed villas to find your perfect kind of sexy: Are you Desire, Temptation or Mystique?
#6 Samaya Ubud | Ubud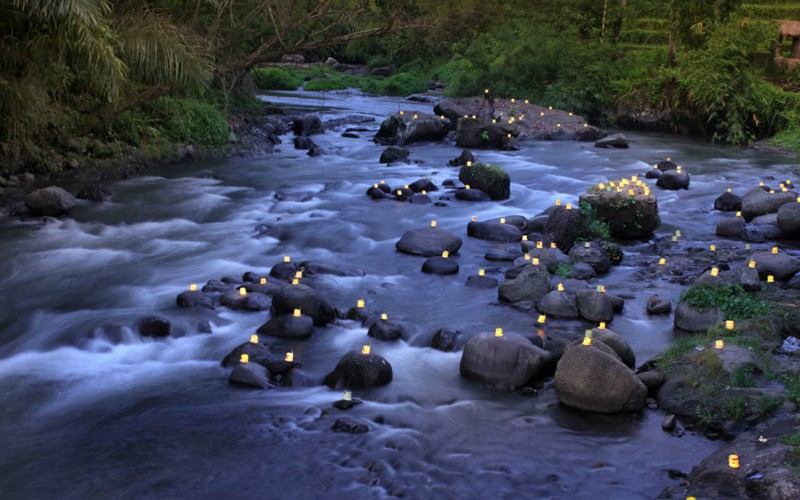 Escape from the world. If your ultimate romantic getaway demands peace and tranquillity then the Samaya Ubud could be the one for you. Serenaded by the enchanting song of Ayung River, time here gets noticeably slower and private moments are king.
#7 Wyndham Tamansari Jivva Resort | Lepang Beach
What could be more romantic then plunging into a rose petal filled Jacuzzi …Surrounded by flickering tea lights...And overlooking the exotic black sands of Lepang Beach? Answer: Not a lot. Try it for yourself at Wyndham Tamansari Jivva Resort
#8 Menjangan Dynasty Resort, Beach Camp & Dive centre | North West Bali
Described as the ultimate glamping experience, Menjangan Dynasty Resort is a 5-star boutique beach camp of unrivalled luxury. No morning queues for the shower. And not a stinky portaloo in sight. Just white sand, private pools, romantic dinners under the stars, panoramic ocean views and air-con in the bedroom.
#9 Ayodya Resort Bali | Nusa Dua
Authentic Bali meets 5-star luxury at Ayodya Resort Bali. Inspired by the epic Hindu love story of star-crossed lovers Rama and Shinta, stay here to live your very own real life romance ... all sprinkled with a little Balinese magic.
#10 Samaya Seminyak | Seminyak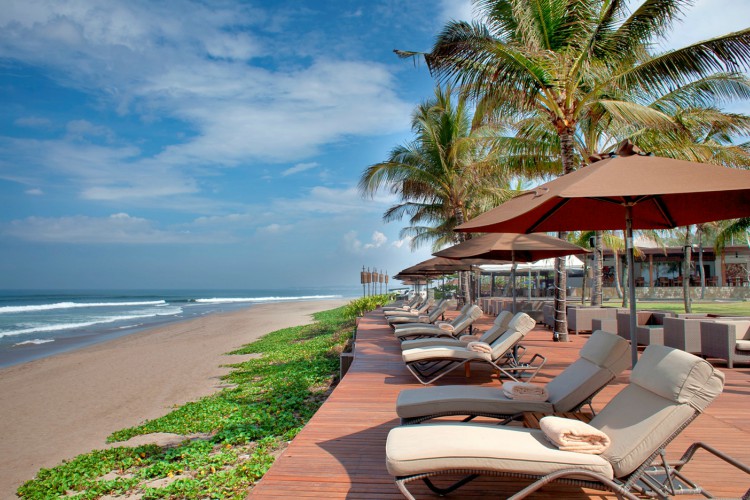 Passion thriller on the beach: ride horseback along the sands at sunset and hold hands as waves kiss your toes. The Samaya Seminyak is made for couples seeking a romantic paradise in walking distance of trendy bars, boutiques and restaurants.
#12 The Kasih Villas and Spa | Seminyak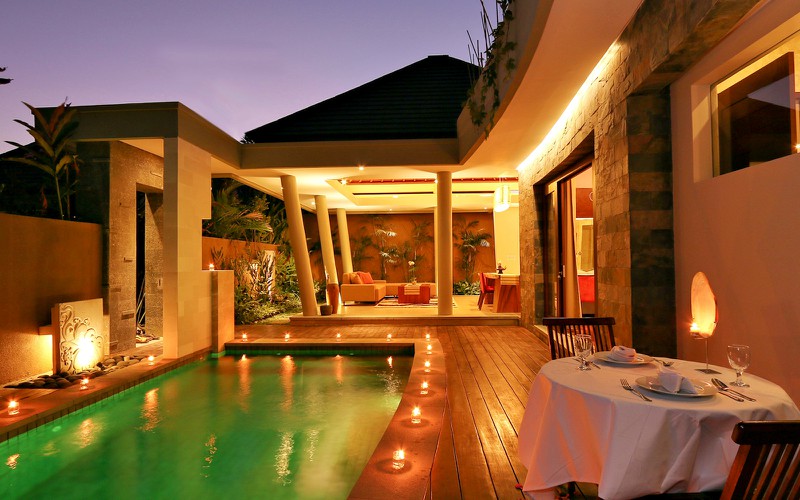 Shop, dance, seduce. Kasih Villas are ideally situated if you want Seminyak's lively hustle and bustle within walking distance of your private villa. Candlelit dinners by the pool are the perfect romantic end to a day of sipping cocktails on the beach and luxury daybeds were made for lazy mornings after the night before.
#13 Hideaway Villas Bali | Uluwatu
Are you an adventurous couple? Head to the cliffs of Bali's rustic Bukit peninsula for a romantic escape at Hideaway Villas Bali. This is an authentic Bali experience of local charm and culture all dressed up in contemporary luxury.
#14 Bali Palm Resort | Candidasa
Discover the 'real' Bali at Bali Palm Resort. Less than 10 minutes away from Bali's oldest village and offering stunning seaviews and mountain scenery, Candidasa is a great base for exploring the island.
#15 Wapa di Ume Resort and Spa | Ubud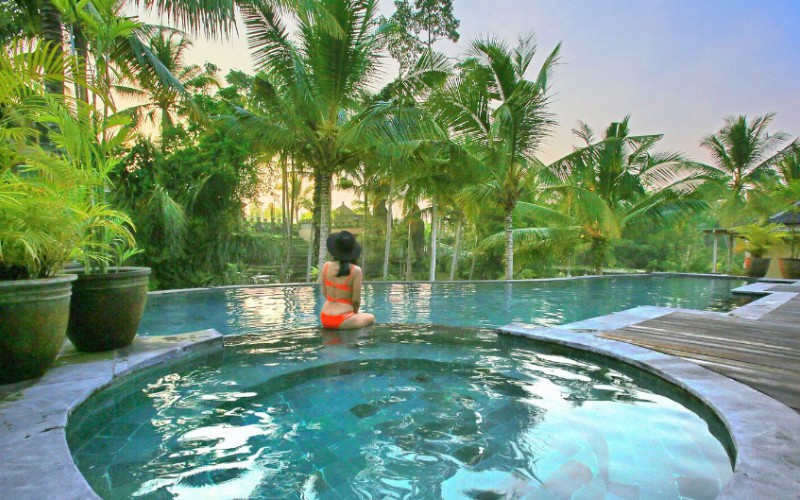 Romance and rice fields. This is rural Bali at its best. Escape from the tourist traps and experience the quiet welcome of nature at Wapa di Ume boutique resort. Just 5 minutes from the centre of Ubud.
#16 Chandra Bali Villas | Seminyak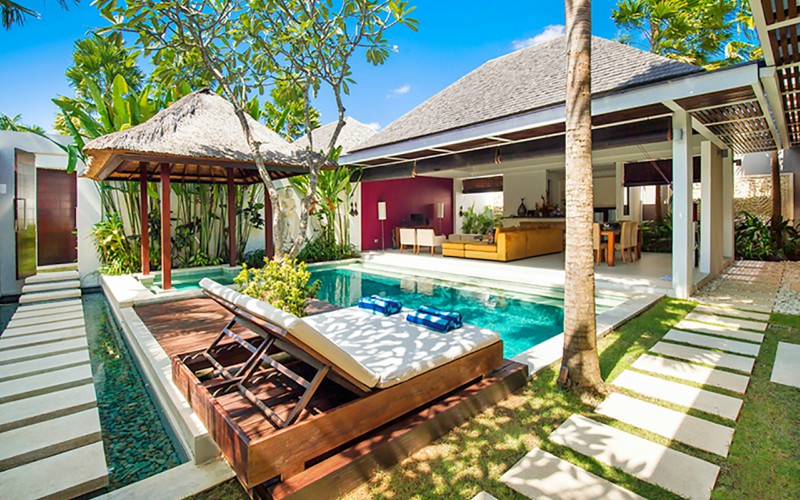 Stay in Bali's most cosmopolitan neighbourhood. Where trendy bars and chic boutiques meet a tropical beach paradise. But be warned, with Chandra Bali Villas offering relaxing massages, glamorous breakfasts in bed and flower filled candlelit baths, you may find yourselves not wanting to leave.
#17 U Paasha | Seminyak
Palm fringed beaches by day. An adults playground by night. What's not to like? And cool couples will also love the minimalist style of U Paasha Seminyak Bali.
#18 The Sanctoo Villa | South of Ubud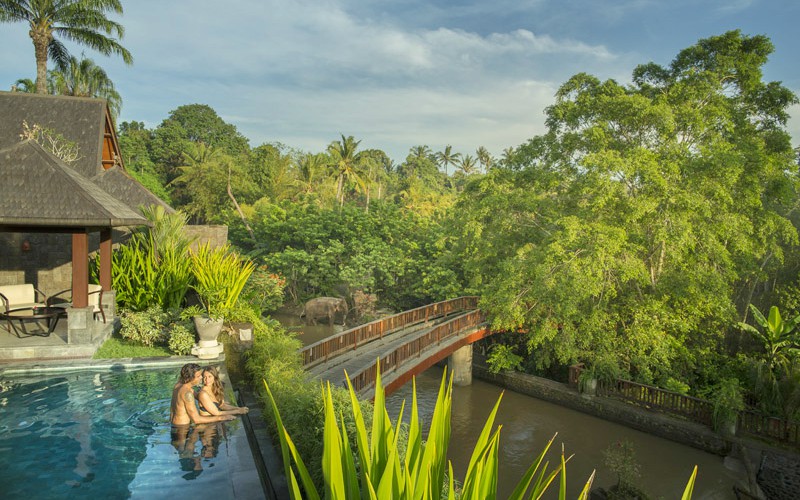 Literally translated as a 'Sacred or Private Place,' couples are offered an intimate experience of Bali at
Sanctoo Villas
. With just two luxury villas making up the whole resort privacy is guaranteed.
#19 The Kayon Resort | Ubud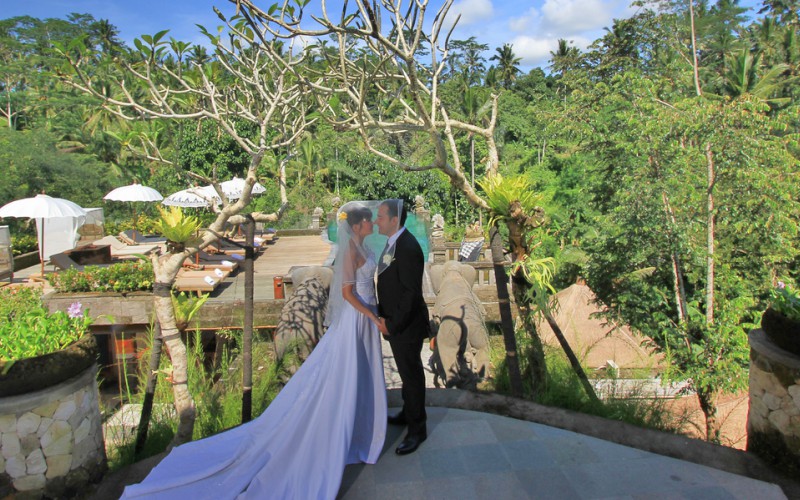 A 5 star spiritual resort. Set on the banks of the holy Petanu River, The Kayon Resort offers so much more than just luxury. Here you are pampered mind, body and soul within a secret world of natural healing.
#20 Bulgari Resort Bali | Ululwatu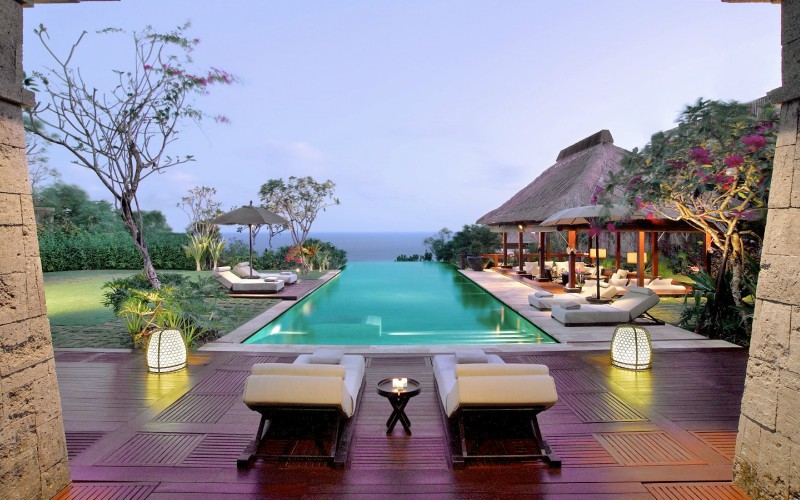 Say hello to the Indian Ocean… as your butler passes the Champagne. Bulgari Resort Bali offers sophisticated elegance on the southwest coast.