25 Most Romantic Hotels to Get Married in Asia
Planning a perfect wedding in the sun? Then our selection of romantic hotels and destinations in Asia will give you plenty to dream about when added to your ultimate 'wedding wish-list.'

Preparing for your 'big day,' is all part of the excitement of the celebrations. And, making sure that you've chosen the best wedding destination is key to your happiness. Whether you choose a seafront wedding in Indonesia, or a venue that can boast some of the best views on the planet in Phuket, there are so many ROMANTIC WEDDING DESTINATIONS in Asia that are perfect for your celebration.
Weddings in Idyllic Indonesia
Bali evokes the definition of a romantic destination wedding paradise in Asia. If you're looking for somewhere that has a spiritual aura, fantastic scenery, a wonderfully welcoming local population, then look no further. The landscape is stunning and there's plenty to do by day and by night. Think of beautiful tropical flowers, sensational gourmet food and idyllic beaches, and you'll be close to visualising Bali's perfection.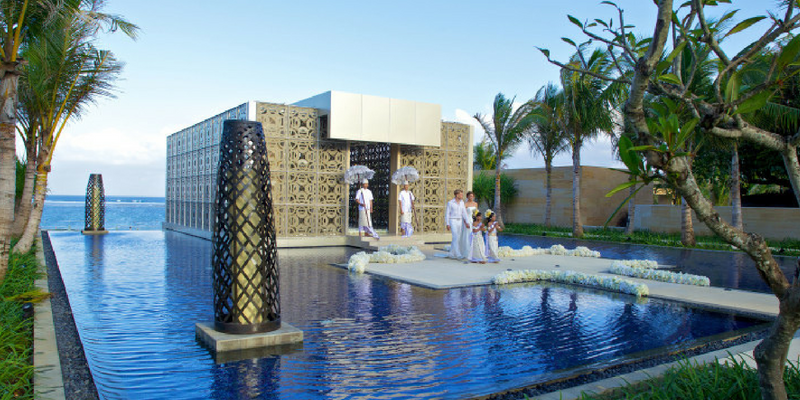 #1 Ultimate luxury at The Mulia - Request details
Calm your pre-wedding nerves by booking this hotel as your romantic wedding venue. The hotel's specialist wedding team will ensure that all runs smoothly. From flowers to catering and the comfort of your guests, and, of course, your happiness, the attention to detail is stunning. No matter how large or small your wedding party the Mulia will ensure that all runs to plan. The hotel also boasts an 'eternity chapel,' a glass chapel that floats on the sea, with the Mulia lake acting as a backdrop to your ceremony. With its indoor and outdoor venues this hotel ticks all the boxes.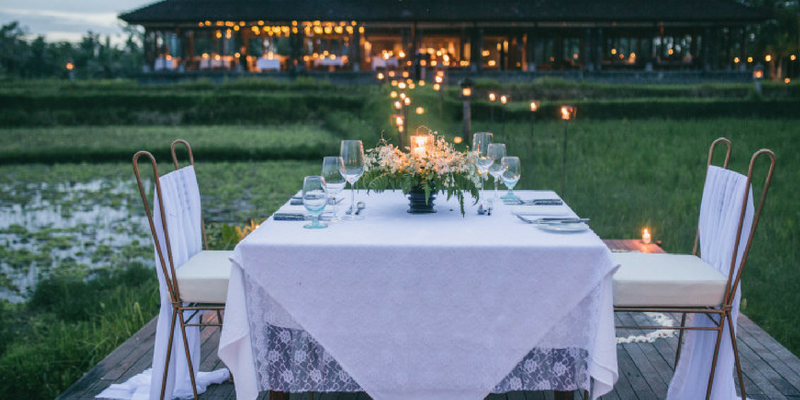 #2 Magical perfection at the Chedi Club Tanah Gajah Ubud - Request details
Enter a world of luxury when you select this hotel for your perfect luxury wedding in Asia. Designed by a renowned Indonesian architect, this hotel will provide you with an intimate and luxurious setting for your wedding. You'll be able to get married in an iconically beautiful garden pavilion and then celebrate the festivities in either a wonderful amphitheatre or in The Bird Lounge, next to a private aviary. Gourmet catering, a private car service and impeccably tasteful suites are all on offer here. Anyone looking for a Balinese spiritual and cultural wedding will love this stunning venue.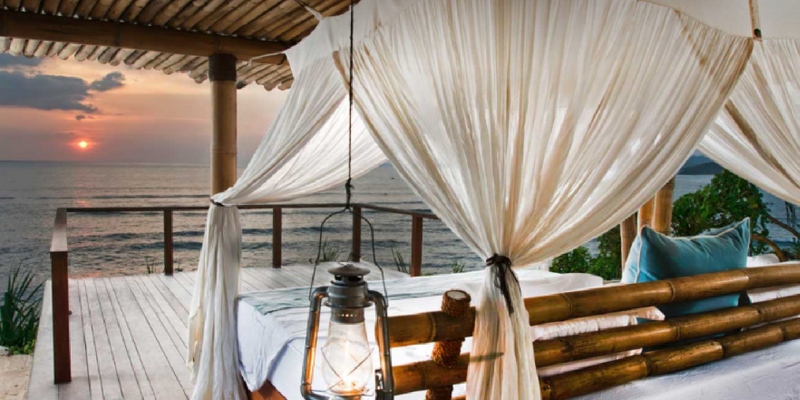 #3 An island treat at Nihi Sumba Island - Request details
A 50-mile flight south of Bali is the magical island of Sumba. If you choose this Indian ocean destination for your wedding, you'll be staying in a hotel that's been recently given the accolade of the 'world's No.1 hotel' by readers of 'World and Travel'magazine. Be prepared to enjoy luxury with a capital 'L.' This island oozes charm and is ideal for those looking for a more intimate destination – it can cater for up to 70 guests.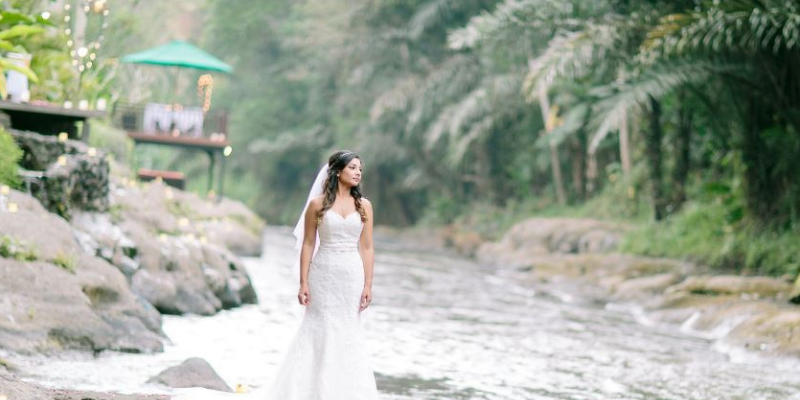 #4 An enchanted wedding at The Samaya Ubud Resort - Request details
Set within a majestic jungle backdrop, this hotel offers the discerning visitor a romantic wedding with a difference. You'll have the choice of stunning venues to make your vows including garden, riverside and rainforest ceremonies. Select this hotel if you want an intimate wedding for up to 40 guests. With its luxurious villa accommodation, its fantastic staff and wonderful catering resources, just immerse yourself in a uniquely romantic experience.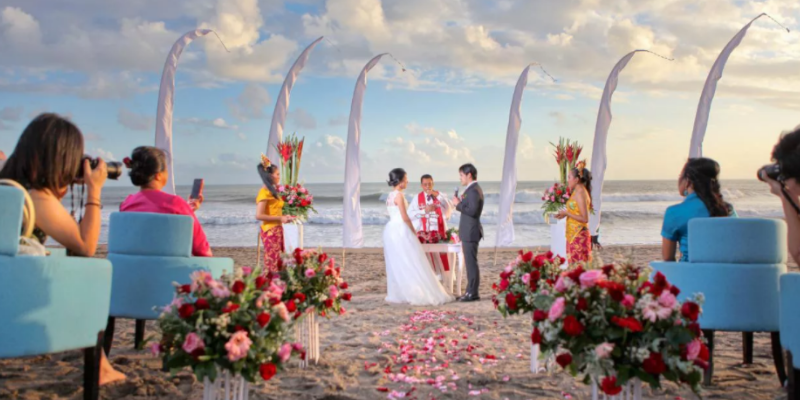 #5 Indian Ocean Beacfront Weddings at Lv8 Resort Hotel - Request details
Sumptuous suites, professional staff and an eternally romantic ocean views are what you can expect if you select this resort as your ultimate wedding destination. Many of the suites have their own pool which increases the intimate feeling of this wonderful place. The resort also has its own wedding planning service providing a unique wedding experience for every couple.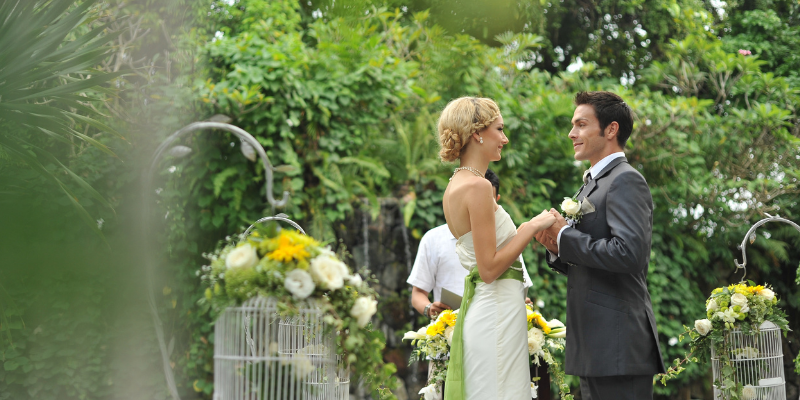 #6 Tropical paradise at Peppers Seminyak, Bali - Request details
Peppers Seminyak is an idyllic destination for your dream wedding celebration in Bali. And the resort's lush 4.5-hectare estate combines the experience of a luxurious tropical villa resort with wellness and culinary escape, unlike any other. Couples can exchange vows at the edge of an enchanting 35-metre natural rock pool, surrounded by a picturesque tropical garden, with up to 50 guests.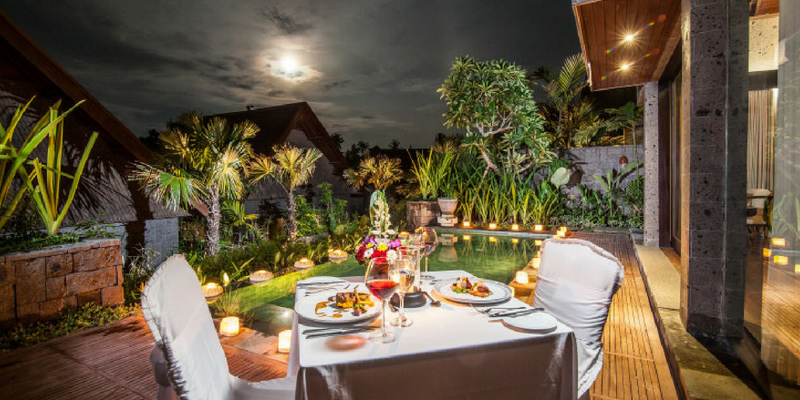 #7 Unique hospitality at the Sanctoo Villa - Request details
With its upmarket villas set right in the heart of the jungle, you'll be delighted that you've selected this romantic venue for your wedding. You'll be picked up from the airport and then its up to you and your partner to lose yourselves in this stunning romantic tropical paradise. Choose from a garden, villa or temple wedding blessing and reception. And with villas boasting relaxing spa treatments, a stay here will promote your sense of well-being and tranquillity - what better way to start your life together?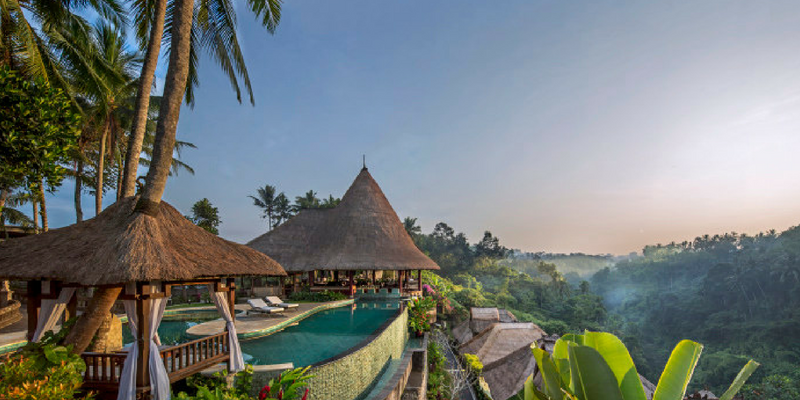 #8 Intimate, boutique indulgence at the Viceroy Bali - Request details
The hotel's helicopter airport transfer service will give you some idea of the quality of service that you can expect at this destination. Anyone looking for luxury and indulgence as a backdrop for their special day, will love the designer bedrooms, and the private pools all overlooking the wonderful nearby jungle. You'll be able to enjoy a romantic experience second to none when you stay here and relish some of the best cuisine on Bali.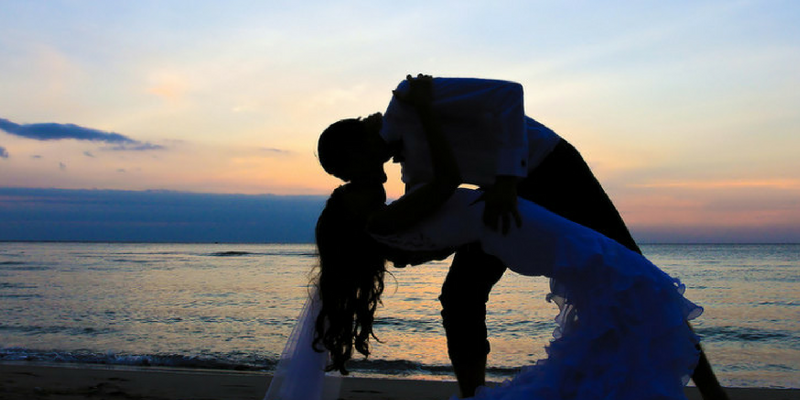 #9 Luscious Lombok destination at Puri Mas Boutique Resorts & Spa - Request details
Just 172 km west of Bali lies the mystical island of Lombok, home to the Puri Mas resort. With its upscale dining options, its beautiful villas, this is a wonderful option for a romantic destination wedding. You and your partner can enjoy the magnificent ocean views and the magnificence of this place. The resort has an expert team of wedding planners on hand, all you two have to do is enjoy your island experience and your special day.
Exotic Weddings in Cambodia
Famed for its ancient ruins, its majestic jungles and wildlife and its selection of beautiful hotels, Cambodia is a lovers' paradise. Choose this country for your wedding and you'll love the care and attention that you'll receive at your destination. We've selected some of our favourite hotels where you'll be able to exchange your vows in this earthly piece of paradise.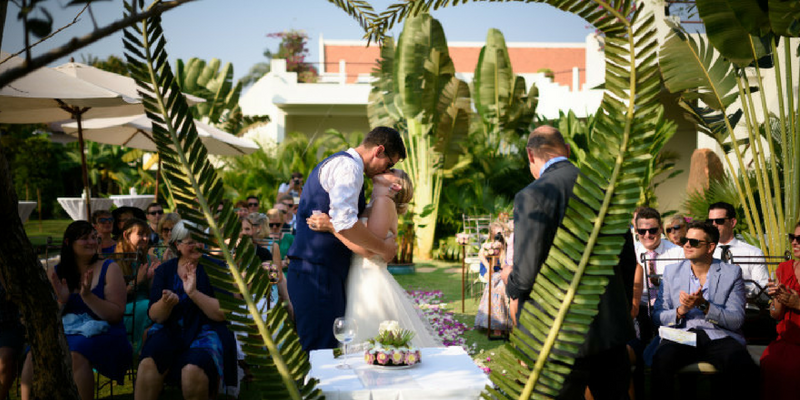 #10 Living the romantic life at Navutu Dreams Resort & Wellness Retreat - Request details
From the moment you enter this idyllic hotel, you'll know that the two of you are going to enjoy a special experience. With its rooftop terraces commanding some spectacular views, petal filled baths and private verandas and gardens this is a location that's perfect for intimacy and romance. This hotel is ideal for a small wedding, 56 guests can be catered for and it has an enviable reputation for the quality of its personalised service.
#11 Enjoy a tropical oasis at Raffles Hotel Le Royal - Request details
Set in the heart of Cambodia's capital Phnom Penh, you'll enter a green and lush world once you set foot I this historic hotel surrounded by its verdant gardens. The hotel's Elephant Bar is one of the most famous watering holes in this part of Asia. You can choose either a traditional western wedding or enjoy a Khmer celebration, and then have a luxurious gourmet meal to celebrate your happiness. The hotel will go out of its way to provide you with a memorable wedding in Cambodia.
Dreamlike Weddings in Thailand
Surrounded by tropical oceans, complete with temples, rainforests and a diverse culture, Thailand is a romantic's dream location. And, it's home to some of Asia's best hotels and resorts for a destination wedding. You'll be able to enjoy the tranquil atmosphere of your hotel or go exploring along Thailand's beaches and bustling towns. The hotels will cater for your every need, all you have to do is enjoy the occasion and sit back and relax together.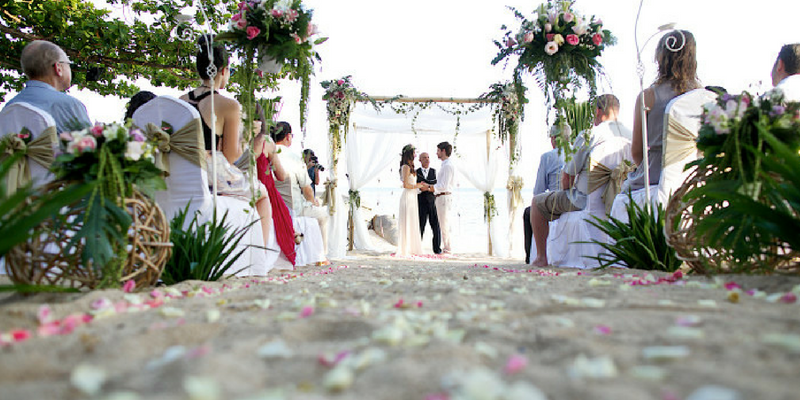 #12 Intimate bliss at Rocky's Boutique Resort - Request details
Koh Samui, the tiny island in the Gulf of Thailand is home to this wonderful resort. If you've been dreaming of a romantic beach wedding, this is the place for you. You'll be offered a choice of ceremony and this resort offers a wide range of options all tailored for you. Whether it's just the two of you wishing to tie the knot, or you want to celebrate with family and friends, the staff here will bend over backwards to create the right setting for your very special day.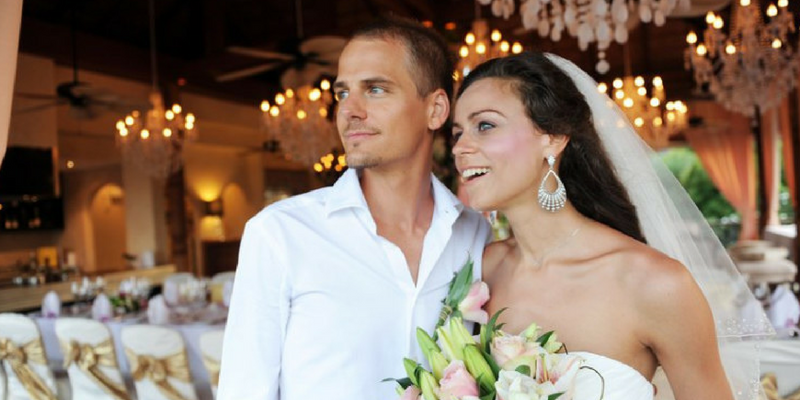 #13 Harmony and love at Zazen Boutique Resort Spa - Request details
Another Koh Samui resort, but this venue places an emphasis on well-being and tranquillity. With its small luxury bungalows, beautiful views, as well as opportunities for pampering in the resort's spa, you'll be able to lose yourselves and simply succumb to feelings of bliss and happiness. There's a world-class gourmet restaurant on site too. With the services of the resort's wedding planner, you'll be able to make all of your wedding dreams come true.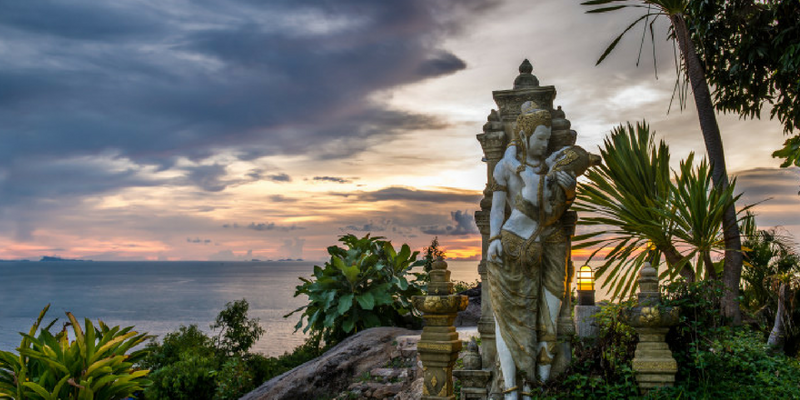 #14 Island dreams at Sunset Hill Resort - Request details
Situated south of Bangkok in the Gulf of Thailand, this boutique resort on Koh Phangan offers luxury and style for couples. Weddings are a speciality so if you're planning to select this destination as your dream wedding venue, you'll be able to enjoy stunning views, private dining, and the services of a professional wedding planner to achieve perfection. Same-sex weddings are welcome here. You'll have a choice of locations for your special day, mountain, beach, poolside or on the water itself. You'll just be able to focus on yourselves and enjoy one of the best days of your lives.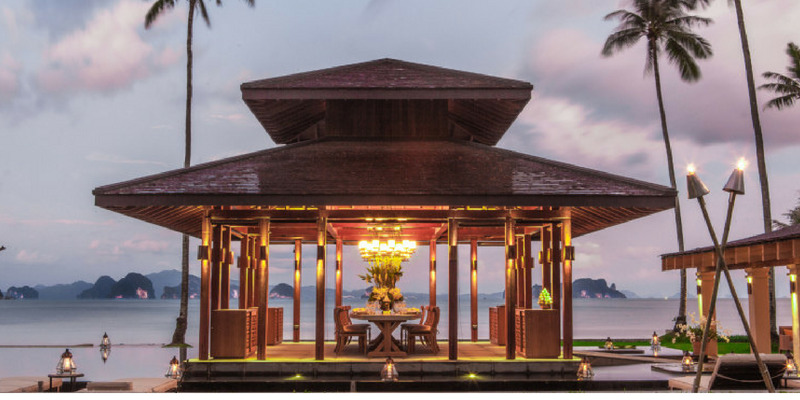 #15 Luxury service at Ani Villas - Request details
Attention to detail and making sure that you can concentrate on yourselves and relaxing at this upscale resort are just a few of the reasons for choosing this resort as your Asian wedding destination. Its romantic location on Koh Yao Noi island promises seclusion and intimacy. This 10-bedroom resort is ideal for a romantic occasion.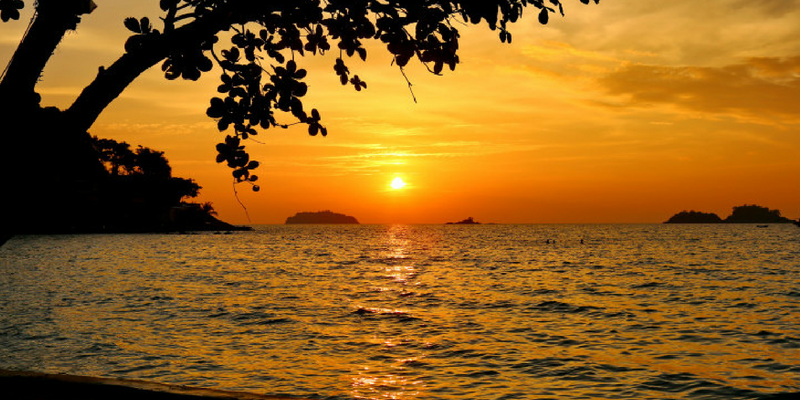 #16 Indulgent bliss at The Emerald Cove Koh Chang - Request details
You can celebrate your wedding and enjoy your honeymoon at this magical hotel on Koh Chang island. Choose your dream wedding ceremony with the help of specialist planners. And, enjoy the blissful scenery, gourmet food and your celebrations while listening to the gentle sounds of the sea lapping in the background. Dreams are made here.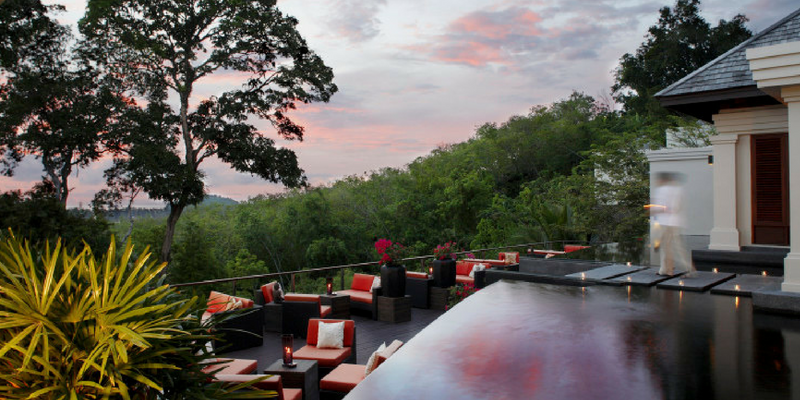 #17 Luxury and intimacy at The Pavilions Phuket - Request details
Marry your love in this splendid hilltop retreat. You'll also be able to unwind in the resort's spa and have candlelit dinners in a choice of three gourmet restaurants. This retreat is ideal for a smaller more intimate occasion, and, you'll be able to escape from the world and simply relish each other while enjoying breath-taking views across the ocean.
Weddings in Undiscovered Sri Lanka
The island of Sri Lanka has long been associated with fantastic sunsets, extraordinary temple ruins, and a vibrant local culture. Selecting this country as your ideal Asian wedding destination, will give you the opportunity to explore this unique island while taking tie out from your everyday lives to enjoy your special occasion.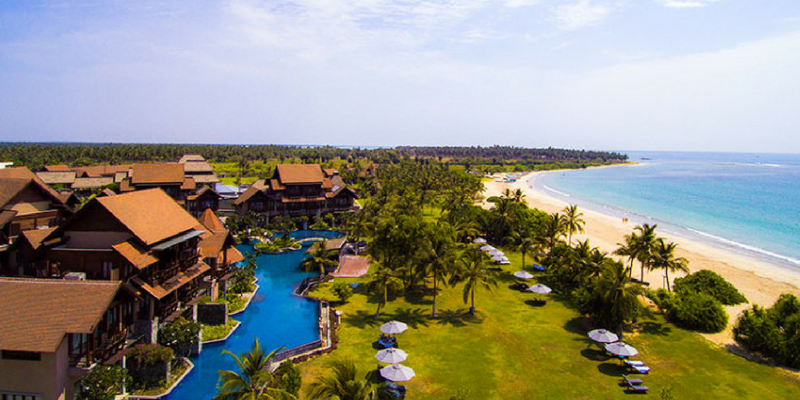 #18 Let the magic happen at the Anantaya Resort & Spa, Passikudah - Request details
This elegant tropical resort provides an excellent venue for your wedding. If you've always dreamt of an idyllic beachfront wedding, the resort provides a wedding planner, so you don't have to worry about a thing. Should all of your friends and family wish to join you on your special day up to 300 guests are welcome here. All you'll have to do is enjoy the atmosphere and the luxurious facilities on offer.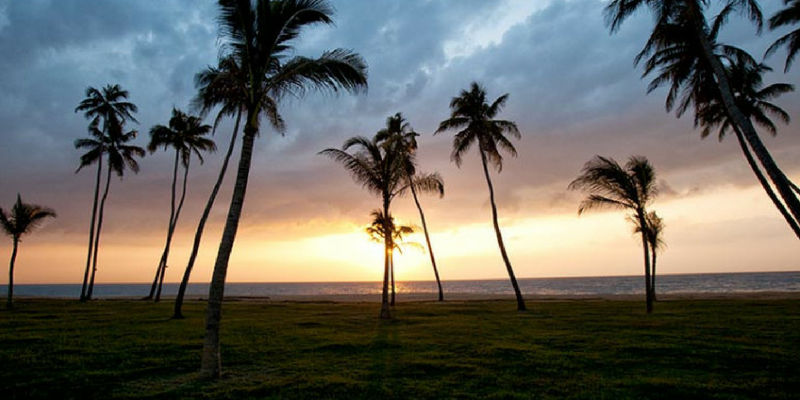 #19 Coastal paradise at the Anantaya Resort & Spa, Chilaw - Request details
Overlooking the ocean and next to an exotic mangrove lagoon, this resort oozes style and sophistication. The four-poster bed suites are spacious and luxurious, and your guests will love the ambience of the resort. You'll be able to enjoy a complimentary champagne fountain as well as the services of a photographer to record the joyous event. Romantics are welcome here.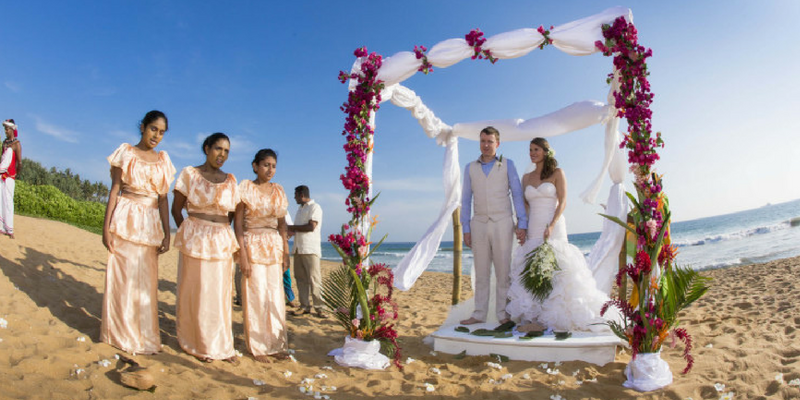 #20 Elephants are optional at the Aditya Resort - Request details
For a romantic wedding with a difference, a celebration at this resort can encompass the local culture. Imagine making your vows on the beach and welcoming an elephant to attend the ceremony. With fireworks, Sri Lankan dancers and a private boat ride for you and your partner after the ceremony this resort will do all it can to make the occasion memorable.
Barefoot Weddings in the Maldives
The Maldives boasts some of the world's most stunning coral reefs. The atoll lagoons and sandy caves are full of colourful sponges and undersea creatures. Back on shore, the choice of idyllic retreats in the Maldives is seemingly endless – making it a perfect romantic destination for couples seeking a barefoot, tropical island wedding on the sand.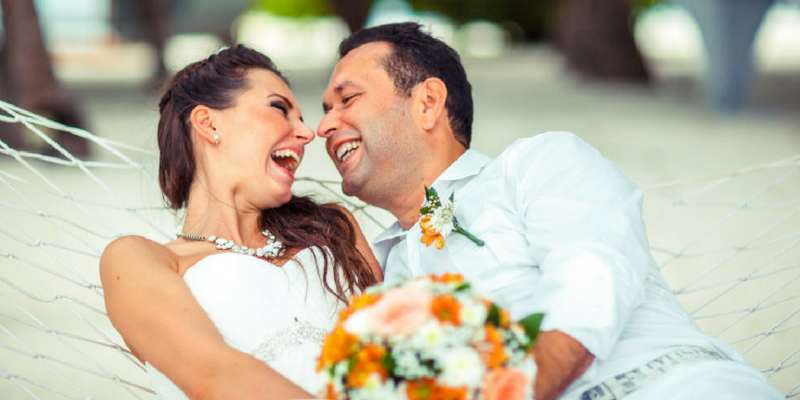 #21 A dream wedding at the Lily Beach Resort & Spa, All Inclusive - Request details
For the ultimate in romantic wedding destinations, fly to this resort and enjoy a unique and memorable celebration. Your villa will be decorated with flowers and the whole event will be captured by a professional photographer. You can travel to your ceremony in a romantic buggy or a Rolls Royce. The emphasis at this destination is making the event as special as possible for you both.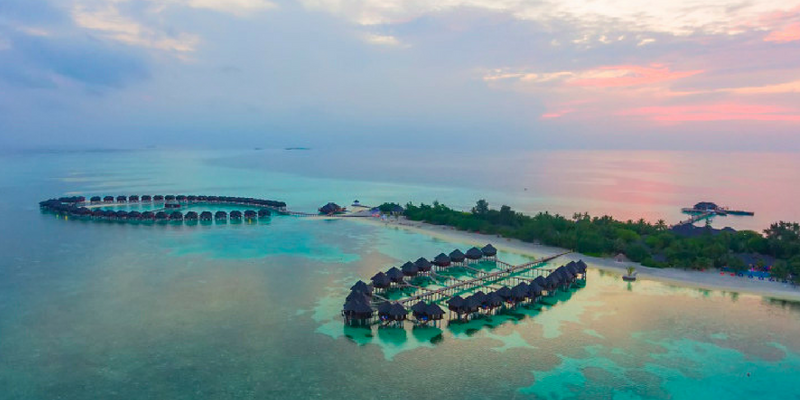 #22 Lasting memories at the Olhuveli Beach & Spa - Request details
You'll want to remember your wedding forever. Celebrating the event against the backdrop of the Indian Ocean, either on your own or with family and friends means that you'll always remember exchanging your vows. With first-rate designer villas for your accommodation and gourmet organic food, your wedding day will always stay fresh in your minds.
Other Wedding Destinations in Asia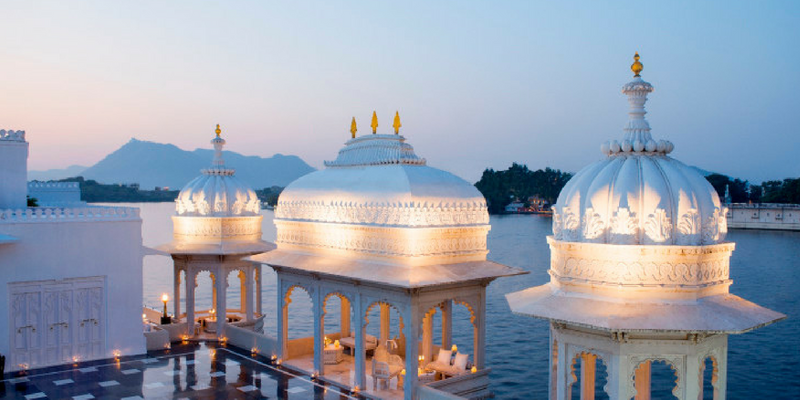 #23 India - Lakeside splendour at the Taj Lake Palace - Request details
Complete with an awe-inspiring setting on a lake, and set in a Maharana's 18th-century palace, this venue is perfect for romantics and dreamers. From fantastic food to superlative rooms and suites, this is a stunning venue to exchange your vows. Just take in the view and say, 'I do.'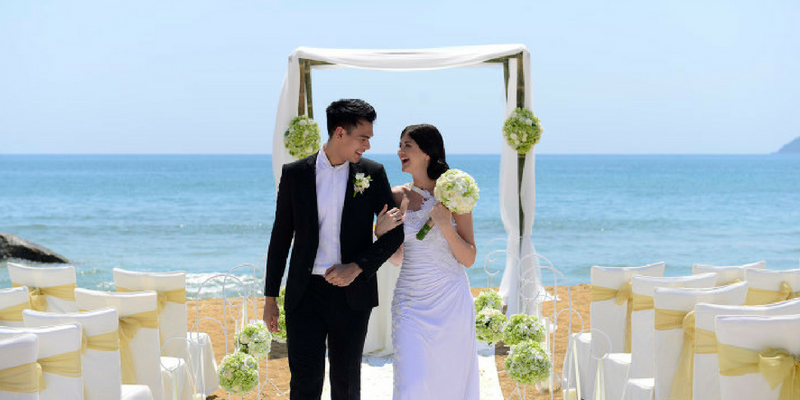 #24 Vietnam - A Romantic ceremony at Banyan Tree & Angsana Lang Co - Request details
Situated at the foot of Jinyun Mountain and overlooking the ocean with three miles of private beach, this resort offers a beautifully tailored service for you. With its excellent bedrooms and suites, as well as its pools, you can also enjoy meals on the beach with your loved one. Take part in a truly romantic experience.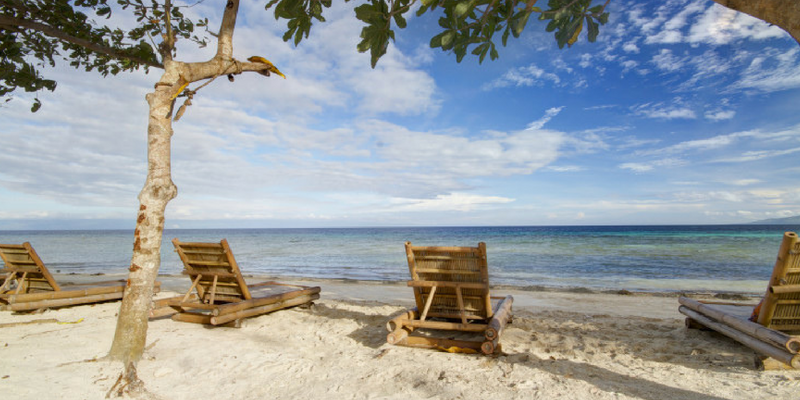 #25 The Philippines Enjoy the exclusivity at Momo Beach House - Request details
With its laid-back atmosphere, wonderful beachfront setting and private dining options, this resort is ideal for those couples who're looking for an intimate setting for their 'special day.' The bedrooms are tastefully decorated and air-conditioned, though you might want to spend some peaceful time simply lounging in a hammock listening to the sea.
For more Wedding Inspiration - SEARCH ALL WEDDING HOTELS & PACKAGES
To receive weekly tips, recommendations and special offers for all things romance and travel ***SIGN UP HERE.