Beyond Bali – Indonesia's Other Romantic Destinations
We've chosen some of the most idyllic destinations for romance across Indonesia, outside of the super popular Bali.
Our list is packed with spotless beaches, hot spring retreats, Sultan palaces, and much more…
Lombok
Often described as Bali without the hustle and bustle, Lombok is part of the Lesser Sunda chain of Indonesia and would make for a great choice for a range of romantic escapes. White sandy beaches and crystal-clear seas are par for the course in this large island; it's much the same with its close neighbours. Be sure to check out the Gili Islands, which are a group of three tiny and picturesque lands – Gili Trawangan, Gili Meno and Gili Air – near to the coast of northwest Lombok Island. Each of these destinations would be ideal for a once-in-lifetime honeymoon or wedding.
Lombok may have a slower pace of life (and a more relaxed setting) than other parts of the country, but there's still a wealth of options for romantic breaks with activity at their heart. Swimming with turtles, taking local dance lessons, tours of pearl farms, snorkeling, diving, and trekking up the famous Mount Rinjani – these are just some of the treasures to explore in this truly beautiful island.
Where should we stay in Lombok?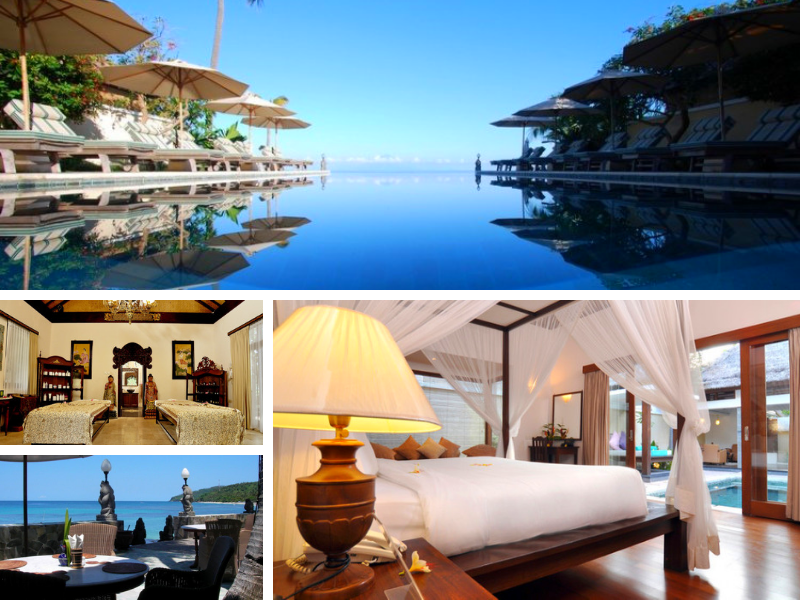 Puri Mas Boutique Resorts & Spa
Visitors to Puri Mas can easily get lost among the lush tropical gardens, making this an ideal haven of seclusion for honeymooners. There are fewer than 40 villas here and many come with private pools. Service is excellent and always comes with a smile. The modern facilities combine with fine traditional Indonesian architecture and relics sourced from across the archipelago.
This resort is all about attention to detail, which can really help to facilitate your dream romantic break. There's even an in-house diving instructor who can give introductory dive lessons from the comfort of the infinity pool. Both the restaurant and the pool overlook the Indian Ocean in what makes for a highly intimate setting for lovers to devour together.
When it comes to weddings, this boutique resort has a team of experts to help you plan each detail of your big day, from the vows, to the entertainment, the photography and plenty more. When it comes to cuisine, Puri Mas really has you covered too. Your choices will include delicious glass noodles, creamy coconut curries and lemon-grass freshness delivered freshly by the Ballroom Restaurant. Weddings here can be hosted for up to 100 guests.
Being situated in the fishing village of Mangsit Bay, the resort is an hour and a half's drive away from Lombok International Airport. Meanwhile you're a mere 5-minute drive from the town centre of Senggigi - which itself features miles of pristine beachfront that makes up the main tourist strip of the island.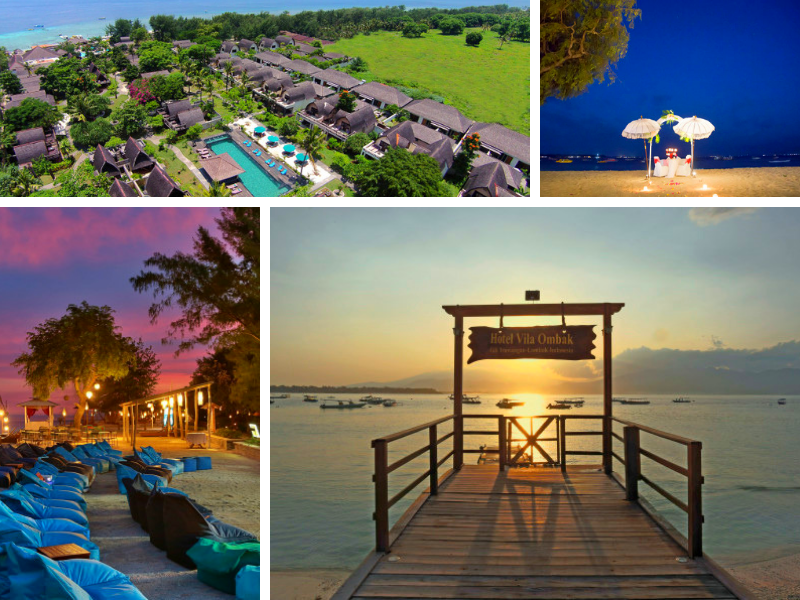 Hotel Villa Ombak
This peaceful resort is located on Gili Trawangan, an island that's free from any noisy vehicles - just one feature that helps to create a couples' paradise. A secluded beach and pier next to the hotel can be the centerpiece of some truly unforgettable memories (not to mention lots of Instagrammable photos).

The resort's Ombak Spa offers a wide selection of beauty therapies that will leave you feeling energised and revitalised. There's also a range of traditional massages, pedicures and specially crafted couples' treatments. What's more, you can have a delicious afternoon tea at the Hidden Pool Bar. Or, you could learn to cook your favourite Indonesian dishes with cooking lessons from an experienced chef.
Later in the evening, you can make the most of the romantic ambience of the unique beach cabanas through a signature 'romantic dinner' - with extraordinary views of Lombok's rolling hills and the towering Mount Rinjani.
If it's a honeymoon you're planning, be sure to ask about their Royal Honeymoon package on the tropical island. Weddings here can be hosted for up to 300 guests. Finally Vila Ombak also offers airport transfer, along with boat charter services to and from Bali for an additional charge.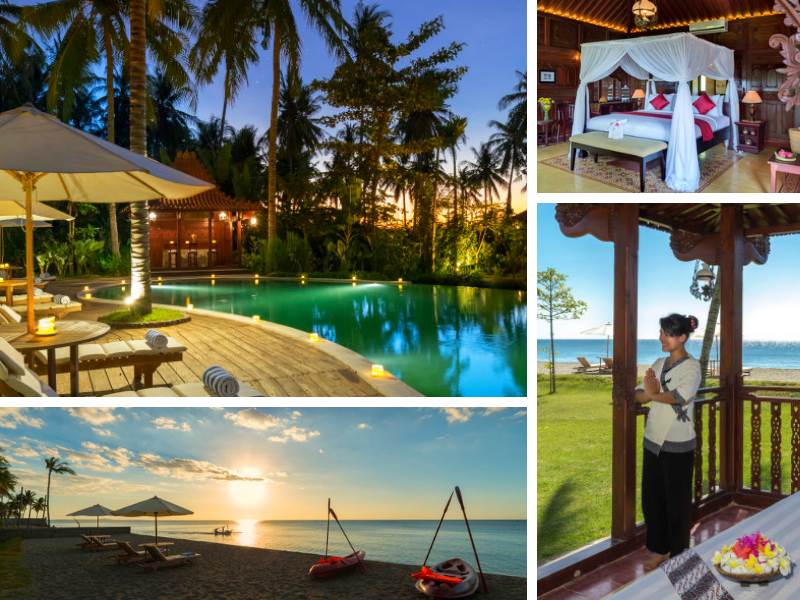 Diamond Beach Villa
Endless coastal views and a private beachfront combine to make Diamond Beach Villa a delightful romantic break where you can get away from it all and really focus on each other.
This resort has a full team of staff on standby in case you plan to say 'I do' against an azure ocean backdrop. Alternatively, couples can make use of a picturesque lawn that's a fitting venue for the most special of celebrations.
Intimate wedding parties of up to 10 people can delight in a range of benefits offered by the resort, including free bike hire and local trips to the equally impressive Tiu Pupus and Tiu Ganga waterfalls. It's a one-minute walk from the villas to the beach, and you and your guests can make the most of a private beachfront with staff on standby around the clock. Your lucky guests can pick between a wide range of activities – from diving off Gili Meno Island beach, to a trek to the rim of Mount Rinjani, or simply a stroll around the local Tandjung village market.
For group bookings have a look at the Diamond Beach Villa's stunning 5 roombeach villa package.
Yogyakarta
This truly unique city on the Indonesian island of Java is known for both its traditional arts and cultural heritage. Nearby attractions include Mount Merapi (or Gunung Merapi), which is one of the most extraordinary volcanoes in Indonesia and is located on the border between Central Java and Yogyakarta. Another unforgettable experience is to see the Goa Pindul caves, where you can go cave tubing (a fun exploration of the cave by riding a rubber tube down the water channels within the cave itself).
Where should we stay in Yogyakarta?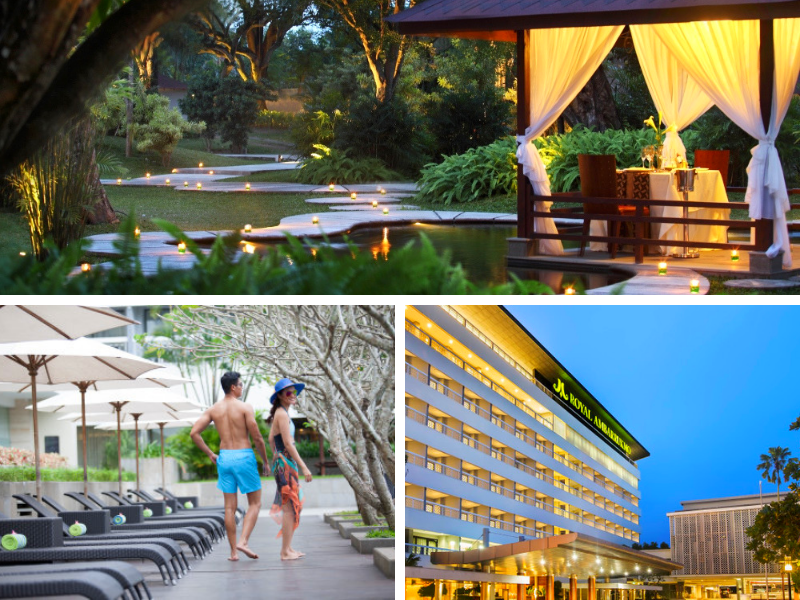 Royal Ambarrukmo Yogyakarta
A mere 10-minute drive from Adi Sucipto Airport, this fabulous resort shares the same grounds as Ambarrukmo Museum and is close to a renowned shopping area. Meanwhile The Royal Ambarrukmo Yogyakarta is a20-minute drive from the amazing Sultan Palace Residence.
Read more about the splendid hotel of Royal Ambarrukmo who can arrange for a candlelit dinner for two under the start of the garden. There are a range of different wedding options here - including traditional ceremonies - and the spaciousness of the hotel means it can host parties of up to 350.
Central Java
Java is the heart of some of humanity's first major civilisations, with a particularly strong Buddhist and Hindu heritage that remains clear to see today. One illustration of this can be seen through the captivating 9th-century Borobudur Buddhist temple, which is a national icon carved with thousands of relief panels and Buddha images. The vast cultural traditions of this area in Indonesia alone should be on any traveller's bucket list. It's fair to say there's plenty of luxury for lovers to enjoy too…
Where should we stay in Central Java?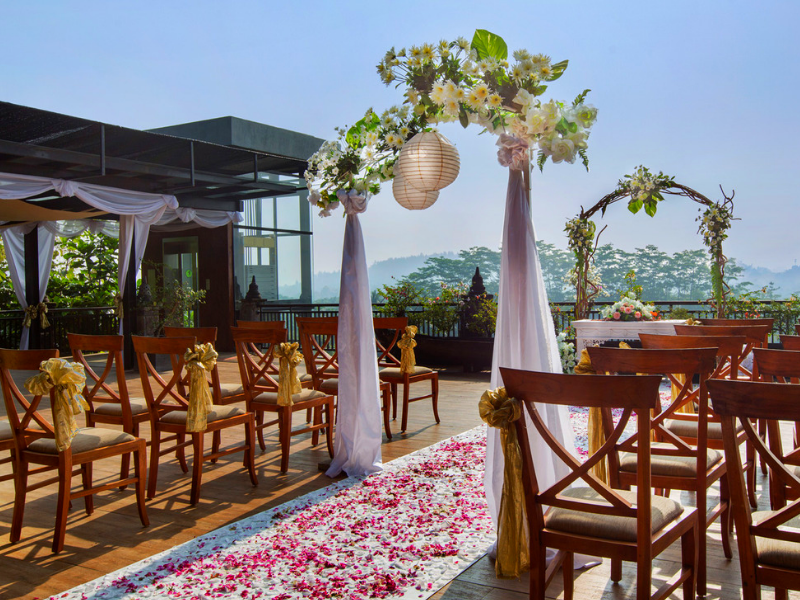 Plataran Heritage Borobudur Hotel and Convention Center
There are plenty of elegant charms to be found at the Plataran Heritage Borobudur Hotel & Convention Center, which is set amid the rice terraces of Kretek village in Magelang. Colonial architecture stays close to the history of the area, while exotic butterflies and other creatures at the small on-site reserve add a splash of colour. As well as indulging in your love for each other, there's plenty of culture and adventure through river rafting, batik lessons, clay crafting or Javanese dance.
The resort's two restaurants have a wealth of tasty regional and international cuisine, and an afternoon tea can also be enjoyed ahead of another long sunset. You can also take a hike or a jeep ride through the scenic countryside, exploring local villages. Or tour a few of the magnificent temples of Central Java.
When it comes to weddings, you can mark your union in truestyle with the UNESCO-listed Mystical Borobudur Temple and the Menoreh Hillsproviding a stunning backdrop. The ballroom of The Heritage Convention Center can host a seated banquet for up to 300 guests. Meanwhile experienced wedding consultants will help guests plan every detail to perfection to create a day that exceeds your wildest dreams.
Sumba Island
Sumba is one of three large islands of East Nusa Tenggara. And despite it being twice the size of Bali, it has around 15 per cent of its population – unsurprisingly then, Sumba Island has many parts of astonishing seclusion and beauty which are ideal for a range of romantic breaks.
Where should we stay in Sumba Island?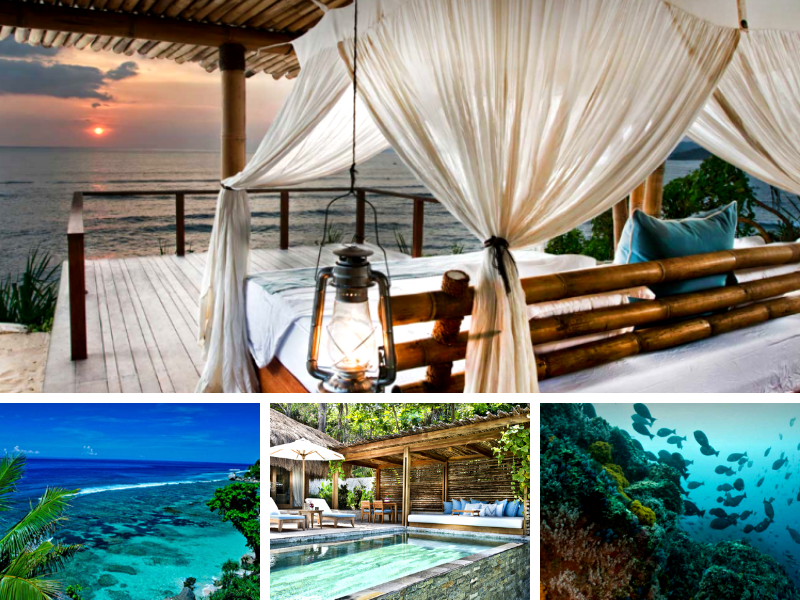 Nihi Sumba Island
Choose between a view of the teeming tropical rainforest and the panoramic views offered by the Indian Ocean at this south-east Asian paradise. Sumba Island is something of a surfers' paradise, and a stay at the Nihi resort puts you right at the heart of this laidback culture. Time it right and you could enjoy almost exclusive use of the Nihiwatu Beach. This tranquil stretch of sand would be a perfect place to enjoy a romantic honeymoon or a beach wedding.
The Romantic Tourist lets you personalise your honeymoon or wedding with a range of romantic extras. Start your amazing romantic adventure and compare deals now. If your heart is set on a destination wedding, read up on some of the most frequently asked questions before planning your perfect day.