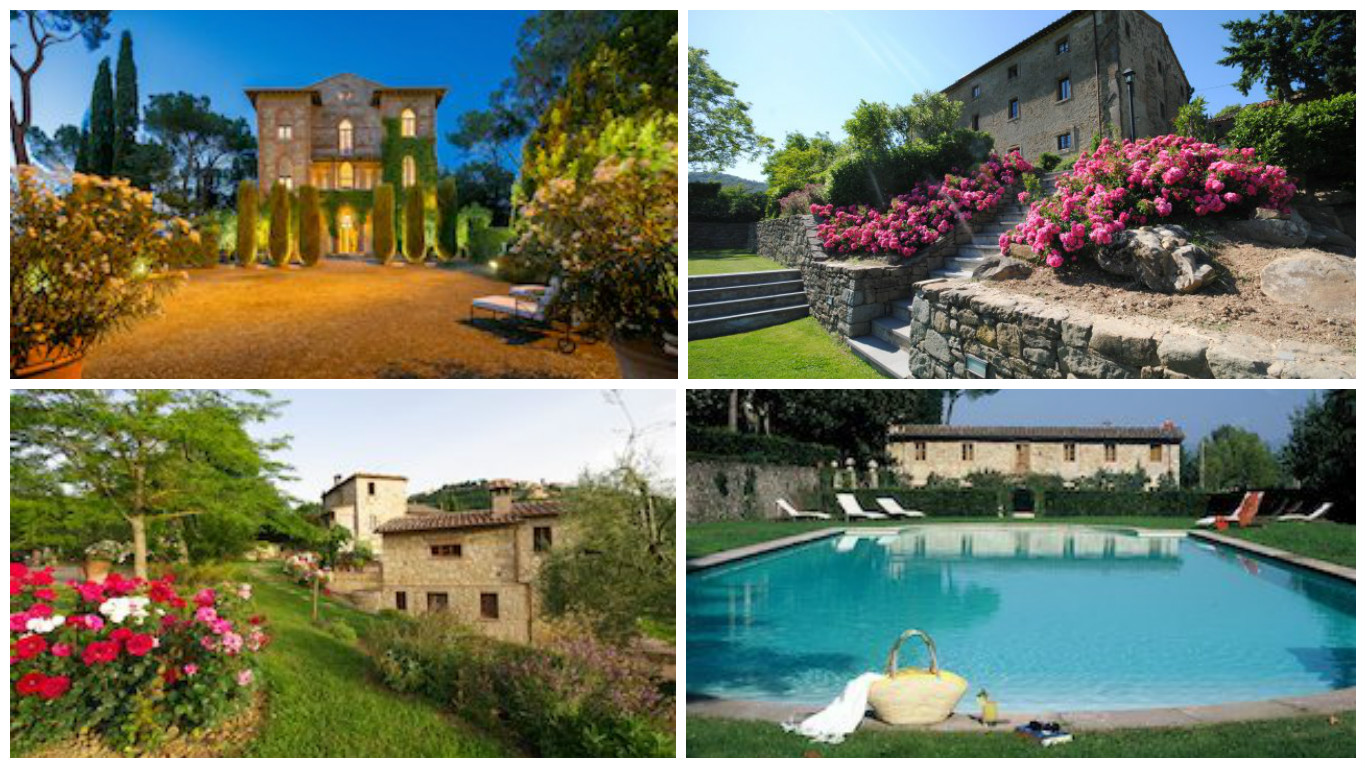 Image: via Pinterest / Villas in Tuscany
Things to do on Holiday in Tuscany?
Think of Tuscany and you can't fail to think of love. A region in central Italy, Tuscany has long been seducing couples for its heady mix of city culture and rural charm, a meeting of two worlds; where the rolling hills of sultry olive groves, sun-drenched vineyards and rustic farmhouses are just a stone's throw away from chic city living, breathtaking architecture, and world-renowned art and culture.

With such a diverse and fascinating landscape, the romance of Tuscany is not just for lovers, but offers something for everyone, making it the perfect place for celebrations with family and friends. Whether it's a milestone birthday, a cherished anniversary, or a renewal of wedding vows, Villas in Tuscany come in all shapes and sizes, so you can find the perfect place to stay with your nearest and dearest, where the Tuscan charm and character of your home away from home will sweep you all off your feet...
Wine Tours of Tuscany
With acres of picturesque vineyards decorating the sun-drenched rolling hills, a trip to Tuscany wouldn't be complete without a wine tour of this world-renowned wine region, and it makes the perfect – and terribly distinguished – birthday present for husbands or fathers with a taste for the fine things in life. You can contentedly while away the hours strolling through the long stretches of vineyards, sampling rich and fruity Tuscan reds as you go. Villas in Tuscany offer Full Day Wine Tours in the Montepulciano region, accompanied by an English-speaking driver. You'll visit one winery in the morning, followed by a delightful al fresco lunch in the town centre, and then a second winery visit in the afternoon. Chianti is another famous wine region and it boasts an enchanting castle winery, and here you'll sample some prestigious Tuscan reds accompanied by traditional Italian snacks and the whispered secrets of Tuscan winemaking. You can also enjoy Artisan Beer Tasting, as well as a Cheese Making Class and a traditional Pizza Workshop – which is just as much fun for the kids as the adults.
Perfect Poolside Days
Sometimes one of the most precious parts of your family holiday is the sweetness of doing almost nothing - but all doing it together in the same place. The villas offer total privacy, peace and tranquillity, and set the scene for spending some quality time with your loved ones, so it's ideal for escaping for intimate milestone celebrations, such as a 25th Wedding Anniversary, or even renewing your wedding vows. There are endless accommodation options at Villasin Tuscany, each capturing the essence and elegance of the luscious land, from petite and perfect rustic farmhouses to grand and glamorous manor houses, all nestled away in gorgeous grounds, surrounded by woodland, olive groves, vineyards and fragrant lemon trees. You can have the kids splashing around in the sparkling outdoor swimming pools, whilst the grown-ups sunbathe in the gardens, cooking up an al fresco storm using the traditional outdoor wood-burning pizza ovens.
City Tours | Leaning Tower of Pisa