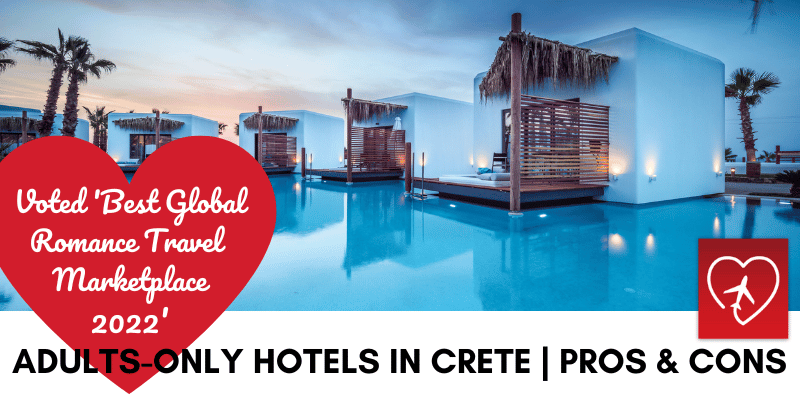 Why is Everyone Going Adults-Only in Crete?
If you're planning a romantic getaway to Crete this year – then you must consider checking into one of the island's gorgeous adults-only hotels.

Why, you may ask?
Well, an adults-only hotel offers a host of advantages that make it the perfect destination for couples and honeymooners.
Let's take a look at:
Why is Crete an ideal destination for adults-only romantic getaways?
What unique and special features do adults-only hotels offer?
What are the cons of an adults only hotel?
What are the best adults only hotels in Crete for couples in 2023 (in our opinion)?
Why is Crete Ideal for Romantic Getaways?
Crete is known as the "Island of Romance" thanks to its stunning landscape, vibrant culture, delicious food, and incredible beaches.
It's regularly voted as one of the top 5 tourist destinations in Greece.
And over 15 million tourists were warmly welcomed in Crete in 2022.
It's easy to see why so many couples flock to this Greek island to celebrate their love!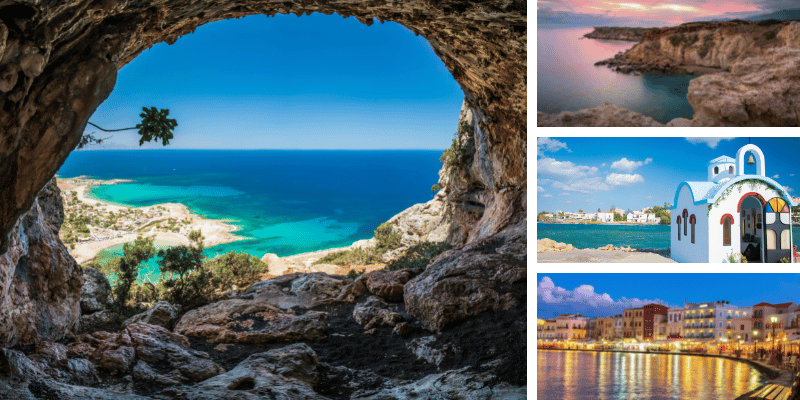 Crete

really is a dream destination for a romantic escape, honeymoon, destination wedding,special anniversary or renewal of vows.

Because not only is Crete incredibly beautiful... but it also offers plenty of activities that are perfect for couples — from exploring archaeological sites, to spending a day lounging on the beach, to taking a romantic boat tour around the island.

Which is probably why there are so many amazing adults-only hotels in Crete that are hugely popular with romantic couples and honeymooners.
What do the Local Experts Say?...
Alongside Cretan-inspired wellness treatments and heavenly days by the pool, Jean-Marc Roucos, Director of Sales & Marketing at the newly-opened NIKO SeasideResort MGallery, especially highlighted:
"visits and walking tours to archaeological sites, traditional villages, gorges, vineyards, (and) olive groves"
As among some of the most popular local experiences to be enjoyed by their adults-only clientele.
What Unique Benefits do Adults-Only Hotels Offer for Couples?
If you're travelling as a couple then there are lots of reasons why you might want to choose an adults only hotel.
And no, - it doesn't make you a grumpy scrooge who hates children.
The simple facts are that adults-only hotels have been purposefully designed to provide exclusive facilities specifically tailored to couples and honeymooners.
And yes, one - very important - aspect of the experience is guaranteed peace and quiet without any (potentially pesky) kids running around and killing the vibe (especially during the busy school holiday seasons).
But there's much more...
These hotels have been designed for grown up tastes; so they typically have a high spec finish, private swimming pools, cutting edge wellness treatments and spas, romantic restaurants and carefully manicured gardens.
The entertainment is focused entirely on an adult audience so you'll likely find hotel bars with live music or DJs playing romantic music until late at night.
And because they specialise in catering to couples and honeymooners, they also often offer dedicated romantic experiences such as a romantic turndown with flower petals sprinkled on your bed upon arrival or a private romantic dinner under the stars.
Are there any Cons to Staying in an Adults-Only Hotel?
As with everything this is really a case of personal preference - there many tangible benefits to choosing an adult-only hotel as we've outlined above - but, for some, the absence of children can make the ambience seem a little austere.
However, if you're travelling for a romantic occasion or your honeymoon, then peace and privacy are often exactly what couples want - making an adults only hotel a great choice for this kind of trip... even if it's not your usual choice.
What are the Best Adults-Only Hotels for Couples in Crete?
Crete is a dream destination for romantic couples and honeymooners.
And there are tons of great options when it comes to choosing an adults-only hotel in Crete but we think some stand out from the rest.



Here are our top 3 for you to choose from...
#1 NIKO Seaside Resort MGallery | Adults-Only
Panoramic sea views... an infinity pool to die for... and world-class romantic experiences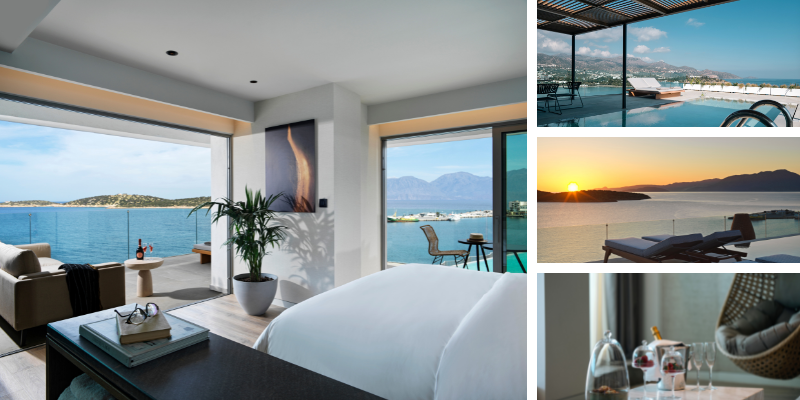 Newly opened - NIKO Seaside Resort MGallery is the quintessential adults-only hideaway in Crete.
How to Celebrate Romance & Special Occasions at NIKO Seaside Resort MGallery - QUICK ENQUIRE
Just a few steps from the vivacious city of Agios Nikolaos on the north Cretan coast of Greece, NIKO Seaside Resort MGallery, is a five-star adults only resort overlooking the majestic Mirabello Bay. This exceptional adults-only resort is blissfully devoted to ultimate relaxation by the sea. And with its harmonious blend of modernity and tradition – it's perfect for discerning travellers seeking to escape reality while being immersed in unrivalled Cretan culture and hospitality.
Why is NIKO Seaside Resort MGallery recommended for romance?
This hotel is amazing at creating personalised memories.

And they have an actual team dedicated to recommending and arranging unique experiences for every couple:
"Couples and honeymooners staying here are warmly invited to indulge in custom experiences crafted by the MGallery Collection Concierge to truly take your breath away!"
We also love the thoughtful extras here, like the traditional Cretan marriage delicacies and Champagne that awaits every newlywed couple on arrival.
But our favourite experience here for couples has to be the opportunity to create your own unique romantic scent as a beautiful reminder of this special time together in Crete. Smells are so prevalent in evoking our emotional memory - what an amazing thing to have your own completely unique scent to take you back to your happiest times together for many years in the future.
#2 Stella Island Luxury Resort & Spa
Overwater bungalow style rooms... gorgeous lagoon pool... and romantic couples paradise
Our second choice for an unforgettable adults-only getaway in the sunshine is Stella Island Luxury Resort & Spa.
Romance & Weddings at Stella Island - QUICK ENQUIRE
Situated along a private beach on Crete's northern coast, this romantic adults only resort is located in Analipsis, Hersonissos and is especially sought after by couples for its gorgeous overwater bungalows and swim-up rooms over a stunning lagoon style pool.
This is also a very popular choice for weddings and renewal of vows with ceremonies held on the beach, chapel, or poolside.
#3 Minos Palace Resort
Exclusive and luxury... 360 degree sea views... considered one of the best hotels on the island
Our final recommendation is for Minos Palace Resort, perched atop a stunning seascape near the picturesque towns of Agios Nikolaos and Elounda. Widely regarded as one of the best hotels on the island, its stand out feature has to be the breath-taking 360° panoramic views of the Aegean sea.
Romance & Weddings at Minos Palace Resort - QUICK ENQUIRE
This truly is a lavish adult-only 5 star paradise, where peace and tranquillity reign supreme for an incomparable romantic escape!
And romantic couples can also book dedicated romance packages, honeymoons and weddings up to 80 guests.
Our Summary...
We hope you now feel confident in your choice to enjoy a stay at one of Crete's exclusive adult-only hotels.
We can guarantee you'll fall in love with Crete as soon as you arrive.
And our recommended hotels are the perfect places to stay if you're seeking an unforgettable romantic trip.
Beach-side locations, authentic local tours and a variety of romantic experiences - from a sunset boat trip to private dinners beneath the stars to creating your own perfume - make sure your adult-only escape is extra special with a touch of luxury from the exclusive packages available.
Choose your favourite from the above and start planning an unforgettable trip with your significant other today!