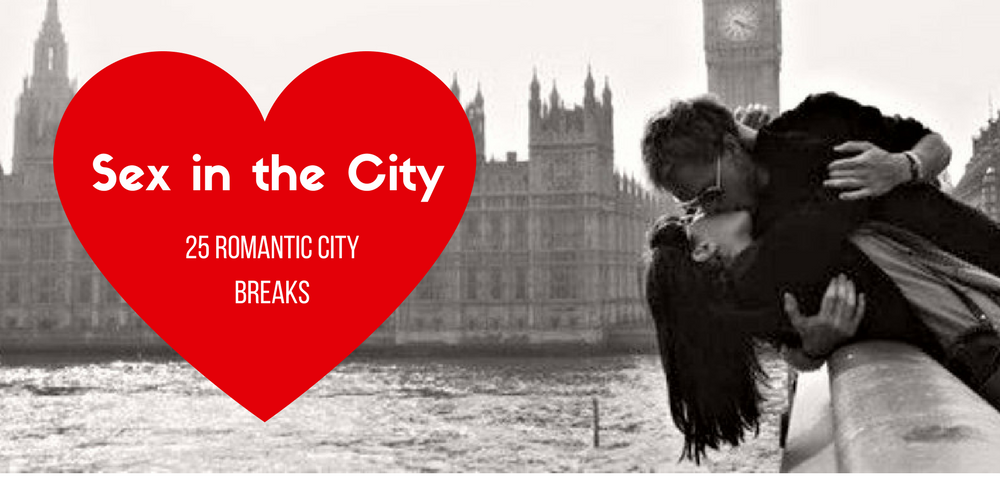 Sex in the City | 25 Romantic City Breaks | Worldwide
We think a romantic city break is best likened to an amazing 'date night'... but taken one indulgent step further.
Because it's different from a full-on holiday where the focus is usually on relaxing and letting go.
Instead, a couples city break is about the fast-paced excitement of exploring a new city... together.
It's about escaping the four walls and the 9 to 5, fleeing to a destination unknown, and sharing new experiences to create precious memories and fall in love all over again.
Here are 25 of our favourite cities for romance...
#1 Venice, Italy | Almar Jesolo Resort & Spa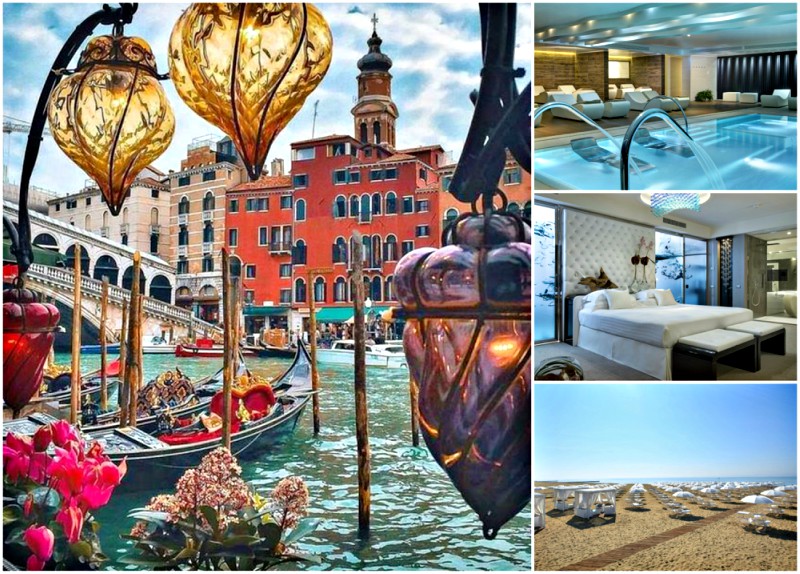 Venice is one of the world's most famous romantic cities, bursting with beautiful places that set the backdrop for l'amore. Quaint and charming alleyways are waiting to be explored, and the infinite pastel shades of the palazzi reflect in the quiet canals. Head to St. Mark's Square early to avoid the crowds, and drink a cappuccino in the morning light.
Where to stay in Venice?
Back at Almar Jesolo Resort, the Almablu Spa is an oasis of wellbeing, with indulgent therapies designed to relax, rejuvenate and rebalance your mind, body and soul. Set by the sea, the spa has stunning views and a glass tunnel that leads out onto the 70m-long swimming pool underneath the Italian sun.
#2 London, United Kingdom | Roseate House


London is a city that has it all: history, culture and glamour with urban edge. Enticing couples from around the globe, your romantic break in London is sure to include many world-famous attractions. Take a romantic stroll along the the Thames, go 'royal-spotting' at the palaces and embrace the razzle-dazzle of London's West End. Or for some extravagant retail therapy, there's Harrods and Harvey Nichols, and a wander around Fortum & Mason is always a delightful afternoon.
Where to stay in London?
A luxury boutique hotel offering beautiful views of the tree-lined Westbourne Terrace, Roseate House's unrivalled sophistication lies in its understated elegance, wearing its chic British heritage with grace. A neighbour to Kensington Palace, you can expect a regal refinement of days gone by, with 19th century glamour meeting 21st century facilities, making it the perfect place for romance to blossom and flourish.
#3 Paris, France | Hotel Design Secret de Paris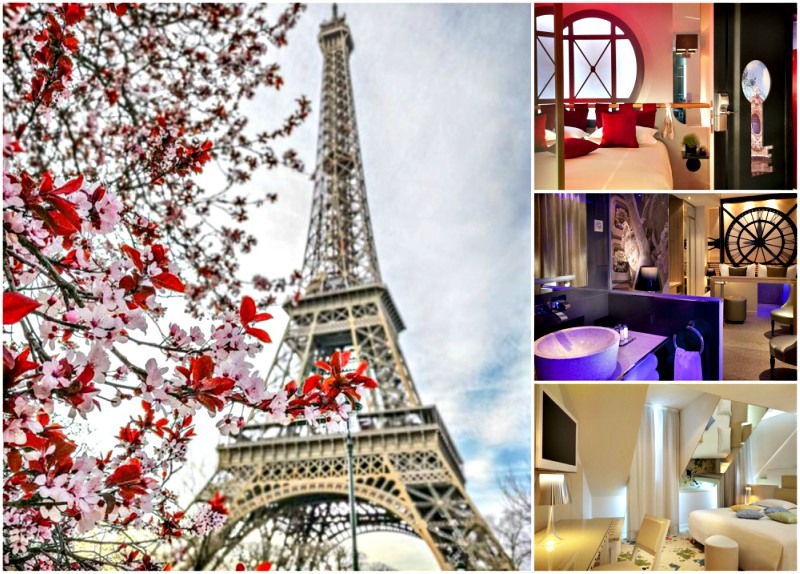 Bienvenue à Paris. You're just moments away from some of the world's most alluring attractions, including the Moulin Rouge and the famous Montmartre Cemetery. Of course, no trip to Paris would be complete without seeing La Tour Eiffel, one of the most romantic landmarks in the world for more than 100 years. Paris is the city of love. And you'll feel from the moment you arrive: in every sultry street, chic café and romantic restaurant.
Where to stay in Paris?
Paris is for lovers, and no one knows it better than Hotel Secret de Paris. Whatever the occasion you're celebrating, be it a cherished anniversary, a honeymoon hideaway or simply a romantic escape, indulge in the loving little additions available to make your trip extra special. Their 'Romance in Paris' package includes rose petals scattered on your bed and chilled champagne upon arrival, as well as a surprise box of seductive goodies… Perhaps you're in Paris to pop the question; the Eiffel Tower is a classically romantic proposal spot, but if you want somewhere more intimate, the staff at Hotel Secret de Paris are experts in proposals and will happily advise you of some of the city's best kept secrets.
#4 Cape Town, South Africa | Twelve Apostles Hotel & Spa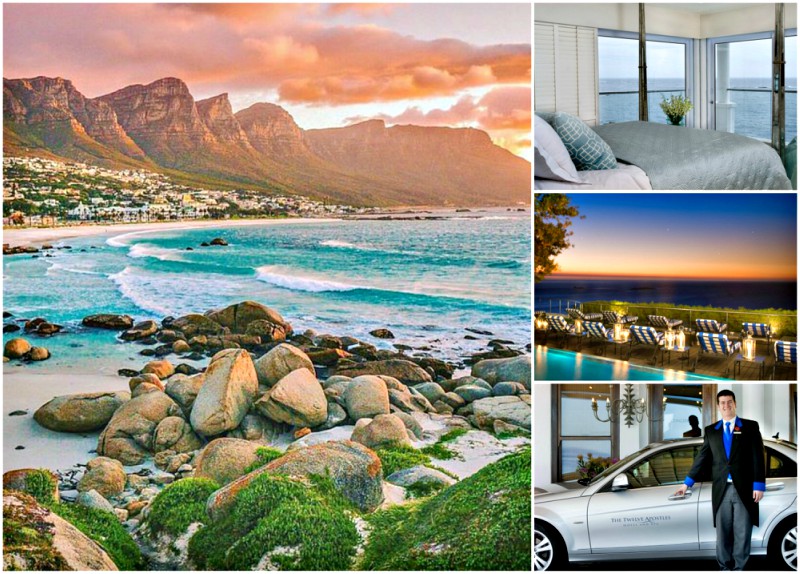 Cape Town is a city of culture, cuisine and spectacular ocean and mountain views. Here a world of adventure awaits you, with so many hidden gems to discover. How about a visit to the local craft market at the famous Hout Bay? Or you might want to take a boat ride to Duiker Island; known by many as Seal Island, due to the 6,000 Cape Fur Seals that colonise the area. Or perhaps you'd like to take your beloved on the Constantia Valley Wine Route. With an intimate route of nine wine farms, threading through the rich countryside, you are sure to create some perfect romantic memories.
Where to stay in Cape Town?
The award-winning Twelve Apostles Hotel and Spa is poised above the Atlantic Ocean on Cape Town's most scenic route. Experts in romance, Twelve Apostles is well established as the city's leading boutique hotel and provides easy access to all attractions, including a complimentary shuttle service to the pristine beaches and the V&A Waterfront.

#5 Phnom Penh, Cambodia | Raffles Hotel Le Royal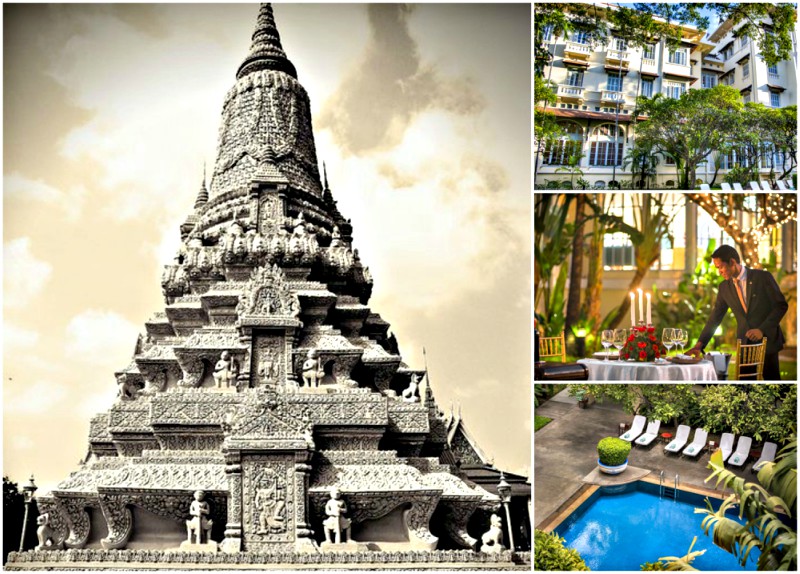 Lose yourself in the intoxicating city of Phnom Penh. The fast-paced capital of Cambodia, is an Asian dream of exotic architecture on the banks of the legendary Mekong River. Unique and fascinating attractions include the Royal Palace, National Museum, Wat Phnom and, of course, sunset Mekong river cruises. Today, Phnom Phen is a trendy destination popular with foodies and filled with hip bars and hideaways.
Where to stay in Phnom Phen?
Raffles Hotel Le Royal is a landmark historic hotel of Indochina welcoming travellers since 1929. Set in lush tropical gardens and built around two inviting swimming pools, it's an oasis in the heart of the bustling city. Whether you're looking to set the scene for the perfect proposal, a cherished anniversary celebration, an unforgettable honeymoon, or for 'The Big Day' itself, Raffles provides an utterly enchanting and sophisticated city setting.
#6 Valencia, Spain | Hotel Las Arenas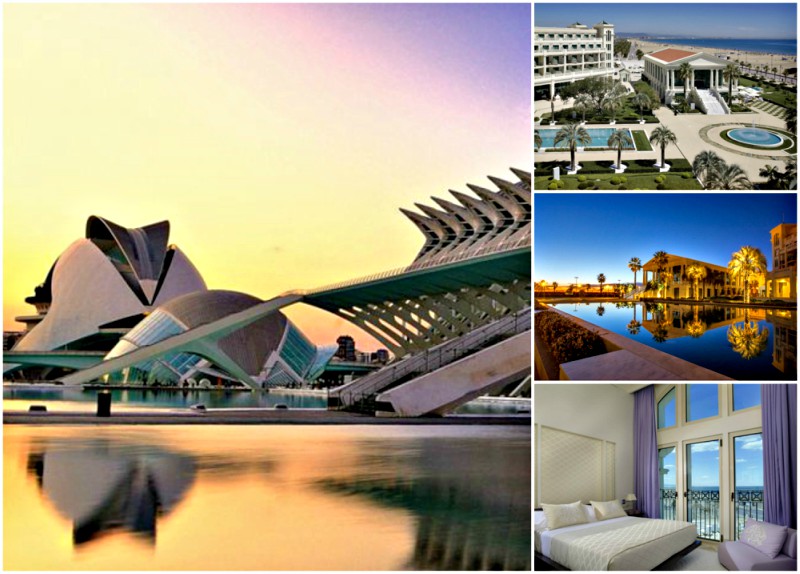 Saffron and sunshine. The vibrant Spanish city of Valencia is a sizzling destination for romance. Couples can expect unforgettable views of the Mediterranean Sea, hot sunny days relaxing by the pool or on the beach, and a city of cultural and contemporary attractions just waiting to be discovered. Valencia is also famous for Paella, so pull up a chair and experience the gastronomic delights of slow-cooked rice, seafood (or the traditional meats) spiced with saffron . And all washed down with a chilled glass of Spanish wine, naturally.
Where to stay in Valencia?
The beach front location of Hotel Las Arenas makes it ideal for couples seeking a luxury beach break with plenty of culture and nearby attractions. For romantic breaks or perhaps an anniversary celebration, couples can book a room with balcony and sea view with romantic dinner for two in the hotel's Sorolla Restaurant. Breakfast can then be served in bed the following morning and with a late check-out at 14.00 h on the day of departure. The hotel is also an excellent venue for intimate and unique weddings by the sea.
#7 Siena, Italy | Campo Regio Relais


Siena, is a pretty, medieval Tuscan city and often considered as Italy's most enchanting. Il Campo is the must see destination for visitors; an enormous piazza of deep sunset peach, whose most recognised landmarks include the Palazzo Pubblico and its famous tower - the Torre del Mangia: where a calorie blasting 500 step climb to the top rewards its victors with stunning views across the city and is a great way to burn off an indulgent pasta lunch!
Where to stay in Siena?
We just love this enchanting boutique B&B! Campo Regio Relais has character and charm in abundance, with marble floors, antique furniture, fine linens and traditional wrought-iron furniture decorating the terrace that overlooks the the spectacular cathedral. With sloping terracotta pink and brown roofs under the clear blue sky, a classic Mediterranean landscape awaits outside; and a peaceful and tranquil retreat awaits you on the inside of Campo Regio Relais. Plus their devoted team are happy to assist in arranging all romantic celebrations during your stay in the city; be it a romantic dinner for two... or your wedding.
#8 Boston, United States | XV Beacon Hotel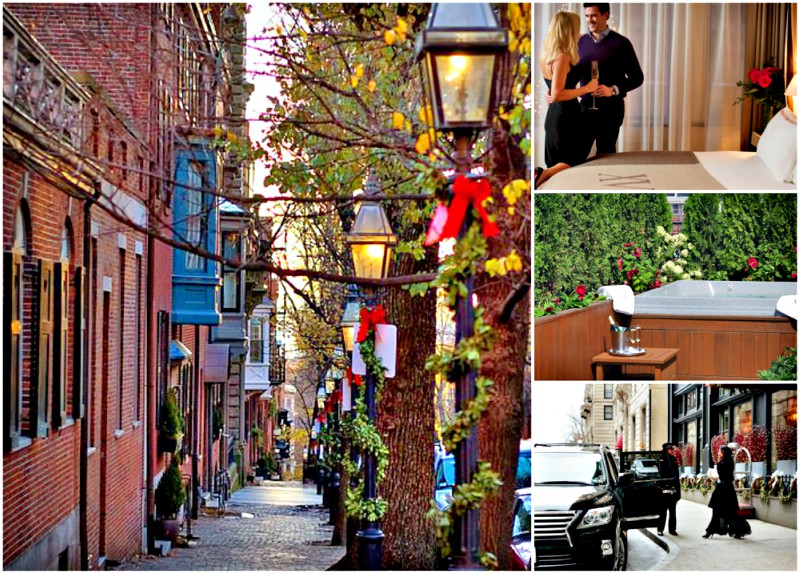 As one of America's oldest cities, Boston is brimming with historical richness and cultural vibrancy - making it a great destination for a romantic breaks. Visit downtown Boston, enjoy a night at the theatre, go to a sports game or treat yourselves to a day's shopping followed by a romantic meal at one of Boston's many great restaurants.
Where to stay in Boston?
Reignite passion and rekindle romance in the heart of downtown Boston. Fluent in the language of love, XV Beacon surrounds you in an abundance of comfort. Indulge in in-room couples massage, sip champagne in front of your roaring fireplace, customise your whirlpool bath with a selection of bath salts, cuddle up in a luxurious cashmere throw and fall into a bed of frette linens and rose petals.
#9 Quito, Ecuador | Hotel Plaza Grande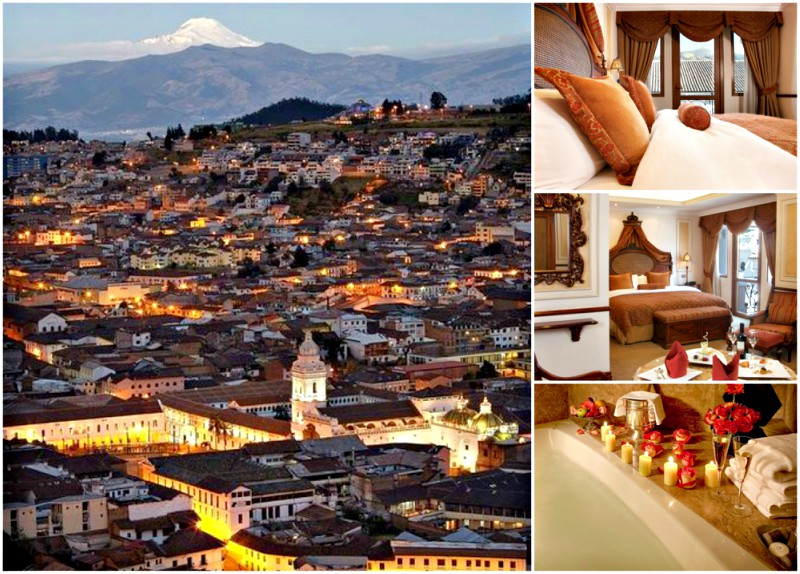 Quito is great destination for couples with many unique and romantic attractions. History and culture lovers are spoilt for choice with the city's many fascinating museums, churches and architectural delights, and the craft market is a must for picking up some beautiful mementos of your trip. Top romantic recommendations include: holding hands as you straddle the equator, a cable car ride over Ruca Pichinicha volcano and climbing 9000 feet above sea level to the Paneccillo Hill for amazing views over the city.
Where to stay in Quito?
Dating back five centuries, Hotel Plaza Grande is a luxury all-suite hotel bursting with historical significance and charm. Couples are offered a unique opportunity to stay in the historic heart of Quito's main square with unrivalled views of the old town and many of the city's most famous landmarks including the Government Palace, the Cathedral and City Hall, and even Panecillo Hill in the distance.
#10 Coimbra, Portugal | Quinta das Lagrimas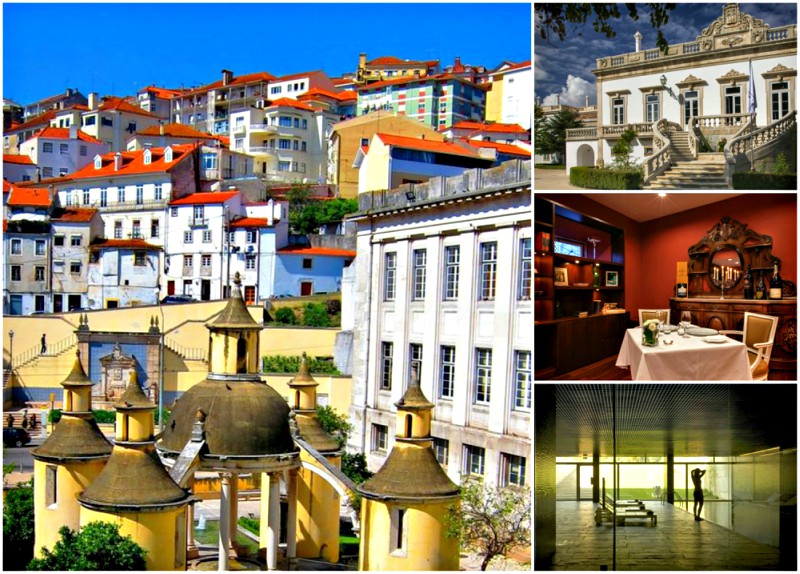 The ancient capital city of Portugal. The colourful hillside casade of Coimbra sits on the banks of the Mondego River and has over a thousand years of history. Home to one of the world's oldest universities and a number of delightful parks, Coimbra is a Portuguese treasure that melds medieval antiquity with the contemporary buzz of student life.
Where to stay in Coimbra?
Set within a classic 18th century palace in the heart of Coimbra, Quinta das Lágrimas offers guests stunning rooms alongside a luxurious spa and tranquil placid gardens. It is also the famous setting of one of Portugal's most well-known love stories: Prince Pedro and the noble woman Inês de Castro. Today the hotel continues to entice couples with its legendary romantic history alongside the opportunity to dine in the smallest restaurant in the world.
#11 Vienna, Austria | The Ritz-Carlton Vienna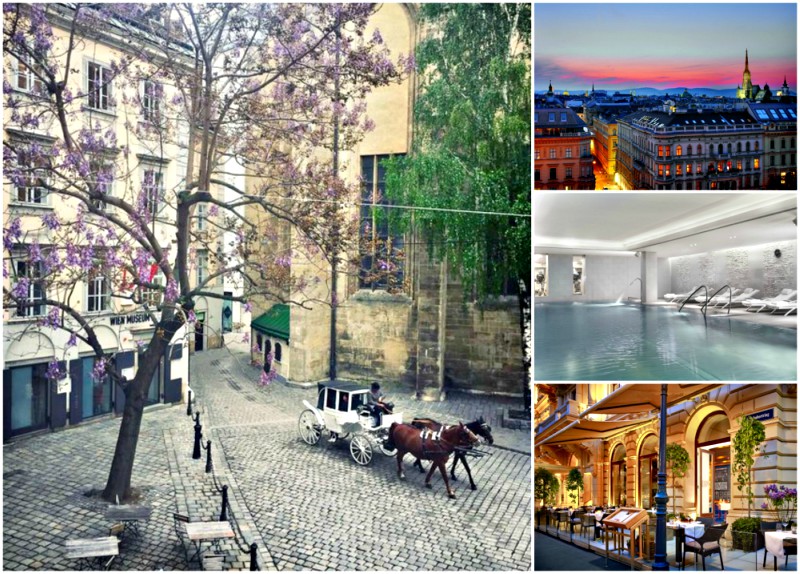 Cobbled streets, old castles and stunning opera houses make Vienna one of Europe's most romantic cities. For the ultimate romantic experience of Vienna take a private Fiaker – horse-drawn carriage – and ride through the city streets to Vienna's famous Giant Ferris Wheel. Here your private luxury cabin can be beautifully decorated to create the perfect intimate ambience for your very special romantic moment, complete with Champagne, canapés and breath-taking views of the city.
Where to stay in Vienna?
Get ready to be swept off your feet when you experience the refined ambience of The Ritz-Carlton, Vienna. Set within four historic palaces, this is five stars of unabashed luxury, its architecture seamlessly blending Renaissance, Baroque and gothic influences with contemporary indulgence. Located on the famous Viennese "Ringstrasse" and adjacent to the historic Stadtpark, you have the perfect base from which to explore many of this capital city's top attractions.
#12 Geneva, Switzerland | Hotel L'Angleterre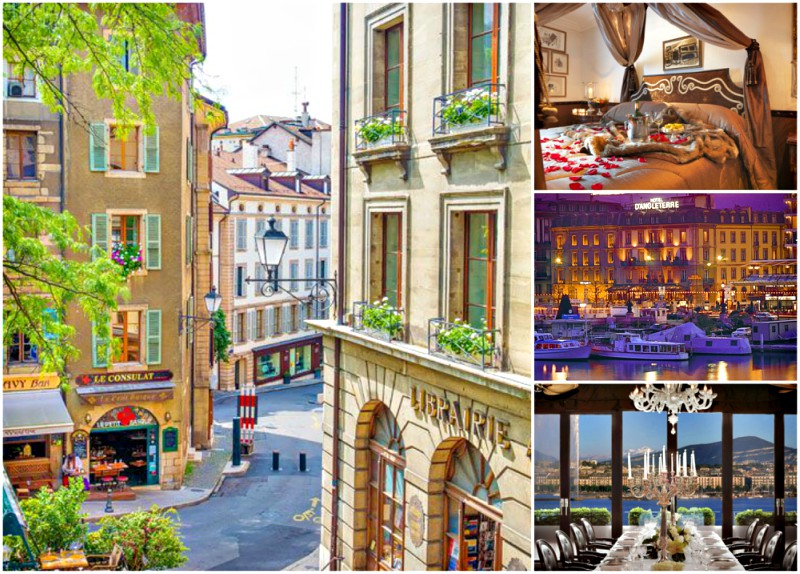 Geneva is the ultimate lakeside city. Panoramic mountain views and inspirational natural beauty meets a world of luxury, abundant with designer boutiques, and world-class watchmakers and chocolatiers. Head to the Rue du Rhone to indulge in a spot of shopping, soak up Geneva's rich heritage with a visit to one of its many fascinating museums, or for more intimate moments stroll together through one of Geneva's 50 mesmerising parks at sunset. And if you want to discover an alternative side of Geneva head to the Quartier des Pâquis for a more decadent experience of the city.
Where to stay in Geneva?
Elegantly poised at the edge of Lake Leman with magnificent views of the famous Jet d'Eau and Mont Blanc, Hotel L'Angleterre is a beautiful boutique hotel showcasing British charm and character with the finest of Swiss hospitality. If you'd like to ensure an exquisitely romantic stay, then take advantage of the hotel's 'Romantic City Escape' offer.
#13 Jaisalmar, India | Chokhi Dhani – Palace Hotel Jaisalmar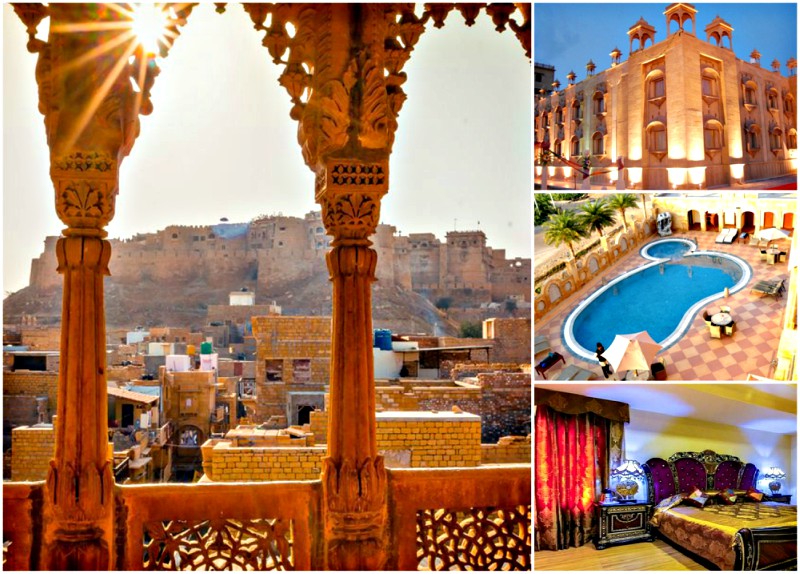 Rajastan's golden city in the heart of the Thar desert. One of India's most popular tourist destinations. Jaisalmar Fort takes centre stage here and is unique as India's only remaining working fort. Inside its striking yellow walls of sand-coloured stone you'll find a thriving community of shops, hotels, musicians, dancers and family homes, albeit largely dependent on the many tourists that flock here. Camel safaris are the must-try experience of your visit and an unforgettable way to see the surrounding sand dunes and stunning desert scenery.
Where to stay in Jaisalmar?
Chokhi DhaniPalace Hotel is a 4 star luxury property in Jaisalmar. Guests at the hotel are treated to a royal experience perfectly tailored to their wishes. Fully air conditioned luxury rooms and suites feature all modern comforts including deluxe bathrooms with Jacuzzis. For a once in a lifetime experience couples can also stay for a night or two at the hotel's nearby sister property, Chokhi Dhani Luxury desert camp. Celebrating the rich culture heritage and colourful charisma of Rajasthan, couples can experience an ethnic village theme in a luxury camp setting that is unique throughout India.
#14 Florence, Italy | Continentale - Lungarno Collection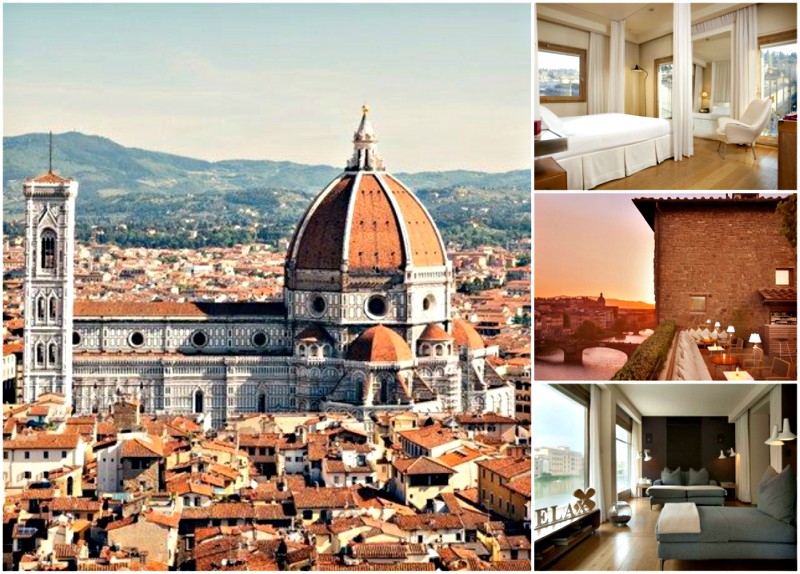 Widely regarded as one of the most romantic cities in the world, Florence will sweep you off your feet with its magnificent architecture, spectacular sights, cool café culture and its contagious spirit. Accredited as the birthplace of the Renaissance, Florence is the capital of Tuscany and it's impossible not to be enthralled by its iconic views including the famous terracotta dome of its cathedral. Romantic recommendations include a boat trip down the River Arno and a city tour in a horse-drawn carriage.
Where to stay in Florence?
Set on the river near the Ponte Vecchio, Continentale - Lungarno Collection is an upscale 50's inspired hotel and the height of city chic. It is vibrant and dynamic in style, yet still romantic and elegant, and has built a reputation as the place to see and be seen, attracting only the most discerning and fashionable of travellers. Owned by the prestigious Ferragamo family and decorated by renowned Florentine architect, Michele Bonan, with meticulous attention to detail – this is a truly luxurious stay in the heart of Florence.
#15 St. Petersburg, Russia | Belmond Grand Hotel Europe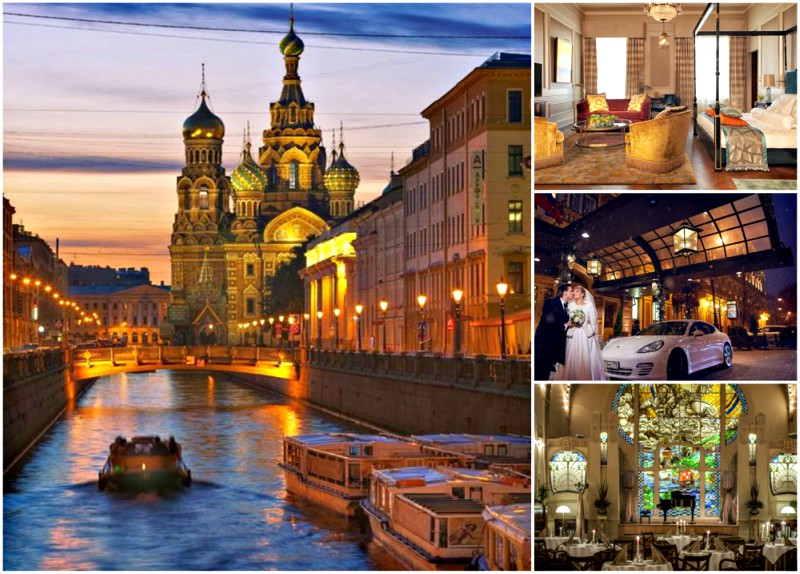 St. Petersburg is an enchanting city, with endless opportunities for a truly romantic getaway. Experience the palatial splendour of the Winter Palace and the imperial glamour of Peterhof, and take a trip down the beautiful labyrinth of canals with a river cruise, discovering St. Petersburg in true Russian style. Spend an unforgettable evening together at the theatre – guests of Belmond Grand Hotel Europe have use of a private box at Mikhailovsky Theatre – or take a midnight walk along Neva River; the perfect end to a day, with the bridges all illuminated against the dark night sky.
Where to stay in St. Petersburg?
Set in a grand and opulent 19th-century building just off the famous Nevsky Prospeky Avenue, Belmond Grand Hotel Europe is a timeless and elegant icon, right in the heart of St. Petersberg. Once the honeymoon destination of Tchaikovsky, the hotel is rich in romantic history, and you and your loved one can become a part of its love story. Expect the finest luxury at your stay here, with sensational décor and a devoted concierge service, and be transported to a world of old-fashioned glamour and sophistication.
#16 Frankfurt, Germany | Grandhotel Hessicher Hof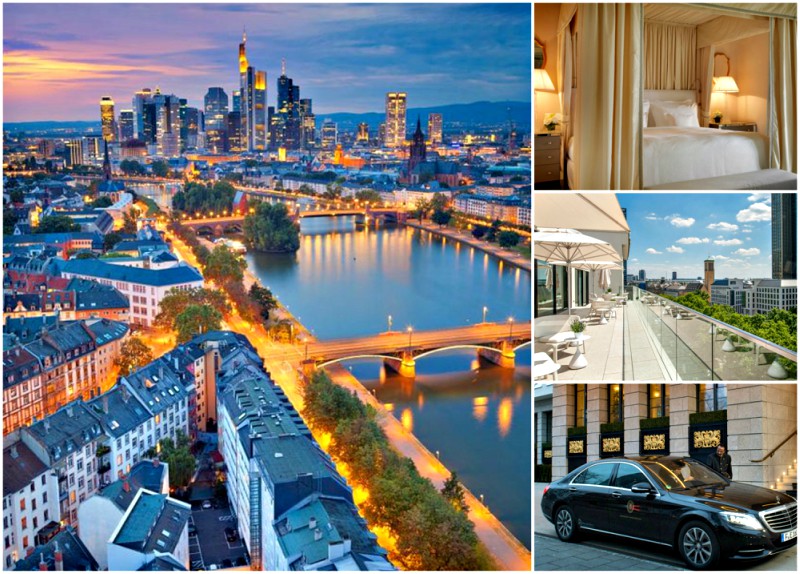 Frankfurt is a vibrant, cosmopolitan metropolis in central Germany and a fantastic destination for a romantic city break - offering couples plenty of art, history and culture. Couples will especially love taking romantic walks along the River Main and sharing candlelit dinners with amazing views of the breath-taking skyline of Frankfurt at night.
Where to stay in Frankfurt?
Experience luxury with the personal touch when you stay at Frankfurt's only family-run five-star hotel. Located in the heart of the city, the Grandhotel Hessischer Hof is an excellent base for romantic couples looking to explore the beautiful city of Frankfurt. Enjoy stunning views across the city and world-class dining to create unforgettable romantic memories.
#17 Bangkok, Thailand | Chakrabongse Villas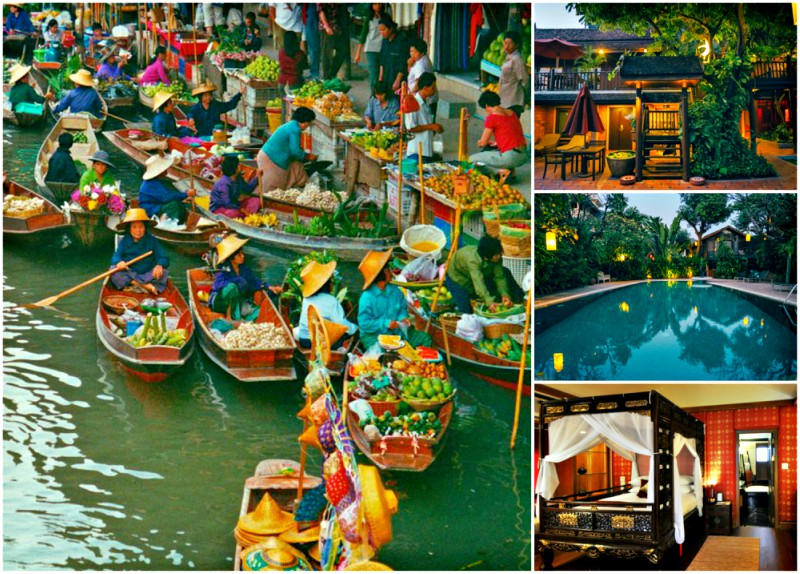 The gateway to Asia, Bangkok is an unrelenting city famed for its old quarter, food markets and urban grit. For the most romantic experience of Bangkok head to the old city for a variety of spectacular attractions dating back to the Rattanakosin era. And for a truly romantic day out, a canal ride down the river followed by cocktails at the rooftop Moon Bar as the sun sets over the city is sure to leave loved-up couples absolutely smitten.
Where to stay in Bangkok?
Originally built as a home for HRH Prince Chakrabongse to enjoy picnics and excursions on the river, the beautiful Chakrabongse Villas is today the ideal escape for guests planning on a visit to Bangkok. Offering six elegantly designed rooms and suites, alongside lush tropical gardens and a spacious swimming pool all hidden away from the bustling city streets, means the resort fully deserves its title of Bangkok's best-kept secret.
#18 Siem Reap, Cambodia | Navutu Dreams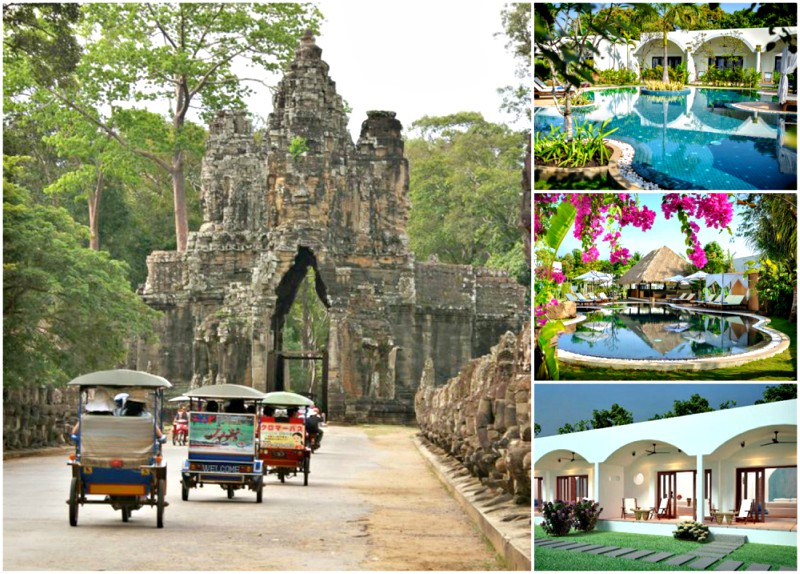 Siem Reap is well-renowned for Angkor Wat and the other ancient temples of Angkor. But today the city has been reinvented as Cambodia's fastest evolving destination, popular with trendy travellers seeking a glimpse of the ancient world and buzzing with bars, restaurants, massage spas and boutique shops.
Where to stay in Siem Reap?
Low slung white chalets on a hectare and a half of well-landscaped gardens dotted with three swimming pools make-up Siem Reap's most romantic resort- Navutu Dreams. The natural beauty and tranquillity of Navutu Dreams complement the mystical and raw splendor of the temples of Angkor which is only a 3.5 kilometer drive from the resort.
#19 Madrid, Spain | The Westin Palace Madrid
Madrid is a vivacious city with gorgeous architecture and vast, luscious green spaces that transport you to places of peace and tranquillity. Some of the city's most prestigious museums include the Prado, Thyssen and Reina Sofia, but nothing could be more perfect for couples in love than Madrid's Romantic Museum. Enjoy a coffee in the gorgeous gardens with your beloved, which were made for romance to blossom.
Where to stay in Madrid?
The Westin Palace Madrid is an historical, luxury hotel located in the heart of the city. Choose your preferred room style from cosy and classical, or cool and contemporary suite - and the famous Westin Heavenly Bed is considered to be the most luxurious in the hotel industry. Book the Westin Weekend for an exquisite champagne breakfast in bed, and indulge in the Opera & Brunch events, which are held every Sunday.
#20 Lima, Peru | Lima Tours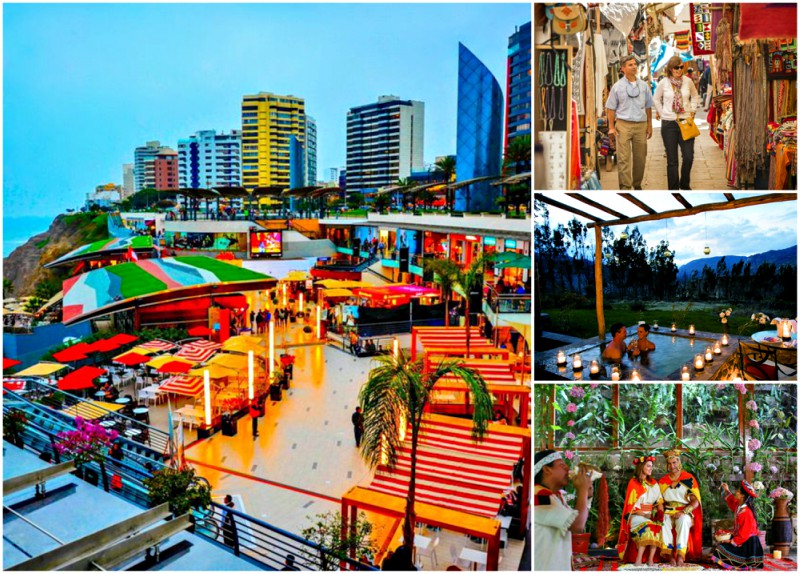 The capital of Peru is a modern metropolis interspersed with a vibrant mix of colonial architecture. A must-visit destinations for foodies, Lima's gastronomic excellence is well known with fish and seafood here especially delicious. For a romantic day in Lima take a morning horse carriage ride from the Plaza Mayor, sample Peru's national dish at a local cevicheria for lunch, then head to the bohemian district of Barranco and the Puente de los Suspiros (Bridge of Sighs) where you find picturesque parks and plenty of hip bars and restaurants.
Where to stay in Lima?
Lima Tours are specialists in Peru with over 60 years' experience helping couples book memorable romantic journeys to discover both Peru´s most popular attractions and lesser known regions. All tours and packages include luxury hotel accommodation and full daily itineraries but should you find time for any additional activities couples can also enjoy horse and bicycle rides or walks along the beautiful and lovely parks in Lima such as the Park of Love in Miraflores.
#21 Naples, Italy | Palazzo Caracciolo Napoli MGallery by Sofitel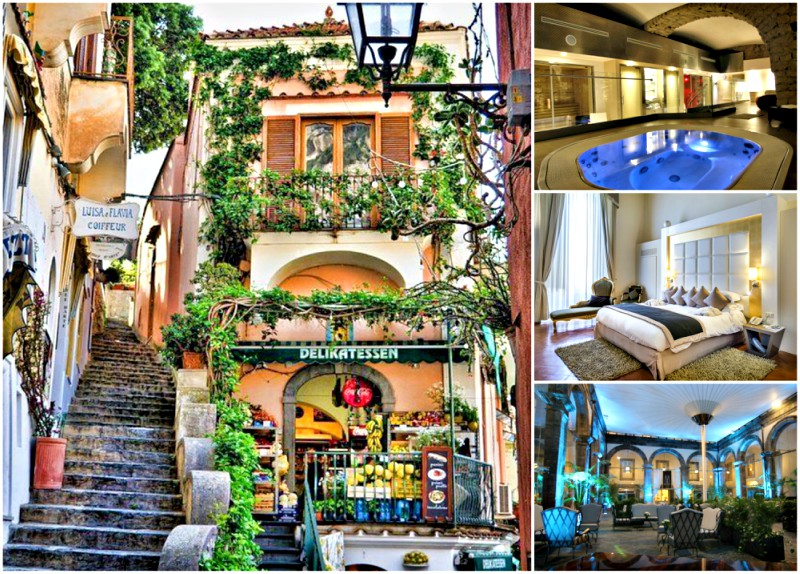 Naples is one of the most romantic places in Italy. The entire city is an open air museum of historic monuments alongside the beautiful natural wonders of its Mediterranean setting. It's worlds apart from any other place you've been. Foodies are also in for a treat and Naples has a bouquet of tastes and smells to discover. Including, of course, its famous pizza.
Where to stay in Naples?
Steeped in history, Palazzo Caracciolo was once home to an aristocratic family and even the King of Naples. It's most romantic rooms, highly recommended for couples, are the 2 Suites located on the "Noble Floor", with high original coffered ceilings and amazing king size beds. The hotel's fascinating wellness area is located in the old cellars of the palace and feature the ancient original walls.
#22 San Juan, Puerto Rico | La Concha Resort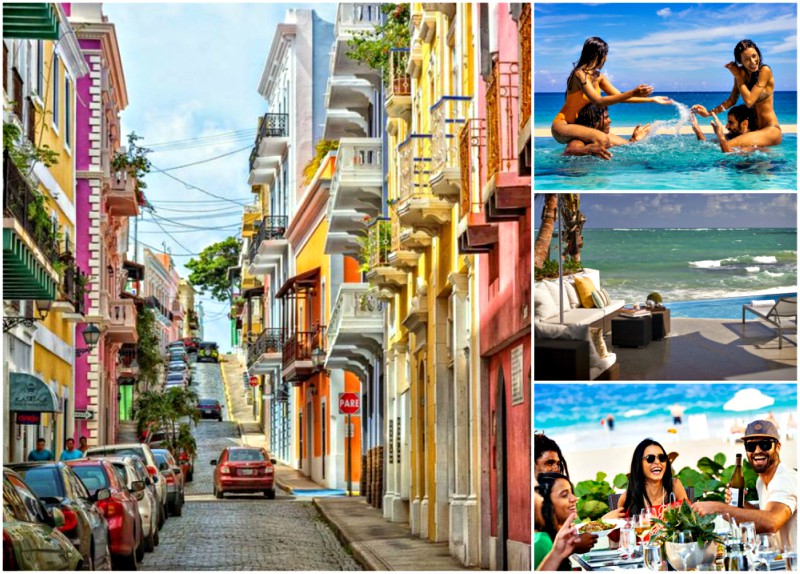 Let old San Juan bewitch your imagination as you walk its narrow streets and imagine what over 500 years of history have contributed to the rich culture, cuisine and architecture of this ancient fortified city. Today, the Caribbean rhythm fuels the heart of Puerto Rico's capital inviting you to live the buena vida with sexy days on the beach and its pulsating nightlife.
Where to stay in San Juan?
Awake to the sound of the breaking waves in plush linen sheets with sparkling views of the Caribbean. Be seen while you bask in the Main Pool at La Concha, a high-energy, open-air multilevel infinity-edged oasis with connecting waterfalls. Relax in our whirlpools while you people-watch and gaze at the nonstop action. Or escape the incredibly private, adults only, Ocean Terrace infinity pool at the Suite Tower. Live and love life!
#23 Rome, Italy | Relais Rione Palais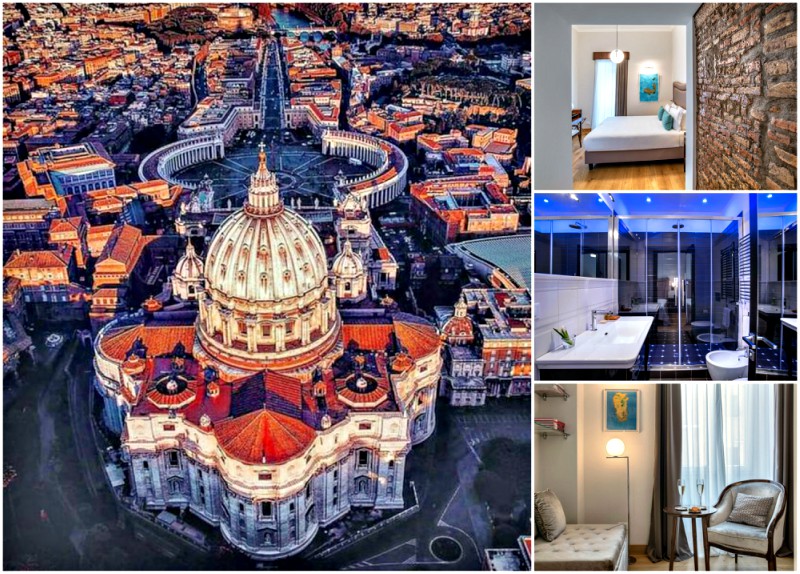 Iconic sights including the dome of St. Peter's and the Colosseum, buzzing pavement cafes and sharing an ice cold gelato as you stroll hand-in-hand through the medieval lanes all create the classic Rome experience. Due to the hectic schedule tourist often have to follow, you can end up in fast group tours, dining at restaurants with pictures on the menu and pushed through busy streets where vendors try to sell you any kind of souvenir. Rome is so much more than this. And with the right guide you will quickly discover the real magic of this city.
Where to stay in Rome?
Relais Rione Ponte is a boutique property located just a few steps from Piazza Navona in Rome. The hotel hosts a permanent gallery of contemporary art within the premises and the multilingual staff are dedicated to making sure you experience a pleasant and comfortable stay in the Eternal City. Relais Rione Ponte proposes private tours with certified guides. A personalized service to explore the hidden treasures of the Eternal City. Their philosophy is to give tourists the experience of seeing Rome as a local.
#24 Shanghai, China | Fairmont Peace Hotel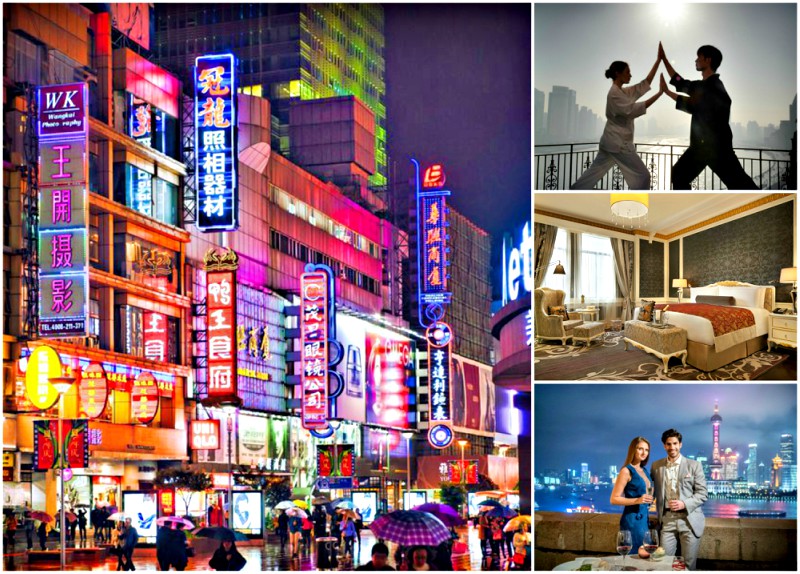 Shanghai is an international mega-city where east meets west. Towering skyscrapers line the horizon and beautiful art-deco architecture reminds you of the city's decadent charm. A Huangpu river cruise is a great way to see the city in its full glory and couples should make sure they sample some of the street food (which is as delicious as it is cheap). And of course, no trip to Shanghai would be complete without a waterfront walking along the Bund.
Where to stay in Shanghai?
Located in the heart of Shanghai, the 5-star Fairmont Peace Hotel is a luxurious Art Deco masterpiece. It has exuded class and sophistication since 1929, and it is still one of the city's most sought-after properties today. As the whirlwind of Rrevolves around it, Fairmont Peace Hotel provides a respite of classic repose, with tall, glamorous hallways and lavish guest suites. Set on the famous Bund promenade, this hotel has long been a playground for the elite, rich and famous, and you're perfectly situated to explore their city haunts and experience the magic.
#25 Edinburgh, UK | The Roxburghe Hotel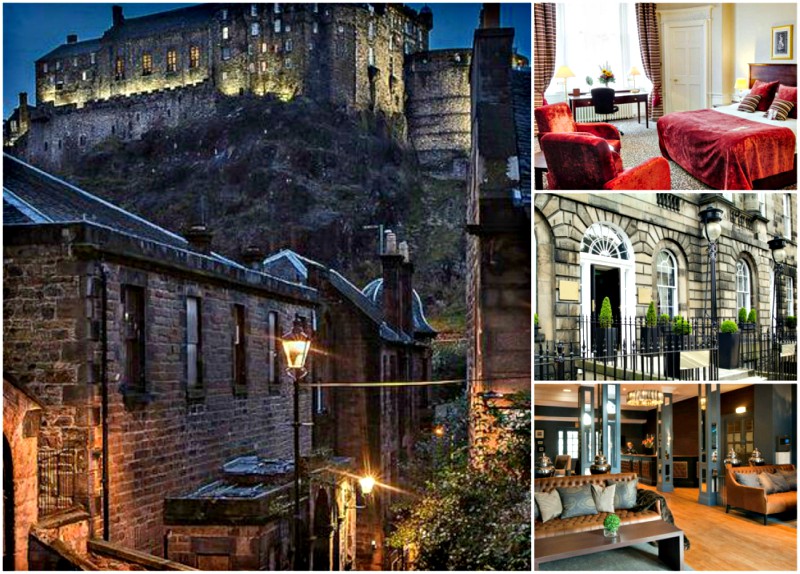 Explore historic Edinburgh as you wind your way through the city hand in hand. Edinburgh is small enough to get around on foot and one of the most beautiful cities in Europe. Wander along the cobbled path of the Royal Mile as you approach Edinburgh Castle, where you'll be met with breath-taking views across the city. And a favourite spot for marriage proposals.

Where to stay in Edinburgh?
TheRoxburghe Hotel is set in an enviable city-centre location at the west end of Edinburgh's New Town, a masterpiece of neo-Classical architecture that's classified as a World Heritage site. Charlotte Square, dating from the early 19th century, which the hotel's elegant and imposing façade overlooks, is one of the jewels in the crown of the New Town with its green central square and the elegant dome of magnificent West Register House, home to the National Archives of Scotland. The hotel is within walking distance of many of Edinburgh's most notable sites and the shopping of George Street and Princes Street are just around the corner.