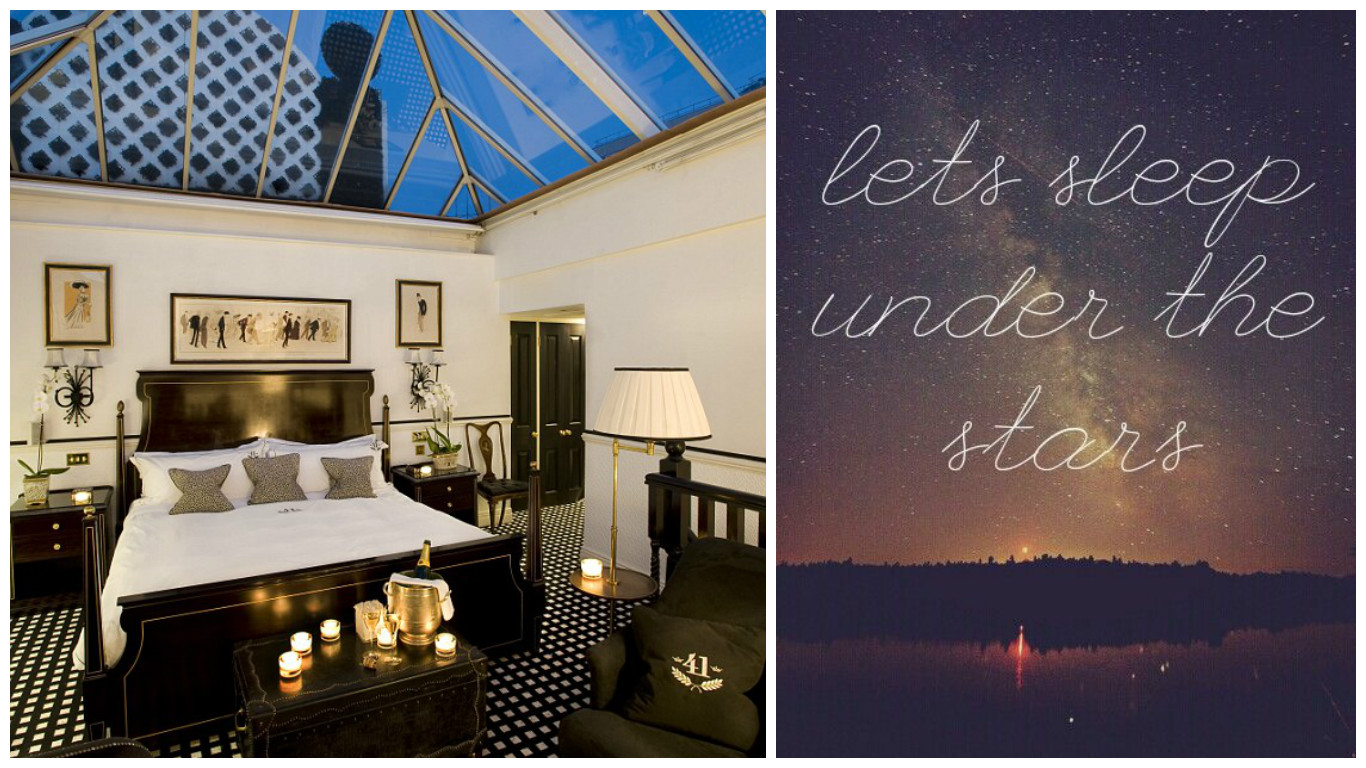 Spend a Night Under the Stars at Hotel 41
I love you to the moon and the stars and back again... Since the dawn of time, there has been the allure of night; a glittering backdrop for romance. Sultry sunsets turn to dusky evenings, until darkness hangs heavily in the night sky, a twinkling blanket of stars. Perhaps it is the fascination of forever, or the movie-moments of lying together on the grass, marvelling at the wonders of the universe. Perhaps it is feeling like the world is so big and you're both so small, but together you have everything. Or perhaps it is the breathtaking beauty of the sparkling sky, setting the scene for love and romance, and making us believe a little bit in magic...
One hotel is opening its doors – and its glass rooftop – to invite you to enjoy a heavenly Night Under the Stars. Set in the heart of London, in an unrivalled location across from Buckingham Palace, sits Hotel 41; an exquisite establishment that positively oozes old-fashioned glamour and sophistication. Embodying an unmistakable sense of regal grandeur, the hotel boasts opulent spaces of rich mahogany panelling, traditional Chesterfields, roaring fireplaces and glittering chandeliers - and guests suites of unrivalled luxury.
Introducing a night unlike any other, meet the The Conservatory Suite. A glass-roofed private penthouse paradise, where the rooftop opens up onto the shining night sky, there's no doubting why this is one of the most popular places to propose in the capital city.
There's a telescope for star-gazing, and you'll be utterly spoilt with champagne. An extravagant marble bathroom includes a decadent double Jacuzzi bath and designer Penhaligon's bath and beauty products, and you also have a selection of exquisite bed linens and feather pillows to choose from - to complement the hand-made mattress of your lavish king-sized bed, ensuring you have the most plush and comfortable place to sink into for the most indulgent and intimate sleep under the stars...
As an unforgettable experience for you and your partner, mark your memories by naming a star together – or perhaps name a star after your loved one, as the perfect present . You'll take away an official naming certificate to cherish, and will remember this moment whenever you look up into the twinkling night sky, immortalising your love for one another forever.