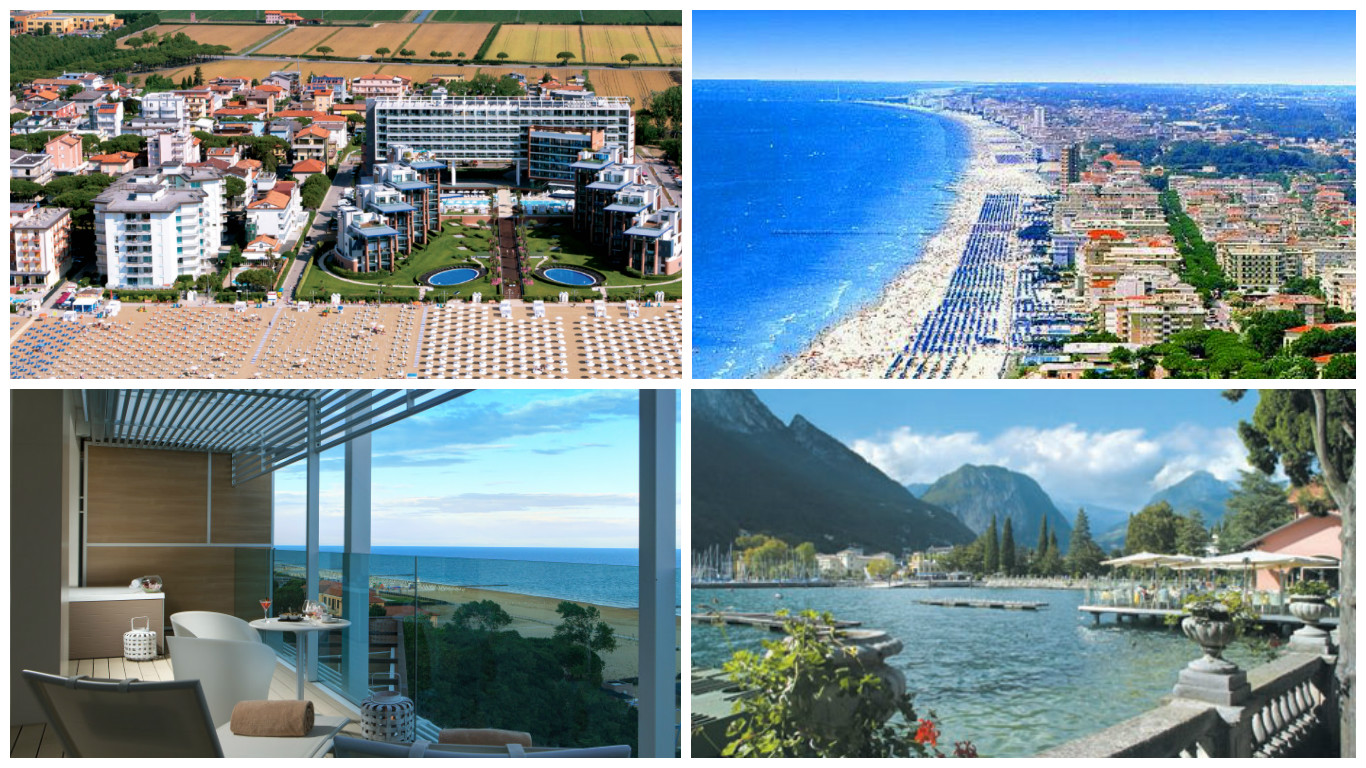 Image: via Almar Jesolo | Pinterest
4 'Secret' Beaches in Venice
Think of Venice and your mind immediately leaps to city breaks; its allure is everlasting, and the enchanting idea of a city that is built on water never fails to capture the essence of romance. Here, you meet a maze of quaint and charming canals for dreamy gondola rides through towering buildings of magnificent Renaissance and Gothic architecture; a city steeped in rich history, where the celebration of world-famous art and rich food and drink sweep you off your feet and make you feel alive.

However, we seldom think of Venice as a place to head for a beach break, but its composition of over 100 small islands in a lagoon in the Adriatic Sea, of course means that it has endless sandy shores for holidaymakers to soak up the Italian sunshine. At Almar Jesolo in Venice, you're just a stone's throw away from white sands and the sparkling sea, but even if you're away on a city retreat in Venice, take a day out of the sightseeing for some sun, sea and sand, and see Venice in a whole new light.
Lido di Jesolo
It will come as no surprise to discover that Almar Jesolo's closet beach is the Lido di Jesolo, located just 300m from the luxurious hotel. Often billed as the 'Venetian Riviera', Lido di Jesolo is a purpose-built beach resort, so whilst the area isn't going to fascinate the culture vultures, this is a dream destination for those wanting a holiday of heavenly sunbathing. As the area is shaped by tourism, the layout of Jesolo is all about convenience for its sunshine visitors, with the main street running along the length of the town, packed with shops, cafés, restaurants and bars. The beach is busy and the nightlife is buzzing, with regular events such as firework displays drawing in the crowds.
The Island of Albarella
In sharp contrast to the hustle and bustle of Jesolo, the Isola di Albarella (Island of Albarella) is a perfect paradise of unspoilt nature, immersed in the lagoon that is south of Venice. Peace and tranquillity sleep in the soft sandy shores, and the shallow sparkling waters tempt in swimmers, or those seeking watersport adventure activities away from the crowds. The beaches' proximity to the island's luscious greenery adds to the air of unique escapism, and you'll be soaking up the sun-drenched climate on the beach, whilst the surrounding landscape is the natural habitat of elegant deer and pheasants. Albarella gives you the sense of entering another world, a faraway oasis where relaxation is utterly effortless.
Lido di Venezia