Where to have a Big Fat Greek Destination Wedding… or a cute intimate one
Ever since Aphrodite, the goddess of love, arose from the coast of Paphos – Greece has been the ideal place to express love and romance. Here we take a look at some of the ancient land's finest wedding destinations for couples getting married today.
Greece has long been a favourite choice for nuptials:from civil ceremonies to orthodox weddings and plenty more.
Greek culture also lends itself to a genuinely warm welcome of visitors (not only thanks to the baking hot sun that shines around the clock for most months in any given year). If word gets out about your wedding, locals will often be friendly and pleased to extend their hospitality (occasionally bearing some traditional Greek treats for the wedding party).
Choosing where in Greece to get married
Each of the Greek islands offers something that's totally unique, but they tend to share certain traits. From tiny churches found on the edge of jagged islands, to dramatic coastal views and magical sunsets. Such scenery can only help to lay the foundations for life's most memorable ceremony.

A private, intimate paradise can be found in most of the renowned Greek islands - Mykonos, Santorini and Kefalonia are among our top picks. For every island ceremony, there's a mainland option by the sea to consider too, as demonstrated at both Halkidiki and Phocis. Each of the following Greek destinations will be sure to provide you with views and amenities that will make your wedding one that you'll never forget for the rest of your lives.
Five beautiful wedding destinations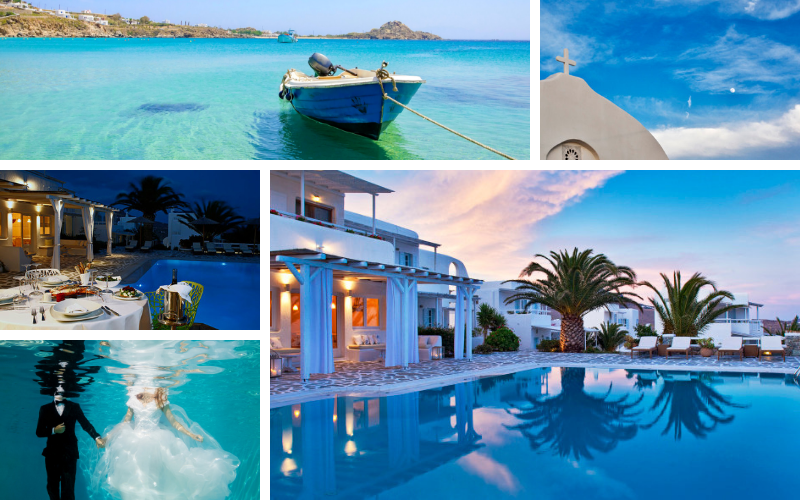 #1 Destination Weddings in Mykonos
Often considered to be Greece's most luxurious destination, Mykonos is packed full of charming wedding venues and these are regularly found in or around superior resorts. If you decide to get married at Anemoessa Boutique Hotel, you can expect a fully-bespoke service. Plus, you'll be among grand Aegean architecture in a dreamy setting above Kalafatis beach in the southeast of the island.
Situated in a quiet location, the resort is ideal for families while also catering for those who'd like to head into Mykonos Town for a night on the tiles. It's less than seven miles from the resort to the tourist-friendly town. Anemoessa Mykonos was recently renovated to create a relaxed and pleasant setting. The hotel's style truly reflects the beauty of Mykonos' breathtaking nature. Devour excellent Mediterranean cuisine before taking a leisurely dip in the swimming pool overlooking the clear blue sea. A filling Continental breakfast is served daily. Also, free WiFi is available throughout the property.
Meanwhile the hotel's wedding package comes with a complimentary honeymoon, upgrades, romantic extras and little surprises. The bride and groom can take advantage of the stunning honeymoon suite, which is free of charge for their wedding night. Your ceremony itself will be hosted on the resort's picturesque grounds in a quaint chapel of effortless beauty. What's more, guests will be able to revel in amazing views of the Aegean sea. Speak to the venue directly to ask about how the peaceful scenery around Mykonos island could also bring a memorable experience for the first leg of your honeymoon.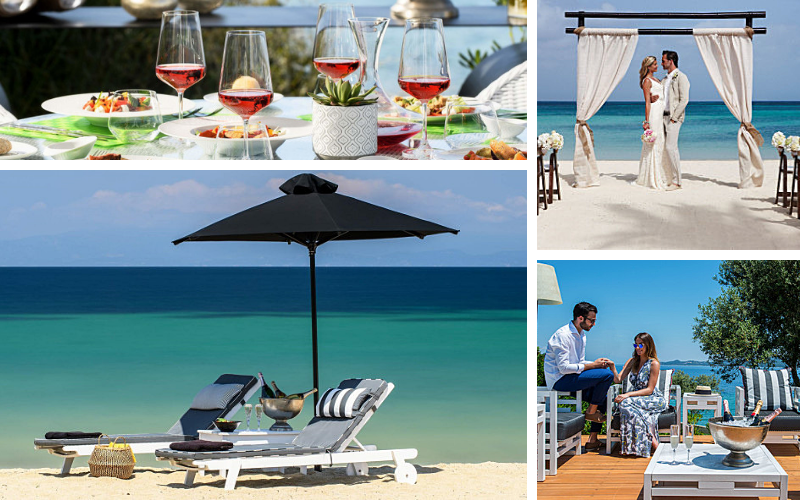 #2 Destination Weddings in Halkidiki

Northern Greece's coastline is characterised by rocky peninsulas and Mediterranean forestry, which open out on to golden sands in sheltered bays - all helping to make a very romantic setting for an unforgettable union. The Avaton Luxury Villas Resort is located by one of a string of fine beaches in the area. This slick and stylish and beachfront escape is well-equipped to host weddings of up to 160 guests. Find out more about the wedding deal at Avaton, which includes the wedding cake, bride's bouquet and unlimited drinks on tap for two hours.
The Relais & Chateaux property pays particularly close attention to detail - you and your guests will delight at the fine Italian silverware and handmade French plates while being treated to the Chef's Menu at the sea-facing restaurant. The wedding breakfast is a real treat as well and can be served to you in your villa (either inside or on the spacious outdoor patio). The hearty Greek selection includes spinach and cheese pastries, yogurt with fresh honey and a dipping bowl brimming with homemade olive oil.
All 16 suites at Avaton are air conditioned and have a flat-screen TV with satellite channels. Most units include a dining area and/or terrace, while some come with private pools. Modern culinary creations of both Mediterranean and international cuisine can be tasted at Avaton Restaurant and Champagne Bar. Wedding guest can enjoy their dish with a signature cocktail while gazing deep into the endless blue of the Aegean Sea (or their lovers' eyes). Massage treatments and private transfers - by limo or even helicopter - can be arranged. As can daily cruises. Breakfast, other meals and drinks can all be enjoyed lazily at the beach bar.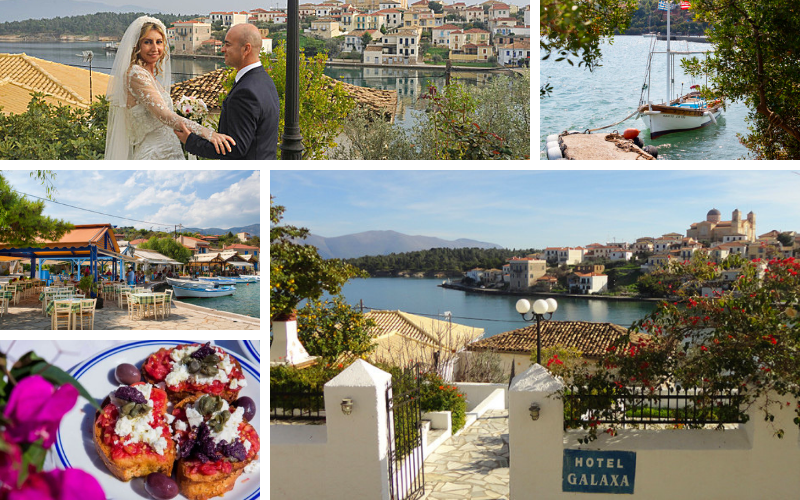 #3 Destination Weddings in Phocis
Another place where you'll be able to enjoy a homemade breakfast, but this time overlooking the deep inlet of the Ionian Sea, is at Galaxa Mansion, which is registered as a building of the Greek National Contemporary Heritage.
Set in the old port of Chirolakka in south Phocis - in central Greece - this guest house boasts exquisite panoramic views enjoyed from quaint balconies and is the ideal place to be part of an intimate and rustic ceremony. Each of the nine luxurious suites are named after ancient gods and each room comes with an individual colour scheme, style and décor. A bouquet of fresh flowers will greet you in your fully-equipped room. A Jacuzzi helps to complete this picture of paradise.
By staying at Galaxa you'll also be close to the churchof Agios Nikolaos and, a little further afield, the picturesque chapel of St.John in the woods. Many life-long commitments have been made amid these peerless views. Perfect Wedding Planning Mansion Galaxa will be pleased to take over all the admin of both your wedding and the reception. Your team of specialists will organise, co-ordinate and implement every detail of your Big Day and always in accordance with the requirements provided by the couple: from the flowers and decorations, to the music and the food. The fact that the whole wedding event is being taken up exclusively by the Galaxa Mansion, means you can enjoy this unique day of their lives with their family and friends.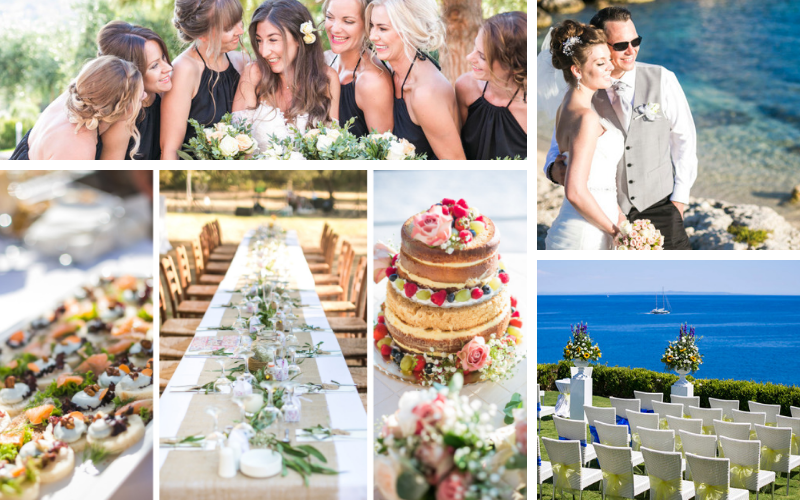 #4 Destination Weddings in Kefalonia
With some of the finest beaches in Europe, Kefalonia would be a great choice for a dream Greek island wedding. It's much more than ceremonies in the sand though - couples could say 'I do' in the city at one of many classy boutique hotel venues using the main square as a base. Shops and a night scene will keep your lucky visitors happy in between the main event...
Kefalonia Weddings are experts in arranging your perfect day, whatever your style. And for a more intimate or exclusive wedding you can even choose to host your celebrations in a private villa or manor house with its own pool - offering you privacy, intimacy and the pleasure of celebrating your special day with your own 'house rules'. This specialist wedding provider has a dedicated team of professionals who you'll work together with to create your dream wedding or event in west Greece. The company is known throughout the country as the premier wedding company for Kefalonia and Ithaca and has been trading for nearly 15 years. And its credentials were further boosted by winning the Luxury Travel Guide Award for Wedding and Honeymoon Specialists for Greece.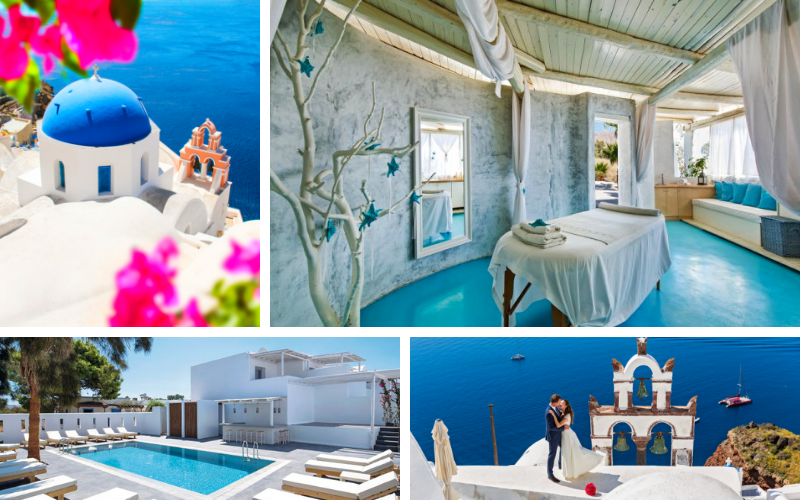 #5 Destination Weddings in Santorini
With some of the most spectacular views to be found in the Mediterranean (and, come to think of it, Europe), Santorini is a favourite with both wedding and honeymoon couples alike. Most of the renowned wedding venues in Santorini are located on the west of the island, given the volcanic caldera and a stunning view out to the Ocean. That said, you'll still find a cute collection of small beaches and hotel wedding venues to compare on the east side of the island.
Located at a poolside pavilion in Hotel Meltemi Villagein Perissa, the Santorini Zen Spa has a special bride and groom treatment. This deep, relaxing ritual for couples about to be wed includes a Relaxing massage session and a finger-tip face lift. Couples who pass through Meltemi Village will quickly feel rejuvenated and relaxed at Santorini Zen Spa, which uses many certified organic products to provide a range of body treatments. The spa offers a range of options designed to help visitors regain their inner balance and eliminate any travel-related strains. In addition to classic options, like manicures and pedicures, your can indulge in waxing treatments, aromatherapy massages, spa rituals for couples, oriental therapies, jacuzzi and infrared sauna treatments, and more. If all that wasn't enough, there's a spacious pool surrounded by the palm trees. You'll also have the option of staying next to the Spa, with 56 rooms and studios at the most central area along the majestic seastrand.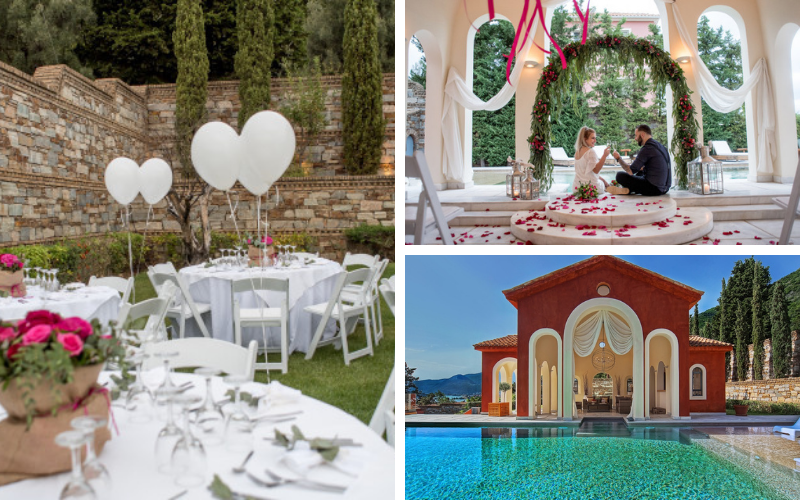 #5 Destination Weddings in Lefkada
Lefkada is a unique Greek island destination because it isn't really an island! Connected to the west coast of mainland Greece, Lefkada is the only 'island' destination you can drive to - making it a superb choice for couples planning a destination wedding and requiring easy accessibility for your guests, without sacrificing any of the natural unspoilt beauty that makes the Greek islands such a desirable setting for romance.
One of our favourite wedding venues in Lefkada is Villa Veneziano, built in 2009 by Russian shipbroker Sergei Kauzov in loving memory of his wife Christina Onassis. Nestled on a hillside and surrounded by a vast 2.000 sqm green garden, it offers panoramic views of the infinite Ionian Sea, Meganissi and the famous Skorpios island, once privately owned and home to the Onassis family. Villa Veneziano may be used as a 5 separate bedroom villa/hotel property but is best hired as a private villa if you're planning a wedding here. With a dedicated team of wedding experts on hand to help you plan every detail of your special day, this is a truly magical setting to say "I do!"
To help you find YOUR perfect wedding experience you can choose to search by Wedding Venues / Hotels, Wedding Packages or Wedding Specialists including wedding planners. event services, specialist venues and bespoke wedding experiences and experts.
Then simply use the filters to narrow down the choices by selecting: the type of wedding services you're looking for such as a wedding blessing or a legal ceremony; the setting or venue style; included romantic experiences and much, much more (even if you've no idea of the destination you're looking for).
P.s. We also do Honeymoons - including honeymoon hotels / accommodation, honeymoon packages and honeymoon specialists.