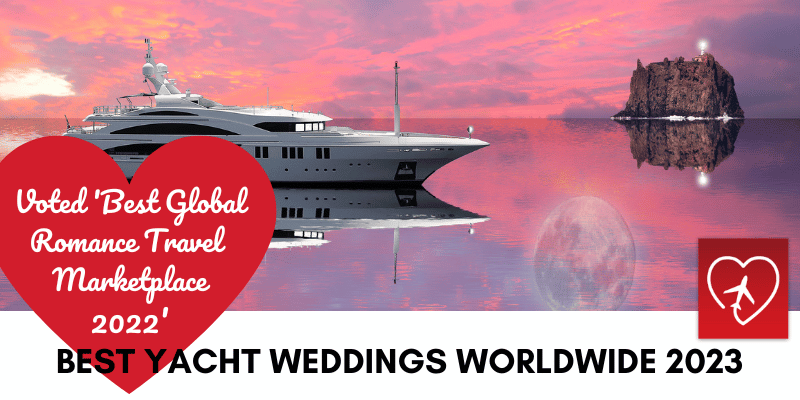 Best Yacht Weddings with the WOW Factor | WORLDWIDE
Are you looking for the ultimate way to make your magical dream wedding come true?
If so, a yacht wedding could be just what you're searching for!
Whether it's an intimate gathering with close family and friends or an unforgettable celebration that literally sails away into the night, a luxury yacht can provide couples with a unique and exotic backdrop they won't soon forget.
With some of the most sought-after destinations in the world available to explore on both small- and large-size yachts alike, it's easier than ever to plan the destination wedding of your dreams – no matter how customized or ambitious it may be.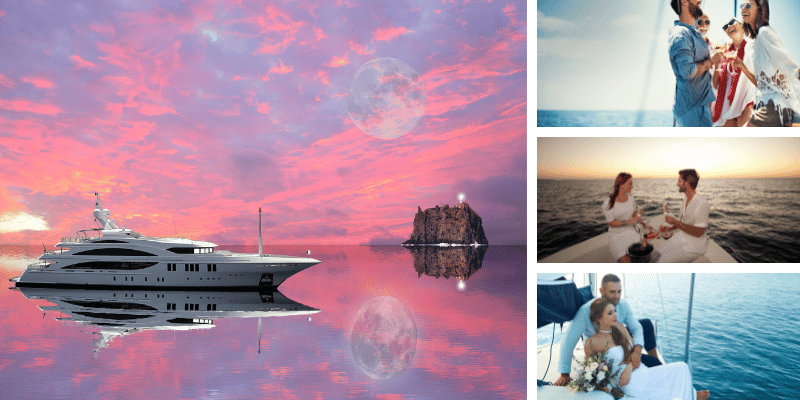 Read on as we answer some of the most frequently asked questions about planning a yacht wedding:
1. Why having a yacht wedding is an unforgettable experience
2. Tips on planning a yacht wedding – from finding the perfect vessel to selecting the right entertainment
3. Different types of yachts for every size of event - from large luxury vessels to smaller, more intimate cruises
4. Destination ideas for your yacht wedding - from romantic island getaways to exclusive private beaches and private ports
5. Necessary extras - from catering services to decorations and music
6. How to make sure your guests have a once-in-a-lifetime experience at your special day
Plus... discover our top 10 Yacht Weddings for 2023 as recommended by our expert wedding consultants.
Why having a yacht wedding is an unforgettable experience
Hosting a yacht wedding can give you and your guests an unforgettable experience! The ocean views provide a breath-taking backdrop for exchanging vows or celebrating as newlyweds, while the unique venue is sure to make this event distinctive and memorable. Yacht weddings offer a romantic setting that is separate from everyday life, providing you with unobstructed ocean views and endless possibilities for customizing your wedding. With such a stunning ocean view, delicious cuisine, and plenty of activities on board, it's no wonder so many couples are choosing to have their special events take place at sea!
Tips on planning a yacht wedding – from finding the perfect vessel to selecting the right entertainment
When it comes to planning a cruise boat wedding, the possibilities are endless. Whether you've always dreamed of tying the knot on a luxurious cruise ship in the middle of the ocean or an intimate sailing boat near your favourite beach, your perfect ceremony can be brought to life. Not to mention, booking a cruise for your wedding need not be nearly as expensive as one might expect. Depending on what type of vessel and cruise you choose, there is a wide array of entertainment options that can make planning and customizing your cruise a breeze. So start searching for perfect cruise vessels today and take advantage of planning one of the most memorable events you've ever been part of - your very own yacht wedding!
Different types of yachts for every size of event - from large luxury vessels to smaller, more intimate cruises
There are different types of yachts for every size of event - from large luxury vessels to smaller, more intimate cruises. For smaller weddings or elopements, there are elopement yacht charters that are perfect for intimate gatherings. For larger weddings with over 100 guests, there are larger yachts that can accommodate everyone comfortably. Regardless of the size of your event, there is a yacht charter that can make it truly special.
Destination ideas for your yacht wedding - from romantic island getaways to exclusive private beaches and private ports
A yacht wedding gives you the freedom to explore so many amazing places around the world! For truly romantic couples the bays and coastlines in Croatia and Italy are some of the most beautiful settings you can choose. Northern European countries such as Norway or Iceland can provide a day of awe-inspiring views with a chance to witness the famous Northern Lights. Or why not set sail right downtown and be married along one of your favourite city rivers like the Thames or Seine. Wherever you choose to go, it is sure to make for an unforgettable day!
Necessary extras - from catering services to decorations and music
When it comes to planning the perfect event, it pays to remember the little details like catering services, decorations, and music. Don't underestimate the power of delicious food, beautiful decorations, and appropriate music in creating a great atmosphere for your event. Stunning centrepieces and well-presented snacks can make the difference between an average get together and an unforgettable one. It's also important to consider the type of music you'll want - from classic jazz to electric violin - so that your guests will be thoroughly entertained throughout the evening. Don't be afraid to invest in these extras; if done well they will leave a lasting impression with your guests!
How to make sure your guests have a once-in-a-lifetime experience at your special day
Making sure all your guests have an amazing time at your special day starts with a warm welcome. It makes a huge difference for everyone to feel engaged and included. A thoughtful gesture like a welcome bag will make them feel at ease from the moment they walk onboard. Make sure it's packed with practical items that'll be useful throughout the event such as sunscreen and snacks so there's no need fast-forward to the end of the night waiting for dinner. Although nothing can replace genuine heartfelt conversations and moments during the wedding itself, having thoughtful touches like this extra creative layer will help make lasting memories everyone will cherish forever.
Discover the Best Yacht Weddings for 2023 Worldwide
A yacht wedding is a one-of-a-kind experience that you and your guests will never forget. You just need to plan the perfect day by finding the right vessel and destination...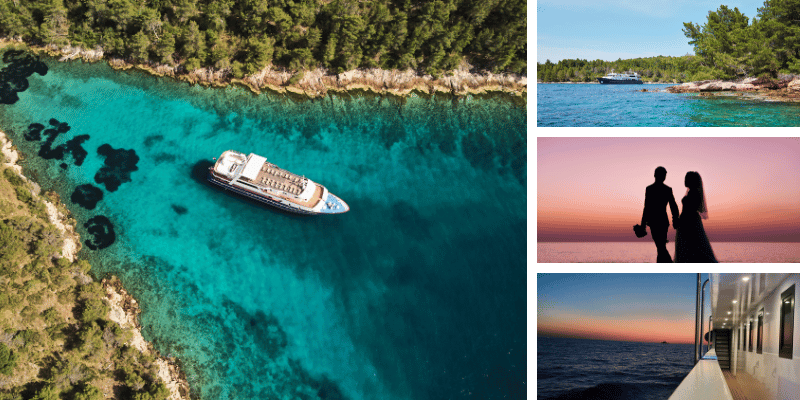 #1 Wedding Cruise on Lupus Mare | CROATIA
Weddings on Lupus Mare - QUICK ENQUIRE
Have a truly unique wedding experience and celebrate your love for one another on board the romantic Lupus Mara Yacht. You'll explore Croatia's beautiful islands as you cruise around, before dropping anchor in a secluded bay to exchange vows surrounded by stunning decor of flowers, fairy lights and friends. The expert wedding team will help make every step stress free while planning it all so that you can focus on creating everlasting memories before celebrating into the night with delicious food & drinks served on the sundeck under sparkling stars followed by live music!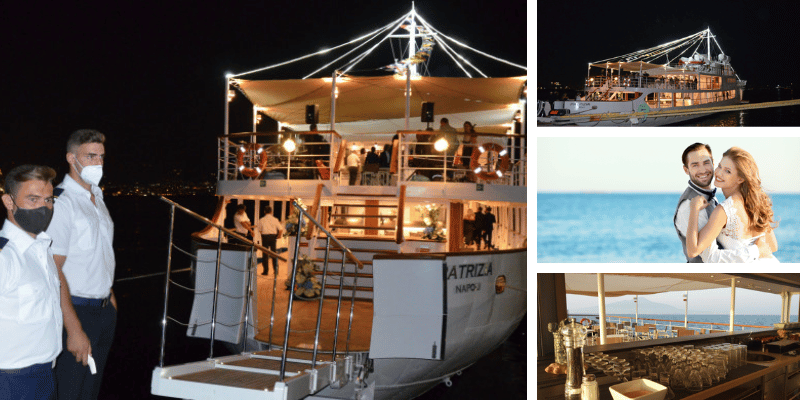 #2 Private Cruise Wedding | ITALY
Italy Yacht Wedding Cruise - QUICK ENQUIRE
For the perfect wedding celebration, take a private cruise ship and sail into an Italian sunset! With up to 200 of your closest family and friends, you can set off from any port in Italy—from Naples to Capri or Tuscany's Argentario island. Feel free to stay out on the sea for as long as desired–enjoying music and dancing until dawn with stunning views along the Italian Coast. Or if needed, smaller boats are available throughout your eventful evening so guests have no worries about getting back home safe. Experience an unforgettable night that will be forever cherished by those who shared it – right here in beautiful Italy!
#3 Northern Lights Yacht Weddings | ICELAND
Northern Lights Wedding Cruise - QUICK ENQUIRE
Experience the moment you say "I do" in an extraordinary setting–surrounded by friends and family... and the Northern Lights - nature's most mesmerizing display as your backdrop. Celebrate your special day on board a luxury superyacht – where up to 98 of your closest loved ones can join you while our wedding planners handle all the details so that nothing is left unplanned. After exchanging vows under sparkling night skies, tour breath-taking Northern Lights illuminated vistas before retiring for a blissful first-night celebration together!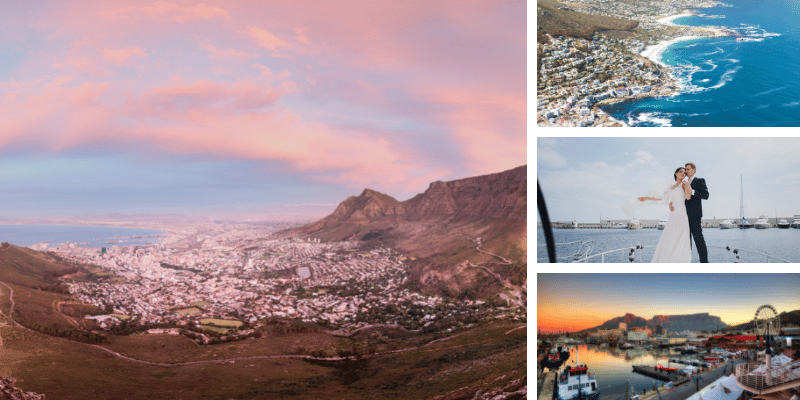 #4 Yacht Charter Cruise Wedding in Cape Town | SOUTH AFRICA
Cape Town Yacht Wedding - QUICK ENQUIRE
Tie the knot on a luxurious yacht in beautiful Cape Town! For couples who want something extraordinary and unforgettable, we specialize in combining weddings with boat cruises. We have everything from affordable packages to extravagant affairs – available for intimate ceremonies or bigger groups of up to 65 people. Our charters come with all your wedding needs: hire of the vessel plus marriage officers included. So let us make this special day even more memorable by setting sail together!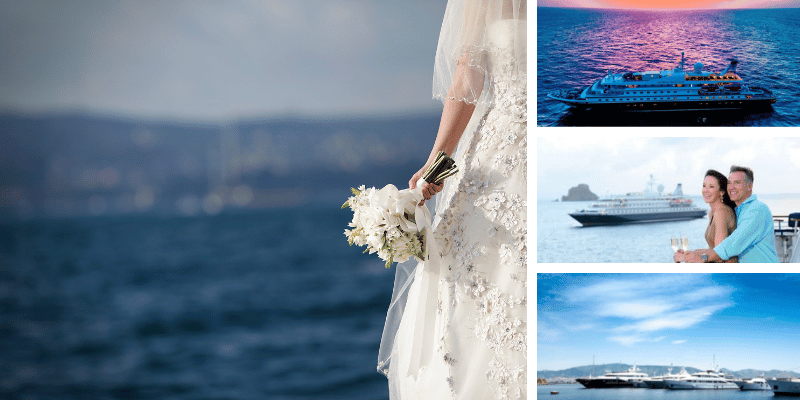 #5 Wedding Aboard a SeaDream Yacht Club Superyacht | MEDITERANNEAN, CARIBBEAN OR ATLANTIC OCEAN
Superyacht Wedding - QUICK ENQUIRE
Have you ever dreamed of saying "I do" aboard a luxurious superyacht? You can make it happen with the SeaDream Yacht Club! With unique ceremonies set against the backdrop of sun-soaked oceans and starry night skies, we promise to make your special day one that is unforgettable. Enjoy sumptuous 5 star cuisine prepared specially by our talented chefs, followed by an open-air party on one of our sundecks. If there's time for romance after all this celebration has died down - indulge in Balinese Dream Beds under twinkling stars above as you start married life together.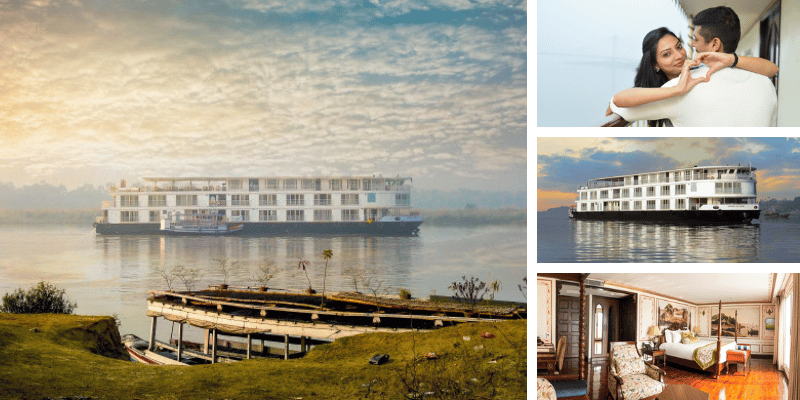 #6 Bespoke Wedding Cruise on the Ganges | INDIA
Ganges Wedding Cruise - QUICK ENQUIRE
Celebrate your special day on the Ganges and create unforgettable memories for you, family & friends. From intimate vows at an iconic Indian bridge to a gourmet dinner with live music aboard our luxurious all-suite ship - we will help make your wedding celebration truly unique! We offer exclusive hire of our vessel complete with decorations, butler service and signature events that'll add perfect finishing touches to this spectacular once in a lifetime occasion.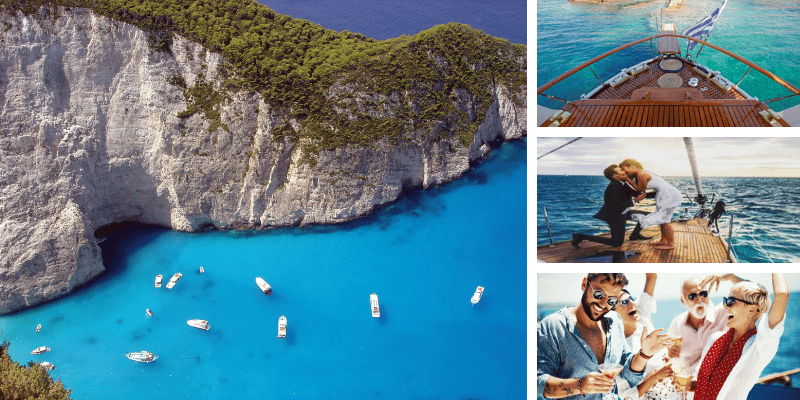 #7 Greek Islands Yacht Wedding | GREECE
Greek Island Yacht Wedding - QUICK ENQUIRE
With the glistening sea and azure blue skies as a backdrop, there couldn't be a more romantic setting than a yacht cruise in the Greek islands for your special day! Make it an intimate affair to last through eternity with our smaller vessels or let us make all of your wedding dreams come true on one of our larger yachts that can hold up 46 friends and family. Our team would love to help you create bespoke packages tailored exactly to how you picture your celebration; just get in touch so we can start planning together!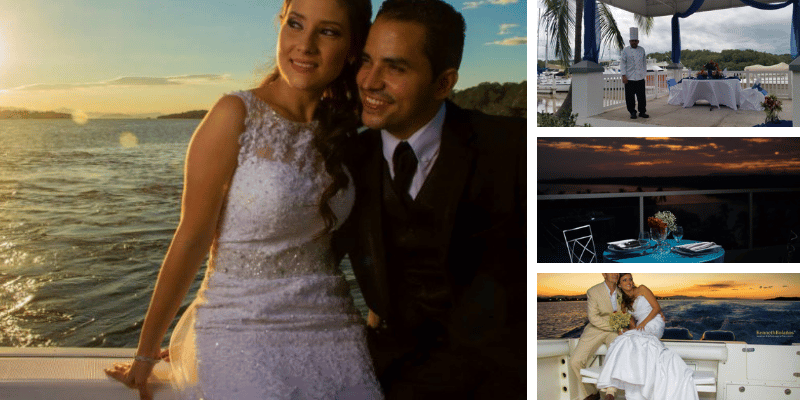 #8 Yacht Marina Wedding for Two | COSTA RICA
Elopement Yacht Wedding - QUICK ENQUIRE
Let us make your wedding celebration as special and romantic as you've always dreamed of! Our luxurious Yacht Marine resort provides the perfect backdrop for a magical ceremony. With our premium or basic packages, we'll provide everything necessary to create unforgettable memories including an entrance in style via boat, incomparable photo shoot opportunities from penthouse suites, dedicated preparation rooms with carpets and flowers galore, sky lanterns to set the mood - plus ultimately sumptuous food tasting menus specially crafted just for two. Get ready to be swept away by love like never before!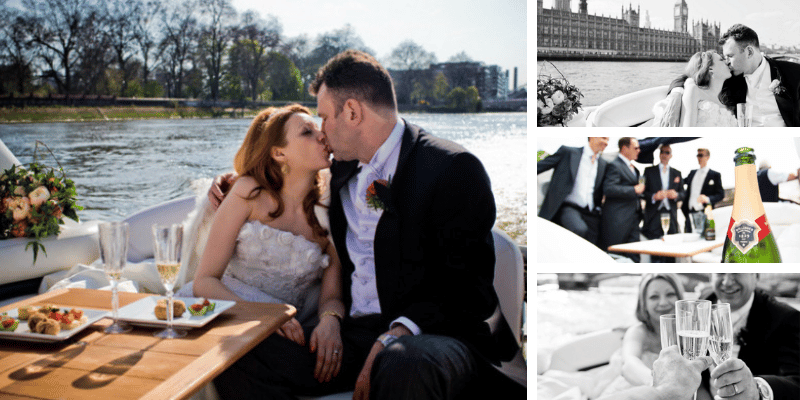 #9 Wedding Cruise Thames London | UNITED KINGDOM
River Thames Wedding Cruise - QUICK ENQUIRE
Let's make your wedding day even more special - with Diplomat Cruises! If you're getting married near the riverside in London we'll work closely with the venue organizers on scheduling so everything runs smoothly. Plus, we provide personalized music selection and a dedicated hostess to tend to you throughout the cruise. Indulge in champagne onboard as you sail along for 1 and a half glorious hours of romance at sea - only from us! Get our special wedding offer now while it lasts.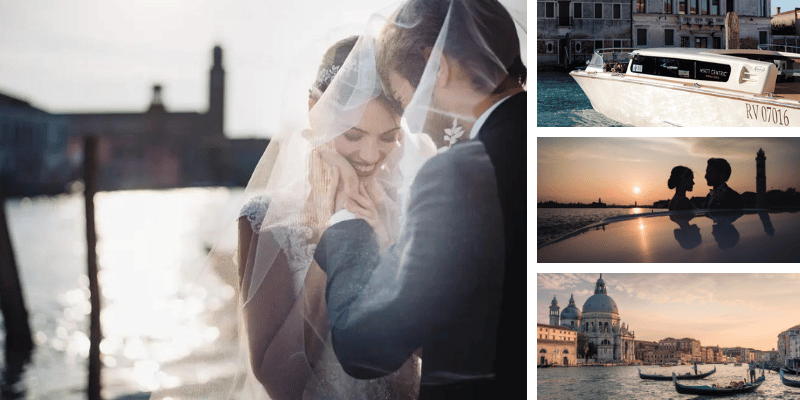 #10 Venice Lagoon Wedding Cruise | ITALY
Venice Lagoon Wedding Cruise - QUICK ENQUIRE
Make a lasting impression on your special day with an unforgettable wedding cruise along the romantic Venetian Lagoon. Gaze over breath-taking vistas together as you exchange vows and share that first magical kiss as husband and wife, surrounded by stunning sights of Venice's iconic landscapes. Celebrate in style aboard our picturesque cruises across Murano - known for its illustrious glass-blowing history - or savour moments away from the hustle & bustle at one of many hidden spots waiting to be discovered amongst this remarkable setting!

Whether you choose a large luxury vessel or an intimate private cruise, your wedding can take you anywhere from romantic island getaways to private beaches and exclusive ports. With the perfect combination of elegance, charm, and luxury, your special day is sure to be an unforgettable experience for everyone attending. So if you're looking for something unique to make your big day truly extraordinary, we highly recommend considering a yacht wedding!
Get in touch with our recommended yacht wedding hosts to see what they can offer. From there on out you'll be off to a start for planning an unforgettable adventure that everyone will remember for years to come!

Enjoy your special day!
And happy sailing!
You may also like: Top 5 Beach Wedding Destinations in Europe
Or reach out to our romantic consultants for free personalised expert advice on planning your dream wedding.