21 Hotels with Hot Tub in Room
Imagine soaking in the relaxing bubbles of warm water while sipping champagne and basking in each other's company.

If you're looking for an unforgettable honeymoon or romantic getaway, there are few things more luxurious (and intimate) than having a private hot-tub in your hotel room.
An idyllic escape that is perfect for couples wanting to make beautiful memories together!
Here at The Romantic Tourist, we've compiled 21 amazing romantic hotels located around the world that all offer hot tubs in the bedroom suites, so you can add this incredible experience to your romantic travel plans!
1. Rooftop Hot Tubs at Palazzo Ignazio, Valetta, Malta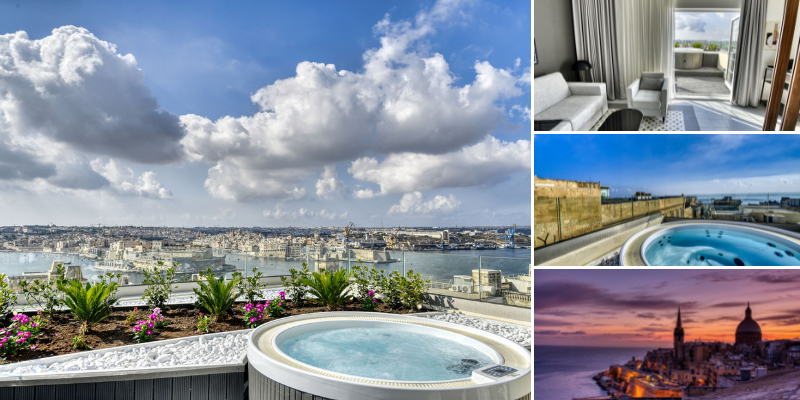 For the ultimate private hot tub experience check into one of the stunning boutique hotel suites on the 6th floor of Palazzo Ignazio. Oozing with luxurious modernity, suites offer breath-taking views overlooking the harbour alongside superior in-room features - making it the ideal setting to celebrate your romantic occasion… without ever leaving your room.
2. Rose Petal Jacuzzi Hot Tub at Hotel Kolbe, Rome, Italy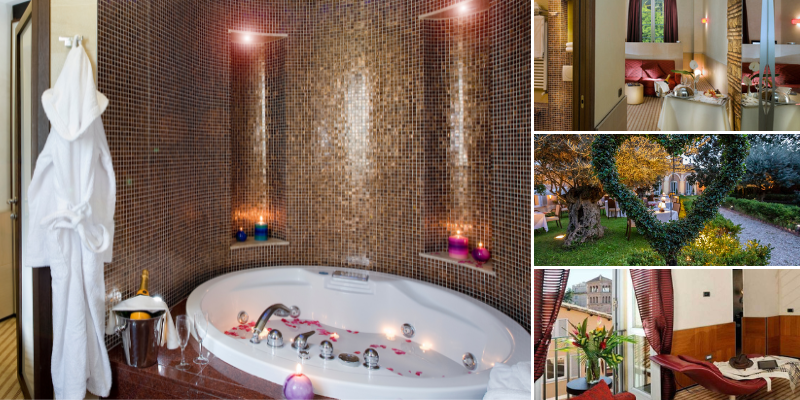 The Kolbe Hotel Rome occupies a splendid former convent from the 17th century with many original features intact, right in the heart of the historic city. Check into their luxury two-level 40 sqm suite with bathroom decorated with marvellous mosaics and a breath-taking circular jacuzzi hot tub is perfect for a romantic getaway.
3. Private Outdoor Hot Tub at Cases de Son Barbassa, Majorca, Spain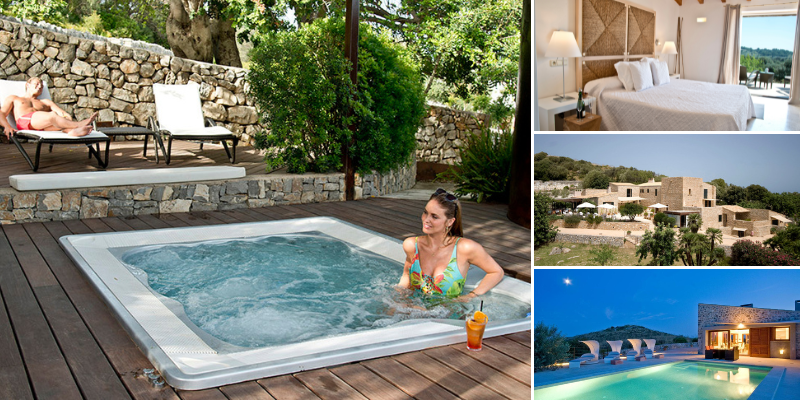 Nestled in the heart of Majorca, Cases de Son Barbassa is an intimate boutique hotel offering a selection of gorgeous rooms and suites with private in room hot tubs… ensuring that you have everything you need to relax and rejuvenate. Plus, amazing gastronomic experiences and Majorcan wines guarantee a complete romantic celebration.
4. Decadent Waterfall Hot Tubs at The Coal Exchange, Cardiff, Wales, UK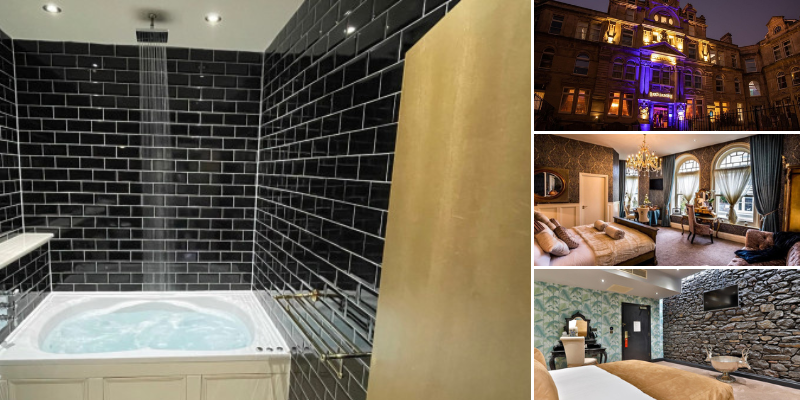 The Coal Exchange in Cardiff is a decadent hotel dedicated to romance and special celebrations. Offering a selection of rooms and suites (sleeping 2-6 guests) with private in room hot tubs, we highly recommend ordering a bottle of bubbly to help you relax and enjoy your private spa bath experience for two.
5. Secret Treehouse Hot Tub at Japamala Resort Tioman, Malaysia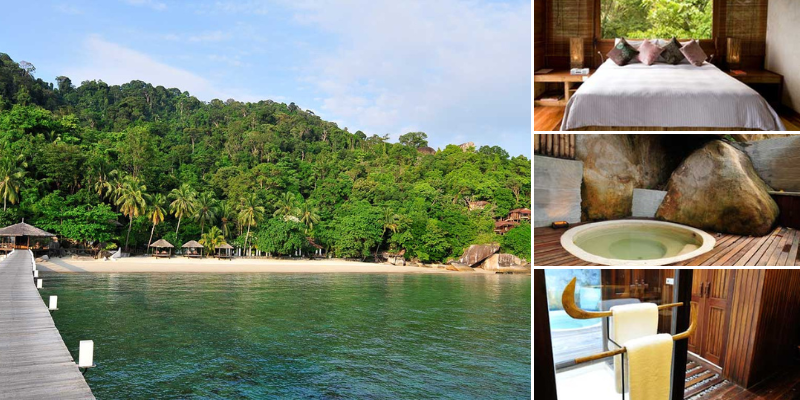 Japamala Resort Tioman is an island paradise that's as close to the turquoise waters of the South China Sea as you can imagine. Here white sands and palm fronds offer a heavenly utopia for your romantic occasion, while our treetop chalets with private hot tubs ensure the utmost seclusion for unforgettable nights alone. Our staff is friendly and welcoming, and we're committed to making your stay perfect in every way. So come experience paradiseat Japamala Resort Tioman!
6. Romantic Hideaway Hot Tubs at Fruit & Spice Wellness Resort, Zanzibar, Tanzania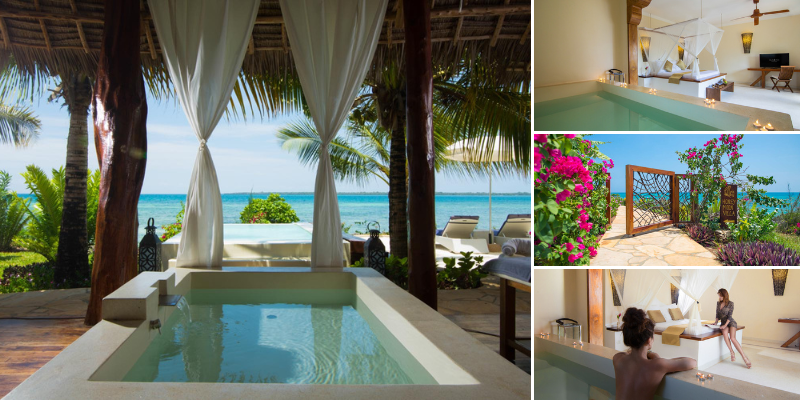 Welcome to Fruit & Spice Wellness Resort, Zanzibar,Tanzania! The honeymoon villa here is the perfect place for newlyweds and romantic couples. Not only do you have your own private hot tub in your room, but you can also enjoy the delightful aroma of rose petals floating in the water. (You may also like the Executive Junior Suite with in-room hot tub)
7. Private Cottage Hot Tub at Summer Lodge Country House Hotel & Spa, Dorset, UK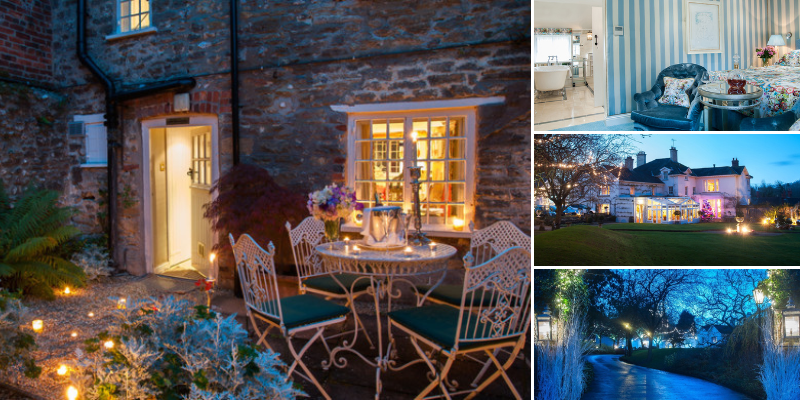 It's hard to find a more romantic spot than the Ivy Cottage at Summer Lodge Hotel. This beautifully appointed, secluded accommodation is perfect for couples looking to get away from it all. Unwind in the private gardens, hideaway from the world in private hot tub, or curl up in front of the roaring log fire with a glass of champagne at the end of the day.
8. Private Hot Tub with a View at Chateau de Jalesnes, Loire Valley, France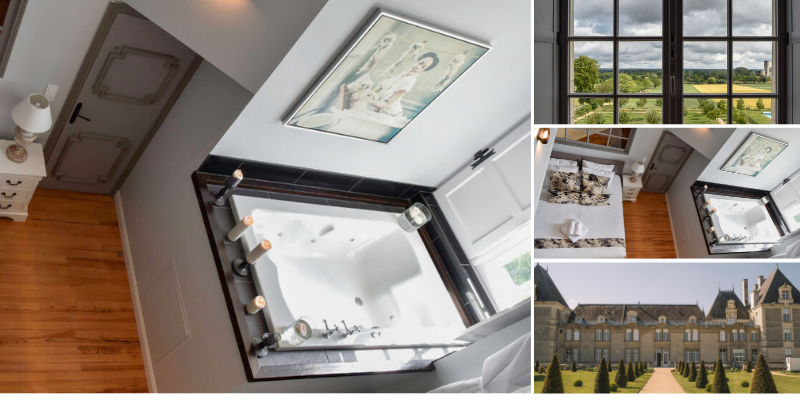 If you're looking for an unforgettable place to stay, look no further than The Clock Tower. Originally built as one of two guard towers at the Chateau de Jalesnes, this has now been transformed into a unique hotel accommodation with stunning views overlooking the front of the chateau. And the views from the second-floor window are particularly impressive - especially from the private hot-tub jacuzzi bath.
9. Magical Hot Tub Suite at Torre del Parco, Lecce, Italy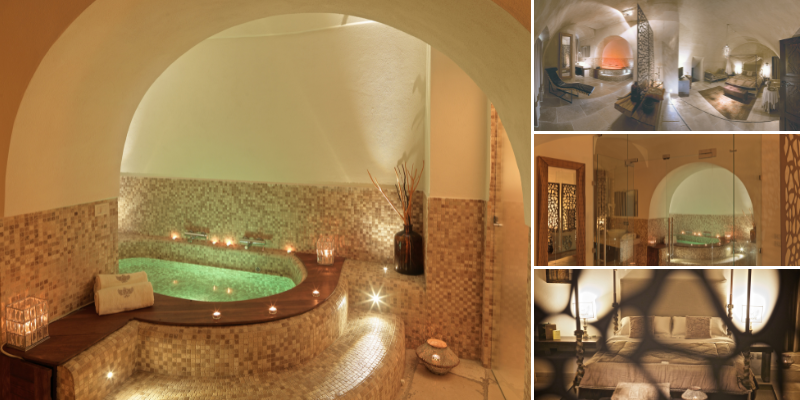 The Grand Deluxe Suite at Torre del Parco is the perfect place for romantic couples to relax and rejuvenate. The four-poster bed, hydromassage hot tub with chromotherapy, and fine decoration create a luxurious and inviting atmosphere. Guests also have direct access to the Wellness Area, where they can treat yourselves to a relaxing massage from our trained staff.
10. Ocean View Private Hot Tubs at Reethi Faru Resort, Raa Atoll, Maldives
Reethi Faru Resort, Raa Atoll, Maldives is a place where youcan truly get away from it all. With deluxe Jacuzzi Beach Viilas offering a private hot tub on your terrace and with the option to upgrade to their full romance package including candlelight dining, oceanic adventures and a romantic photoshoot available.
11. Private Hot Tubs under the Stars at Glamp and Tipple, Norfolk, UK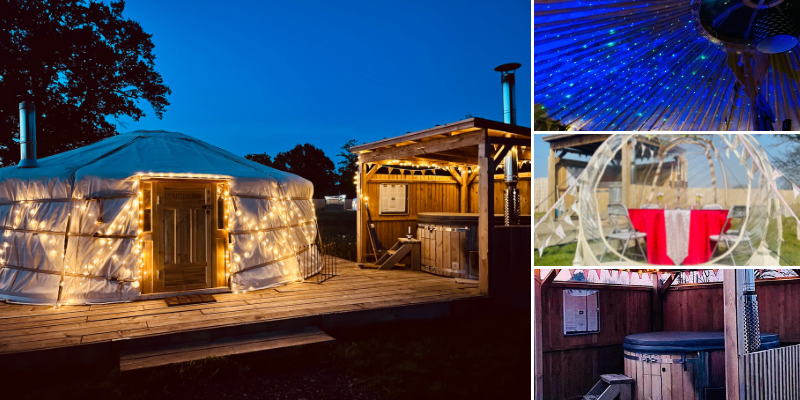 Whilst not a traditional 'hotel', Glamp and Tipple is the perfect destination for romance! This glamping site features luxurious tents with private hot tubs, ensuring that you can enjoy some quality time together in complete privacy. And situated in the beautiful Norfolk countryside, so you can enjoy stunning views as you soak in the bubbles.
12. Taskonaklar - CAVE HOTEL Hot Tubs in CAPPADOCIA at Uçhisar, Turkey
Taskonaklar offers an unforgettable and unique experience, with deluxe rooms and suites carved into the natural caves of Uçhisar. Couples love this place especially for the beautiful views of the balloon-filled Cappadocian skies… which are never more romantic than when viewed directly from your private hot tub on your terrace.
13. Aurelia Residence San Pietro - Wellness Hot Tub in Rome, Italy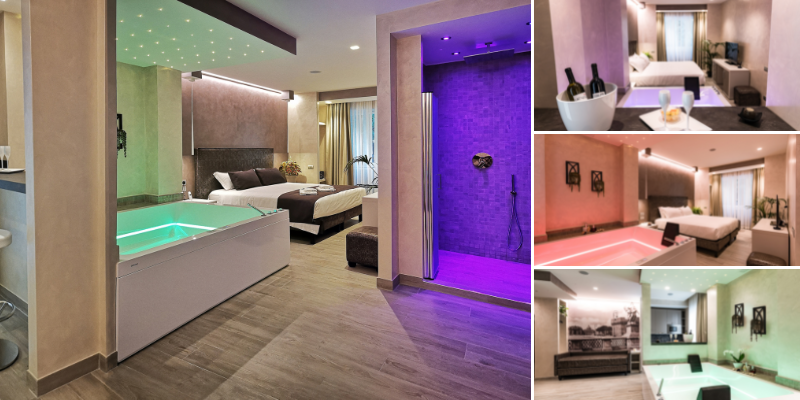 The Aurelia Residence San Pietro is the perfect place for romantic couples to relax and escape the hustle and bustle of Rome. With soft lights, bubbles, scent infusions, and music broadcast through the Smart Hi-Fi Audio System, you can customize your experience to create the perfect atmosphere just for you. And of course, the private in-room hot tub jacuzzi is the perfect way to unwind together after a long day of sightseeing.
14. Seductive Hot Tub Nights at Berry Amour Romantic Villas, Bali, Indonesia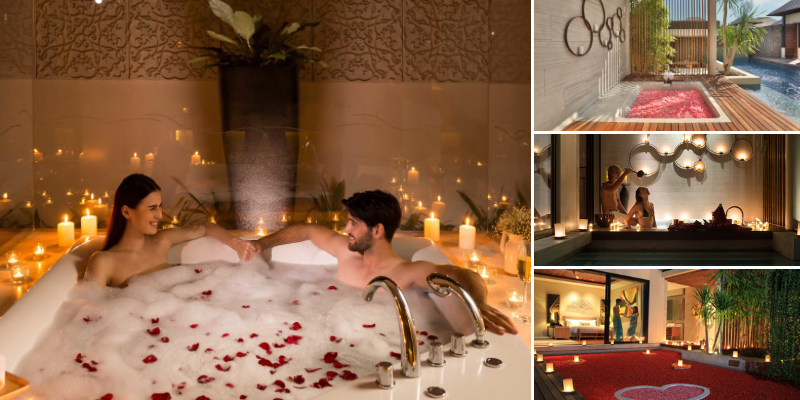 These private one bedroom villas are the perfect setting for couples looking to rekindle the flames of their romance. Each villa is themed onto one of the three romantic desires: Desire, Temptation, and Mystique. And all with a private hot tubs Jacuzzis (amongst many romantic features) they are perfect for enjoying some intimate time together at Berry Amour Romantic Villas, Bali, Indonesia!
15. New Hot Tub Suite at Hotel Rendezvous, North Yorkshire, UK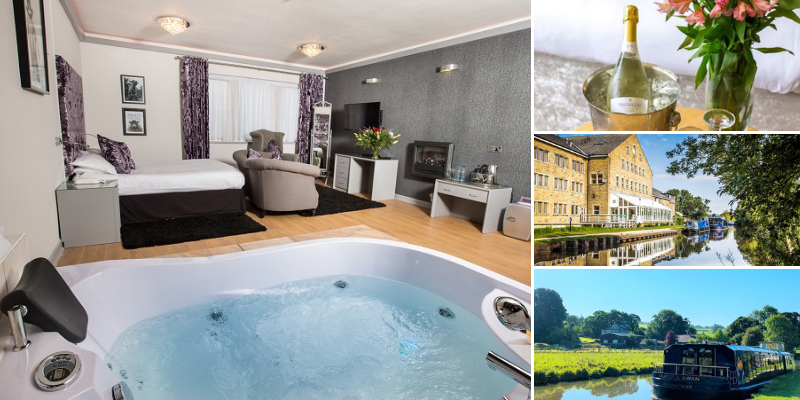 Hotel Rendezvous is the perfect place to celebrate an anniversary, enjoy a romantic break for two or even begin married life. Check into their new suite complete with a fantastic sculpted double spa hot-tub bath, allowing you to relax in total peace and tranquillity together. Plus, the unique pink, silver and black padded boudoir with its luxuriously large, canopied bed provides a private romantic space for you to enjoy. You won't be disappointed!
16. Hot Tub and Romantic Surprises at Hotel 41, London, UK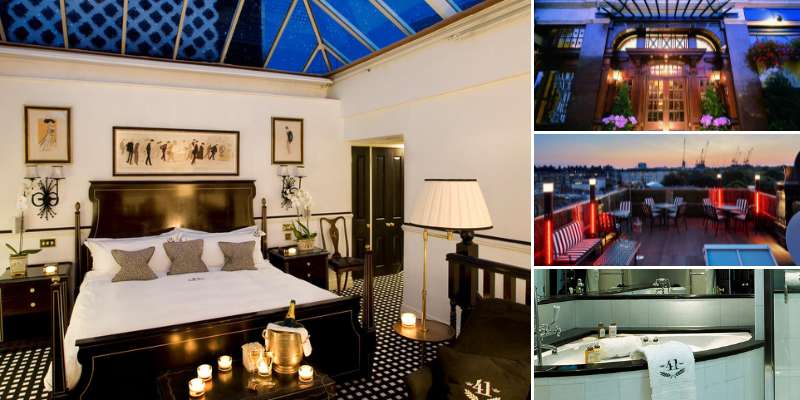 Looking for a unique place to stay in central London? Hotel 41 has just the thing – the Conservatory Master Suite. This luxurious split-level suite offers stunning views of the stars and city skyline through its breath-taking glass ceiling, as well as plenty of privacy and seclusion. The suite features electric blinds that can be used to darken the room, as well as a marbled bathroom and private jacuzzi hot-tub.
17. Mountain View Hot Tub at Kasbah Tamadot - Luxury Holidays | Atlas Mountains Morocco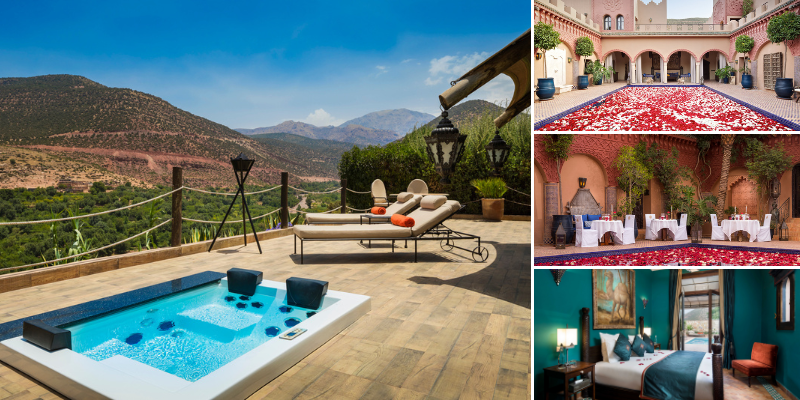 Kasbah Tamadot is a luxury mountain retreat in the heart of Morocco's Atlas Mountains. For the ultimate romantic getaway stay in one of their 5 exclusive Berber Tents with private hot tub. Each tent features a king-size bed, large bathtubs for soaking while you gaze over the mountains, a terrace with private hot tub, sun loungers and outdoor dining. Romantic bliss!
18. Private Garden Hot Tubs at Cotswold House Hotel and Spa, Gloucestershire, UK
The Cotswold House Hotel and Spa is a delightful, countryside hotel perfect for romantic escapes. For an extra special stay here we recommend both the Hot Tub Cottage and Hot Tub Suite. These unique rooms feature their own private gardens, complete with a hot tub which can be enjoyed all year round. The Hot Tub Suite also has a separate lounge and open fire.
19. Caribbean Sea View Hot Tubs at Cap Maison Resort & Spa, Saint Lucia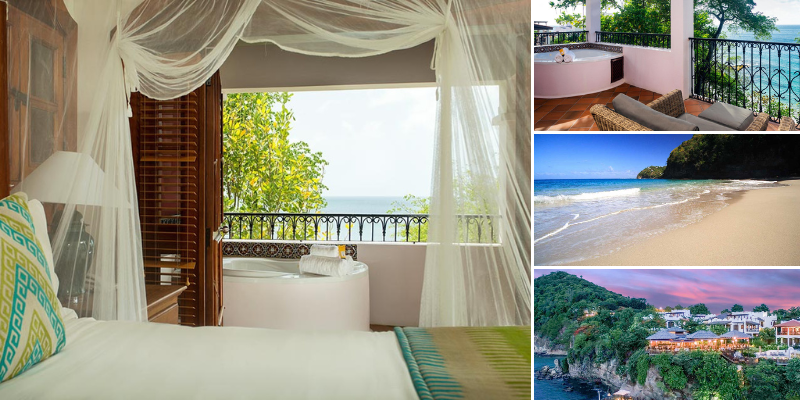 Cap Maison Resort & Spa rests on the edge of a cliff overlooking the Naked Fisherman Beach and the beautiful blue waters of the Caribbean Sea. Choose the ocean view suites with private hot tubs on the balcony for spectacular views of Martinique on the horizon.. the ultimate romantic hot tub experience.
20. Private Hot Tub Rooms at Cabo Villas Beach Resort & Spa, Cabo San Lucas, Mexico
Step into paradise. With a private terrace overlooking the sparkling Sea of Cortez and awe-inspiring views of the Los Arcos rock formation, this suite is an epicenter for romance. Whether you're enjoying the Jacuzzi on your terrace or taking in the fresh ocean breeze from your bed, you and your loved one are sure to fall in love with Cabo Villas Beach Resort &Spa… and each other.
21. Lake District Hot Tub Escapes at Gilpin Hotel & Lake House, Lancashire, UK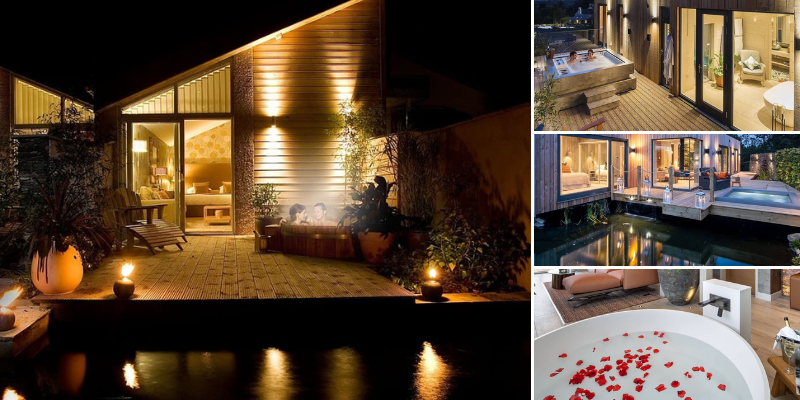 If you're looking for a quiet and relaxing getaway, the Gilpin Hotel & Lake House is the perfect destination. Nestled in untouched countryside, this hotel provides peace and tranquillity to all its guests. You can sit by the fire in the lounge, relax in the cedar wood hot tub, or unwind in the swimming pool. And if you have visions of sitting by the fire with a glass of champagne, the Gilpin Hotel & Lake House will not disappoint.
If you're planning a romantic getaway and want to guarantee that special feeling, why not book one of our highly recommended hotels with a private hot tub?
You'll find options to suit all styles of traveller, from luxury city hideaways to secluded rainforest retreats. So what are you waiting for?
Choose your favourite from the above recommendations or search why not search all our romantic hotels today.
Our romantic consultants are also available to help should you like some extra assistance in finding the perfect place to celebrate your romantic trip or occasions.