How to Get Married in Gretna Green
Gretna Green has for centuries enjoyed universal fame thanks to its association with weddings and, in particular, the somewhat dark art of eloping.
Find out more about this history-infused area, where today you can still literally tie the knot in Scotland's first ever village.
Weddings In Gretna Green; a quick history
Once an important coaching route from London to Edinburgh, Gretna Green made the most from the more conservative marital laws which came from south of the border in the mid-18th century.
During this period English lovers had to reach the ripe age of 21 before they could get married without their parents' consent. And their ceremony would have to take place in a church.
So, it was the case that countless couples made the trip into Scotland to seek out a wedding. This Dumfriesshire village was a natural first stop and it wasn't long before a culture of eloping had flourished.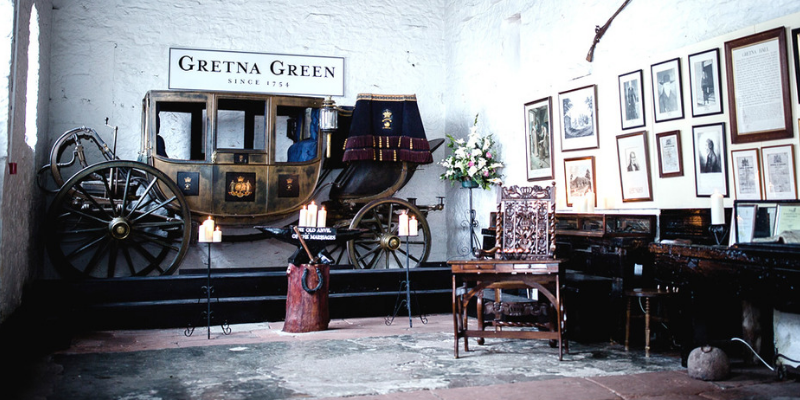 Get wed at The Famous Blacksmiths Shop
A centrepiece of Gretna Green village, this historic home of the anvil wedding was originally constructed in 1713 as a traditional blacksmiths.
It continued as such for more than a century after, but before this ever more young couples would pass through looking to get wed.

Today, you can choose between three rooms all of which carry great historical significance:
The Original Marriage Room (this one's pretty self-explanatory…)
The Rennison Room, which was named for the last 'Anvil Priest'
Or the old Saddlery Room.
What are the three main hotels from which you can celebrate your union?
Smiths at Gretna Green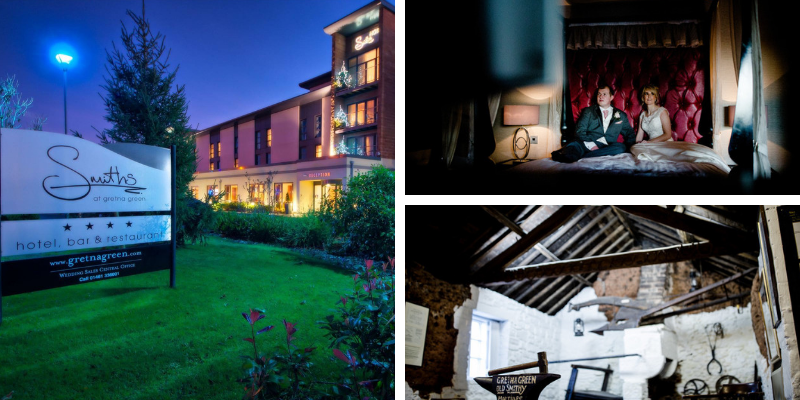 An award-winning boutique hotel in the village, you could do a lot worse than to line up a Strawberry Daiquiris (or three) as you await the arrival of your wedding guests. Private dining is available at Smiths Restaurant if you're a loved up couple and are feeling so inclined. What makes this 4-star hotel particularly special is its location opposite the Famous Blacksmiths Shop. It's also vastly experienced when it comes to hosting your dream wedding reception.

You can enjoy a very intimate wedding here for up to six guests at Smiths' Penthouse Balcony – which overlooks the rolling Scottish countryside. Meanwhile among other luxury treatments is the Spoilt Salon offering a full hair and make-up service. Discover more about weddings at Smiths at Gretna Green.
The Greta Hall Hotel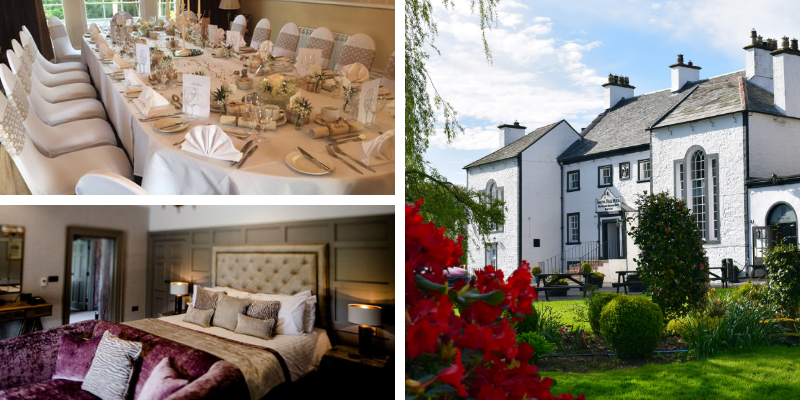 Built in 1710 as a private manor house, the grand Gretna Hall today offers 97 rooms in what is a deeply romantic venue ran by the fourth generation of the same family. Superb dining can be found at their restaurant, or you could kick back at the lounge bar which boasts an open fire. If you opt for one of their Patio Suites, you can enjoy meals throughout the day in front of well-manicured gardens and ornamental ponds.
You certainly wouldn't regret a stay at the Greta Hall; you'll be swept away by the classy design which offers a modern twist on a Scottish manor house. There's even a single elopement night for less than 100 pounds for a night here.
Find out more about the range of options available for booking a stay at Gretna Hall Hotel.
Greens at Gretna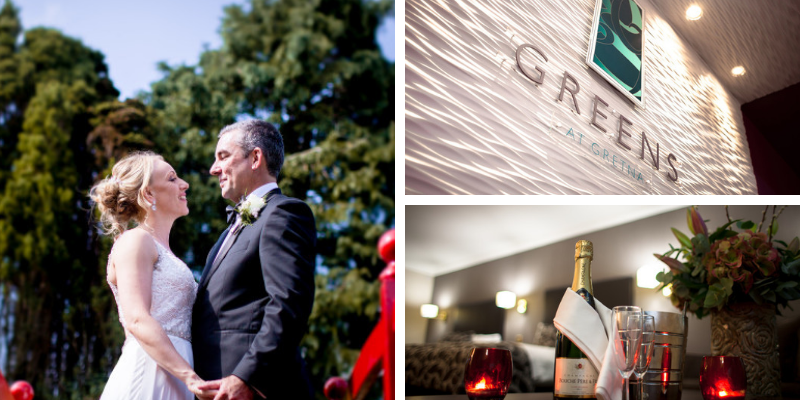 There's a wide range of choices on offer at Greens, with no fewer than six special offers available during the winter months. So a range of budgets could work well here. To give you a taster, a three course wedding meal for eight guests and the happy couple – with five bottles of wine – starts from just £500. Luxury Anvil Winter Wedding packages can be found with greatly reduced prices – some around the 50% mark. The bar and restaurant could cater for up to 18 guests in one party. If you're feeling brave, you might want to ask for an upgrade here to a balcony room… location wise, you're a mere two minute walk away from the shopping quarter of Gretna Gateway Outlet Village. Find out more about the packages offered at Greens at Gretna.
So, how much does it cost to get married in Gretna Green?
In terms of the ceremony-only cost, a religious marriage performed by a Minister will be around the £175 mark, plus you'll have to pay a £70 Marriage Notice and Registration fees. An official Registrar costs £297.50 on weekdays, £394.50 on Saturdays, £444 on Sundays and Bank Holidays.
How to get there today
Gretna Green railway station serves both the village of Gretna Green and Gretna, a nearby town in Dumfries and Galloway.

Trains from both Carlisle and Glasgow stop at Gretna Green station.

Gretna Green is 90 miles away from Glasgow Airport; 70 miles from Newcastle Airport and 150 miles from Manchester.

Or, it's a couple of hours' drive from Edinburgh and a smidge quicker from Scotland's capital city by train.


Get in touch with our friendly team of Romantic Consultants, who'll help you build the perfect romantic wedding or elopement - personalised to meet your specific needs.