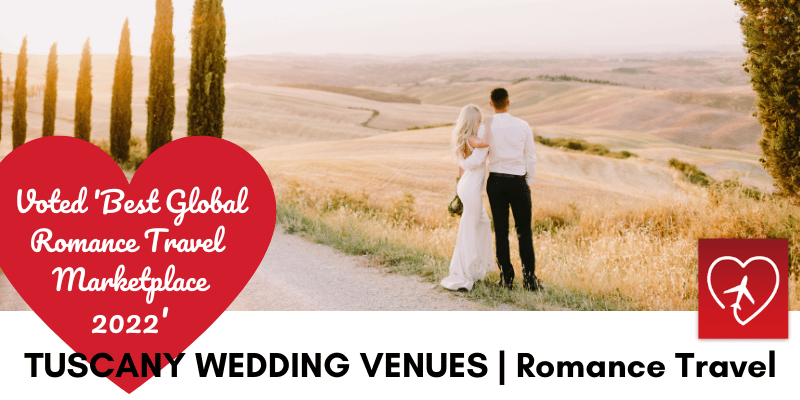 5 Magical Wedding Venues in Tuscany - ( with options to suit all brides and budgets)!
Host your special day in one of the world's most romantic locations - Tuscany!

From charming villages, to rolling hills and picturesque vineyards, this region of Italy is the dream backdrop to an unforgettable wedding.

Whether it be a secret city elopement or glamorous castle venue with breath-taking views over its vines – whatever your dream wedding vision may be there's something for everyone here.
Come explore all that Tuscany has to offer for couples looking for their perfect ceremony setting!
Here are 5 magical Tuscan venues to suit different types of celebrations... and make your wedding day dreams come true
1. Exchange vows among the fragrant Tuscan olive groves or in the gardens of a historical villa, before enjoying a fairy-lit al-fresco gala dinner, followed by dancing until sunrise.
TUSCANY VILLA WEDDINGS AT VILLA LENA - QUICK ENQUIRE
Hosting your special day at Villa Lena in Tuscany couldn't be a more perfect setting. Exchange vows among the heady fragrance of the Tuscan olive groves, or experience a dreamy garden ceremony right on Villa Lena's grounds. Continue the romantic atmosphere with an al-fresco dinner inspired by classic Italian eats, lit up by gentle fairy lights and set to a backdrop of Villa Lena's 1800s villa venue decorated with detailed frescos. To wind down the night, dance until sunrise to romantic music with friends and family around you—no celebration is complete without music!
2. Elope in downtown Florence, Tuscany. Located in a historical building from the 18th century with wonderful reminders of the Renaissance past this unique wedding venue is perfect for intimate ceremonies and celebrations.

ELOPE IN TUSCANY WEDDINGS AT RELAIS & MAISON - QUICK ENQUIRE
Located in downtown Florence, Tuscany, our 18th century building at Relais & Maison Grand Tour offers many wonders of the Renaissance past. As well as providing comfortable suites with modern amenities, one of the most fascinating features of our structure is a small private theatre that offers couples the chance to have their Tuscan elopement dreams become a reality. Not only can you book it for your special day, but you can also reserve the entire building for an exclusive event with accommodation should you wish to invite a few extra guests.
3. Escape to Tuscany and say "I do" in a fairy-tale castle! Let the romantic atmosphere of Castelfalfi's outdoor wedding terrace sweep you away as you exchange your vows. Then celebrate with friends & family inside one its exquisitely renovated castle rooms -- creating memories made for royalty.

TUSCANY CASTLE WEDDINGS AT TOSCANA RESORT CASTELFALFI - QUICK ENQUIRE
Couples looking to make their wedding day truly magical should consider Toscana Resort Castelfalfi - an 800-year-old Tuscany castle wedding venue that is every bit as enchanting as you can imagine! Enjoy an outdoor ceremony surrounded by breath-taking views, followed by a reception in one of the elegantly decorated and renovated castle rooms. Top off the experience with a romantic wedding breakfast in La Rocca Restaurant, prepared by renowned chef Michele Rinaldi and featuring spectacular Tuscan vistas!
4. Discover why Tuscany is renowned as one of the most romantic destinations in the world when you tie the knot at Campo Regio Relais, nestled within Siena's stunning medieval brick buildings. Immerse yourself in this rich and historic city that exudes an undeniable charm and romance.

SMALL SIENA CITY WEDDINGS AT CAMPO REGIO RELAIS - QUICK ENQUIRE
Located right in the heart of Tuscany, Campo Regio Relais is a boutique wedding venue in Siena that should not be overlooked. The small, elegant hotel is surrounded by stunning Medieval structures and soaked in the rich history of Siena, making it a perfect destination for romantic weddings. If you choose this enchanting venue to say 'I do', their devoted team will get involved in small details such as planning pre-wedding pampering and creating a beautiful bridal bouquet for you. With its unforgettable aura of romance and years of experience, Campo Regio Relais is your trusted partner when it comes to arranging special small Siena weddings.
5. Create the ultimate Tuscan wedding experience with exclusive use of a beautiful Wine Resort surrounded by stunning vineyards and olive groves. Just 25 minutes from the coast, this villa is a dream destination for an intimate celebration – plus you'll have access to 7 rooms & suites featuring 20 beds!

TUSCANY VINEYARD WEDDINGS AT CONTI DI SAN BONIFACIO - QUICK ENQUIRE
Conti di San Bonifacio Wine and Hospitality offer the perfect venue to create the vineyard wedding of your dreams. Set in Tuscany and surrounded by vineyards and olive trees, Conti di San Bonifacio is only 25 minutes away from the coast, giving you both a unique and convenient experience. You get exclusive use of the venue with accommodations for up to 20 guests including 7 rooms and suites at your disposal. Conti di San Bonifacio guarantees that all services will be available to make your day special, allowing you to feel relaxed knowing that everything has been taken care of.


Not found your dream venue? - why not use our expert wedding venue finder in Tuscany?
Italy is renowned for its enchanting landscapes, picturesque towns and the finest of venues for weddings. To guarantee you find your perfect venue, why not use our expert wedding venue finder in Tuscany? With a selection of luxury venues on offer from farmhouses and villas, to ancient castles and city centre apartments, you'll find exactly the wedding you want... without compromise!
EXPERT TUSCANY WEDDING VENUE FINDER - QUICK ENQUIRE
Our VIP service provides expert venue finding and selection from 100% Italian staff (who are also perfectly English-speaking). Ensure we have all the help you require tailoring your big day with every detail taken care of by our friendly, trustworthy and helpful experts at Italy's Finest.
With some careful planning, you can make your dream wedding in Tuscany come true.
Whether it involves a romantic castle wedding or an intimate ceremony surrounded by vineyards and olive groves, Tuscany is the perfect place to have your special day.
And if you're looking for some additional inspiration, our blog contains plenty of suggestions to help you plan the perfect destination wedding. So, don't hesitate to explore all these amazing options and take the first step towards making memories that will last a lifetime!
Or simply reach our to our romantic consultants here if you'd like us to help.