Destination Weddings & Honeymoons in Central America | Choose Belize, Costa Rica, Guatemala or Panama
Central America is a fast-growing favourite for couples bookings romantic destination weddings and adventurous honeymoons.
So what's the great attraction?
We've put together some of our favourite Latin American treasures which could be the perfect place to host your once-in-a-lifetime romantic break or even the wedding of your dreams...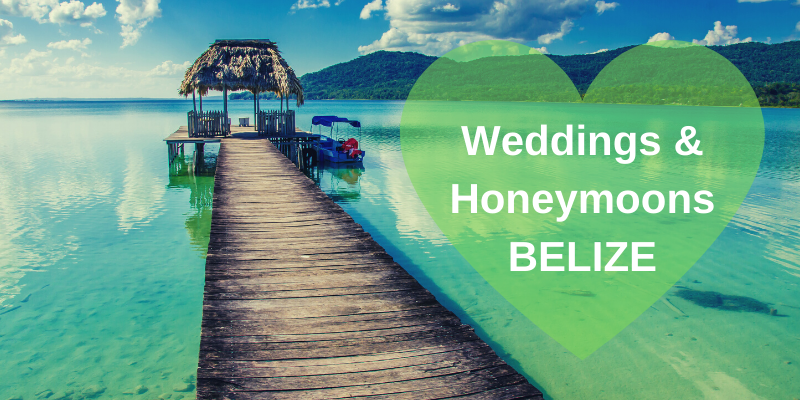 Weddings & Honeymoons in BELIZE
With Mexico as its border to the north and the Caribbean islands close by, it's easy to see why the many charms of Belize have been slightly overlooked in the past.
However, this small nation has a growing reputation for hosting magical destination weddings, helped in part by its never-ending shorelines that look out to the Caribbean Sea. Imagine hundreds of gorgeous low-lying islands (or cayes) just off the coast, alongside a pristine Barrier Reef hosting a colourful tapestry of marine life – and you should be just about there.
And if you're a couple hoping to pair your vows with a spot of adventure, then you could try a local dive trip with snorkelling or scuba diving. Because what could be more romantic than just you and your partner all alone in a gentle sea, only joined by turtles gently flapping beside you and schools of technicolour reef fish?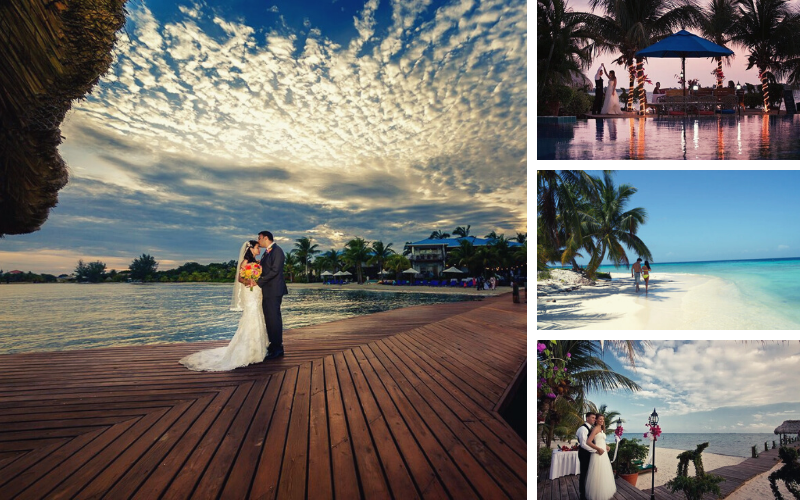 Get married on overlooking the Caribbean ocean...
If this sounds like your idea of romantic holiday heaven then these types of experience and plenty more can be experienced at Chabil Mar on the breath-taking Placencia peninsula. This stunning boutique resort is set on 400 ft. of private beach with a pier and offers bespoke destination wedding services. Perfect for intimate and exclusive celebrations in a paradise setting dripping with tropical flowers.
Beach weddings and honeymoons...
For honeymoons, take a look at the Sapphire Beach - couples can sit down to a Bachelorette-style beach dinner under candlelight, complete with heart-shaped décor. Culinary options here include a tantalising lobster, beef or shrimp among others. These can be matched with classic Belize rice, beans and potato salad. In a resort like this, you'll have no problem relaxing and focusing on the celebration of your union.
Exclusive hire options...
And as with the Isla Marisol, many of the resorts across Belize are small or medium sized, meaning you could potentially book out the entire place! What's more, quite a few hotels boast 'swim-up' bars in their pools, adding a further touch of decadence and luxury.
Adventures in the Belize jungles...
Away from the many beaches of Belize, wedding guests will find plenty of ways to let their hair down with activities including zip-lining, waterfall rappelling and archaeological tours that explore the Mayan underworld. The Mystic River Resort is an ideal location in this sense, being in the teeming heart of the Belize jungle. This entrancing setting can be used as a base for jungle hikes too.
What are the best months to get married, or go on honeymoon, in Belize?
Belize is a fairly safe bet to visit throughout the year, as it enjoys a sub-tropical climate. That said, the rains come from June to around November. If you'd like to escape the main tourist rush, then April or early May could be a good time to travel here. With average temperatures of around 28 degrees during these times, you might find some competitive hotel rates to go with the hot sunshine and dreamy sunsets.
What else should we think about?
Belize's capital, Belize City, is home to the oldest Anglican cathedral in Central America - St John's Cathedral, which is located downtown near to the Government House and the House of Culture. However, while much of Belize is feted for its natural and historic beauty, the port city capital isn't really a tourist hot-spot and it does have high rates of crime. If you do want to see the best of Belize City, you might be advised to choose a package deal that includes full transfers.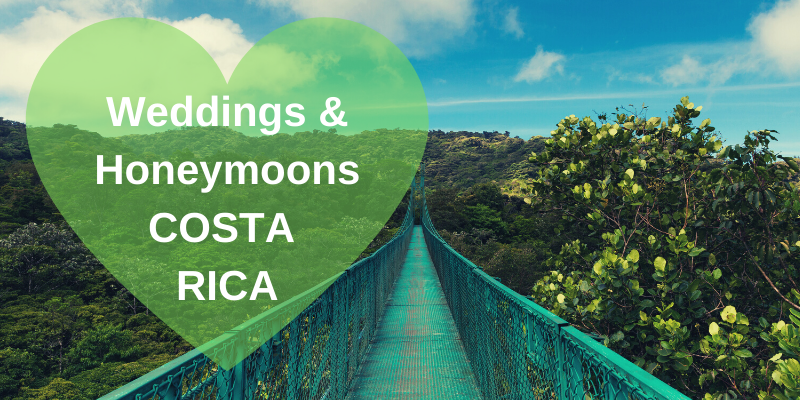 Weddings & Honeymoons in COSTA RICA
The never-ending coastlines and hissing rainforests of Costa Rica are just about the best in the world, and this bio-diverse country makes a perfect backdrop for an extra-special romantic getaway or celebration. If your timing's good, you can add wall-to-wall sunshine into the mix, making it easy to see why tourists just can't stop flocking here. And that's all before a mention of the dramatic waterfalls and white-water rivers of this magical country…
If you're thinking of a more intimate wedding or honeymoon – the hikes, zip-lines and bungee jumps can be saved for a return trip, after all – then you'll have no problem finding a peaceful haven from which enjoy the pulse-racing ecstasy of your love for each other instead.
Luxury is never too far away for visitors to Costa Rica. And it's fair to say there's a wide choice of resorts where you can really spoil yourselves at your own pace.
Here's a few of our favourite places for couples booking a wedding or honeymoon in Costa Rica...
Hotel RipJack Inn is romantic retreat just steps from sugar-soft golden beaches and the thrashing waves of the Pacific ocean. Perfect for couples who like to mix up their romance with a little adventure!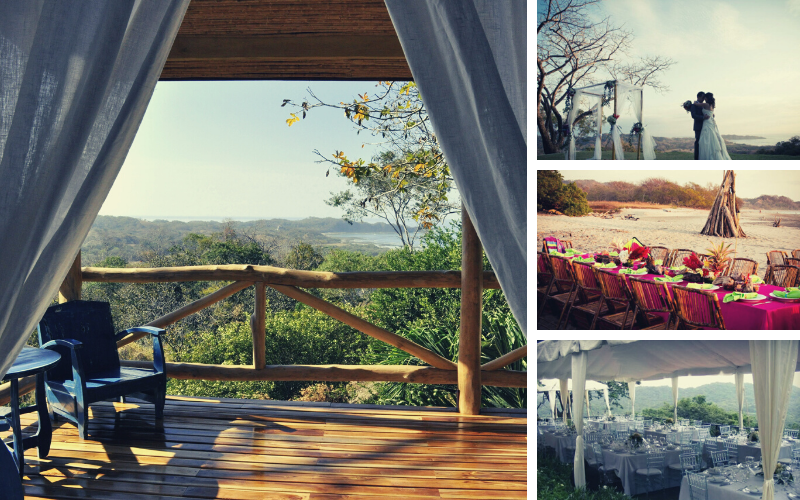 Tierra Magnfica Boutique Hotels - an adults-only boutique resort nestled in the lush jungles of Nosara with infinite views across the Pacific Coast of Costa Rica.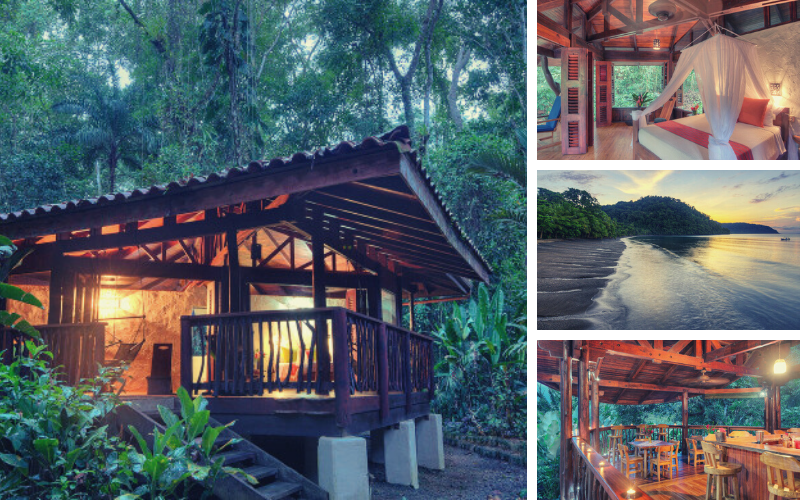 Playa Nicuesa Rainforest Lodge – this rainforest retreat is a slice of paradise nestled within a 165-acre private preserve, located within the Osa Peninsula/Golfo Dulce region of Costa Rica. It's also the perfect place to unwind with each other on a honeymoon. We should also mention you can only get here by boat!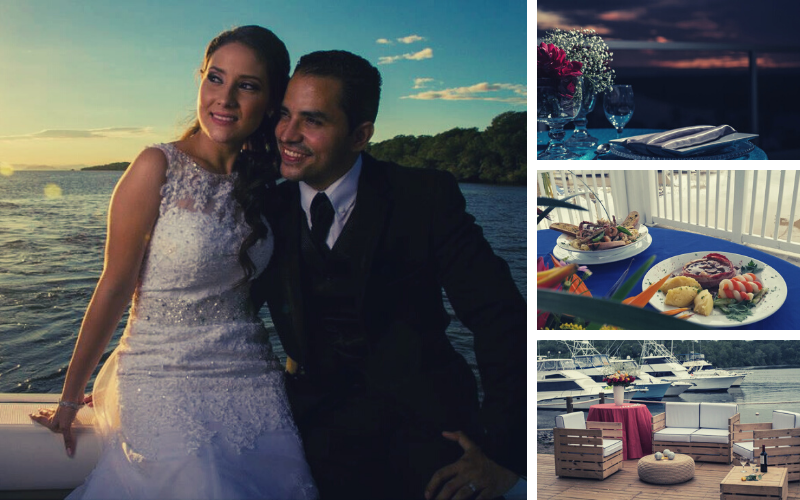 Puerto Azul Boutique Resort and Marina – both elegant and exclusive, a stay here includes access to the resort's yacht club meaning you can pop the corks in style while the sun goes down. The marina is also a great backdrop for your wedding and honeymoon photos!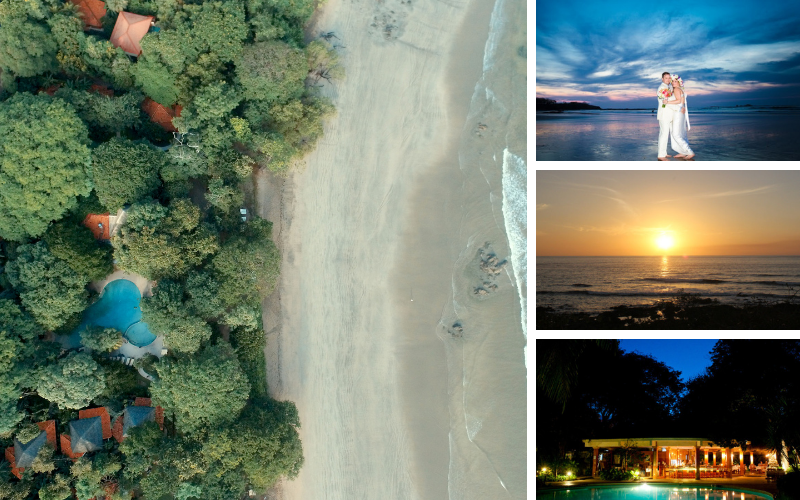 Hotel Capitan Suizo – a beachfront hideaway complete with all the ingredients for an unforgettable romantic getaway. It's also a stunning venue for a beach wedding ceremony, and not one will fail to be amazed by the sunset views here that POP over the brilliant blue Pacific Ocean.
What are the best months to get married, or go on honeymoon, in Costa Rica?
The dry season in Costa Rica runs from around mid-December to the end of April, and these two months are also the peak times for tourism. If you're planning to visit during the UK summer holidays, you can expect some regular patches of rainfall. However, there's still plenty of sunshine to be enjoyed and temperatures should be a very pleasant 24 or 25 degrees.
What else should we think about?
Given how much is made of Costa Rica's natural assets, it's all too easy to overlook San José. The country's lively capital is worth seeing for a couple of days, be it for a night out or a spot of shopping and dining. Direct flights can be found here from the UK, making the destination a little more accessible for your guests if it's a wedding you're trying to plan.
Finally, if you're driving to the South Pacific Coast from San Jose, via Punta Arenas, you won't regret a short diversion to the renowned 'Crocodile Bridge' at Rio Tarcoles. If you want to get even closer to these amazing reptiles, then you could stay overnight and take a boat trip on the Tarcoles River.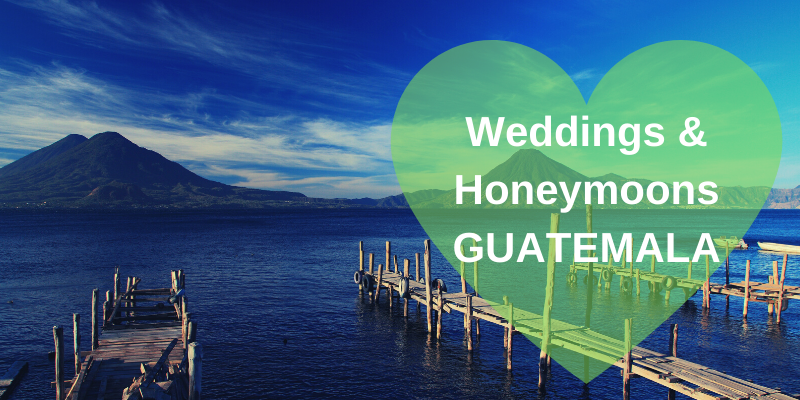 Weddings & Honeymoons in GUATEMALA
There are a huge range of options in Guatemala if you're looking to facilitate romance for a wedding or honeymoon. And the charming colonial town of Antigua, a mere hour's drive from Guatemala City, could be a great place to kick-start your adventure. Baroque-style architecture in cobbled streets can be explored through a trip on a vibrant 'chicken bus', or you could simply take a stroll with your lover around the Spanish colonial ruins. Many of the spectacular churches across the city would also make for an idyllic wedding venue. Start by checking out the Convent of Santa Clara and its gardens, overlooked by the La Horqueta volcanos.
Antigua is also home to plenty of neighbourhoods where you can find quirky shops. And of course, plenty of traditional eats too, with delicious meats and black corn tortillas, to enjoy with a bottle of wine while you welcome in the next sunset.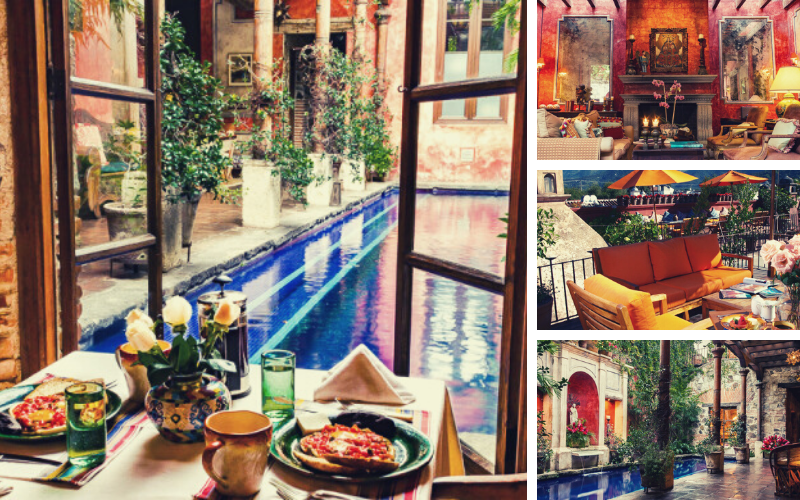 Antigua's charming and boutique Posada del Angel could be a great choice if you're serious about a wedding or honeymoon in Guatemala. The 4-star hotel, within easy walking distance of the central square, offers guests cute rooftop breakfasts, a pool and log fires in a setting that stays true to the Mayan and Spanish influences of the city.
Elsewhere the more rural and secluded side offered by Guatemala can be found at Lake Atitlán, which is formed in a massive volcanic crater, and is surrounded by coffee fields and quaint villages. This place really would make for a daring place to elope, or simply escape on honeymoon. Another remote but romantic location to look into is the cascading pools found at Semuc Champey.
What are the best months to get married, or go on honeymoon, in Guatemala?
This jewel in the heart of Central America has a fairly consistent climate - it's warm or hot most of the year, and you shouldn't go wrong in December or January. During this period, vegetation is a lush green from the rains but the azure sky's still mostly crystal clear.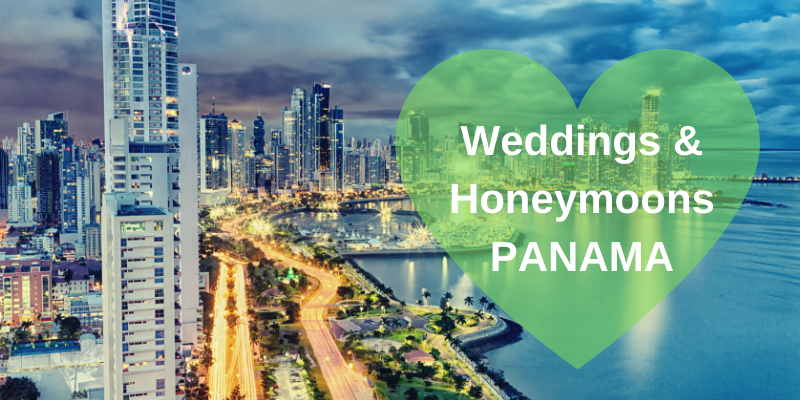 Weddings & Honeymoons in PANAMA
Sandwiched between the trendy destinations of Costa Rica and Colombia, Panama is thought of as a laidback cousin to more popular tourist hot-spots in the region. That means it could be an accessible introduction to Latin America and, furthermore, you may find you've a little more time to focus on each other during your very special celebration.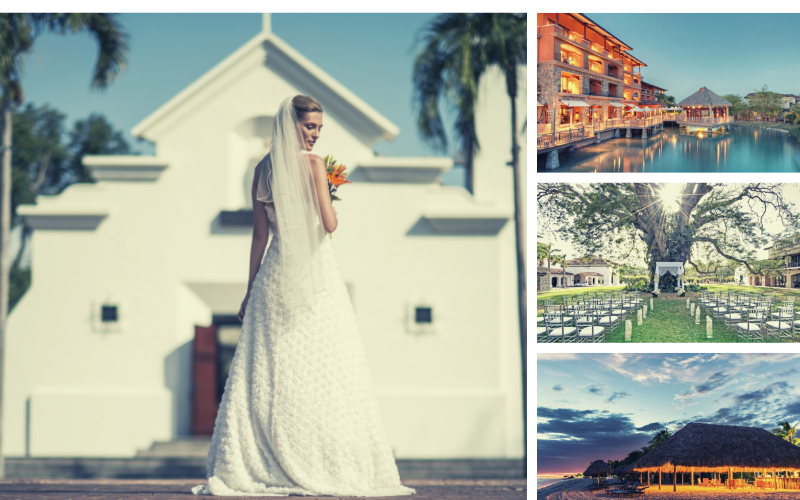 If you're looking to go all-out on a truly remarkable wedding venue in Panama, then the Buenaventura Golf & Beach Resort could be the answer. Brides can arrive at their ceremony in a traditional horse-drawn carriage. Meanwhile guests can be spoilt with a range of fun excursions, or more local activities such as a spa, outdoor pools and a manicured golf course designed by Jack Nicklaus.
Panama may be a small country, with just 4 million people, but it's packed full of unspoiled nature and wildlife in national parks, along with first-class beaches. Plus, by using Panama as a base you're within reach of the majestic San Blas Islands and the Galapagos Islands – for a truly once-in-a-lifetime honeymoon experience.
Elsewhere there's the tiny port city of Portobelo on the Caribbean side of the country (just a two hour drive from Panama City). From Portobelo you can take a four- or five-day boat trip to Cartagena in Colombia. The splendid walled colonial city is packed with history and culture, and is known for its rows of artfully decorated 400-year-old homes and some lovely beaches as well.
What are the best months to get married, or go on honeymoon, in Panama?
Panama has a climate that varies across the country (the main constant being high humidity!) There are areas on the Caribbean side which have almost twice as much rainfall as Panama City. The dry, hot summer season runs from mid-December to mid-April.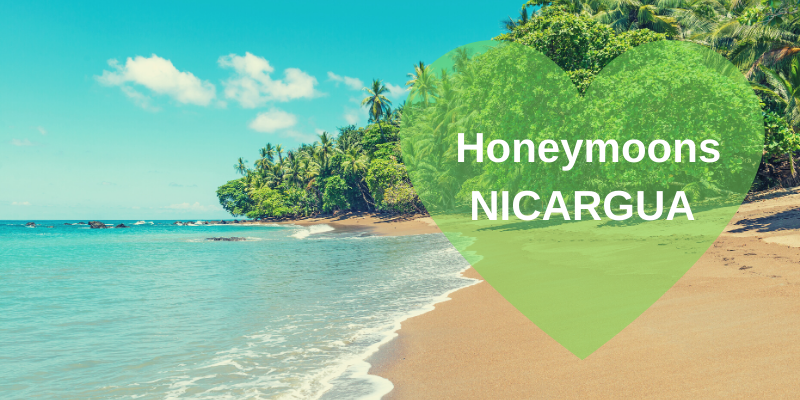 Honeymoons in NICARAGUA
Finally, for us the hidden gem of Central America (and a destination that is growing in popularity with honeymooners) is Nicaragua. Pristine white sand beaches, volcanic landscapes and lots of adventure are the biggest draws for couples. And if you're a couple who like surfing you'll be in paradise.
And one of our top recommended destinations in Nicaragua, is Maderas. Part of the Costa Smeralda, which lies between Tola and El Astillero, it's an ideal place to visit if you want an unforgettable beach honeymoon surrounded by the beauty of nature. Because this is a land of tropical wonders with a vibrant beachfront atmosphere, and where you'll make life-long memories exploring the awesome local flora and fauna together (possibly on a romantic boat tour).
Interested? Then maybe Selina Maderas is what you're looking for. Whilst not a luxury resort, we LOVE their intimate and quirky tee-pee accommodation, where you'll fall asleep in each other's arms as you listen to the roar of the waves. Located in a magical area where fairy-tale romance can be released at its finest, here you'll share precious moments watching the sunset or receiving the first rays of the sun, indeed this magical place is the perfect setting to start living your best life with your loved one.
And finally, always check the rules if you're planning a wedding abroad
There are many Central American countries which could dazzle you with a wedding ceremony no-one will forget. It's worth keeping in mind though that each country will have its own rules about the legal requirements that make a wedding lawfully binding back home. Read some of the most frequently asked questions when it comes to getting married in an overseas destination.
And if Central America hasn't won you over, check out some of the most exotic and romantic destinations where you could get married in Asia.
Our website allows you to personalise your wedding or honeymoon with a choice of romantic little extras - start your epic adventure and compare our best romantic experiences now to find the honeymoon of dreams today.